With smushed-in faces, curly tails, and beautiful personalities, it's easy to see why Pugs are one of the most loved breeds. Pugs adore their humans and want to be with them the whole time. They give unconditional love, loyalty, and make excellent family pugs. In fact, according to the American Kennel Club (AKC), Pugs are the 28th most popular dog breed. It's no surprise that there are many options to buy Pug puppies for sale in California.
However, not all Pug breeders are the same. We came across several backyard breeders and puppy mills that sell their dogs at cheap prices without doing any health or genetic testing. While the upfront price of a Pug might be cheaper, your puppy may experience health defects or medical conditions later down the line which will cost you more in medical bills. If you're looking for Pug puppies in California, we've done our own research to help narrow down the top breeding candidates. Here's a list of the 7 Best Pug breeders in California that you can reach out to.
Other articles you will like: English Bulldog Breeders in California and Yorkie Breeders in California.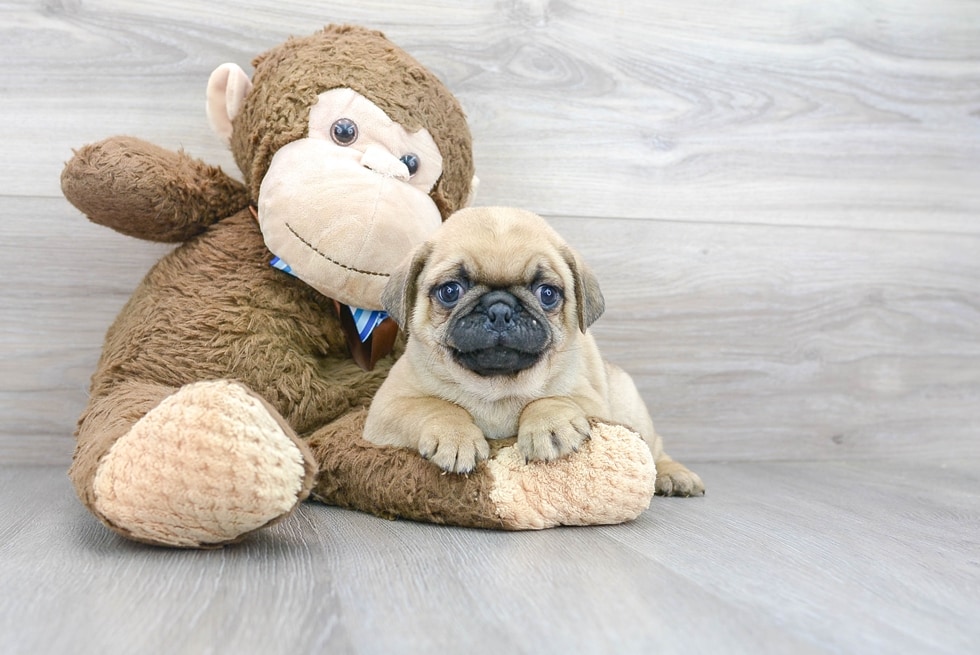 Premier Pups is a platform that connects and matches top Pug breeders with dog lovers. They simplify the process of getting a new puppy by ensuring only the top-quality are given to them by the breeders. They also have extremely affordable pricing when compared to some of the other breeders on this list.
The foundation of Premier Pups' promise is their allies: breeders. They emphasize the process of screening and selecting the breeder who matches their level. They only work with USDA-licensed Pug breeders who are dog lovers and understand the social responsibility related to raising puppies.
They visit their Pug breeders regularly to ensure that the puppies and the methods used to raise them are always improving. They check and ensure that the puppies are the main focus and priority of their breeders.
They have no tolerance for breeders that are not up to the standards. Those breeders who do not comply with their criteria get quickly terminated.
When you order a puppy from Premier Pups, you also get a 10-year health guarantee along with getting a dewormed and vaccinated paw-friend. We highly suggest that you check them out.
Premier Pups is offering $250 a new Pug puppy with coupon code: WLD250.
Pug Breeder Contact Details:
We put PuppySpot as the number one pug breeder on our list because we had a great experience with them getting our puppy. PuppySpot is actually a network of reputable pug breeders that are screened, reviewed, licensed, and registered in their state. There are two main benefits to using PuppySpot versus a traditional breeder: you save time and you're not buying from a puppy mill.
Many Pug breeders in California have an extremely long waitlist and you'll likely be waiting 6+ months to get a puppy. You also don't get to choose your Pug puppy unless you sign up early and get the 1st pick. With PuppySpot, you can get your Pug puppy today and find the perfect one based on gender, coat color, age, and size. It's fast, simple, and easy to get the puppy of your dreams.
Additionally, PuppySpot only selects breeders via a thorough vetting process that is backed by the American Kennel Club (AKC). The AKC is one of the largest organizations in the dog world. You can ensure that you won't be getting scammed and you won't be supporting a puppy mill.
Pug Breeder Contact Details:
3. Pudgy Paws California
Pudgy Paws is an AKC certified Pug breeder of silver fawn, apricot, black and fawn-colored Pugs. The breeder strives to raise great health, temperament, and conformation in all of the Pug puppies they sell in California. This Pug breeder is located in Southern California just east of Los Angeles.
They only breed their Pugs to handpicked AKC champion bloodline studs. All their dogs are health tested and cleared through U.C. Davis for P.K.D.E.F and P.D.E. These are two of the main deadly genetic disorders for growing Pugs.
Their Pug puppies in California go home at 8 weeks to approved homes with a 24-months health warranty against hereditary conditions. The breeder ensures the puppies are current on vaccines, mostly potty-trained, dewormed, and well-socialized. This makes it's really easy to integrate a Pug puppy into your home with less stress and anxiety. Puppy prices vary with the dog depending on color, size, and gender. Generally, their Pug puppies go for $2,500. The breeder ships to all U.S. states if you're not located in California.
Pug Breeder Contact Details:
4. Famous Pugs Southern California
Famous Pugs is a network of pug breeders in Southern California. The breeders decided to team up to merge their breeding programs which allows them to offer top-notch Pug puppies. The network has over 10 years in existence and strives to produce quality Pug that will make great companion pets.
Their adult breeding dogs have gone through extensive health checks to determine they are healthy. In addition, the breeders care for their Pugs in their homes on a 24/7 watch. They socialize them and expose their puppies to various noises and humans interactions so they transition well into their new home.
The network has Pug litters at different times throughout the year so there are Pugs puppies always available.  You can view their current Pug puppies for sale in California on their website. Every one of their Pug puppies comes with a 2-year health guarantee. It's quite unusual to see a network of Pug breeders come together to produce high-quality dogs, however in this case, we think it's beneficial to the consumer. 
Pug Breeder Contact Details:
5. A Bit Pugish – Southern California
A Bit Pugish is a small kennel in the High Desert of Southern California. They have been breeding and raising Pugs puppies for the past 15 years. They pride themselves in the fact that they have never had a Pug puppy come back to them because of defect or illness.
A Big Pugish takes the utmost care in their breeding program. Their dams and sires are AKC registered and cleared of any health and genetic issues prior to breeding. The breeder likes to keep new Pug puppies for at least 8 weeks to socialize the puppy to new sights and sounds. They require a deposit of $200 to hold one of their Pug puppies in California.
One aspect to note is that the breeder does not ship any puppies in California or the United States. She insists on meeting with the buyers to ensure the Pugs are going to homes where they will be loved, treasured, and cared for. The last thing she wants is for one of her Pugs to end up at a rescue or a shelter.
Before leaving for their lifetime home, the Pug puppy is kept current on age-appropriate vaccines, microchipped, and comes with AKC registration papers. The puppy also comes with a health warranty. Overall, we believe this is a very reputable Pug breeder in California.
Pug Breeder Contact Details:
6. Tesoro Pugs California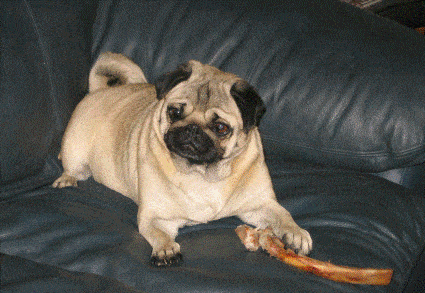 Tesoro Pugs began breeding Pugs in 1998 which makes them one of the older breeders on our list. They are active members of national and local dog clubs such as Pug Dog Club of America (PDCA), Orange Empire, and City of Angels Pug Club. They live and breed as per these clubs' codes of ethics which helps to prevent health and genetic issues. In addition, it also helps to adhere to the purebred Pug standards.
Their breeding dogs are AKC champions who represent the breed to its highest standards. The dogs are tested for any health disorders and are cleared of all genetic diseases before they begin breeding. Tesoro Pugs only breeds a few litters yearly, you'll have to get in contact with them and wait until they have a puppy available. They keep show-quality pups and occasionally, sell Pug puppies as companion pets. You can view their champion Pugs on their website.
Companion pet Pugs are placed with their new family at 10 weeks of age or older. You can view their past litters on the website.
Pug Breeder Contact Details:
7. Blaque Pugs California
Blaque Pugs has been breeding and showing Pugs since 1976 in Woodlands, California. The kennel has produced over 100 champions including 8 All-breed best in show winners and a PDCA National Speciality winner. In addition, they are one of the oldest Pug breeders in California that we could find!
The breeder aspires to improve the Pug breed and breed more Pugs as close to the ideal standard as possible. Their adult dogs are cleared for health and genetic defects before breeding. In addition, their litters are hand raised and well-socialized to live a happy Pug life.
Although this Pug breeder only has a couple of litters yearly, the wait is worth it. You'll be getting a Pug puppy that is healthy and has championship bloodlines adhering to the purebred standards.
Pug Breeder Contact Details:
Location: Woodland Hills, Los Angeles, CA
Website: Blaque Pug California
Telephone: 818-703-5026
Email: blaquepug@yahoo.com
8. Caravelle Pugs – Northern California
Caravelle Pugs are breeders of AKC Pug dogs located in Northern California. The breeder's goal is to provide you with a healthy Pug that will brighten your life and be a great companion pet.
Their breeding dogs come from great bloodlines and are cleared of any health defects. The puppies are hand-raised from birth, veterinarian checked, and potty trained in the breeder's home. Their Pug puppies in California come with a 24-month health guarantee, health certificates, age-appropriate shots, microchip, house-trained, and lifetime support.
This Pug breeder in California doesn't take deposits as they don't want anyone to feel obligated to take the puppy home even when it's dawned on them they won't be able to do so. This is one of the only Pug breeders that does this.
If you're looking for a show dog, this Pug breeder also sells them for a higher price. Their show-quality Pugs are fully AKC registered pups. Buyers must belong to a specialty breed or a local all-breed club. In addition, the buyer must also provide references.
Shipping is available and all shipping charges include a health certificate, airfare, and crate. Otherwise, you can fly to Sacramento, California, and pick up your Pug as a carry-on for your return flight. If possible, we always recommend you pick up a puppy in person because it creates a lot of stress and anxiety on the dog.
Pug Breeder Contact Details:
Questions about Pug Puppies in California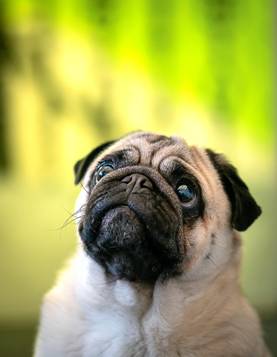 1. Do Pugs snore?
Yes, for the most part, every Pug snores. Some pugs can be as loud as a person snoring. Pugs also grunt, snuffle, snort and wheeze. To some Pug owners, these sounds are cute and to others, they are so annoying. It's just part of the Pug dog breed.
2. Are Pugs easily trainable?
Pugs are very intelligent but can also be stubborn. Sometimes, they're willing and other times, they get bored when things become repetitive. We recommend you stay ambitious and patient as you gently train them. Teach them new tricks and switch up any routine you may have. If you train your Pug for short periods of time every day, they are very intelligent and easily trainable.
3. How long will it take to house-train my Pug?
It usually takes 2 to 6 months to house-train Pug puppies and other times, up to a year. For Pugs, 6 months is more than enough time to be fully house-trained if you properly work at it. We recommend you start house training your Pug puppy as soon as you get them. At this time, they have enough bowel and bladder control. With positive reinforcement, a little patience, and consistency, you and your pug will do just fine.
4. Will my Pug shed a lot?
Yes! Pugs have a double fur coat where the undercoat grows and ushers the overcoat out. This makes them shed a lot and you'll likely be vacuuming your hardwood floors or carpet often. Be prepared with a lint roller because Pugs also love sitting with their humans.
5. Can Pugs stay outdoors in California?
No, Pugs don't tolerate humidity and high heat well, even in the mild temperatures of California. While other dogs cool off by panting, it's not the same case for the Pug. They have no cooling area and within 30 minutes, they can become overheated. If it's a warm or hot day in California, don't leave your Pug in your car. They also won't be able to handle this type of heat.
6. What kind of exercise will my Pug need?
Pugs don't like strenuous exercise and are very content with a daily walk around the block. Pugs are prone to obesity and weight gain from eating too much dog food so ensure you watch over their diet and take them on a daily walk.
Conclusion for Pug Breeders in California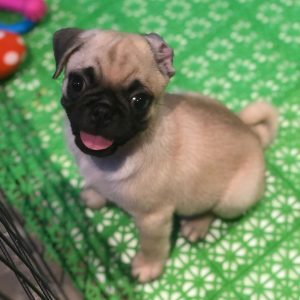 Pugs have a remarkable personality and have rubbed shoulders (or legs!) with emperors, kings, and queens. They are a perfect fit for first-time families or individuals who want a relatively low-maintenance dog.
However, there are many Pug puppies in California to choose from, and not every breeder is the same. We recommend that you choose a Pug breeder who does health and genetic tests on their dogs. In addition, it's nice of Pug breeders in California to offer a health warranty, lifetime support, and great service. Remember to always do your research, but our list should definitely help you!
Check out these other articles:
Garrett loves animals and is a huge advocate for all Doodle dog breeds. He owns his own Goldendoodle named Kona. In addition, he volunteers at the Humane Society of Silicon Valley, where he fosters dogs and helps animals. Garrett enjoys writing about Doodles and believes that dogs can teach humans more about how to live than humans can teach a dog.
Why Trust We Love Doodles?
At We Love Doodles, we're a team of writers, veterinarians, and puppy trainers that love dogs. Our team of qualified experts researches and provides reliable information on a wide range of dog topics. Our reviews are based on customer feedback, hands-on testing, and in-depth analysis. We are fully transparent and honest to our community of dog owners and future owners.