Famous for their silky coat and affectionate personalities, the Havanese dog breed is a showstopper. This snuggler when full-grown stands at 8.5 to 11.5 inches tall and weighs between 7 and 13 pounds. The breed, named after Cuba's capital, is the 24th most popular breed in the United States according to the American Kennel Club (AKC). Due to their ongoing popularity, you'll see tons of Havanese puppies for sale in California.
This little dog breed, which traces over 300 years in laps of luxury, is bred by tons of reputable breeders in California. However, not all puppy breeders are the same and we came across several puppy mills and backyard breeders who are likely not breeding healthy dogs. In this list, we show you the 8 best Havanese breeders in California to help you find your future puppy. We always recommend that reach out to a breeder, visit their facility, verify their health tests, and do your own due diligence before putting a deposit down on a puppy.
Other articles you might like: Yorkie Breeders in California and Golden Retriever Rescues in California.
1. Premier Pups Havanese Puppies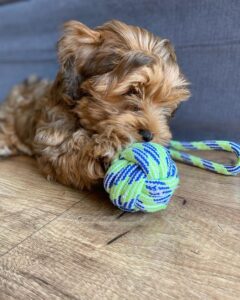 Update: Premier Pups offers our blog readers $250 off a new Havanese puppy with code WLD250.
Premier Pups connects dependable Havanese breeders with responsible families and individuals looking for small breed puppies. You can get doodle, designer, and purebred puppies here including Havanese puppies.
They only work with breeders who understand social responsibility and are passionate about dogs. No substandard or non-USDA-compliant breeders can work with them. They also visit every breeder that is part of their program to ensure that all their puppies are healthy.
Every Havanese puppy comes with a 10-year health guarantee. Additionally, you get a guarantee that your puppy will be free of Parvo Virus, Distemper, Hepatitis, and Corona Virus for 10 days from the day of arrival.
The team at Premier Pups believes in giving the personal touch. Therefore, each Havanese puppy is evaluated by a veterinarian and health-checked before delivery or pick-up.
They regularly transport Havanese puppies to California. There are different transport packages to ensure the safest delivery of your Havanese puppy. We highly recommend that you check them out if you're looking for a Havanese puppy in California.
Havanese Breeder Information:
PuppySpot is the top breeder on our list because they are a network of reputable Havanese breeders. This allows you to get a puppy faster and you won't have to do a ton of research finding a good breeder who cares about their puppies. They screen all potential Havanese puppy breeders and verify they are registered and licensed. They work with American Kennel Club (AKC), to ensure this process doesn't allow puppy mills or unhealthy puppies.
Since they are a network of breeders, you won't have to wait a long time on a puppy waitlist because they have Havanese puppies for sale today. Additionally, you won't have to call multiple breeders to find the right puppy you're looking for. On PuppySpot you can sort by Havanese puppies through their filters. You can sort by gender, size, coat color, and age to find the perfect puppy.
If the Havanese puppy isn't located in California, then PuppySpot will personally fly it out to you safely. With their "no puppy mill" guarantee, backing by the AKC, and puppies available today, they are the top breeder on our list. We had an awesome experience with PuppySpot and highly recommend them if you want a puppy soon. Otherwise, you'll likely have to wait on a list for any other breeder.
Havanese Breeder Information:
3. California Havanese
The beautiful foothills of the Sierra Nevada Mountains in California are home to this Havanese breeder. California Havanese is nestled on 12 wooded acres where they breed healthy, playful, affectionate, and beautiful AKC Havanese companions.
Prior to breeding, this breeder checks their males and females for any genetic or health conditions. The adults are all OFA health tested and certified for their hips, hearing, eyes, and patellas. This sets the stage for their Havanese puppies' excellent health.
The breeder raises their Havanese puppies in the heart of their home to accustom them to household activity and everyday noises. As the puppies grow up, they explore and frolic the breeder's lawn before leaving for their lifetime homes. You can ensure that their Havanese puppies in California come very well socialized and should fit well into your own home.
The Havanese puppies start potty training at 5 weeks old to housebreak them for you. By the time the puppies leave for your home, they will be 90% potty trained which saves you headaches of picking up poop and cleaning up pee around the house. In addition, the Havanese puppies will have dew claws removed, be current on vaccinations and deworming, and have an AKC microchip.
One of their Havenese puppies in California costs $3500. To reserve a puppy, you will need to put down an $800 non-refundable deposit. Puppies go home at 9 weeks old. If you'd like your puppy shipped, it will cost you an extra $400. The cost will be inclusive of a veterinarian health certificate, travel equipment, and airline ticket.
Havanese Breeder Information:
Location: Eden Valley, CA 95713
Website: California Havanese
Email: adrienne@californiabichons.com
4. Angie's Havanese Puppies California
Angie's Havanese Puppies describe themselves as a Southern California Family who are nuts about the Havanese dog breed. The duo behind the breeding business, Angie and James, have been breeding Havanese puppies for over 8 years.
The duo treats their Havanese puppies as family members. They are keen to see their Havanese puppies treated the same in loving forever homes. All their Havanese are AKC registered and cleared for any health and genetic conditions.
Once the puppies are born, they socialize and train the litter as the dogs grow older. They also introduce the puppies to create training to make it easier for you. Crate training helps your puppy feel protected and gives them a place to sleep at night.
Their Havanese puppies in California are priced between $1200 to $2000. Most of their Havanese puppies start at $1800 though. All of their puppies are AKC registered and kept up-to-date on puppy shots and deworming.
If you live outside California, the breeder will ship your Havanese puppy depending on your location. Past puppies have found loving homes in Washington, Ohio, Florida, Texas, Michigan, and Colorado.
Havanese Breeder Information:
5. High Moon Havanese in California
High Moon Havanese believes this adorable little dog that originated in Cuba is pretty special and why they have been breeding AKC Havanese for over 18 years. They are the most knowledgeable breeder located in California's Central Valley servicing puppy buyers from the San Francisco Bay Area, the greater Los Angeles area, the Central Coast and beyond.
High Moon has a 5-year health guarantee for every one of their Havanese puppies in California. A 5-year health warranty is one of the longest warranties we've seen any dog breeder give. The puppies come with their first set of age-appropriate vaccinations, a veterinarian well puppy vet check, an AKC registration, a pedigree and puppy food.
A Havanese puppy from this breeder is priced around $3000 and there is usually a waitlist for their puppies. They do require a puppy application to get on their waitlist and a signed spay/neuter contract that you won't breed the dog. The breeder encourages buyers to pick their puppy up from the breeder's residence in Central California. If this will not be possible for you, the breeder can make other arrangements.
Havanese Breeder Information:
6. Kokomo Havanese California
Kokomo Havanese is a Southern California breeder who specializes in show and companion Havanese. Over the years, Kokomo Havanese's dogs have won multiple American and International championships. Thus, if you buy a Havanese puppy from them you'll be getting championship show dog bloodline.
Their dams and sires are AKC registered and all in superb health. The breeding program centers on the health, temperament, and conformation of the Havanese breed. The breeder has a few Havanese litters every year. If you're interested in getting a puppy from this breeder, you will need to consult the breeder well-in-advance and get on their waitlist.
The breeder socializes their Havanese puppies and provides basic training to ease the transition to your home. The breeder doesn't accept deposits until the puppies have arrived at which time you have to pay in full. Even after birth, the breeder considers the right fit for their Havanese puppies.
For information on pricing and shipping your Havanese puppy, please contact the breeder.
Havanese Breeder Information:
7. La Tierra Havanese California
La Tierra Havanese piqued interest in the Havanese breed in the mid-2000s and begun breeding shortly after. The breeder is an AKC breeder of merit and breeder of excellence at the Havanese Club of America. You can rest assured that from reputation alone, this is a very reputable Havanese breeder.
The breeder has registered all their dogs to the AKC. In addition, their Havanese dogs come from top-notch show and breeding lineages and are cleared for any genetic and health conditions. You can view each dog's health records on their website or on the OFA website.
Havanese puppy price ranges between $2,200 to $3,000 depending on the size, colors, and gender. Purchasing a Havanese puppy at La Tierra is very straight and easy straight-forward. You will need to email La Tierra about your interest. They will respond with a questionnaire that you can fill within 10 to 25 minutes. After reviewing your responses, the breeder will set up a phone interview to see if you're the right fit for one of their Havanese puppies. This is followed up by an in-person visit to get to know you a little bit better.
The breeder doesn't ship any Havanese puppies in California and doesn't sell them over the internet. You will need to go down to the breeder's residence, check out the puppies, and collect your new Havanese puppy when it turns 10 weeks old.
Their Havanese puppies in California come with current vaccinations, a health guarantee, health records, AKC registration, and are microchipped. Since the breeder has very few litters per year so you will need to be patient.
Havanese Breeder Information:
8. Encore Havanese Southern California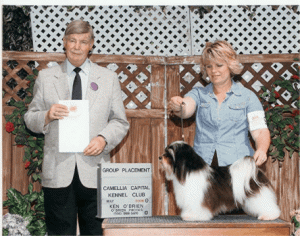 Encore Havanese has been committed to breeding Havanese dogs of the highest caliber since 1995. Their breeding program dives into various elements that produce healthy and well-rounded Havanese companions for every family.
The breeder's top priorities are excellent health, stable temperament, and a happy Havanese personality. Their adult breeding dogs are in impeccable health and from champion bloodlines. Some rigorous health exams conducted on the dogs include BAER tests, CERF, hips, knees among others. You can also see the health records of up to four previous generations. Almost none of the other Havanese breeders in California go through this extensive health and genetic testing. You can almost guarantee that your puppy won't have any genetic defects.
The breeding, whelping, and puppy raising takes place in the breeder's home in Southern California. The breeder exposes the puppies to a wide variety of sounds, sights, smells, and handling with the aim of well-balanced temperaments. At 7 to 8 weeks, the puppies receive an initial veterinarian exam, worming, and inoculations. The Havanese puppies go home between 8 to 10 weeks of age.
Havanese Breeder Information:
More Information About Havanese Puppies in California
The Havanese is a breed of immense charm and innocent-looking eyes. It is playful, intelligent, and makes for a friendly companion. If you're set on getting a Havanese puppy in California, but the effort and time to choose a reputable breeder. Remember, a Havanese puppy doesn't come cheap and they are are a 13+ year investment.
The average price of a Havenese puppy in California starts at $1500 and you will likely over $20,000 on your dog during their lifetime. The effort you put into selecting a Havanese breeder will heavily correlate with the puppy you receive. 
Beware of puppy mills and backyard breeders who don't take their Havanese puppies through health testing, especially genetic testing claiming their "breed" is problem-free. You can't x-ray a Havanese puppy for health conditions with plain eyesight unless the puppy is in severely poor health. The best way to ensure that they will be free of genetic issues is to test them.
Havanese puppies in California thrive in moderate weather throughout the state. They typically don't like it when it's too hot or too cold, but California has the perfect weather for this dog breed.
Conclusion for Havanese Breeders in California
Havanese puppies for sale in California are on the rise. Due to their popularity, you'll notice that there are several Havanese breeders throughout the state. Remember that no two breeders are the same and you'll want to do your own research to make sure you're getting the puppy that you desire. In general, you should look for a breeder with health testing, previous reviews and testimonials, and someone who breeds to the AKC purebred standards. Happy puppy hunting!
Other articles you might like:
Garrett loves animals and is a huge advocate for all Doodle dog breeds. He owns his own Goldendoodle named Kona. In addition, he volunteers at the Humane Society of Silicon Valley, where he fosters dogs and helps animals. Garrett enjoys writing about Doodles and believes that dogs can teach humans more about how to live than humans can teach a dog.
Why Trust We Love Doodles?
At We Love Doodles, we're a team of writers, veterinarians, and puppy trainers that love dogs. Our team of qualified experts researches and provides reliable information on a wide range of dog topics. Our reviews are based on customer feedback, hands-on testing, and in-depth analysis. We are fully transparent and honest to our community of dog owners and future owners.