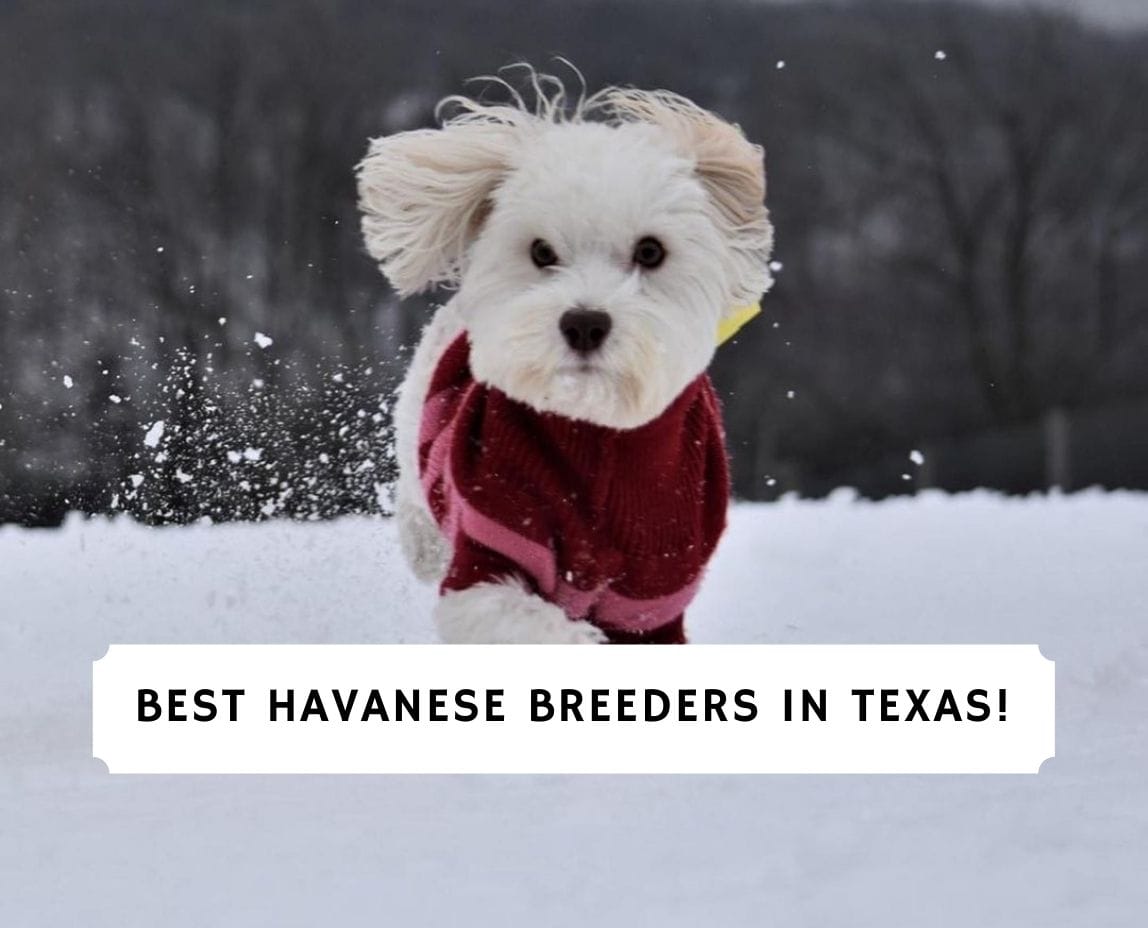 The Havanese dog breed is notorious for its big brown eyes, stunning silky coat, and outgoing nature. The Havanese, native to Cuba, is one of the most loved breeds by city dwellers, especially in Texas. Their small and sturdy body paired with their adaptable nature makes the Havanese one of the best small dog breeds.
The Havanese is intelligent, trainable, and loyal to their family. This small dog breed makes an excellent watchdog, minus the excessive barking found in other breeds. If you're looking for Havanese puppies for sale in Texas, we created a list of several breeders.
Our list contains 6 of the best Havanese breeders in Texas. We specifically look for breeders who register their dogs, health tests, genetic tests, and socialize their puppies. However, we always suggest you reach out to any breeder and request an in-person visit. Breeding practices change and it's important that you find a breeder that you can trust.
Other articles you will like: Poodle Breeders in Texas and French Bulldog Rescues in Texas.
1. South Texas Havanese
South Texas Havanese is an American Kennel Club (AKC) breeder that specializes in companionship and show quality Havanese puppies. Their story trails back to their founders, Doug and Terri, who are extremely compassionate about this dog breed.
When the duo's black lab girls passed on, after 15 years of friendship, Terri developed asthma. The duo searched for a hypoallergenic dog breed that could fit in their developing lifestyle and growing family. That's when the couple stumbled on the Havanese.
Years later, the Havanese is the couple's dog breed of choice. Their adult Havanese darlings sleep in their master bedroom and love to play in their 2-acre yard. The breeder only offers the pedigree beauties to qualified families who love the Havanese in all its glory.
This Havanese breeder in Texas offers two types of puppy guarantees: genetic and satisfaction. For every Havanese puppy, the breeder will give you a one-year genetic guarantee and a satisfaction guarantee for the first few months. If you're not satisfied for any reason, the breeder will work with you to find a resolution or take back the dog.
Havanese Breeder Information:
2. Huggy Bear Havanese Texas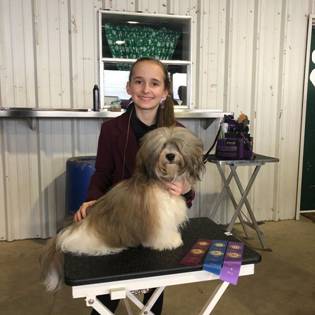 The loving and charming Havanese personality can have you falling head-over-heels. The teddy-bear faced Havanese is the perfect companion dog through careful breeding and hands-on training.
Huggy Bear Havanese in Woodlands, Texas, holds this philosophy close to their breeding program. They handpick the best AKC Havanese adults to breed their puppies in Texas that combine optimal health, temperament, and beauty.
The breeder treats the adult Havanese as family and enjoys being out and about with them. All their Havenese puppies in Texas are born in the breeder's home, where they receive love and basic puppy training before they leave for your home at 9 weeks.
Delivery is available locally in Texas and across other U.S. states. This Havanese breeder, however, encourages buyers to personally pick up their puppies from their Texas residence.
Havanese Breeder Information:
3. Kando Puppies TX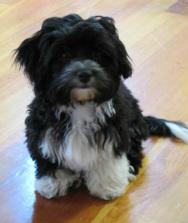 For over 30 years, Kando Puppies has bred healthy and happy pets for families in Texas all the way to Morocco and beyond. The rural East Texas Havanese breeder believes that they are only as strong as their pets' health and client's happiness.
This Havanese breeder runs extensive health checks on their handpicked adult dogs before breeding. They prioritize excellent health, temperament, and superior quality. Their Havanese puppies in Texas come with current dewormings, vaccination shots, health records, and APRI registration.
If you'd like your puppy AKC-registered, Kando Puppies will provide you with APRI registration puppies that you can send to AKC for dual registration. Puppy deposits are usually 40% of the total Havanese puppy price. These Havanese puppies for sale in Texas range in price from $1000 – $1600.
Havanese Breeder Information:
4. Wild Rose Havanese Texas
Wild Rose Havanese is an AKC, Havanese Club of America, and Dallas Fort Worth Toy Dog Club member. Thus, you know from their credentials that they are a reputable Havanese breeder in Texas. As a small north-east Texas breeder, Shirley Taylor, has been breeding and showing dogs since she was 13 years old. After showing Newfoundlands for years, she wanted a smaller dog breed.
After 3 years, she found the Havanese dog. In 1991, she began breeding and showing the Havanese as companion and show dogs. All her Havanese adults are family and live in her home. They are not kenneled and love to run about in their acreage. For what it's worth, she's one of the oldest Havanese breeders in Texas.
All of their Havanese adults have health testing such as Heart and Hips, CERF, Patella's, and CERF before breeding. Their Havanese puppies in Texas are born in their bedroom and cared for on a 24/7 watch. Shipping options are available for Texas locals and US residents as per agreement with the breeder.
Havanese Breeder Information:
5. Tiger Lily Havanese TX
Whether you're looking for a companion or show Havanese dog, Tiger Lily is one of the best breeders you can talk to in Texas. Tiger Lily Havanese prides itself on quality over quantity. Their parent dogs are AKC champions that undergo extensive health testing such as CERF, BAER, OFA hips, and patellas prior to breeding.
Their Havanese puppies in Texas are veterinarian checked for excellent health and sold with limited AKC registration papers. They raise the puppies as a family with lots of socializing and love. The puppies go home at 8 weeks old. You will need to come and pick your puppy at their residence.
The breeder in Texas is a member of the Havanese Club of America and Red River Havanese Club.
Havanese Breeder Information:
6. Havanese Happiness
Havanese Happiness specializes in breeding AKC purebred Havanese puppies. They have their adult dogs health-tested following the AKC purebred recommendations. The breeder is very selective about tracing the family lines for personality and quality.
They raise the Havanese dogs and puppies in their home with their 3 children. The dogs are integrated into their household and exposed to a variety of environments. The puppies go home at 8 weeks old and are sold with limited AKC registration and a 1-year health guarantee.
To hold on to your Havanese puppy, the breeder requires a $300 deposit. If your Havanese puppy doesn't work out for any reason, you can return to the breeder and they will re-home them. They don't want to see their puppies end up in a shelter or rescue.
Havanese Breeder Information:
Frequently Asked Questions about Havanese Puppies in Texas
1. Why are Havanese so expensive?
In Texas, the average Havanese puppy for sale is between $1000 to $2500+. Similar to many breeds, the price will depend on the breeder. Amateurs will probably sell at a lower price to gain market leverage, or maybe they aren't breeding the best and healthiest puppies.
2. How big will my Havanese get?
According to the American Kennel Club (AKC), the Havanese height standard ranges from 8.5 to 11.5 inches. The Canadian Kennel Club (CKC) states the ideal Havanese height to be between 8.3 to 11.3 inches. Havanese dogs weigh between 7 to 13 pounds.
3. How often will I need to groom my Havanese?
Havanese require routine grooming. A brush out 2 to 3 times weekly is considered ideal for this dog breed. This, of course, will depend on the type of coat your Havanese has.
4. Can Havanese be left alone for 8+ hours?
Havanese are known as velcro dogs. They love being the center of attention and being where the action and people are. This doesn't mean that they cannot be alone at certain times. If you have another dog, the Havanese will love having a pack.
Like many dogs, the Havanese may naturally experience separation anxiety or stress when you leave them alone for long periods of time. Despite this, many dogs can adapt to your routine and sleep when you're gone.
5. Are Havanese easy to train?
The Havanese is a people-pleaser which is a trait that makes them easier to train than most other dogs.  The Havanese wasn't bred to do any work. Instead, Havanese dogs warmed royal laps, received treats, praise, pats, and much more for over 300 years in Cuba.
6. Where can I find good Havanese breeders?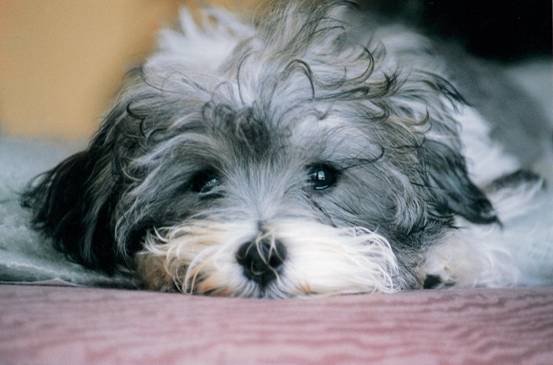 There are tons of responsible Havanese breeders in Texas. You can start with our list and get in touch with a breeder you're interested in. Every breeder on this list tries to go above and beyond to ensure that you will get a Havanese puppy that is healthy and happy. If none of the Havanese breeders on this list are what you're looking for, check with AKC or CKC directories.
Conclusion for Havanese Breeders in Texas
Havanese puppies make excellent companions who are loving, playful, and loyal. They make wonderful pets for people with allergies and people of all ages. Additionally, Havanese love being the center of attention and easily get along with all humans and pets.
Bringing this breed into your home, whether you're in the city or in the rural areas, will be a joy to behold. However, one of the most difficult decisions you will make is finding reputable Havanese breeders in Texas and choosing one to purchase your puppy. Our list should help you with the research process.
Other articles you will like: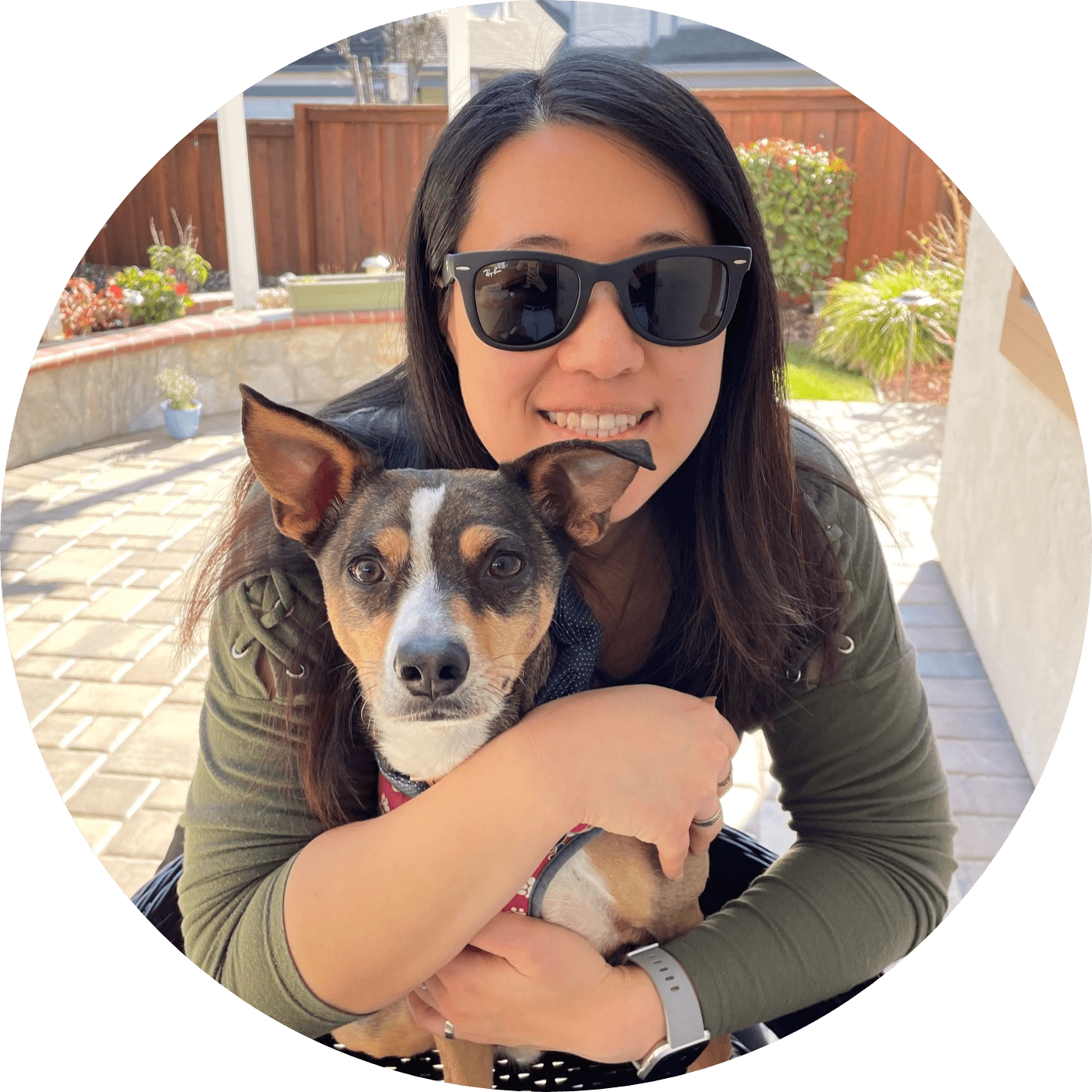 Dr. Sabrina Kong graduated from the Royal Veterinary College in England in 2016 and has been working at a small animal clinic in Northern California since then. She grew up in the Bay Area and got her bachelor's degree from Cal Poly San Luis Obispo. She also became a Certified Canine Rehabilitation Practitioner through a program at the University of Tennessee.
When she isn't in the clinic taking care of her four-legged patients, she enjoys traveling and trying new foods with her friends and her three-legged dog, Apollo. She adopted Apollo from her clinic when he was a puppy with numerous health issues. Dr. Kong truly cares about taking care of animals.