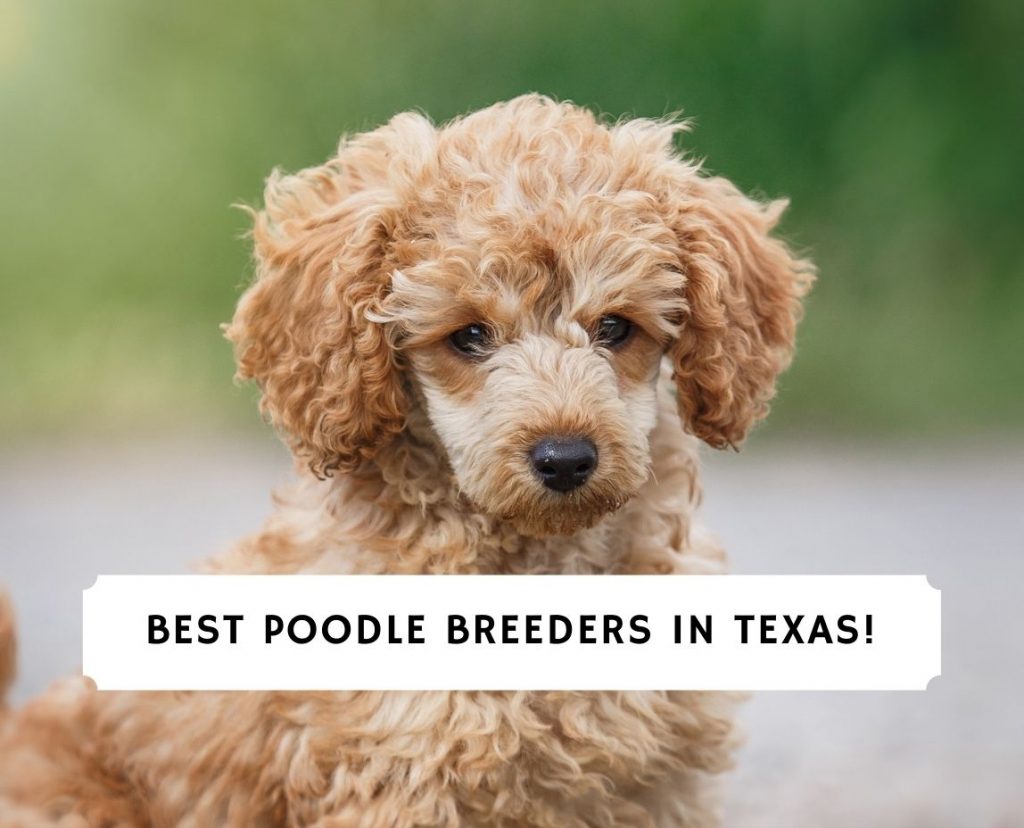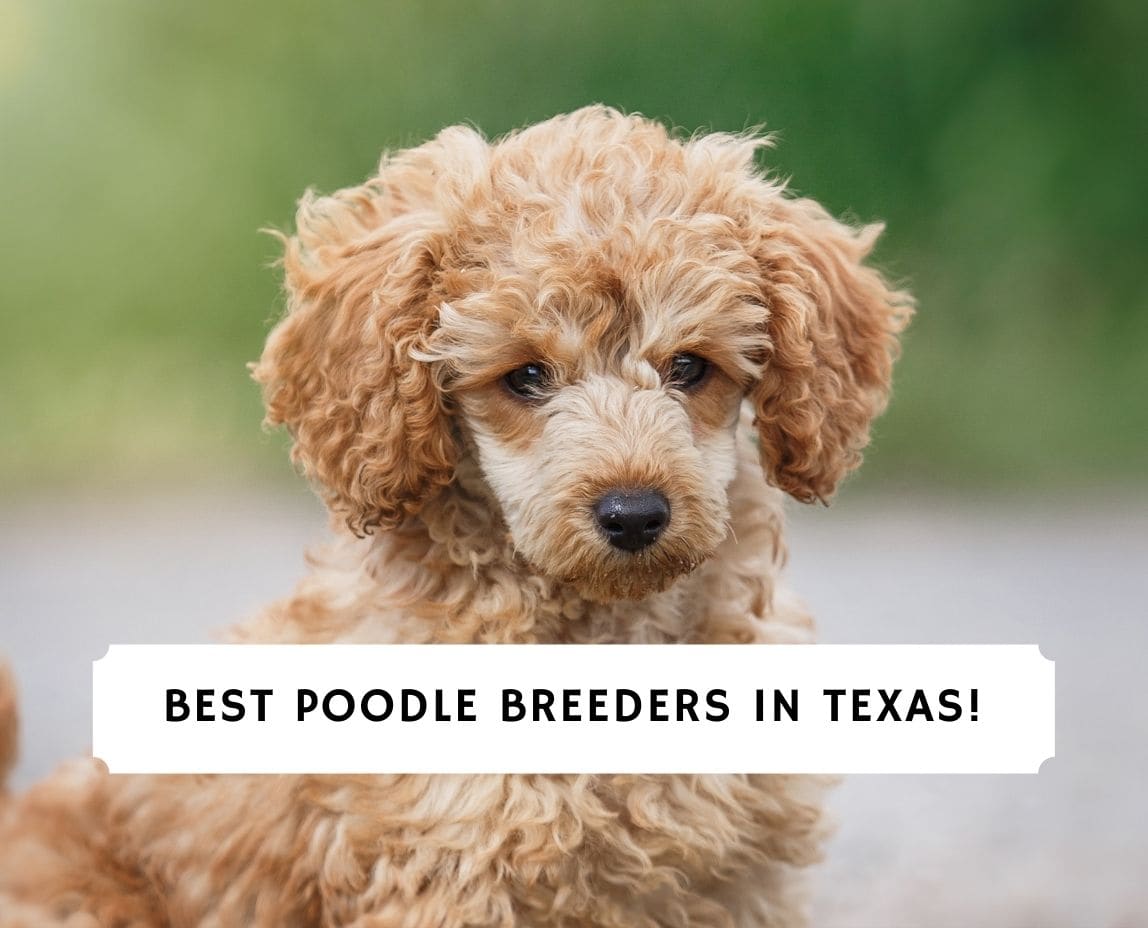 Poodles are one of the most amazing breeds of dogs because of their high intelligence and nonshedding coats. This is evidenced by the number of Doodle breeds that now exist. There are so many dogs that have been crossed with a Poodle for temperament and a hypoallergenic coat that it is easy to forget about the purebred Poodle. Poodles are a hearty, fun-loving dog that fits perfectly into a family in Texas, regardless of the size.
If you have decided that it is finally time to take the leap and add a Poodle puppy to your home you may be overwhelmed by the thought of finding Poodle breeders in Texas that aren't a puppy mill.
That is where we come in. We know how difficult it can be to find a Poodle breeder that cares about the health and well-being of the dogs and not just making quick money. We have put together a list of the best Poodle breeders in Texas to help those of you in the Lonestar state find the perfect breeder that will give you a healthy and happy puppy.
While none of these breeders seem like a puppy mill it is best to do your own research before putting a deposit on a Poodle puppy. Breeding practices constantly change so you should ask for a visit to see the facilities and the dogs first. Most breeders are happy to show you around and love bragging about their program. It is a red flag if they don't want you to come to tour their breeding operations.
Other articles you will like: Best Dog Food for Poodles and Best Clippers for Poodles.
Premier Pups is a service that helps you adopt small breed puppies like the mini Poodle from the top breeders in the country. Unlike many other breeders, they are led by dog lovers who put special emphasis on the quality and well-being of puppies they provide. They can also deliver to anywhere in the United States.
The one thing that sets Premier Pups apart is that they practice hands-on experience. They mainly deal in small breed puppies of purebred, designer, and doodle categories. The health of your miniature Poodle is of the utmost importance. They maintain the health of your Poodle by meticulously screening breeders, routinely visiting them, and ensuring they are following regulations.
All their Poodle puppies for sale are backed up by a 10-year health guarantee covering hereditary or congenital health issues even after it hasn't been discovered until eight weeks. Moreover, you can always ask for the puppy's parent information.
Premier Pups is offering readers $250 off a miniature Poodle with code WLD250.
Poodle Breeder Details
PuppySpot is the #1 breeder on our list because they are revolutionizing the way that puppies are bought by creating a network of really reputable breeders. They do all the work vetting, screening, and verifying that all the Poodle breeders are licensed and registered. Their process is even backed by the American Kennel Club (AKC), which is one of the largest purebred dog organizations in the world. There are two really great features about PuppySpot: they have Poodle puppies available today and you won't be purchasing an unhealthy dog from a puppy mill. Additionally, you can choose the exact Poodle that you want including their gender, size, coat color, and age.
Once you find the perfect Poodle puppy in Texas, then they will deliver it to you. If the puppy isn't located in Texas, then they have their own dedicated airline to help transport each individual puppy. We had a great experience with PuppySpot and recommend that you check them out if you don't want to contact a ton of Poodle breeders in Texas only to be put on a long waitlist. It's an extremely easy process to purchase a puppy.
Poodle Breeder Details
3. Poodle Dynasty Texas
The Poodle Dynasty near Dallas, Texas, has been a breeder of Standard Poodles for a long time and loves this dog breed. They are dedicated to maintaining breed standards while focusing on health and temperament.
The Poodle Dynasty website has a plethora of information not only about their dogs, but also about the Poodle breed in general. They do have a puppy application and if you are interested in a Standard Poodle from Poodle Dynasty then you'll have to fill out the application to get the process started.
This breeder is centrally located in Texas and within driving distance of Oklahoma, Arkansas, and Louisiana. They prefer that buyers pick their Poodle puppy in-person rather than shipping the puppy. This is also so they can meet you and go over all of the Poodle puppy care before you head home. However, arrangements to meet part of the way can be made upon request. If you're looking for a standard-sized Poodle, this was one of the best breeders in Texas.
Poodle Breeder Details
Location: Near Dallas, TX
Address: 584 Independence Springs, Sherman, TX 75090
Website: Poodle Dynasty Texas
4. Magnolia Poodles TX
Magnolia Poodles is owned and operated by the Reed family in Waco, Texas. This is in Central Texas and is a relatively short drive to Austin, San Antonio, Dallas, and even Oklahoma. The Reed family is not a professional breeder, but they live on a small farm and love Poodles.
They wanted to share their love of the Poodle breed with others. Right now, they only have mini and toy Poodle puppies in their breeding program. When we say program it is really three females and one male. They have added a new Standard male, but he is not old enough to breed yet.
Past customers rave about this Poodle breeder in Texas. The dogs are healthy, happy, and loved which means they have developed amazing temperaments and are great for families. Because they are a smaller Poodle breeder they only have a few litters a year. They currently only have one planned litter, but if you are interested in getting on a waiting list it is best to contact them directly.
Poodle Breeder Details
5. The Moyen Poodle TX
This is a breeder that is reputable and full of knowledge when it comes to the Moyen-sized Poodle. There are actually four sizes of Poodle and Moyen is the fourth. This size of Poodle is a small standard which is basically between a standard and a miniature size dog. This is the only size of Poodle this breeder has.
If you love the Standard Poodle but think it is too big for you or just want a Poodle that is larger than a Miniature then you should contact The Moyen Poodle. They have several litters a year but if you want one of their Poodle puppies you will need to be on a waiting list. They do, however, have some older puppies available now that were not reserved out of a litter from early summer.
All their Poodle puppies in Texas require a $300 deposit but do vary in final price depending on color and gender. If you don't live in the area then they will ship you the puppy. If you're looking for a smaller sized Poodle than the Standard, then Moyen Poodle TX might be the breeder for you.
Poodle Breeder Details
Location: Dallas/Ft. Worth, TX
Website: The Moyen Poodle TX
Email: themoyenpoodle@gmail.com
Telephone: 940-395-5441
6. MnJ Poodles Texas
MnJ Poodles is owned and operated by a husband and wife team by the name of Mike and Jenn. They love Poodles and want only the best for the dogs in their care and the puppies they place.
They breed for temperament and pride themselves on how many dogs they have donated for service training and the fact that all of them have graduated and become service dogs. This is a true testament to the temperament and personality of their Poodle puppies in Texas.
They breed two different sizes of Poodles: miniature and small standards. The coloring of their Poodles is either solid or multi-colored parti Poodles. They are also dedicated to the purebred confirmation as is shown with their confirmation titles.
If you are interested in owning one of their sweet Poodles puppies for sale in Texas, you will need to fill out an application to make sure you are a good fit for the breed. They take your lifestyle, home, and other aspects into consideration before they approve or deny an application.
If your application is approved then you will be notified when a litter is on the way. If you are still interested you will then place your deposit. One thing that is different with this breeder is the fact that the deposit is refundable until you choose your puppy. At that point, you are locked in. Pricing information is given once the application is approved.
Poodle Breeder Details
7. Texas Red Poodles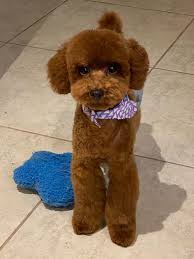 Red Poodles are a sought-after coat color and if you are in the market for a toy or mini red Poodle then you will want to contact Texas Red Poodles. They do have other colors that are available or arrive in the litters, but they specialize in deep red Poodles. Texas Red Poodles does have several litters a year and have recently added a young female to the program from Russia.
The owners are passionate about this dog breed and both grew up with a Miniature Poodle. They are part of the AKC and all of their dogs are registered. The puppies do not come with breeding rights and will only have limited registration.
The only time they change this is when there is a show prospect. They are currently accepting reservations for litters. This list fills up fast so if you are interested in getting a red Poodle from this breeder in the next two years it is time to get on the list.
Poodle Breeder Details
8. Harwood Standard Poodles of Houston Texas
Harwood Standard Poodles of Houston Texas is a serious breeder that has built a line of champions in the city of Houston. One thing to note about this Poodle breeder in Texas is that she prefers to have contact by phone. There is no email listed because of all the scams that come from email.
She wants to have an actual phone conversation with the people that are interested in her Poodle puppies for sale in Texas. All of her dogs in the breeding program are OFA certified for all of the health and genetic issues that could arise. This is an important aspect of running a reputable breeding program and ensures none of her puppies get sick/
Their Poodle breeding line boasts an extensive list of champion dogs that have gone on to become breed champions. Contacting the breeder is the best way to find out when a litter is coming and how to reserve a puppy. There is also no pricing or deposit information available on the website.
Poodle Breeder Details
Conclusion for Poodle Breeders in Texas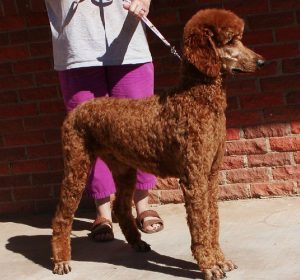 Poodle puppies for sale in Texas are extremely popular. You'll find many breeders as you do your research, but it's important to know that not every breeder is the same. We saw several Poodle puppy mills in Texas that aren't health or genetic testing their dogs. It's important to do your own research and ask any breeder lots of questions about their dogs. This list is here to help you find some of the best reputable Poodle breeders in Texas. Best of luck finding your next puppy!
Other articles you would like: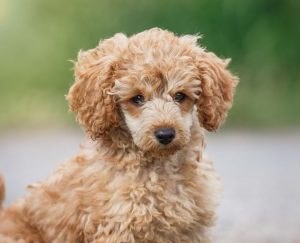 Garrett loves animals and is a huge advocate for all Doodle dog breeds. He owns his own Goldendoodle named Kona. In addition, he volunteers at the Humane Society of Silicon Valley, where he fosters dogs and helps animals. Garrett enjoys writing about Doodles and believes that dogs can teach humans more about how to live than humans can teach a dog.
Why Trust We Love Doodles?
At We Love Doodles, we're a team of writers, veterinarians, and puppy trainers that love dogs. Our team of qualified experts researches and provides reliable information on a wide range of dog topics. Our reviews are based on customer feedback, hands-on testing, and in-depth analysis. We are fully transparent and honest to our community of dog owners and future owners.