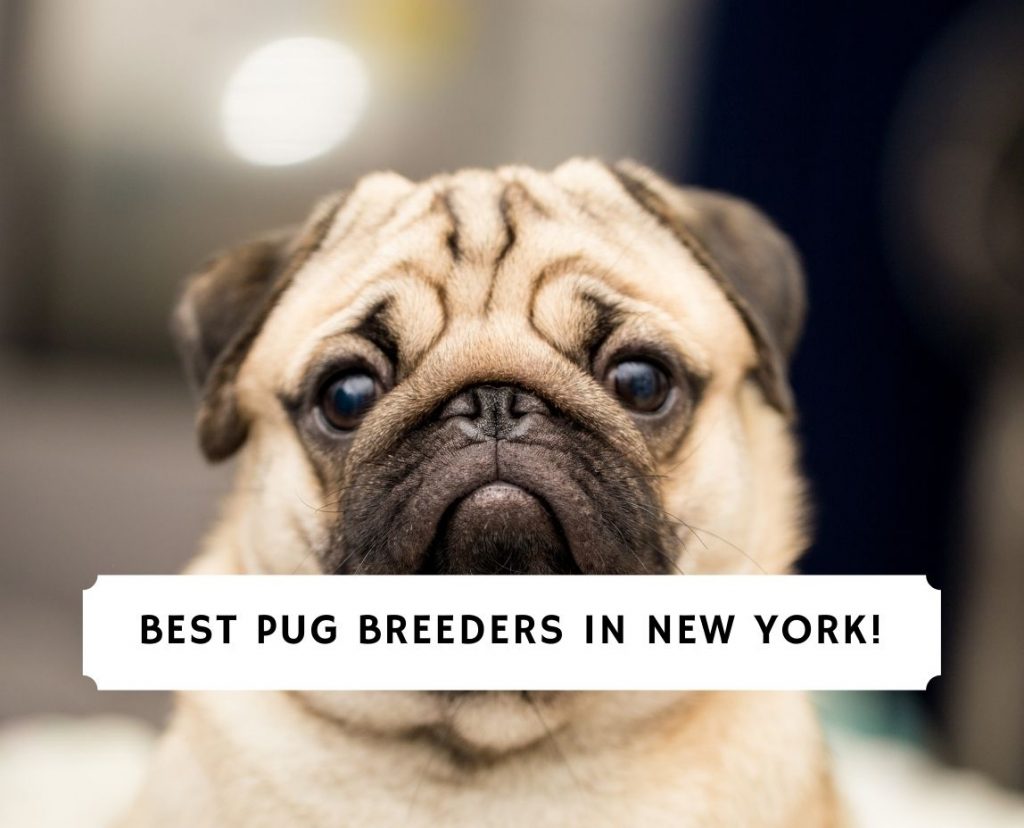 Since you're looking for the best Pug breeders in New York, then you probably have knowledge that they're also known as "Foo dogs." Popularly dubbed as "Foo dogs", the Pug is one of the few dogs that trace its origin to Chinese Royalty. In ancient China, Pugs were bred as hunting dogs for royal Chinese men. Their striking personality, however, made them a hit with royal Chinese women. The royal women loved them as lapdogs and soon, the pug's popularity spread throughout China and beyond.
It's no surprise today that you'll find tons of Pug puppies for sale in New York. However, it's important that you find a reputable breeder that you can trust. Our list will help you as you research Pug breeders in New York.
Other articles you may like: Pomeranian Breeders in New York and Labrador Breeders in New York.
Best Pug Puppies For Sale in New York
Today, dog lovers across the world continue to love Pugs. Pug puppies do well living in cities like New York or the countryside because they are small in size. In addition, Pugs have an easygoing temperament so they get along well with young children or elderly people. Stick around to find out the best Pug breeders in New York.
1. Walk The Line Pug Ranch New York
When you look up "Walk The Line Pug Ranch", there are 3 things that come up on their website. Dogs, country life, music, and more Kenny Rogers. The private ranch is owned and run by 4 family generations who are keen on preserving the original Chinese purebred Pug. Located in upstate New York, they do this through unique breeding methods to breed top-notch Pugs with excellent health. The breeders are also in line with AKC purebred regulations.
Similar to many Pug breeders on this list, they take their breeding dogs through extensive health checkups and tests to ascertain the dogs are in great shape. The health tests include DNA, OFA, and Patella testing among others. The dams whelp, raise, and care for their Pug puppies throughout the day in the breeders' private homes on a 100-acre farmstead. The breeders also maintain a 24/7 watch on the momma and puppy Pugs throughout the day.
This ensures that their Pugs puppies in New York are safe and guarded on the breeders' farm from changing conditions. The breeders also socialize the Pugs with humans, pets, and other environments. In any given year, the ranch has 2 to 3 litters annually. This is because the breeders are hobbyists and want to only breed a Pug litter they can manage. You can expect to pay at least $4,500+ for one of their Pug puppies for sale in New York. The farmstead group has been breeding for 20 years and still counting. For what it's worth, they are one of the oldest Pug breeders in New York we could find.
Walk The Line Pug Ranch Details
2. Kelz Pugz NY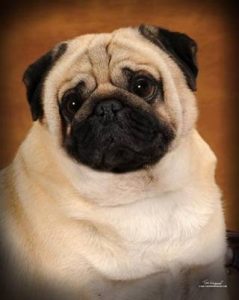 If you're looking for an AKC breeder of heart and merit, Kelz Pugs is the breeder for you. Located in Tonawanda, New York, Kelz Pugs have been breeding pugs for over 15 years and showing for 12 years. Kelly, the founder, started in Veterinary medicine for 14 years before working as a Registered Nurse. He set up the breeding program to produce the finest AKC pugs. He sells pugs on a spay and neuter contract to homes and shows prospects to established breeders. Their Pugs puppies undergo CHIC health testing to ensure the Pugs are healthy.
Their Pug puppies for sale go for $3000. The price is inclusive of a microchip and 2-year health guarantee. Kelly doesn't keep any waiting list and prefers to meet potential Pug parents in-person before purchase. If this is not possible for you, you will need to fill in a detailed puppy application form and have a chat with Kelly on the phone. Their Pug puppies in New York go home at 12 weeks. Kelly doesn't ship the puppies, therefore you will need to prepare alternative delivery methods and pick them up.
Kelz Pugz Details
3. Casull Pugs New York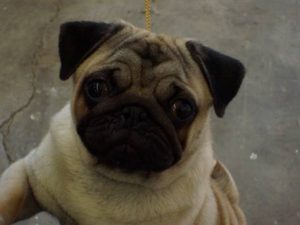 Cassull Pugs was founded in 2007 by Annie and Cassi. The mother-daughter duo purchased their first Pug, Luke,  in 2005 and they were hooked on this dog breed. Luke was a former therapy Pug who excelled in agility and obedience but wasn't built for the show ring. It is from Luke that Annie and Cassi's search for a Pug that was built for the conformation ring.
That's when the duo landed on foundation Pugs. To date, the two breeders show their Pugs across various show rings. They are current members of the Pug Dog Club of America (PDCA) and strive to follow all breeding guidelines set. The breeders have won a lot of competitions across the country. Their breeding dogs are AKC champions with excellent genes, health, and temperament to pass on to the next generation.
Casull Pugs have two sets of Pugs: pet Pugs that cost $2800 and show Pugs that cost $4,500. The prices are the average for a Casull Pug. You may find the Pug's price is higher or lower than that. Pet Pugs come with a limited AKC registration and come home with you at 12 weeks. If you would like an adult Pug, the breeders do have some available for a retirement home.
Casull Pugs Details
4. Andi Pug Puppies New York
Andi Pugs bring home a lot of awards from PDCA's 2019 breeder of the year to the AKC Gold level distinction. The most award-winning trait they have, though, is breeding high-quality Pug puppies with excellent health, conformation, and a winning personality. The breeding business is owned and run by Eileen and Joy Barbieri. Eileen is a renowned Pug breeder, famous for her Saluki breeding program in the 70s. The breeding program was the country's best, and Eileen was named one of the top ten Saluki breeders of the last century.
Joy, on the other hand, enjoys breeding and handling. She has competed in conformation rings since her childhood and handles breeds such as Hounds, Pugs, and Havanese. An Andi Pug for sale in New York goes for an average of $3,500.
Andi Pugs Details
5. Sapphire Bay Pugs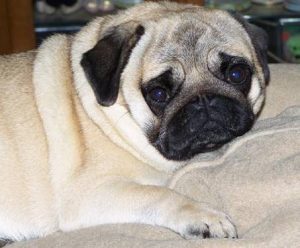 Sapphire Bay Pugs has been breeding Pugs for over 18 years in Western Pennsylvania. While these breeders aren't in New York, they are very closeby. The breeders fell in love with the Pug's sweet comical nature and unyielding love from their first dog. After a lot of research on Pug health and breeding, the breeders ventured into the business with the help of their 2 friends.
Since then, Sapphire Bay Pugs has competed in many show rings and won many titles to date. The breeders are AKC members and members of the PDCA. You can view their breeding dogs on their website. They have matched their Pugs with homes from New York to Ontario.
Sapphire Bay Pugs Details
6. Pennwood Pugs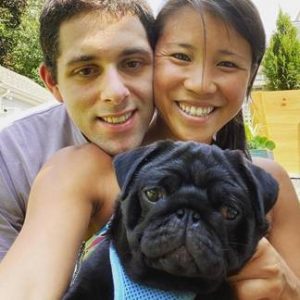 Pennwood Pugs is the brainchild of Helen Rosier. Before breeding, Helen was an ardent dog lover. When she purchased her first pet pug, about 13 years ago, she faced numerous challenges. Although the Pug was the sweetest, the health issues seemed to mount until they lost their Pug puppy to PDE.
This informed Helen's choice to breed for health, soundness, and conformation. The breeder doesn't just want you to go home with any Pug, but a Pug who won't give you sleepless nights. Helen is a member of PDCA. Her pugs are AKC-registered with most of them show champions. You can expect to pay an average of $3,500+ for a Pennwood pug.
Pennwood Pugs Details
Conclusion For The Best Pug Breeders in New York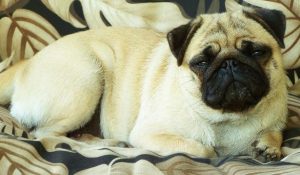 Pugs are very popular in New York for their interesting personality and small size. While Pugs are not partial to city or country air, they get stressed by extreme weather. Overly hot and cold areas are a no-no for Pug puppies in New York. In hot areas, they tend to overheat because of their short noses and even smaller air passages. Ideally, you shouldn't take your Pug to areas over 75 degrees in temperature.
On the flip side, Pugs hate cold weather including snow. They easily become dehydrated and their body temperature drops too low. Before committing to bringing a Pug home make sure to research the breed, understand the breeder's breeding programs, check the customer reviews, check how their breeding dogs are, and what past litters look like. We wish you the best in your search for a Pug breeder in New York.
For other dog breeds in New York, you might want to consider checking out our other recommendations:
To learn more about the Pug dog breed, you might be interested in this YouTube video: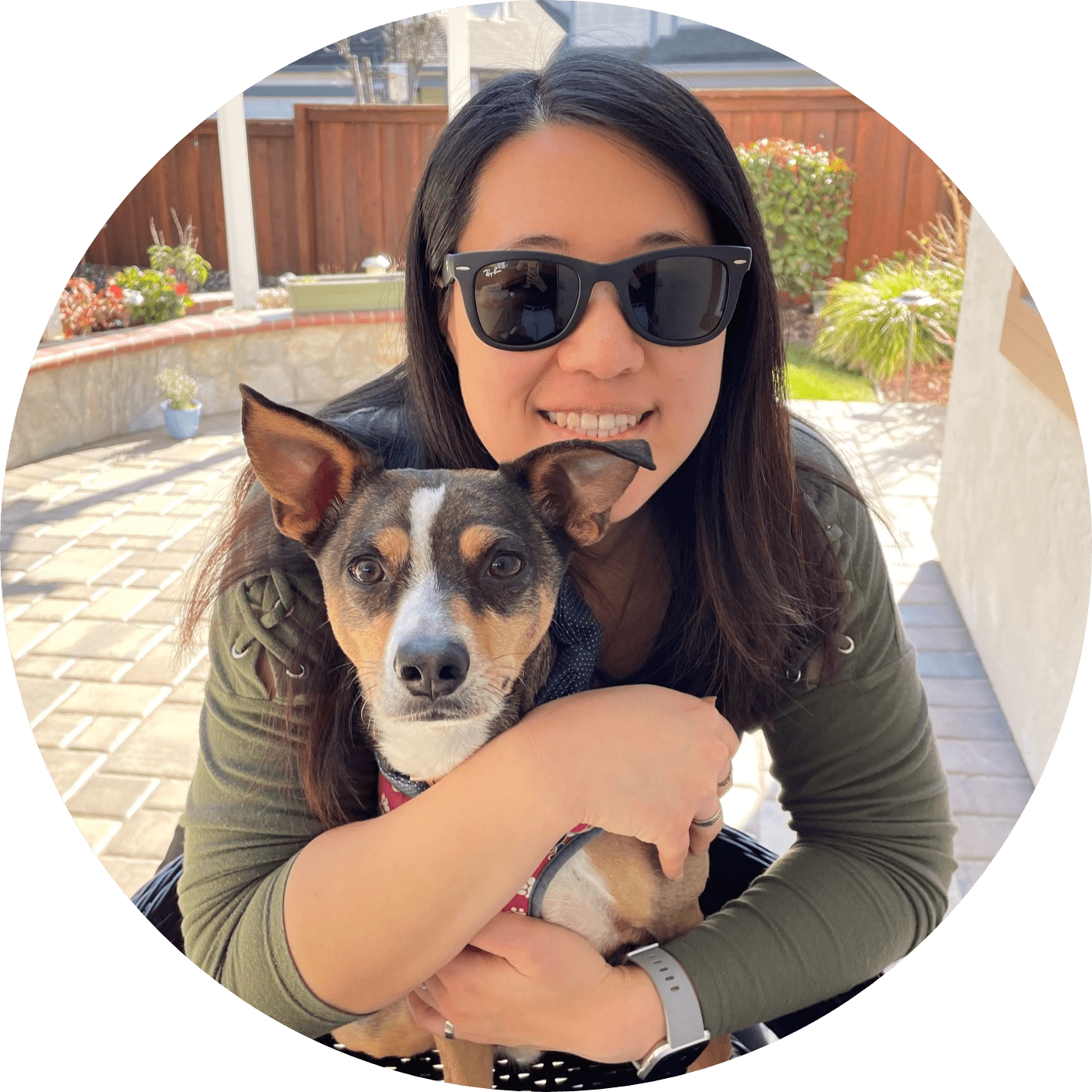 Dr. Sabrina Kong graduated from the Royal Veterinary College in England in 2016 and has been working at a small animal clinic in Northern California since then. She grew up in the Bay Area and got her bachelor's degree from Cal Poly San Luis Obispo. She also became a Certified Canine Rehabilitation Practitioner through a program at the University of Tennessee.
When she isn't in the clinic taking care of her four-legged patients, she enjoys traveling and trying new foods with her friends and her three-legged dog, Apollo. She adopted Apollo from her clinic when he was a puppy with numerous health issues. Dr. Kong truly cares about taking care of animals.