Pugs are a famous dog breed most commonly known for their mischievous, charming, and loving personality. In fact, according to the American Kennel Club (AKC), the Pug is the 38th most popular dog breed in the world. It's no surprise that you'll see tons of Pug puppies for sale in Texas. However, you'll want to purchase your puppy from only the most reputable breeders to make sure that they are going to be healthy and happy.
We've done our own independent research to find the best Pug breeders in Texas. In general, we looked at reviews and testimonials, checked the breeder's reputation, verified health and genetic tests, and checks to see if they offer a puppy warranty. Before you put your deposit down on a Pug puppy, always make sure to do your own due diligence not to purchase from a puppy mill or backyard breeder.
While it may be enticing to purchase a really cheap Pug puppy in Texas, you may end up paying more in medical bills if they have genetic diseases. Make sure to verify health and genetic testing so you can get a long-living puppy.
Other articles you might like: Maltese Breeders in Texas and Corgi Breeders in Texas.
1. Too Cute Pugs Texas
Located near San Antonio, Texas, Too Cute Pugs specializes in both standard and rare colored Pugs. They have been working with the Pug dog breed since 2009. Their goal is to not only send home healthy happy pug puppies to people living in Texas, but also to improve the health issues within the breed. Too Cute Pugs strives to only breed healthy Pug puppies, making sure they get the best possible new family member their customers could ask for.
All Too Cute Pugs raises all their puppies indoors with all of their family members. They are all spoiled, well-loved, and socialized by the time you receive them. All their Pug puppies in Texas are AKC registered and come with AKC limited registration papers. In addition, their dew claws removed, they receive their 1st and 2nd vaccination shots, and get dewormed. They like to stay in contact with their buyers to make sure the dogs they breed are part of loving family homes where they can thrive.
Pricing for Too Cute Pugs puppies can range between $1000 to $1500 depending on color, and quality, and breeding rights. All their puppies are sold as limited AKC as pets only. If you're seeking breeding rights, there is an added fee for full AKC puppies and breeding rights. These breeding rights are given only if Too Cute Pugs feels the puppy has something to offer that would benefit the breed.
Pug Breeder Details
2. Pug Haven Texas
Pug Haven is a Pug dog breeder from Mt. Enterprise in eastern Texas. They are one of the highest regarded Pug breeders in Texas and have received praise from all of their clients. Their dogs come with all appropriate vaccination shots and dewormings as well as a health guarantee.
What has kept them and their dogs so popular is the care that Pug Haven puts into not only their Pugs, but also their customers. They are very communicative, sending pictures, and update their buyers until their dogs are ready to go to their new family. To get a quote for a puppy from Pug Haven, they ask you to contact them directly.
Pug Breeder Details
Address: Mt Enterprise, Texas 75681
Phone: (936) 221-3007
Website: Pug Haven Texas
3. Paws of Texas
Paws of Texas' goal is to produce high-quality and show quality Pugs for their customers. In addition, their goal is to breed Pugs that bring happiness and companionship for years to come. Located in the Brazos Valley in Central Texas, Paws of Texas breeds Pugs on their property of over 4 acres, allowing from an early age their dogs to run and play.
All of the puppies at Paws of Texas come veterinarian approved, up to date on shots and dewormings, and come with a 1-year health guarantee against any genetic defects that will shorten the life expectancy of a puppy. All of their Pug puppies in Texas are also bred from import and champion bloodlines. You can rest assured that the Pug your getting conforms to the purebred standards.
All Paws of Texas puppies must be 8 weeks old before going to their new home. Puppies need their mother and siblings for proper socialization and care until then. The deposit amount is $200 to hold one of their Pug puppies. This amount will be deducted from the price of the puppy once it is ready to go to its new home.
Male and female pug puppies from this breeder are priced at $2500.00. All of their Pug puppies come with AKC Limited Registration.
Pug Breeder Details
Address: Ft Graham Rd, Waco, Texas 76705
Phone: (254) 424-8891
4. Petland Vineyard Texas
Petland Vineyard is a pet store in San Antonio, Texas helping families find their perfect pets, including Pugs. Their mission is to match the right pet with the right customer. For their customers who already have dogs, they are dedicated to enhancing their knowledge and enjoyment of the human-animal bond.
Petland Vineyard puts the health and well-being of their Pug puppies first by promoting responsible puppy ownership and continuous staff training.  At Petland, they make sure that they place their puppies in the most loving and caring homes possible.
Petland Vineyard offers special financing options which is a great way to be able to afford the materials necessary for your dog without having to pay everything upfront.
All that is needed is to fill out an application either online or in-store. Once the application is processed there will be an approved amount as the deposit. Within a few clicks and consulting with their Pet Counselors, a customer will be ready to take home their new puppy. For the full pricing of Pug puppies from Petland Vineyard, contact them directly.
As with any pet store, always make sure to understand where your puppy is coming from. You don't want to be supporting breeders who aren't ethically raising their puppies.
Pug Breeder Details
Address: 1309 N Loop 1604 E #101, San Antonio, Texas 78258
Phone: (210) 592-1234
Website: Petland Vineyard Texas
5. Fairytail Puppies Texas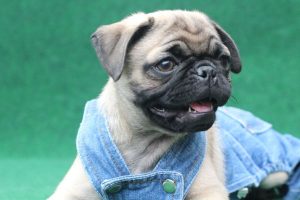 Fairytail Puppies LLC is a CKC registered and licensed purebred Pug breeder located in Hidalgo County, Texas. Their hometown of Mission, Texas,  is just north of the Texas and Mexican border. They specialize in raising exquisite Pugs with outstanding temperaments and health.
Their dogs all come happy and healthy with appropriate shots and dewormings that are necessary. Their dogs are home-raised around children, acclimating them to life with a new family, and ensuring proper socialization. Pug puppies from Fairytail Puppies LLC are kept together as a family for their first 8 weeks. After 8 weeks, you're allowed to come pick up your Pug puppy.
To get a quote for a pug from Fairytail Puppies, they ask to be contacted directly. They do offer financing and helping their Pug puppies in Texas find their new families. A deposit must be made to be put on a waiting list for one of their Pugs.
Pug Breeder Details
6. Teacup and Toy Pets Boutique Texas
Located in the country at the edge of Dallas County, Texas, Teacup and Toy Pets Boutique is a breeder of Pug dogs and other toy-sized puppies. Their passion is offering healthy and happy puppies, pet supplies, and tiny breeds, including Pugs.
Teacup and Toy Pet Boutique empowers new pet owners with the knowledge necessary to care for a new Pug puppy. They have over 25 years of experience breeding puppies and Pet Boutique will help guide customers if this is your first dog you're purchasing.
Their store is only available by appointment and can be contacted Monday through Friday, 6 am to 6 pm to schedule an appointment. You can contact Teacup and Toy Pets Boutique for Pug puppy pricing. They do offer payment plans and financing to help families who don't have enough money for a Pug.
Pug Breeder Details
7. Pet City Houston Texas
Pet City Houston has been in business for over 30 years and is known as Houston's number-one-rated pet store. They are family-owned and operated and offer many services and items, as well as selling puppies of a variety of breeds, including Pugs.
With this, they offer an area for playtime with a new pet. All that is needed for this is a reservation that is able to be booked via their website. Pet City Houston is known for the care they put into their animals as well as the professionalism and knowledge of their employees. For the full pricing of Pug puppies from Pet City Houston, contact them directly. 
Since this is a pet store, we always recommend you try and understand more details about the Pug puppy to make sure they are coming from a reputable breeder. Sometimes pet stores will get Pug puppies in Texas from puppy mills.
Pug Breeder Details
8. Pug Breed Dogs Texas
***10/12/21 We can no longer recommend this breeder.***
Pug Breed Dogs is a breeder of purebred Pugs located in Fort Worth, Texas. They take great care in breeding healthy and happy pug puppies that are already given their first shots, immunizations, and dewormings. Pug Breed Dogs does ship their dogs to customers not located in the Fort Worth or Texas area.
When buying from Pug Breed Dogs a buyer will also receive a five-year genetic health guarantee, an AKC starter packet, a health record by a certified veterinarian, a baggy full of dog food, toys, two stainless steel puppy bowls, training treats, a blanket, brush, microchip for the life of the dog, training book, the first dose of Revolution to prevent heartworms, fleas, ticks and mites, and a crate. Their Pug puppies in Texas must be at least eight weeks of age before you can take home their new Pug puppy.
For the full pricing of a Pug puppy from Pug Breed Dogs, they ask you to contact them directly via their website or email. It's one of the most full service Pug breeders in Texas.
Pug Breeder Details
Address: 5007 Inversess Ave, Fort Worth, Texas 76132
Phone: (817) 398-3135
Website: Pug Breed Dogs Texas
Email: info@pugbreeddogs.com
Conclusion for Best Pug Breeders in Texas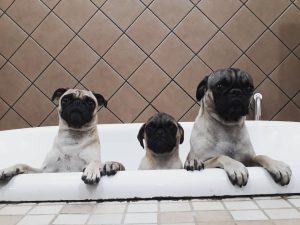 Pug puppies in Texas are growing in popularity due to their cute and distinct faces. In addition, they are a smaller dog breed that doesn't need a ton of exercise and fits in well with most families. With proper socialization and training, Pugs can be a fantastic lifelong companion. We hope that you were able to reach out to some of the Pug breeders in Texas. Always do your own research and ask lots of questions before putting down a deposit!
Other articles you might like:
Garrett loves animals and is a huge advocate for all Doodle dog breeds. He owns his own Goldendoodle named Kona. In addition, he volunteers at the Humane Society of Silicon Valley, where he fosters dogs and helps animals. Garrett enjoys writing about Doodles and believes that dogs can teach humans more about how to live than humans can teach a dog.
Why Trust We Love Doodles?
At We Love Doodles, we're a team of writers, veterinarians, and puppy trainers that love dogs. Our team of qualified experts researches and provides reliable information on a wide range of dog topics. Our reviews are based on customer feedback, hands-on testing, and in-depth analysis. We are fully transparent and honest to our community of dog owners and future owners.