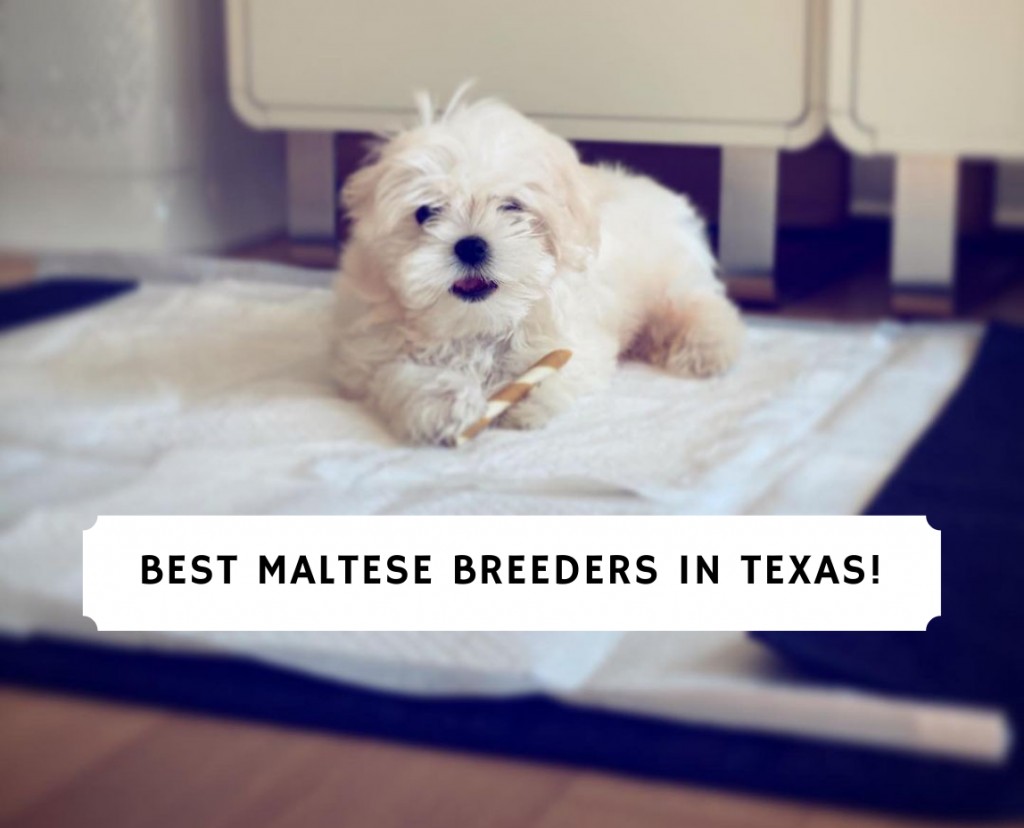 The Maltese is one of the most popular toy dog breeds in the world. Commonly known for its slick white hair that can grow to touch the ground, this dog breed is adaptable and gets along well in families with children. According to the American Kennel Club (AKC), the Maltese is the 37th most popular dog breed in the world. It's no surprise that you'll see tons of Maltese puppies for sale in Texas.
However, in order to get a happy and healthy Maltese puppy, you need to choose a reputable breeder. We've done our own research to find some of the best Maltese breeders in Texas. In general, you will want to ask potential breeders lots of questions about parent dog health and genetic testing, puppy warranty, AKC certificates, and their reputation. Always do your own due diligence before purchasing a Maltese puppy in Texas as breeding practices often change.
Other articles you might like: Corgi Breeders in Texas and Pomeranian Breeders in Texas. 
1. PuppySpot Maltese Texas
PuppySpot helps reputable breeders find homes for their puppies throughout the United States. One of the main types of puppies that they have for sale is the Maltese. Since they are a network of breeders, you won't have to wait for a puppy. Additionally, you won't have to do a ton of research and question various Maltese brewers around Texas.
All the Maltese puppies on PuppySpot come from vetted and screened breeders. They only accept less than 10% of all breeder applications, and their selection process is approved by the American Kennel Club. After they sell you a puppy, they will even maintain contact to see if you have any questions they can help answer. We got one of our puppies from PuppySpot and highly recommend you check them out.
You can sort by Maltese puppies based on their coat color, size, price, and gender. Since they only list puppies that are born, you don't have to wait on a long puppy wait list. If the exact Maltese puppy you want isn't located in Texas then PuppySpot will deliver it to your door. Overall, PuppySpot saves you a ton of time, comes with a health guarantee, and you won't have to wait.
Maltese Breeder Information
2. Maltese Acres Texas
Maltese Acres Texas is a small, home-based Maltese breeding program that was started back in 2001. Their puppies can be show-quality and can compete in ACA-registered events or other events. Maltese Acres offers Maltese puppies to residents in Texas, Oklahoma, Arkansas, and Louisiana. 
At Maltese Acres, the quality, temperament, beauty, and health are their main concerns when it comes to breeding Maltese puppies. Their goal is to improve upon these qualities when breeding Maltese dogs so that they deliver happy and healthy puppies.
Their Maltese puppies in Texas are welcomed into a clean and loving environment from birth. Many puppies are show-quality, with full, rich coats, and a clean bill of health. Their dogs have competed and won multiple ACA-registered events so you will be getting puppies from a championship bloodline.
Their Maltese puppies also come with a written health guarantee erasing the worry about a new family pet coming down with any life-threatening disease. All puppies are current on vaccinations, de-worming, and veterinarian checks.
A non-refundable deposit of $200 is required to hold a puppy until it's ready for its new home. Deposits are non-refundable and no Maltese puppy will be held or reserved until a deposit is received. Deposits can be made by money order or cashier's check.
The deposit will be applied to the purchase price of a Maltese puppy and the remaining balance will be due and payable when the puppy is 8-12 weeks old and ready for pick up. For the full pricing of Maltese Acres puppies, contact them directly.
Maltese Breeder Information
Address: 10127 Hwy 82 East, Avery, Texas 75554
Phone: (903) 314-9000
Website: Maltese Acres Texas
3. Maltese Babies Texas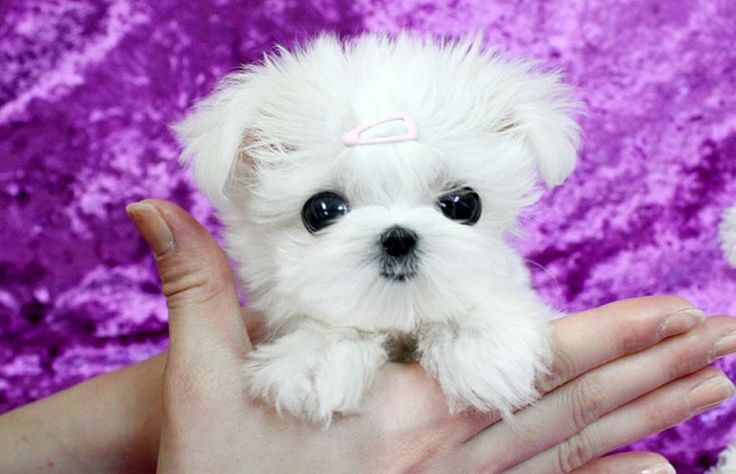 Maltese Babies is a Maltese and Maltipoo Breeder in Austin, Texas. They breed high-quality AKC and CKC puppies that are healthy and attractive pets. They offer health guarantee's on all puppies that leave their home and all dogs are indoor pets. They share a very large room and have lots of areas to play outside during the day, so they are well-exercised and socialized early on.
They are not a puppy mill and are strongly against caging or kenneling their Maltese dogs for breeding purposes. All their dogs are vaccinated routinely and given deworming prevention monthly.
Pricing for a puppy from Maltese Babies is $1,500 to $1,700. Maltese Babies accepts cash, check, or Paypal. All payments with Paypal must pay the fee and all transactions must be cleared before the puppy leaves Maltese Babies facilities.
They hand-deliver puppies in the Austin area as well as shipping their dogs to their new owners. The shipping fee for one of their Maltese puppies in Texas is $350. They ship their puppies in a hard-sided, plastic carrier, with dry dog food, and water inside the carrier. If possible, we always recommend that you pick up your puppy because it causes less stress and anxiety on the puppy.
Every Maltese puppy comes with a Maltese Babies guarantee, contract, health certificate, shots, worming record, and pure breed registration papers.
Maltese Breeder Information
Address: 12713 Paloma Blanca Way, Del Valle, Texas 78617
Phone: (512) 247-9780
Website: Maltese Babies Texas
4. Debs Lil Pawz Texas
Debs Lil Pawz Texas is an AKC registered Maltese Breeder out of Center Point Texas. Their Maltese puppies are beautiful, playful, and come with a one-year health warranty.
In addition, their Maltese puppies in Texas come with potty training started, current shots, de-worming, and veterinarian checks. In addition, their puppies are well socialized and ready to become part of a family. Debs Lil Pawz reserves the right to refuse to sell to anyone they do not see as fit, making sure their dogs go to the best and most loving families possible.
Pricing of Maltese puppies from Debs Lil Pawz starts at $1,600. The price depends on gender with females being in a higher price range. They only sell their puppies with limited registration and do not ship their puppies.
Maltese Breeder Information
Address: 109 Church St, Center Point, Texas 78010
Phone: (830) 285-2019
Website: Happy Lil Pawz Texas
5. Maltese Puppies From Kit
Maltese From Kit offers adorable AKC registered Maltese puppies for sale. These Maltese puppies are lovingly cared for personally at their home in the Houston, Texas area. The puppies are always in a clean and healthy environment as they begin to develop into the perfect little dog.
While they live with Maltese From Kit, the puppies get the love and attention which is so important to their growth as they begin to understand how to interact with people and form that bond that makes them such wonderful companions. They have been breeding dogs for over 20 years and focus only on the Maltese breed which makes them a very special breeder. Their Maltese puppies in Texas come up to date on their shots and de-worming.
Whether a family had many dogs in their life or this is a first-time experience, Maltese from Kit can help you understand every little detail of bringing a new family member home and integrating them into daily life. When adopting a Maltese puppy from Maltese From Kit, you can expect a very personal experience. All their puppies in Texas are priced from $3,000 and up depending on the gender.
Maltese Breeder Information
6. Tubb's Maltese Puppies Texas
Tubb's Puppies is a small breeder serving the Texas area. They breed award-winning show dogs and pets, including Maltese puppies. All of their puppies come from award-winning bloodlines and come up to date on their shots and deworming. In addition, all of their Maltese puppies in Texas also come with a one-year health guarantee.
To purchase a puppy from Tubb's, a questionnaire must first be filled out. This is to ensure that their Maltese puppies go to the most loving and caring families possible. Their puppies can be purchased starting at $3,000 and going up from there.
Maltese Breeder Information
7. Teacup and Toy Maltese Puppies Texas
Located in the country at the edge of Collin County and Dallas County, Teacup and Toy Pets Boutique is a breeder of Maltese dogs as well as other teacup and toy-sized puppies. They deliver on their passion by offering healthy and happy puppies, top-of-the-line pet supplies, and custom-made options for teacup and tiny dog breeds, including Maltese.
Teacup and Toy Pet Boutique is focused on empowering new pet owners with the knowledge and supplies necessary to care for a new puppy, especially tiny Maltese puppies. With over 25 years of experience in caring for small puppies, Pet Boutique will help and guide you in your journey from newborn puppy to new Maltese family member.
Unfortunately, Teacup and Toy Pet Boutique is only available by appointment. They can be contacted Monday through Friday, from 6 am to 6 pm to schedule an appointment.
Their Maltese puppies in Texas start at $1,875 and go up to over $6,000. They do offer payment plans and financing, typically starting with a $49.99 down payment. This is to help families bring a new member into their home.
Maltese Breeder Information
8. Maltipoo Pups Texas
Maltipoo Pups Texas is a breeder specializing in breeding affordable dogs of the hybrid breed Maltipoo dogs. These are a mixed breed of Maltese and Miniature Poodle. They strive to produce beautiful, healthy, and quality puppies and it is their goal to provide families with the perfect companion. 
All of their dogs are raised underfoot in their home with the greatest of love and care and have been given the best of preventative veterinary care. They are one of the top Maltipoo breeders in Austin, Texas because they focus on the temperament and health of their dogs.
To purchase a puppy from Maltipoo Pups in Texas, you must contact them directly to make an appointment. All of their dogs come with all age-appropriate immunizations and de-wormings as well as a one-year health guarantee.
A buyer will also receive all proper documentation when picking up their puppy. Their puppies in Texas can be priced up to $1,500. All purchases are non-refundable including a deposit made to hold a puppy for a buyer.
Maltese Breeder Information
Conclusion for Maltese Breeders in Texas
Maltese puppies in Texas are growing in popularity due to their small size, good temperaments, and easygoing personalities. You don't need much space to house a Maltese so they can thrive in apartments, condos, or houses. In addition, this dog breed tends to be more on the hypoallergenic and nonshedding side which is great for people who have pet allergies or don't like vacuuming up dog hair every day. We hope you enjoyed our article on the best Maltese breeders in Texas and found some good possible leads. Remember to always ask lots of questions about their breeding practices before putting your deposit down for a puppy!
Other articles you will like:
Garrett loves animals and is a huge advocate for all Doodle dog breeds. He owns his own Goldendoodle named Kona. In addition, he volunteers at the Humane Society of Silicon Valley, where he fosters dogs and helps animals. Garrett enjoys writing about Doodles and believes that dogs can teach humans more about how to live than humans can teach a dog.
Why Trust We Love Doodles?
At We Love Doodles, we're a team of writers, veterinarians, and puppy trainers that love dogs. Our team of qualified experts researches and provides reliable information on a wide range of dog topics. Our reviews are based on customer feedback, hands-on testing, and in-depth analysis. We are fully transparent and honest to our community of dog owners and future owners.