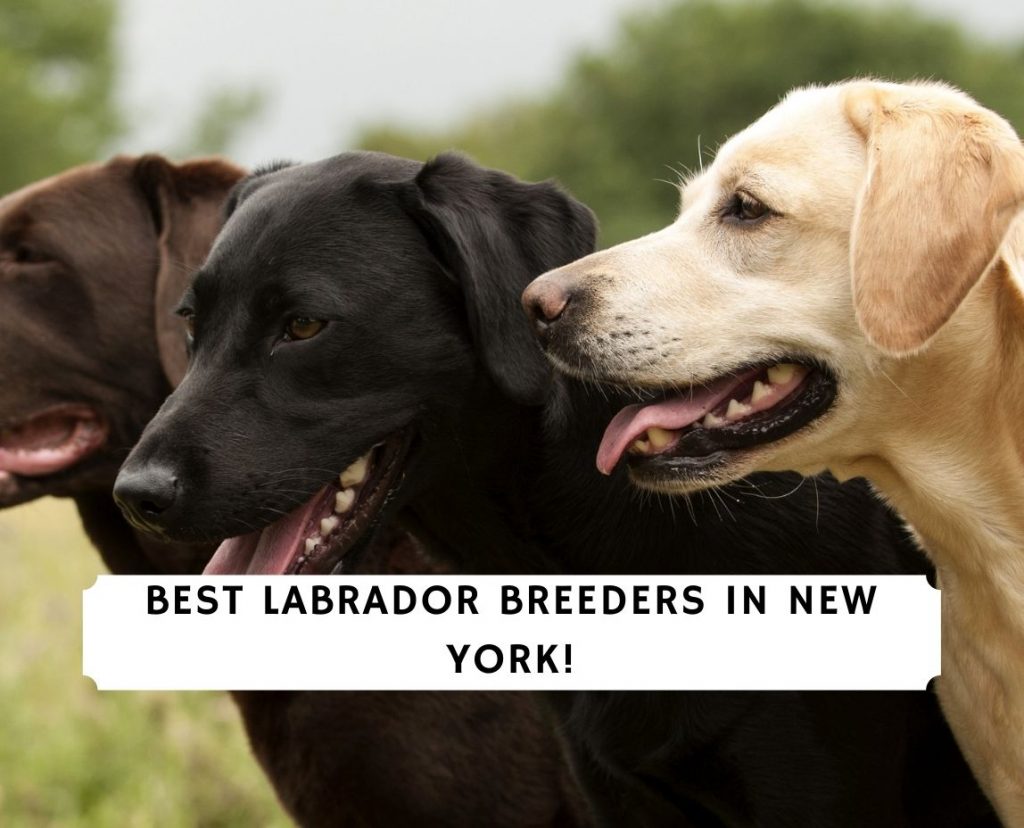 Before looking at our list of the best Labrador breeders in New York, you should know that Labrador Retrievers are the most popular dog breed in the U.S. and the U.K. and have been for many years. There are a lot of reasons for the breed's continual popularity. Their temperament is considered excellent, they are versatile in their abilities, they are easy to train, smart, fit in naturally in almost any environment, and are easy to groom. It's really no surprise that Labrador puppies for sale in New York are on the rise.
lang="EN">Labradors Retrievers are energetic working dogs who need plenty of stimulation and exercise. Finding the right breeder is important when it comes to making sure you find the right Labrador Retriever puppy to fit into your home environment. A responsible breeder will ask you to fill out a questionnaire or ask many questions about the environment the dog or puppy will go into. They will actually care about the homes that their Labrador puppies in New York end up at.
Good Labrador Retriever breeders will also be transparent about their practices and be very knowledgeable about the breed. Many of the breeders listed below have an AKC Breeder of Merit certification and/or the AKC Marketplace blue ribbon symbol listed on their site. This ribbon means the breeder has met the criteria for health, socialization, care, breeding, and temperament.
Other breeders in New York for you to check out: English Bulldog Breeders in New York and Beagle Breeders in New York.
Labrador Puppies For Sale in New York
It's still vital for you to do proper research on any breeder you purchase a dog or puppy from. It's also important to know that, by New York law, a puppy can't leave its home until they are 8 weeks or older. If you feel ready to bring home a Labrador puppy as a companion, then below is a list of the best 6 Labrador breeders in New York that we could find.
1. Rhumbline Retrievers New York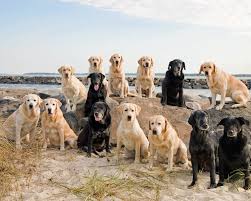 Rhumbline Retrievers started in 1993 and its first litter was born in 1996. Susan and Joseph focus on breeding family pets and making sure their dogs are well rounded and loving companions. They make breeding choices based on temperament and family interaction. For what it's worth, they are one of the oldest Labrador breeders in New York we could find.
Rhumbline Retrievers are definitely bred and trained to be working dogs. The dogs from these breeders are trained in just about every work situation imaginable, including law enforcement, service, hunting, dock diving, agility, and obedience, just to name a few.
Rhumbline Retrievers have been awarded the AKC Breeder of Merit and take care of their Labradors from birth to when they are ready to go to their forever home. They breed 1 litter per year or less as to not stress the parent dogs.
Susan and Joseph raise the Labradors in their home in Mattituck, New York, and have a large outdoor play area with enrichment activities. They follow the early neurological stimulation (ENS) program and they want any potential buyer to come and visit to interact with the dogs. Labradors at this facility hunt every season and are given thorough health checks, including eyes, hips, cardiac, eyes, and will participate in the field, rally, and obedience training. Rhumbline Retrievers don't have stud services.
Labrador Breeder Details
2. Petiwy Labradors NY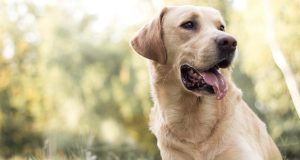 Petiwy Labradors is owned by Monika Dufka, who has been working with Labradors for 17 years, who has a "Good Breeder" badge and a Health Testing Level of Great awarded by GoodDog.com. She is a small hobby breeder and her focus is on temperament, obedience, intelligence, health and look of the Labradors. Before you can obtain one of her Labrador puppies in Ridgewood, New York, Petiwy Labradors requires information from you, then you will be contacted about the next steps in the process.
Dogs and puppies here are raised in a home environment, so they are acclimated to regular household sounds and lifestyles. Petiwy employs a puppy culture program, including ENS, socializing with other and older dogs, and playtime interacting with people; when they are old enough. Their exercise regime includes swimming, hiking, camping, weekend trips and are shown in AKC and UKC conformation and obedience rings.
Petiwy Retrievers guarantees the health of their dogs/puppies for 26 months and a lifetime guarantee for PRA. Their Labrador puppies for sale in New York will have their first set of shots, will have been dewormed several times, will be microchipped, will have a health certificate from their vet, and will come with an AKC certification and litter pedigree. In addition, the Lab puppy will leave with a food starter kit, a blanket, and a toy with scents from their littermates and Mom.
Labrador Breeder Details
3. Legacy Labradors New York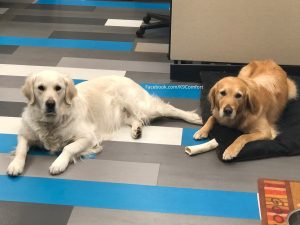 Kevin Bergerson has been a breeder since 1995 and has been awarded an AKC Breeder of Merit certification. Legacy Labradors has sired many champions and the breeder will send out an application only if puppies are available. Their Labrador puppies in Carmel, New York, are raised at the house (the kitchen mainly) and will be used to household sounds and activities. Kevin implements the same socialization programs as those used for training guide and service dogs. Their puppies are paper trained beginning at 4 weeks, are taken for car rides, get daily playtime, and sleep in a crate.
The health checks portion of Legacy Labrador puppies includes deworming, DHLPP vaccinations, veterinarian health certification, OFA, CERF, and DNA clearances of the parents. Each of the Labrador Retriever puppies will be microchipped, AKC registered, and will come with a puppy book. All dogs that are part of Legacy Labrador's breeding program have OFA hip and elbow certifications as well as eye clearances.
The breeder puts much emphasis on ensuring a healthy and happy family pet as much as a championship pedigree. Appointments to meet any potential dog or puppy are required. The owner has suggestions for feeding, shampooing, vitamins as well as links to services including pet insurance, dog trainers, and even a defensive driving course.
The breeder even does DNA testing, gives advice on what Labradors should be tested for and has a large section of what is the standard for a Labrador Retriever. Kevin and his dogs have been featured in segments on networks about how to find a good breeder. Follow the link below or follow this facility on Facebook.
Labrador Breeder Details
4. Honeysuckle Labradors NY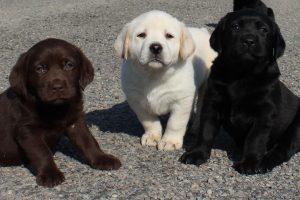 Honeysuckle Labradors is part of the H.E.A.R.T program: a program started by the AKC in 2015 and it stands for Health, Education, Accountability, Responsibility, and Tradition. They are also a member of the AKC parent and specialty clubs as well as a member of the Tioga County Kennel Club. Thus, you automatically know they are one of the most reputable Labrador breeders in New York.
Kelly breeds for a dog to be a companion and family pet but, also, for its hunting ability and its beauty to be a show dog. Puppies and dogs raised here are brought up in a home environment and they don't have outside kennels. They are located in Apalachin, New York.
All their Labrador Retriever puppies are microchipped, enrolled in AKC Reunite, come with a health guarantee and she will take a puppy back for any reason. That being said, any potential buyer must fill out a questionnaire and Honeysuckle Labradors are very serious about making sure you and your dog will be compatible. A dog or puppy bought here gets a complete checkup from a veterinarian, an AKC registration, an item to take home with their Mom's scent on it, and a puppy care package that includes a sample of the holistic foods that all the dogs are fed at the facility.
Additionally, you will be given some tips about socialization, responsible ownership, veterinarian care, training, exercise, feeding, and nutrition. Honeysuckle Labradors was founded in 2013 and you can follow them on Facebook and see more by clicking on the link below.
Labrador Breeder Details
5. Stoneleigh Labradors
At Stoneleigh Labradors, the dogs are bred to make championship Labradors that can be show dogs and those that aren't will be trained to be hunting, service, companion, therapy, or FBI Canine Response dogs. Ali focuses on the appearance, temperament, and overall health of their Labrador puppies in New York. All the puppies are hand raised on a 30-acre farm where they socialize with farm animals and are raised in the home.
Stoneleigh Labradors has a whole page dedicated to responsible breeding, that is chock full of useful information and tips. Dogs at Stoneleigh are given a complete health screening and go through a year-long health care program. All their Labrador Retriever puppies for sale in New York will receive their first set of shots, be de-wormed, have AKC registration papers, and be microchipped.
On the Stoneleigh Labradors website, you'll see that Ali focuses on responsible breeding and the health of dogs and her dedication to the breed is evident. On the site, there is useful information about the Canine Flu and what can be done.
Labrador Breeder Details
6. Clearmountain Retrievers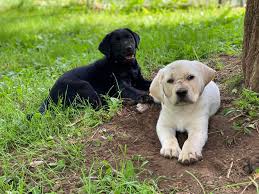 Dogs at the Clearmountain Retrievers home property are bred to be great tempered, have the traditional build and beauty, are great family pets, and are also working champions. Adrienne has earned the "Good Breeder" badge from Gooddog.com as well as being an IACP associate and an Avidog associate. The steps to buying a puppy, as well as information required from Clearmountain Retrievers is extensive and thorough. The site has a large section on expectations including health, training, care, exercise, and nutrition. They also have an in-depth article about how the Labrador litters are raised.
All their Lab puppies in New York will be dewormed, vaccinated, microchipped, treated for parasites, and will have been crate trained. The breeder has a guarantee with all the puppies and will work with them and you for life. In fact, it's in the contract that their Labrador Retriever puppies will never be turned over to a shelter or a rescue.
The Labrador puppies leave Clearmountain Retrievers property with a starter bag of food and a toy with their littermates scent on it. Dogs and puppies at Clearmountain are raised in a home environment, exposed to many sights, sounds and textures. The breeder pays close attention to nutrition, training, proper veterinarian care, and creating a low-stress environment.
Labrador Breeder Details
Conclusion For The Best Labrador Breeders in New York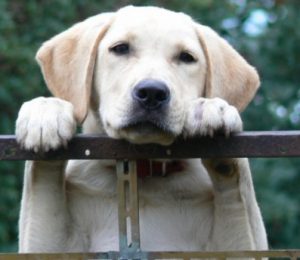 It's important to remember, a Labrador Retriever in New York will live 10 to 20 years and require a lot of commitment and care, you want to make sure the dog you buy is from a responsible breeder. There are some steps you can take to make sure you are dealing with a reputable dealer.
Get a referral from a local club or your vet.
Visit where they are born and raised, this is very important.
The breeder will give references as well as for some and they will ask many questions about the care you will provide.
The breeder will provide proof of health tests.
The contract protects the dog as much as it protects you.
Don't be afraid to ask questions and make sure you are ready for a beautiful, active, and intelligent Labrador!
Other articles you would be interested in:
For more information about the Labrador, you might want to watch this informative video talking about this popular dog breed.
Garrett loves animals and is a huge advocate for all Doodle dog breeds. He owns his own Goldendoodle named Kona. In addition, he volunteers at the Humane Society of Silicon Valley, where he fosters dogs and helps animals. Garrett enjoys writing about Doodles and believes that dogs can teach humans more about how to live than humans can teach a dog.
Why Trust We Love Doodles?
At We Love Doodles, we're a team of writers, veterinarians, and puppy trainers that love dogs. Our team of qualified experts researches and provides reliable information on a wide range of dog topics. Our reviews are based on customer feedback, hands-on testing, and in-depth analysis. We are fully transparent and honest to our community of dog owners and future owners.