Are you searching for Mastiff rescues in California to adopt a companion? Stop if you're a family that's thinking about buying a Mastiff puppy to join your family. Before you shop for a new puppy, why not consider checking the Mastiff rescues in California? The dogs surrendered to these shelters are usually there for no fault.
Their owners may have neglected them, they may have been abused, or they may just have required more attention than their families could afford. When you adopt from a reputable Mastiff shelter in the Golden State, you're bringing a healthy and oh-so-grateful member of your family home.
Before you scroll down this list of Mastiff rescues in California, you can check out these other rescue shelter recommendations from our team at We Love Doodles: Best Cavalier King Charles Rescues in California and Best Cockapoo Rescues in California.
Find a Mastiff Rescue Shelter Near Me in California
Our team at We Love Doodles compiled this list of the best Mastiff rescues in California to help you on your journey to finding a companion.
Mastiff Product Recommendations: Best Tug Toys For Dogs and Best Dog Doors For Cold Weather.
1. Redwood Empire Mastiff Club
Redwood Empire Mastiff Club is the first on our list of the top Mastiff rescues in California. This small-scale, non-profit operation typically only houses a handful of dogs at a time. You can view images and biographies of available dogs on the REMC website.
To adopt from this organization, give the shelter a call. They're located in Grass Valley, California, and will set an appointment with you to come to meet the dogs. You'll interview with the shelter team, at which point you'll discuss the adoption fee.
Dogs are well cared for during their time at Redwood Empire Mastiff Club. Your dog will be spayed or neutered, vaccinated, and current on deworming medication. Please speak with the kennel staff about your dog's social skills and whether they are appropriately tempered to live in a home with children or other dogs.
Redwood Empire Mastiff Club Details
2. Rocket Dog Rescue
If you're a family living in the San Francisco area, you should check out Rocket Dog Rescue. This rescue is a 501(c)3 organization that relies on donations and volunteer assistance from the local San Fran community.
While the team doesn't specialize in Mastiffs, Cane Corsos and other Mastiff breeds frequently come through the Rocket Dog Rescue system. To adopt a dog from this shelter, you'll first want to check out the available puppies.
You can search by breed or browse through the pictures of the puppies. Once you find a dog you love, fill out an application. Your information will be reviewed, and the team will schedule a home or virtual visit with you.
After you're approved, you can expect to pay between $325 (for an adult dog) and $400 (for puppies). Your dog will come spayed or neutered, and they will be current on vaccinations and other medical treatments upon arrival at your home.
Rocket Dog Rescue Details
3. Must Love Corsos Rescue
Must Love Corsos Rescue is based in Ohio, but the shelter serves residents of California. They're a non-profit group that relies on volunteers and donations to remain active, so consider volunteering with the organization. Because they're a nationwide service, transport volunteers and others are in demand. To adopt from this shelter, first, fill out an application – a $20 application fee will need to be paid.
The Must Love Corsos team will review your information; in the meantime, check out the adoptable dogs. Clicking on the pictures will bring up biographical information on each puppy, including any special health needs. Once you're approved to adopt a dog, you'll be scheduled for a home visit.
Must Love Corsos requires that all family members and pets be present for this visit. Your adoption fee covers spaying or neutering, health care, microchipping, and any necessary flea and tick treatment. Generally speaking, you can expect to pay between $200 for a senior dog and $500 for a Corso puppy.
Must Love Corsos Rescue Details
4. Rescue Ranch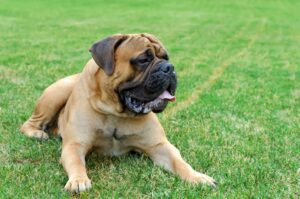 Rescue Ranch is located in Yreka, California, and does now specialize in any one breed of dog. However, they're committed to pulling homeless dogs off the streets and saving over 600 puppies each year. They're a non-profit organization, and your donation and support go a long way toward helping the group carry out its mission.
You don't need an appointment to visit the Rescue Ranch, but if you find a dog on the website you love, it's best to call ahead to find out whether the puppy is still available. If you don't have a particular friend in mind, you can fill out an application and pop in for a visit. You'll be required to agree to a home visit or an alternative way for the Rescue Ranch team to check that your house is suitable.
Assuming all goes well, you can expect to pay $200 for an adult dog or $300 for a puppy. Not sure that you're ready to bring a puppy home permanently? Rescue Ranch relies on its foster network to provide a safe, healthy home for dogs waiting for their forever family. You can apply to become a foster family on the Rescue Ranch website.
Rescue Ranch Details
5. Gentle Giants Rescue and Adoptions
Gentle Giants Rescue and Adoptions is committed to bringing large breed dogs, like Mastiffs, off the streets and into new homes. They cooperate with high-kill shelters additionally to give puppies a second chance at life. Located in Riverside County, the shelter only adopts Southern California residents.
To begin adopting a Mastiff, you must fill out an application. Let the Gentle Giants know what you're looking for in a dog and your experience with animals. You must be 25 years or older, and preference is given to families with fenced yards. The adoption fee may vary based on the dog you adopt. Contact the shelter for more details.
Your dog will be spayed or neutered and will be up to date with vaccinations, deworming, and any other necessary medical treatment. If you're interested, check out the Gentle Giants brand of dog food. It's recommended for your adopted Giant, and there are formulations appropriate for small dogs, too, should you have pets at home already.
Gentle Giants Rescue and Adoptions Details
6. Foothill Dog Rescue of the Sierras
Foothill Dog Rescue of the Sierras is located in Shingle Springs, California. It's close to Sacramento, and northern and central California residents are just a short drive away. Foothill Dog Rescue is a non-profit organization; volunteers and donations are needed to maintain the shelter's operation.
This shelter uses a large network of foster families, so if you're not sure that adopting a Mastiff is a decision you're ready to make, consider housing a dog temporarily. You'll be responsible for caring for the dog and transporting them to veterinary appointments. If you're ready to bring a lifetime buddy home with you, fill out an adoption application.
Once your information is reviewed, the Foothill Dog Rescue team will inform you that you're eligible for a three-week trial with a new dog. Once you're ready to adopt permanently, you'll pay a $300 fee for puppies or $250 for adult dogs. Your dog will be microchipped when it's time to go home with you. They will also be altered, vaccinated, and dewormed. Flea and tick treatment is administered as necessary.
Foothill Dog Rescue of the Sierras Details
7. Wonder Dog Rescue
Wonder Dog Rescue, located in Penngrove, is a shelter that specializes in older and special needs dogs. While these puppies sometimes require extra love and medical attention, they are typically well-mannered and well-trained.
Many have been surrendered by older individuals or dogs whose parents have passed on. You can adopt a puppy at no cost from this shelter if you're a senior. Veterans also receive a discount on the adoption fee. Everyone can expect to pay between $250 and $600 for a dog, depending on the breed and the puppy's age.
You'll be granted a two-week trial period with your dog. This time with the puppy will allow you to determine whether the puppy is a good fit for your family or whether you have the time to devote to caring for a special needs or senior dog.
You can view the adoptable dogs on the Wonder Dog Rescue website. There may not always be Mastiffs available, so check back often. Clicking on your puppy's picture will give you more information about the dog's health and whether they are a good fit with families or other animals.
Wonder Dog Rescue Details
8. Big Love Animal Rescue
The last of the California Mastiff rescue on our list is Big Love Animal Rescue. This shelter takes in dogs of all sizes – including large and misunderstood breeds – and rehabilitates them. Many dogs are pulled from the streets, while others are surrendered to high-kill shelters.
You can give one of these puppies a new start by viewing the adoptable dogs on Instagram or Petfinder. Once you find a dog you'd like to bring home with you, fill out an application to adopt. The team wants to know about your household, including current pets, your family, and even allergies in your household.
Once you're approved to adopt a puppy, you can schedule a home visit. The Big Love team will ensure your home is appropriate for a dog, and then you'll be free to select the dog you'd like to make your own.
Adoption fees may vary based on the dog's breed, age, and other factors, so check with the shelter about a specific puppy. Foster opportunities are also available, and all adoptive families are granted a one-week trial period with their new dog.
Big Love Animal Rescue Details
Conclusion For The "Best Mastiff Rescues in California"
There are quite a few types of Mastiff breeds. Whether you are interested in a Cane Corso, a Bullmastiff, or a Dogue de Bordeaux, choosing to rescue from a shelter gives these beautiful animals a new start in life. Because of their size and strength, Mastiffs are often bred to fight.
In some cases, families may find that the dogs are too much to handle and consequently surrender them to shelters. By selecting your puppy from a shelter instead of buying a new puppy, you help to enrich the life of a deserving puppy – and the lives of your family members.
For more guides similar to this list of Mastiff rescues in California, you can check out these other rescue shelter recommendations from our team:
Before you adopt a Mastiff from a rescue shelter in California, you can learn more"about this dog breed by watching "AWorld'st The Englis" Mastiff, The World's Largest Dog" down below: