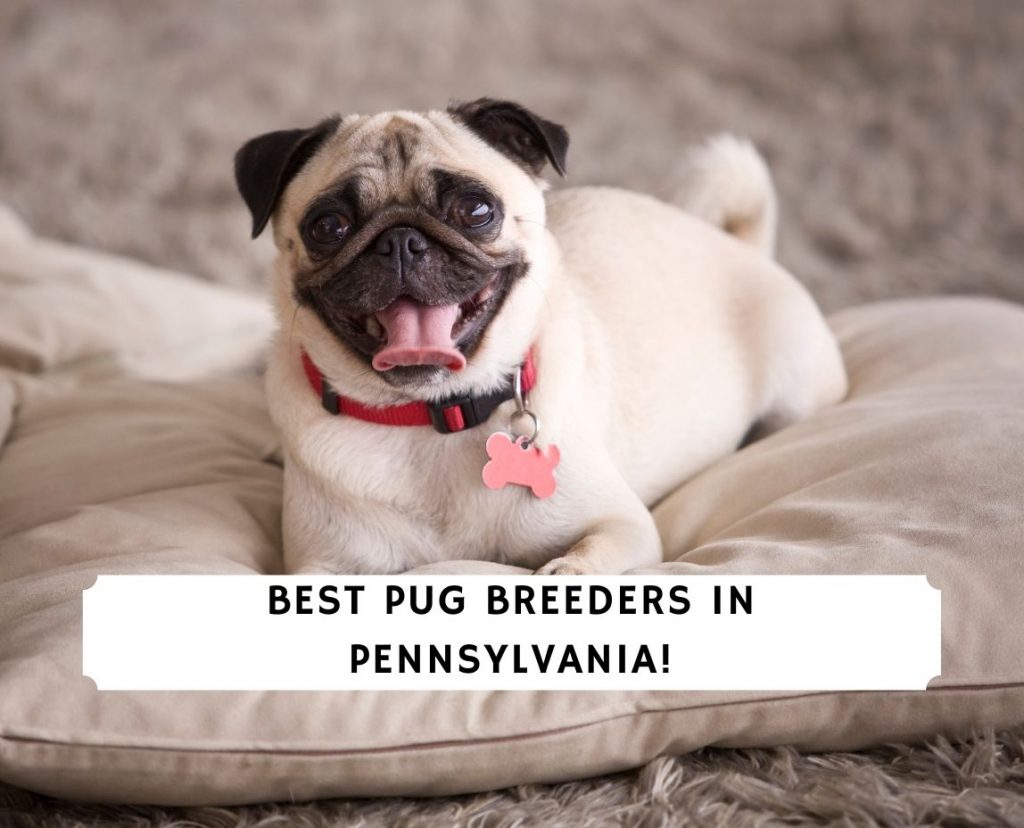 Here's a little fun detail about this dog breed before you scroll down the list of Pug breeders in Pennsylvania. The word "pug" is believed to originate from the Latin word "Pugnus," which means "fist" because the pug's face looks like a human fist. These adorable puppies are highly recognizable. You'll find many different Pug puppies for sale in Pennsylvania. Choosing a breeder is one of the most difficult tasks that we will help you with.
Check out these other articles: Chihuahua Breeders in Pennsylvania and English Bulldog Breeders in Pennsylvania.
Pug Puppies For Sale in Pennsylvania
If you're from the state, then this list of Pug breeders in Pennsylvania could come in handy for you. We've specifically looked for Pug breeders that health tested and socialized their puppies. This should help you narrow down your research and find your next puppy.
1. Camelot Pugs Pennsylvania
The first on the list of Pug breeders in Pennsylvania is Camelot Pugs. They're home to top quality, family-raised AKC champion line, and champion-sired Pug and Havanese puppies. They have over 25 years of dog breeding experience and breed show dogs as well. They breed healthy, well-socialized, and happy Pug puppies that will easily adapt to your home. Additionally, they have maintained high standards in breeding and placing their puppies. They are fully licensed through the state of Pennsylvania as a non-commercial private kennel and offer a support system for the rest of their pug puppies' lives.
Their Pug puppies for sale in Pennsylvania come with their AKC papers, a towel with their mommy's scent, first dog food supply, and a lifelong support system. The breeder also includes unlimited coaching and a unique genetic warranty that refunds your veterinarian bills to the price of your puppy. It is in case they encounter any hereditary problem that is the breeder's responsibility. Their Pug puppies are paper trained and partially housebroken with an introduction to an open crate with their mom and siblings.
Camelot Pugs Details
2. Pennwood Pugs PA
When Helen Rosier and her husband bought their first pet pug, they instantly fell in love. Unfortunately, they lost her to PDE, a brain disease, at the age of two years. Her Pug had excelled in obedience training, so she bought a showgirl, expanding to the show ring. She aims to achieve health, conformation, and soundness through her breeding program. Recently, she has entered the sport of agility which her Pug seems to excel in. Currently, she is a member of a parent club (Pug Dog Club of America).
She has her Pug puppies in Pennsylvania placed at the age of three months – an ample amount of time to train them well and have them socialized. They also get two sets of shots by then, dewormed twice, and they come veterinarian checked right before their placement. She raises her puppies in the living room to adjust them to household noises and takes them for potty every two hours outside the house. Additionally, all her Pug puppies are crate trained as well. She invests a lot of her love and time in raising them, ensuring they adjust well when they come to their new owners.
Pennwood Pugs Details
3. Celtic Pugs Pennsylvania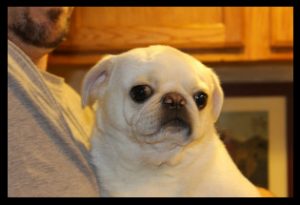 Located in Johnstown, Pennsylvania, this breeder carries out adoptions throughout Maryland, Virginia, New York, and other areas. The Pug breeder strives to honor their Celtic Ancestors by raising only AKC registered puppies to better the breed. Their Pug puppies for sale come in several coat colors including the Brindle, White, and Silver Pugs.
Their Celtic Pug puppies grow up into well-adjusted and loving adults. The breeders are also open to ideas that help their puppies with nutrition and their well-being. Additionally, they have created a CP Guardian Program that allows selected families and individuals to adopt their puppy from the Celtic Pugs Breeders. Their website has an exclusive section that shares information about pugs' health and warnings concerning nutrition and health. They prefer being visited on an appointment basis only.
Celtic Pugs Details
4. Sapphire Bay Pugs
Laura Brown, the breeder behind Sapphire Bay Pugs, is located in Pittsburgh, Pennsylvania. They have been breeding Pug puppies for over 18 years now. They're also proud members of the Pug Dog Club of America. They also offer three options for getting you your new puppy home:
Visit the

breeder

in Pittsburgh for pickup.
Have your puppy travel in a car or van to you.
Meet the

breeder

at their local airport to pick up your new puppy.
Her pug puppies in Pennsylvania mingle with all other dogs too. They interact with the calmer adult pugs and are exposed to human handling and sounds (sounds through tape recordings – airplanes and cars). She uses socialization with adult dogs and sound stimulation to get them to be well-adjusted. They have their Pug puppies checked right before they come to you and they even home with a one-year health guarantee.
Sapphire Bay Pugs Details
5. Renwars Pugs
Last on the list of Pug breeders in Pennsylvania is Renwars Pugs. These breeders are a "Pug family." This is a husband and wife duo that bought a loving Fawn Pug called Muggize. They fell in love with her to the extent that they bought a Pug boy to add to their family, Onyx, whom they quickly fell in love with too.
They have had many pet dogs, including German Shepherds, Boxers, and English Springer Spaniels. However, they consider the Pug to be the best breed. It's best to visit the breeder and answer the puppy's questions that you are about to adopt, including the health certificates and vaccine shots.
Renwars Pugs Details
More Information About Pug Puppies
Pugs are the class clowns in a classroom of dogs. They're known for being funny, easygoing, and a highly recognizable dog breed. These strong and compact dogs are a member of the toy group of dogs and are originally bred to be lapdogs. They thrive on their human companionship, and their size makes them perfect apartment dogs. Additionally, Pug puppies love all the attention you give them and do not like being left alone at home for long hours. They could be stubborn but are also cheerful and affectionate. It takes no time for them to gel with their new human parents and are generally happy-go-lucky.
Pug puppies love being the center of attention and tend to get heartsick if ignored. With their large and round heads and eyes, they have quite an adorable look. Their deep wrinkles are considered lucky by the Chinese, as the wrinkles resemble good luck symbols in their language. Additionally, pugs make great watchdogs. Well-trained and well-socialized Pugs get along very well with other animals and children. Because they're small and quiet and do not require much activity, they're a great choice for small apartments.
One aspect to note is that short muzzles make them intolerant of heat and humidity. Longer muzzles cool down the hot air before they reach the lungs. Also, their double coat makes them shed a lot. So don't forget to invest in a good vacuum.
Conclusion For Pug Breeders in Pennsylvania
The celebrity face of UK-based Vodafone-Hutch, pugs are known to be a man's best friend, which means they'll stick around with their best friend wherever they go. When you're raising a Pug, keep in mind that health problems come as they age. Pugs can develop health issues like scratchy eyes, food allergies, higher reactions to vaccines, and breathing issues.
Some Pug puppies in Pennsylvania also often need a bit more attention from you than others. When you reach home after a long day of work, be prepared to devote your time to them. However, if you work long hours, it's advisable to get hold of a dog walker. We hope this list of Pug breeders in Pennsylvania will help you start a new journey of your life!
If traveling to these Pug breeders in Pennsylvania is too far, you can check our recommendations from other states:
To learn more about the cute Pug dog breed, watch "12 Things Only Pug Owners Understand" from Animal Planet down below: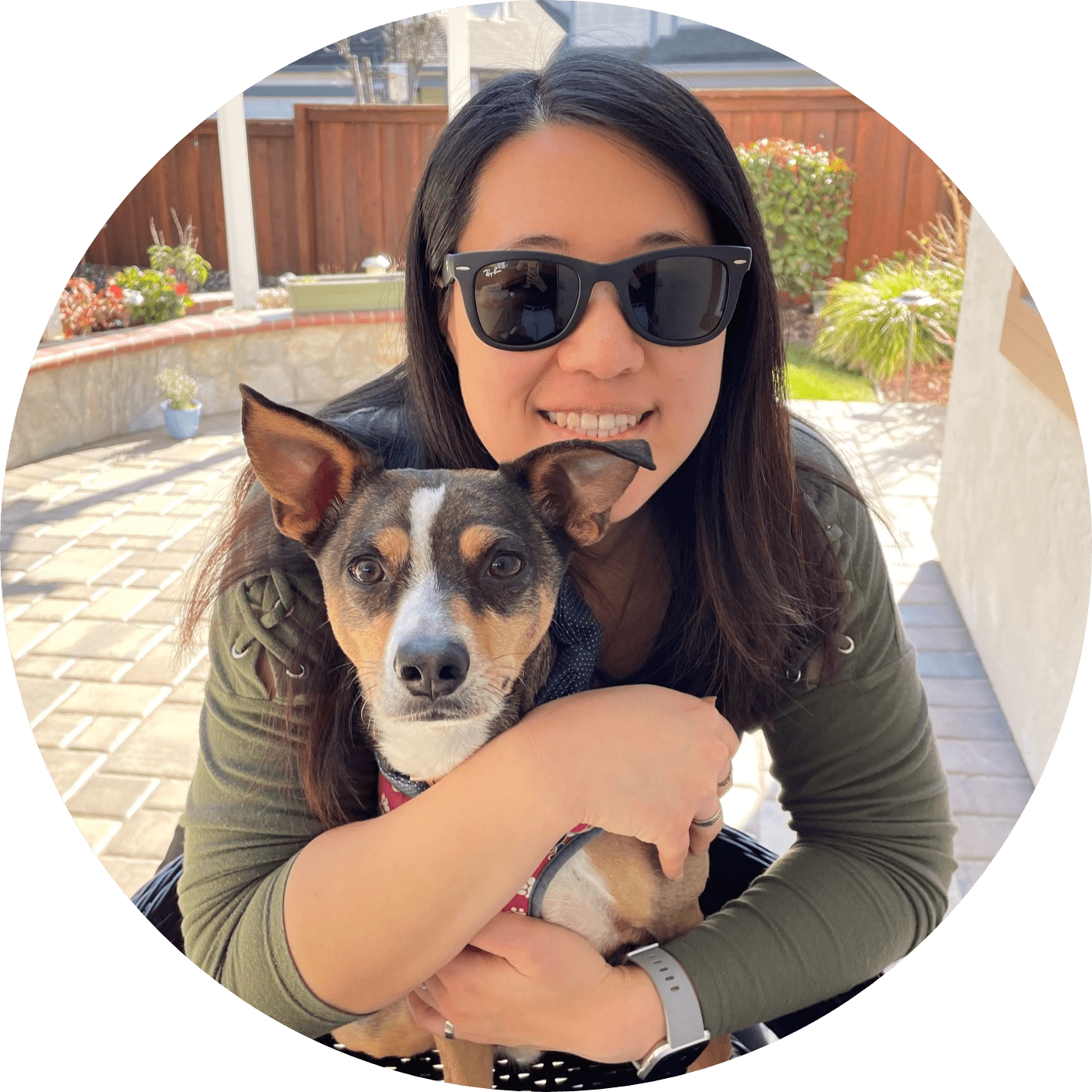 Dr. Sabrina Kong graduated from the Royal Veterinary College in England in 2016 and has been working at a small animal clinic in Northern California since then. She grew up in the Bay Area and got her bachelor's degree from Cal Poly San Luis Obispo. She also became a Certified Canine Rehabilitation Practitioner through a program at the University of Tennessee.
When she isn't in the clinic taking care of her four-legged patients, she enjoys traveling and trying new foods with her friends and her three-legged dog, Apollo. She adopted Apollo from her clinic when he was a puppy with numerous health issues. Dr. Kong truly cares about taking care of animals.