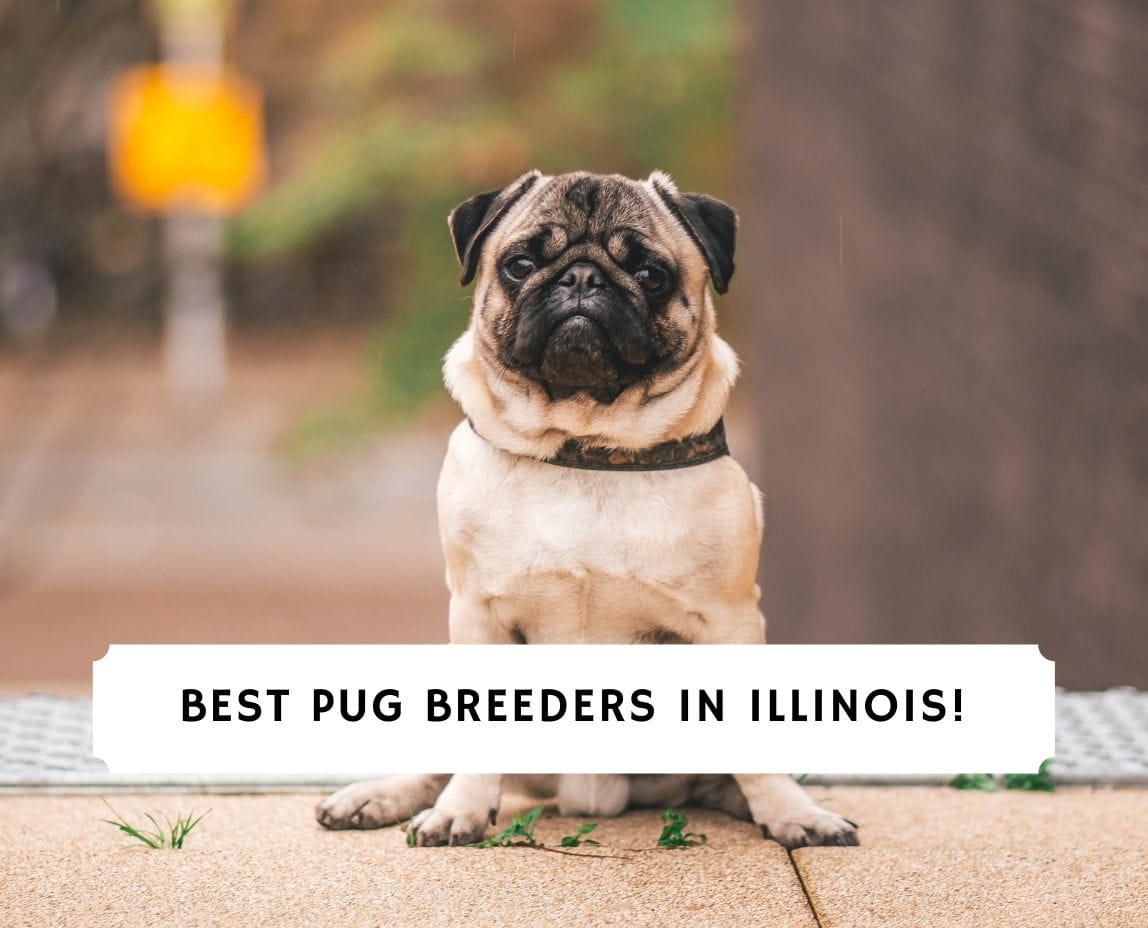 Here's a little fun fact about this breed before you scroll down the list of Pug breeders in Illinois. Sparkling personalities that shine brightly through a sizeable wrinkled brow and beady round eyes give the Pug its signature look. As one of the oldest breeds of dogs in the world, Pugs have the ability to create human-like expressions that have made them so popular! It's no surprise you'll find many Pug puppies for sale in Illinois.
Check out these other articles: Boston Terrier Breeders in Illinois and Corgi Breeders in Illinois.
Pug Puppies For Sale in Illinois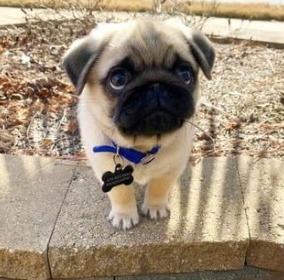 When researching various Pug breeders in Illinois, we noticed many different puppy mills and backyard breeders selling cheap puppies. We highly recommend that you do not support such breeders because they are not health or genetic testing their dogs. As a result, you may end up paying a significant amount in medical bills if you don't purchase from a reputable breeder.
We specifically looked for Pug breeders who were health testing and socializing their puppies. Ultimately, it's up to you to find someone who you can trust to sell you a healthy Pug puppy. Make sure to visit each breeder in person and ask lots of questions before putting down a deposit.
1. Sharp Pugs Illinois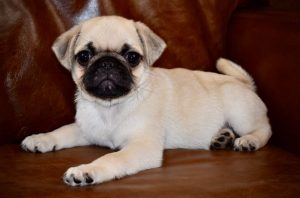 First on the list of Pug breeders in Illinois is Sharp Pugs. Their puppies are doused in enormous amounts of love which is the main ingredient in the breeding "recipe" of the family-owned and AKC registered breeder. Sharp Pugs is located in Northern Illinois and has a consistent regiment of handling and socialization activities from the moment their Pug puppies are born. This ensures all new families receive a Pug puppy that is "emotionally well rounded."
The breeders' communication style from the moment the puppies are born to weeks after being transitioned into their new family settings is quick. They also provide knowledgeable answers to all questions asked about their Pug puppies in Illinois. The puppies are described as healthy, already equipped with manners, perfect little family additions, and joyous personalities.
Each Pug puppy for sale in Illinois receives deworming, treatment for distemper, coccidia, and giardia and will have a 6-month health guarantee for congenital diseases if the new owner takes the puppy to their vet within 72 hours of receiving their puppy. A questionnaire is required along with a phone interview so puppies can be matched with the right family. When you visit the Pug puppies, all final details will then be ironed out by the breeder. 
Sharp Pugs Details
2. AJ Pug Ranch
Twenty years of breeding experience back the husband and wife duo, Art and Jannie Powell, who devote all of their effort and time to breeding and raising their AKC registered Pug dogs and puppy litters. Located in southern Illinois amidst pine trees lies the Pug Ranch, which is filled with Pugs who naturally contribute laughter, joy, and charm to everyone they come into contact with.
Just the initial visit to their website will give you a taste for the fun-loving Pug puppies present. At Pug Ranch, you will be able to purchase black or fawn Pugs puppies for sale in Illinois for $850 with a $150 deposit when you visit their facility to pick out a puppy. Deposits will only be accepted once the puppies are born and the prospective family has made their puppy choice. The final payment is due when the puppy is eight weeks and ready to go to their new homes.
The $850 Pug puppy price tag includes up-to-date vaccinations and deworming, continuous showering of affection during the puppy's upbringing, and a 3-month health guarantee. Get in contact with the Powells and get all the answers you need to your questions to help you make the most informed decision.
AJ Pug Ranch Details
3. DreamCatcher Hill Puppies and Rescue
Blessed with various goats, pigs, ducks, cats, rabbits, horses, and dogs on Dreamcatcher Farm, you can rest assured that former EMT-P and Registered Nurse, Laurel Grench, is a 30-year breeder and animal caretaker that is deeply devoted to all her animal family, purebreds, and rescues alike. This is a markedly family-run business with many limbs of her family tree residing on the farm and providing their help and support to the animal operation.
Registered Pug litters at Dreamcatcher are the main focus of Laurel's Uncle Al, who came to live with her in 2013. He works to socialize the Pug puppies through "recess" time and the proper attention they require from the moment of birth. Their Pug puppies in Illinois are priced by color and can be held with a $400 non-refundable deposit. Black or fawn colors are $1400, white or brindle females are $1800, and brindle males are $1600. All Pug puppies for sale are microchipped and require a contract stating they will be spayed or neutered between 5 and 6 months old.
If not wanting to commit to a new dog, look to the "Parents" tab on the Dreamcatcher website, and you will discover older dogs and their retired breeders that are already house/crate/potty trained. Dogs at this farm are only required to breed for a few years before being retired and placed with loving families. Remember rescues Pugs are available here too.
DreamCatcher Hill Puppies and Rescue Details
4. Patoka Pugs 'N Kisses IL
Last on the list of Pug puppies in Illinois is Patoka Pugs 'N Kisses. Numerous reviews saturated with exclamation points and glowing words in ALL CAPS overflow for the show quality Pugs made available at Patoka Pugs 'N Kisses. People have come from around the world to acquire a Pug puppy from breeder Rhonda who runs a spotless facility. Her breeding homes are also full of tender, loving hands that spoil all baby puppies to get them very well socialized before heading off to new homes.
Situated on lakefront property in Alma, Illinois, Patoka Pugs 'N Kisses takes great pride and care in planning their breedings to improve the Pug breed. For the past 17 years, they have produced litters of Pug puppies that exhibit calm temperaments and the highest levels of health. After choosing your puppy and making a non-refundable deposit, you will be able to bring home your companion with a 2-year health warranty.
The raising of a Pug, a brachycephalic breed, requires a lot more work and attention than other dogs' breeds. These acclaimed AKC registered Pugs have a price tag of $2000. You must get on the waitlist with your deposit, and the order of your place on the list determines which order you choose a puppy. Contact Rhonda soon to get higher on that list.
Patoka Pugs 'N Kisses Details
More Information About Pug Puppies
History takes this toy breed back 2,000 years to ancient China, where emperors and imperial court members treasured the Pug. Around the 16th century, the Pug made its appearance in Europe, charming its owners with their happy, curious, affectionate, albeit sometimes mischievous demeanor. Distinctive features of a short, flat-faced muzzle covered in a black face mask, solid and stocky build with a curly-cue tail set the Pug apart from any other dog breed. No one knows exactly where their name originated from though a few guesses include the name coming from the Latin word "fungus," meaning "fist," which is kind of what the Pug's face resembles.
Another theory is that in the 1700s, the marmoset monkey was a popular pet called a Pug and these monkeys made similar facial expressions to the modern Pug dog. This toy breed ranks 28 out of 197 on the AKC popularity ladder. It is no wonder why many describe the Pug as being an ideal companion and house dog. They can come in all black or silver or apricot-fawn with black face masks. Additionally, Pug puppies weigh between 14-18 pounds, stand 10-13 inches in height, and live a full lifespan between 13-15 years old.
Naturally even-tempered and happy, Pug puppies are not picky, nor do they base their happiness on their pack size. They are happy in almost any living situation though they do prefer moderate climates that are not too hot. To start your search for a unique Pug addition, research your breeders. Purebred Pug puppies for sale in Illinois will cost anywhere from $600-$1500+. We even saw some breeders charging $6,000 for superb bloodlines.
Be aware that there are scams out there where people are asked to pay for their Pug puppy, and then the "breeder" disappears with their money. Keep yourself safe by working with breeders who let you see the puppies and parents in person. Make sure if you are putting down a deposit, you are not being asked to send that deposit to a different state or country. Stay away from breeders who are out of the country. Look for social media reviews, well-established websites with lots of "family" pictures of puppies and parents, as well as Facebook or Instagram pages.
Conclusion For Pug Breeders in Illinois
Finding the most reputable Pug breeders in Illinois isn't easy for many people. If you're planning to purchase from unknown Pug breeders, we suggest you stay cautious and keep an eye out for any signs of red flags. We advise this because there are numerous Pug puppy mills out there that should be avoided due to unethical behavior. We hope this guide will help you bring home a companion from this list of Pug breeders in Illinois!
If traveling to these Pug breeders in Illinois is a distance for you, we have recommendations from other states you can check out:
To learn more about the cuteness of this Pug breed, watch "Pug Dog Breed – Pros and Cons" from Rocadog down below:
Garrett loves animals and is a huge advocate for all Doodle dog breeds. He owns his own Goldendoodle named Kona. In addition, he volunteers at the Humane Society of Silicon Valley, where he fosters dogs and helps animals. Garrett enjoys writing about Doodles and believes that dogs can teach humans more about how to live than humans can teach a dog.
Why Trust We Love Doodles?
At We Love Doodles, we're a team of writers, veterinarians, and puppy trainers that love dogs. Our team of qualified experts researches and provides reliable information on a wide range of dog topics. Our reviews are based on customer feedback, hands-on testing, and in-depth analysis. We are fully transparent and honest to our community of dog owners and future owners.