Above all, Huskies are known for their bright blue eyes and their ear-piercing screams. Indeed, they're funny little dogs, and for that reason, there are oodles of Husky jokes, puns, and memes floating around the internet!
We've gathered the best of the best. Whether you own a Husky of your own or just appreciate the fluffy dogs' antics, you'll love these jokes about Huskies that are perfect for the whole family.
Before reading this list of Husky jokes, puns, and memes, check out: The 20 Best Funny Dancing Dog Memes! (2023) and 15 Best Happy Birthday Dog Memes! (2023).
The Best Husky Jokes on the Internet!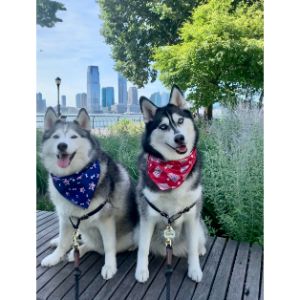 Stick these little jokes in your kids' lunchboxes, or tuck them on a Post-it on your wife's laptop. Your family will also appreciate your wonderful sense of humor all day!
Question: Why did the Malamute have trouble shopping for clothes?
Answer: Because he wore a husky size!
Question: What do you get when you cross a Husky with a Pug?
Answer: A hug!
Question: What do you call a Russian on a diet?
Answer: A Siberian Husky!
Question: What's a corn farmer's favorite dog?
Answer: A Husky!
Question: What kind of dog doesn't bark at all?
Answer: A Hush-ky!
Question: Why didn't the Husky finish eating the clock?
Answer: It was too time-consuming.
Question: Why was the dog locked out of the house?
Answer: He couldn't find his Hus-key!
Question: How many Huskies does it take to change a light bulb?
Answer: Change it? I ate it! Oh, and I ate the lamp. Oh, and I ate the table… and…
Question: What do Huskies like to eat for breakfast?
Answer: Woofles!
Question: What kind of dogs will you meet on internet chat rooms?
Answer: Cyber-ian Huskies!
Husky Dad Jokes, Puns, and One-Liners
You've had a ruff day, dog-gone it. Cheer yourself up with these Husky dad jokes, puns, and one-liners. They're sure to make you grin from pointy ear to pointy ear.
I told my wife what I was getting her for her birthday and she slammed the door on me. I guess I shouldn't have told her she was getting a little Husky.
I think people who talk to their dogs are silly. The dogs don't understand! In fact, my cat and I laugh about it all the time!
I used to have a Border Collie but I gave him too much food and he became a little Husky.
My Husky is good at telling time. He's an excellent watchdog.
I bought my Husky from a blacksmith. As soon as we got home, he made a bolt for the door.
My Husky ate my alphabet soup. He took the words right out of my mouth.
Life is like a dogsled team — if you ain't the lead dog, the scenery never changes. –Lewis Grizzard
The Best Funny Husky Stories
Huskies have a great sense of humor. They're as playful and alert as they are protective and hard-working. Tell your Husky one of these jokes — he'll be screaming with laughter!
How Did You Get Up There?
My Husky brought me a strange twig.
Me: What do you have?
Husky: Bark!
Me: Well, where did the bark come from?
Husky: Roof!
Me: How on earth did you get on the roof??
Husky: I used a ladder.
I Said What?
A Golden Retriever mentioned that God blessed Goldens as the superior breed.
A Rottweiler snapped back and told him no, God said Rotties were the superior breed.
The Husky heard all this, turned to the other two, and said, "I said what?!"
Knock Knock
There was a knock at the front door, and my Husky started barking.
"Who is that," asked my wife.
"The dog," I replied.
It's Just Different?
Why is it that when I blow in my Husky's face he gets mad, but every time I take him for a car ride he sticks his head out the window?
Husky Memes to Save and Share
Your phone could eventually use an update. Save one of these memes as your wallpaper, then pass the rest along to friends and family. They'll be glad you did, we promise!
Husky owners… if you know, you know. The dogs shed e-v-e-r-y-w-h-e-r-e but we think they just want to be closer to their hoomans.
From: The Paws
Truer words have never been spoken. If your pup doesn't have the zoomies or isn't howling for your attention, something's up. Check on your Husky, because he's probably up to no good.
From: Facebook
Huskies are super smart and easy to train. When they want to be trained, that is.
From: Cheezburger
Huskies were generally built for cooler climates. Those of you who live in the warmer areas of the world know that your Husky will do just about anything to cool down a little.
From: Pinimg
Make no mistake about it, Huskies are hard-working dogs! We wonder, though, if they could talk would they brag? We think they'd be like the Crossfit members of the dog world — letting everyone know just how strong they are!
From: Facebook
Huskies are a lot like toddlers. They cry, they leave messes everywhere, and they're also up at the crack of dawn, ready to play. If you have a Husky, sleeping in is probably a thing of the past.
From: Twitter
We're not sure if this is a joke, a Photoshop, or just a groomer who needs to find another career. In any case, we think this dog looks hilarious with this new 'do!
From: Memedroid
We're not saying Huskies are lazy. We're just saying they're quite particular about when they choose to stop the snooze. Huskies can alert you to strangers on your property but they're not the ideal watchdogs.
From: Imgflip
Our last Husky meme is one every owner will understand. If you don't have at least a six-foot fence, you risk your pup running free. They're smart and sneaky, so be sure you've got your Husky secured!
From: The Smart Canine
Frequently Asked Questions
Is a Husky a type of dog or wolf?
Despite their appearance, Siberian Huskies are a breed of dog, not a wolf.
Will a Husky protect you?
Siberian Huskies are known as loyal protectors, so you can trust that your dog will have your back.
What is the life expectancy of a Husky?
The average Siberian Husky should live for 12 to 14 years, but overall, this will come down to their lifestyle, nutrition, and daily habits.
Conclusion for "Best Husky Jokes, Puns, and Memes"
Whether you have a Husky or are just a fan of the breed, above all, we hope you've enjoyed our collection of the best Husky jokes, puns, and memes on the internet. Save them to your laptop, send to a friend, or just enjoy them!
If you enjoyed these Husky jokes, puns, and memes, you could also check out:
You might also like watching "Funny Dog Memes" down below:
Garrett loves animals and is a huge advocate for all Doodle dog breeds. He owns his own Goldendoodle named Kona. In addition, he volunteers at the Humane Society of Silicon Valley, where he fosters dogs and helps animals. Garrett enjoys writing about Doodles and believes that dogs can teach humans more about how to live than humans can teach a dog.
Why Trust We Love Doodles?
At We Love Doodles, we're a team of writers, veterinarians, and puppy trainers that love dogs. Our team of qualified experts researches and provides reliable information on a wide range of dog topics. Our reviews are based on customer feedback, hands-on testing, and in-depth analysis. We are fully transparent and honest to our community of dog owners and future owners.