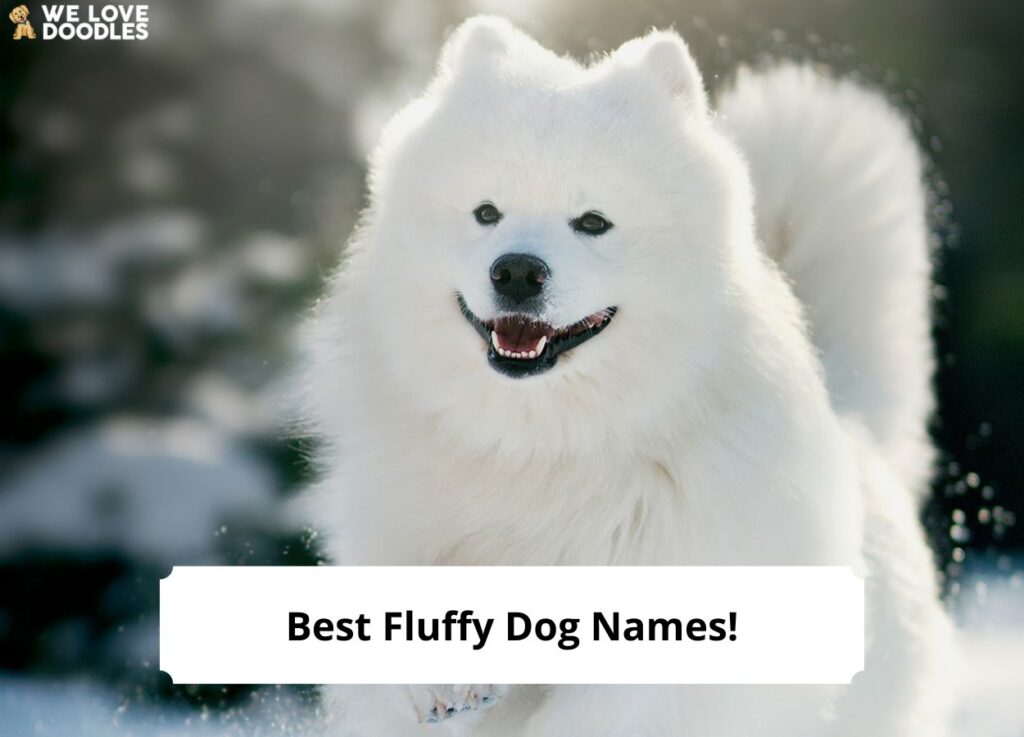 Whether your furry friend is a little Pomeranian or a lumbering Newfoundland, your dog's coat is likely a feature you love. You can celebrate your dog's fluffiness with the perfect name. Read on to discover some of the best fluffy dog names for every shape, size, and personality.
Before scrolling down this list of the best fluffy dog names, check out these ideas: 100+ Best Fat Dog Names! (2023) and 100+ Best Beach Dog Names! (2023).
Popular Fluffy Dog Names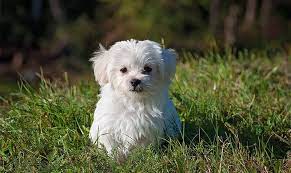 There are a few common names for fluffy dogs. These names are generally cutesy and evoke the visual of fluffiness. Some of these names, such as Curly, may describe a specific type of fluffy fur. Other names on this list are generally cute names for dogs that fit fluffy pups.
Bushy
Curly
Floofy
Fluff
Fluffy
Fuzz
Fuzzy
Harry
Ruffles
Shaggy
Snuggles
Cute Fluffy Dog Names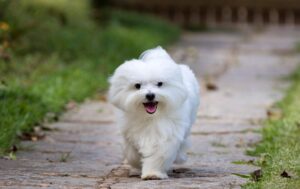 Cute fluffy dog names often suggest tininess and cuteness. You do not need to only choose from this list if you have a small dog. Sometimes a large fluffy dog with a cute name like Poof can be just as cute as a little Bichon Frise with the same name.
Baby
Bean
Bo
Brillo
Bristle
Bubbles
Bloom
Feather
Hugs
Inky
Lacy
Lint
Loofah
Mitten
Pipsqueak
Plush
Poof
Puzzle
Slipper
Snuggy
Tutu
Whiskers
Wisp
Fluffy Boy Dog Names
Several fluffy dog names seem more masculine. While you can use these for a boy dog, they are also a good choice if you want a masculine name for your female dog. The same thing is true of the girl names for boy dogs. These names are traditionally masculine in origin and function.
Beard
Coal
Duke
Heath
Leander
Max
Pollock
Pompadour
Pooky
Reese
Toupee
Wolfgang
Fluffy Girl Dog Names
Many of these feminine fluffy dog names connect to nouns that relate to traditional femininity. The names may come from soft fur, lush fabric, beautiful gems, and flowers. Some of these choices are common names used for girls, humans, and canines alike.
Angora
Aria
Bunny
Buffy
Cashmere
Chenille
Cheveu
Chiffon
Crystal
Dandelion
Dotty
Frisette
Gossamer
Muffy
Organza
Peony
Ringlet
Silk
Rizzo
Big Fluffy Dog Names
A big fluffy dog deserves an equally big name. These names usually evoke some size and power. For example, Beast is a name that gets straight to the point. Meanwhile, a name like Aspen suggest some size due to its connection to large mountains without being too obvious.
Admiral fuzz
Aspen
Beast
Monster
Mop
Pillow
Powder Puff
Ragamuffin
Rumble
Uklar (Norweigian for fuzzy)
Vellus ("Wool" in Latin)
Velvet
Fluffy Brown Dog Names
Just because you are naming your dog after a physical feature does not mean you have to only stick to that one feature. In addition to highlighting your pup's fluffiness, you can also highlight the beautiful color of their coat. For example, Sahara can indicate some softness of the fur and a light brown fur color.
Brownie
Hazel
Noir
Oak
Onyx
Russet
Sahara
Smoky
Storm
Thunder
Topaz
Fluffy White Dog Names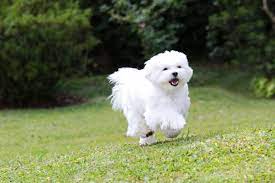 There are plenty of beautiful and funny big white fluffy dog breed names. These names relate to areas, including weather, ghosts, objects, and jewels. Clouds are a fun area to mine for name ideas since there are many unique names for clouds that can suit a white fluffy dog, such as a Samoyed, very nicely.
Alabaster
Blizzard
Boo
Charmin
Cirrus
Cloud
Cotton
Cumulus
Downy
Flurry
Frosty
Ghost
Pearl
Puffball
Q-Tip
Snowball
Snowflake
Sparkles
Spirit
Fluffy Red Dog Names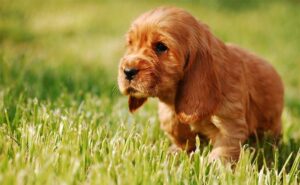 From Pomeranians to Irish Terriers, there are plenty of fluffy red dogs you can name according to their fluffiness and color. Foods such as Chili and Merlot are fun sources of inspiration, and so are characters like Elmo and Ms. Frizzle.
Chili
Clifford
Dusty
Elmo
Marigold
Merlot
Frizzle
Fluffy Dog Names Based on Other Animals
Sometimes, connecting your fluffy dog to other fluffy members of the animal kingdom is a fun way to capture your animal's personality and looks. Bears, in particular, are a fun animal to connect to your big fluffy dog. Some fictional or extinct animals provide fun name inspiration.
Bear
Caterpillar
Dove
Duckling
Dustbunny
Fawn
Fox
Goat
Grizzley
Koala
Lamb
Leo
Lion
Mammoth
Moose
Oso
Polar Bear
Teddy
Tiger
Wolf
Yeti
Fluffy Dog Names Based on Characters
Why not honor some of your favorite fictional characters with a name for your fluffy dog?
The Star Wars franchise, in particular, has a lot of fun fuzzy characters with unique names that may suit your dog. If you have a little fluffy Shih-Tzu, Ewok may be a cute name, while Wookiee is a fun choice for a bigger Labradoodle.
Baloo – Baloo is the kind and protective bear in Disney's The Jungle Book.
Beowulf – Beowulf is an Old English epic poem composed around the first century.
Chewy – Chewy, besides being a suitable name for most dogs, is also the nickname of Han Solo's Wookiee companion in Star Wars.
Cookie Monster – Cookie Monster is a central figure in The Muppets and Sesame Street.
Cousin Itt – Cousin Itt is a hair-covered member of the Addams Family.
Eevee – An Eevee is a fox-like Pokemon who is often an early choice in Pokemon video games.
Ewok – Ewoks are another fluffy member of the Star Wars universe. These teddy bear-like creatures are known for their ruthlessness and military strategy.
Fozzie Bear – Fozzie Bear is an essential member of The Muppets. He is a fuzzy bear who has a controversial stand-up act.
Furby – Furbies were a popular toy in the late 1990s and early 2000s. These fuzzy creatures are known for their big ears and haunting eyes.
Fuzzy Wuzzy – Fuzzy Wuzzy is the name of a bear in a popular children's rhyme which is misnamed due to his lack of hair.
Hairy Pawter – This name is a punny take on the popular child wizard who stars in his series.
Hufflepuff – Hufflepuff is one of the houses in the Hogwarts School for Witchcraft and Wizardry in the Harry Potter books and films.
Jigglypuff – This round pink pokemon is known for his ability to lull his enemies to sleep, weakening them before he attacks.
Kermit – Kermit is the central figure in The Muppets. The put-upon frog is one of the fluffiest frogs found on television.
Lamb Chop – Lamp Chop is a puppet who worked with Shari Lewis in the mid-1950s throughout the 1990s.
Medusa – Medusa is a Gorgon in greek mythology known for her unusual hairstyle, which features living snakes.
Muppet – Muppet is the name given to Jim Henson's marionette puppets which feature in many shows and movies.
Rowlf – Rowlf is a dog muppet who is the deadpan pianist on The Muppet Show.
Sam Sheepdog – Sam Sheepdog is a large dog in the Looney Tunes shows and movies who loves sheep.
Sulley – Sulley is one of the protagonists of Pixar's Monsters Inc. He is a big blue and purple bear-like monster known for his gentleness and work ethic.
Thor – Thor is a prominent god in Norse mythology who has control of thunder and other weather. This name is also used for a popular Marvel superhero with similar powers.
Thumper – Thumper is the name of a fluffy rabbit who is a friend of the deer Bambi in the movie of the same name.
Werewolf – Werewolves are cryptids in much folklore around the world. In most stories, these creatures are humans who can transform into wolves during the full moon.
Winnie – Winnie the Pooh is the central character of the franchise of the same name. This silly old bear loves honey, spending time with his friends, and getting into trouble.
Yogi – Yogi Bear is an anthropomorphic bear who debuted in the 1950s. The cartoon bear spends much of his time trying to steal picnic baskets in Jellystone park.
Toto – Toto is the little black dog who accompanies Dorothy Gale on her adventures in Oz. He keeps his cool throughout the adventure, even when faced with a threatening lion and a vengeful witch.
Wampa – Wampas are another creature in the Star Wars universe. These big snow monsters are similar to the yetis in our universe.
Wookiee – Wookiees are the species of creatures in the Star Wars universe that Chewbacca is a part of.
Tribble – Tribbles are little fuzzy creatures in the Star Trek universe, known for their love of grain and prolific breeding ability.
Fluffy Dog Names Based on People
If you want to stay in the real world, there are countless fun ways to find inspiration in history for your dog's name. Celebrate people known for their hair by naming your dog Zsa Zsa or Einstein or engage with puns and play with making the names of historical figures a little hairy.
Einstein – Known for his shock of white hair, Albert Einstein would make a great namesake for your pup.
Fabio – Fabio is an Italian-American actor whose name is used to describe a handsome man with long hair.
Fuzz Aldrin – Choose this punny moniker for your pet if they love to explore.
Hairy Houdini – A fluffy escape artist may love this name.
Mariah Hairy – Pick this name if your dog loves to sing and knows how to hold a note.
Prince Hairy – Prince Hairy is the perfect name for your pup if they seem royal.
Zsa Zsa – Honor this icon known for her hair and voice by naming your pup, Zsa Zsa.
Fluffy Dog Names Based on Food
Food-based names are classic when it comes to cute options for dog names. There are plenty of fluffy foods that may remind you of your equally fluffy pup. Baked goods are a popular source of food inspiration. As a result, Croissant, Macaroon, and Meringue are lovely choices for any fluffy dog.
Acorn
Cheddar
Croissant
Fluffernutter
Gnocchi
Gumdrop
Cupcake
Brie
Coconut
Cream Puff
Macaroon
Marshmallow
Marzipan
Meringue
Milkshake
Moon Pie
Mousse
Muffin
Nutella
Oreo
Pavlova
Peach
Popcorn
Pumpkin
Rambutan
Souffle
Sugar
Truffle
Waffle
Frequently Asked Questions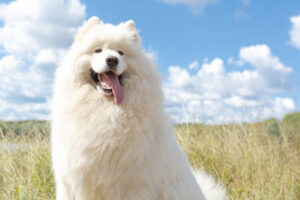 Let's take a look at some common questions regarding the best fluffy dog names.
What should I name my fluffy dog?
The short answer is you should name your fluffy dog whatever you want! If you have trouble deciding which name to choose, start by making a list of your five or ten favorite names.

Next, identify why you like those names so much, and determine if any names cover a good cross-section of your favorite reasons.
What is the most uncommon dog name?
It is difficult to determine which dog name is the most uncommon overall. Often made-up words or combined names are the most unusual names you can choose from. For example, you can name your dog Doodle-Bean, and a few other dogs will have that same name.

When it comes to unusual names for fluffy dogs, you can choose an ironic name that describes the opposite of fluffiness. For example, you could name a fluffy dog Baldy.
What breed is the white fluffy dog?
A few breeds fit this description, but Samoyed and American Eskimo are two high-profile examples.
Conclusion for "Best Fluffy Dog Names"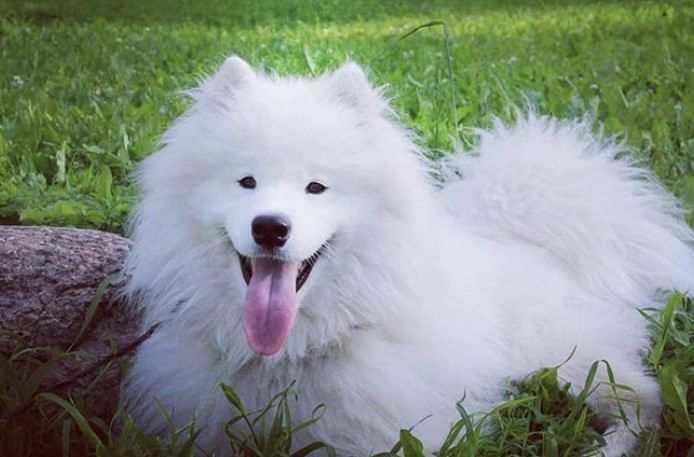 There are so many great names to choose from to emphasize your pup's fluffiness.
Take a little time to get to know your new best friend and see which name suits them best — there's no rush. You can base the name on their appearance, gender, food, or personality.
For more guides similar to this list of fluffy dog names, check out:
You can find more dog name ideas by watching "Top Dog Names -Best MOVIE Dog Names – Disney, Marvel, Hollywood Stars" down below:
Garrett loves animals and is a huge advocate for all Doodle dog breeds. He owns his own Goldendoodle named Kona. In addition, he volunteers at the Humane Society of Silicon Valley, where he fosters dogs and helps animals. Garrett enjoys writing about Doodles and believes that dogs can teach humans more about how to live than humans can teach a dog.
Why Trust We Love Doodles?
At We Love Doodles, we're a team of writers, veterinarians, and puppy trainers that love dogs. Our team of qualified experts researches and provides reliable information on a wide range of dog topics. Our reviews are based on customer feedback, hands-on testing, and in-depth analysis. We are fully transparent and honest to our community of dog owners and future owners.