Siberian Huskies are among the most intelligent and stunning dogs. This breed is playful and loyal, willing to protect its owners no matter what. Huskies are lively, meaning you may need to consider short hairstyles that accommodate their need for a cool breeze. Consider your climate, your dog's needs, and access to a dog grooming salon before considering Husky haircut styles.
Although highly independent, these dogs will need plenty of grooming, brushing, and overall care for their hair. However, your Husky will never need a complete haircut.
For example, a Husky can benefit from a trim every six to eight weeks, depending on how quickly their hair grows, but a full-on haircut for a Husky can be detrimental.
Huskies will have other care needs, including teeth, nails, and bathing care. Huskies will likely need to have their nails trimmed and filed to prevent damage to property and others.
Before you scroll down this list of Husky haircut styles, check out: How Long Do Huskies Live? (2023) and 5 Reasons Why My Husky Is Fat! (2023).
Do Huskies Need Haircuts?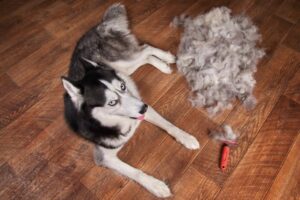 Huskies do not need haircuts, but they can receive a small trim if it makes them more comfortable and makes grooming easier for the owner.
Huskies require a full undercoat to help them keep cool in the summer and warm in the winter. This undercoat is essential to their internal functioning and overall comfort.
Never completely shave your Husky unless there is a medical reason to shave them. Some medical conditions that affect the skin, like contact dermatitis and rashes, may require some parts of your Husky to be shaved to access the affected area.
6 Best Husky Haircut Styles
These haircuts can provide your Husky with comfort while playing or working on a project with their owners. Whether you're looking for a fun bob cut or an elegant royal cut, dozens of options can make you and your pup happy, regardless of the temperature.
Summer Cut
A Husky summer haircut is nothing like the summer cut that other dogs might get. The summer cut your Husky will receive will likely have them trimmed as much as possible for their breed, but maintain a thick set of hair you'll still need to brush and bathe.
Some dog grooming salons might trim your Husky to the undercoat but won't trim anything past that point.
Fluffy Cut
A fluffy cut will make your Husky look bold and beautiful. This haircut style is perfect for making your Husky look as fluffy as possible and includes trimming some of your dog's hair before fluffing it up with a comb or dog brush.
Uniform Cut
A uniform cut involves trimming just an inch or two from your Husky, leaving a large amount of hair and their undercoat untouched.
This haircut is among the most popular since it makes your Husky easier to brush and ensures they look manicured without harming their undercoat.
Big Head Cut
The big head cut is classic for Huskies and is easily done by trimming an inch or two from your Husky's body hair without touching anything around the head and face.
Your dog groomer might trim the hair near your Husky's eyes to make sure they don't suffer from any obstructed view that could cause them injuries.
Narrow Face Cut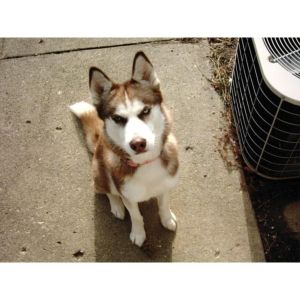 A narrow face cut is a cute Husky hairstyle because it will make your Husky's face look slim and slender without touching any of the other hair around the neck and body. This hairstyle focuses on the face and may include manicuring some of the body but will mostly leave other hair to grow out.
Groomed Husky Cut
A groomed Husky haircut will make your Husky look regal and near wild. Your Husky will maintain their near-wolf appearance, complete with a puffed chest and a uniform trim around the rest of the body.
With the groomed Husky cut, your dog will have more hair around its chest and head than the rest of its body, making them stand tall and proud.
Other Husky Grooming Needs
Your Husky may not need much trimming, but it will still need plenty of grooming to be healthy and happy. For example, your Husky will need to have its nails trimmed and filed, teeth brushed, and a bath every few weeks to ensure peak health.
Nails
Your Husky will need to have its nails trimmed and filed every six to eight weeks to prevent injury. Your Husky may always cause property damage and other trouble when they haven't had them trimmed in a few weeks.
Teeth Care
Poor oral hygiene can lead to periodontal disease in dogs, which can lead to heart disease with scary symptoms, including coughing, trouble breathing, and lethargy.
The bacteria buildup in the gums from not brushing properly or frequently enough can travel and impact the heart health of your dog. To prevent these scary symptoms and conditions, brush your dog's teeth three times a week with dog-friendly toothpaste.
Brushing
Your Husky will need to be brushed every day or every other day to prevent knotting and matting. The hair on your Husky is voluminous and can easily get entangled together and be difficult to undo – never mind painful for your dog.
Bathing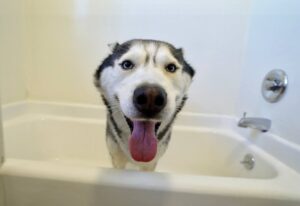 Your Husky will likely need a bath every week or every other week if they are active outside. Elderly Huskies or those indoors often may not need a bath more than twice a month since they aren't exposed to much dirt and debris.
Be mindful of how often you are bathing your Husky, however. Bathing them too much can result in dry skin, which can be difficult to treat with all your Husky's hair.
How to Do Your Husky's Hair at Home
Because your Husky doesn't need a full haircut, you can opt to forgo the dog grooming salon and take care of their grooming at home.
This may mean training your Husky to sit still and having all your tools handy for the job. Read on for three tips on how to have a successful time grooming your dog at home.
Train Your Husky to Follow Commands
The first step to grooming your Husky at home is to train them to follow your verbal commands. Universal commands work well, including sit, stay, and come. These commands can make bathing and brushing smoother and help your Husky understand what is expected of them.
Have Your Tools Ready
Having all the right tools ready is the next vital component to ensuring the process goes smoothly.
You'll likely need an undercoat rake to get rid of excess hair in your Husky's undercoat without hurting them, a pair of scissors for long strands, and a normal dog brush. A comb for their face may also be necessary.
Make a Routine
Try to keep consistent with the grooming routine you set for them. This can be challenging, especially for busy dog owners. However, when your Husky knows it's time to do the brushing or bathing routine, they'll likely be more amicable during the process.
Frequently Asked Questions
Choosing the best Husky haircut styles can be challenging, but these answers can make your choice just a little easier. Consider these questions and answers before deciding on your best course of action.
Should you cut a Husky's hair?
A Husky can receive a trim and haircut if that haircut doesn't touch their undercoat. This undercoat is responsible for your dog's temperature regulation, along with panting and other behaviors.
Can Huskies' hair be trimmed?
You can trim and manicure your Husky's hair with zero worries about hurting your dog's ability to regulate its body temperature. A small trim can be beneficial because it can remove dead hair and promote healthy hair growth.
Does Husky fur grow back after shaving?
Husky fur will always grow back. However, a clean shave is only recommended in extreme cases, including abuse or an unmanageable pest infestation. However, flea and tick products are recommended before shaving a Husky.
Do Huskies need their hair trimmed?
A Husky doesn't need to get its hair trimmed as most dead hair will simply fall out on its own. Huskies may benefit more from a simple brush down than a trim, but a trim can be beneficial if you live in a tropical or subtropical climate.
How often should you get Husky groomed?
Your Husky should receive a full brush down every day or every other day. You can trim your Husky's hair every six to eight weeks during the summer to manage any high temperatures in your area.
Should I trim the fur on my Husky's paws?
You can shave the fur on the bottom of your Husky's paws to help them get a better grip as they walk, but there is little reason to shave the fur on your Husky's legs or the top of its paws. Shaving this hair can make it challenging for them to regulate their body temperature in those regions, too.
Why do people shave Huskies?
Many people may love how a Husky looks but not understand its needs. Other people may shave a Husky because they don't want to deal with brushing them daily, which is negligent at best.
Conclusion for "Best Husky Haircut Styles"
Huskies are stunning dogs who may seem closer to wolves than dogs. This breed thrives in the cold but can do well in warmer climates if they have access to a groomer.
Consider your climate, your dog's activity level, and your dog grooming salon before choosing the best Husky haircut. There are dozens of options that can make your dog comfortable without sacrificing style.
Husky haircuts are abundant, regardless of the style you're looking for. Consider how often your Husky will need a haircut and how you want them to look before choosing one for your pup. Their comfort should always be the top priority.
The perfect haircut for your Husky will make them comfortable. Try out some of our favorites above!
For more guides similar to this list showing the types of Husky haircut styles, check out:
If you find these Husky haircuts interesting, learn more by watching "Shocking Husky Deshed | I'm Shocked At How Much Fur Came Out! | Massive Undercoat Removal" down below:
Garrett loves animals and is a huge advocate for all Doodle dog breeds. He owns his own Goldendoodle named Kona. In addition, he volunteers at the Humane Society of Silicon Valley, where he fosters dogs and helps animals. Garrett enjoys writing about Doodles and believes that dogs can teach humans more about how to live than humans can teach a dog.
Why Trust We Love Doodles?
At We Love Doodles, we're a team of writers, veterinarians, and puppy trainers that love dogs. Our team of qualified experts researches and provides reliable information on a wide range of dog topics. Our reviews are based on customer feedback, hands-on testing, and in-depth analysis. We are fully transparent and honest to our community of dog owners and future owners.