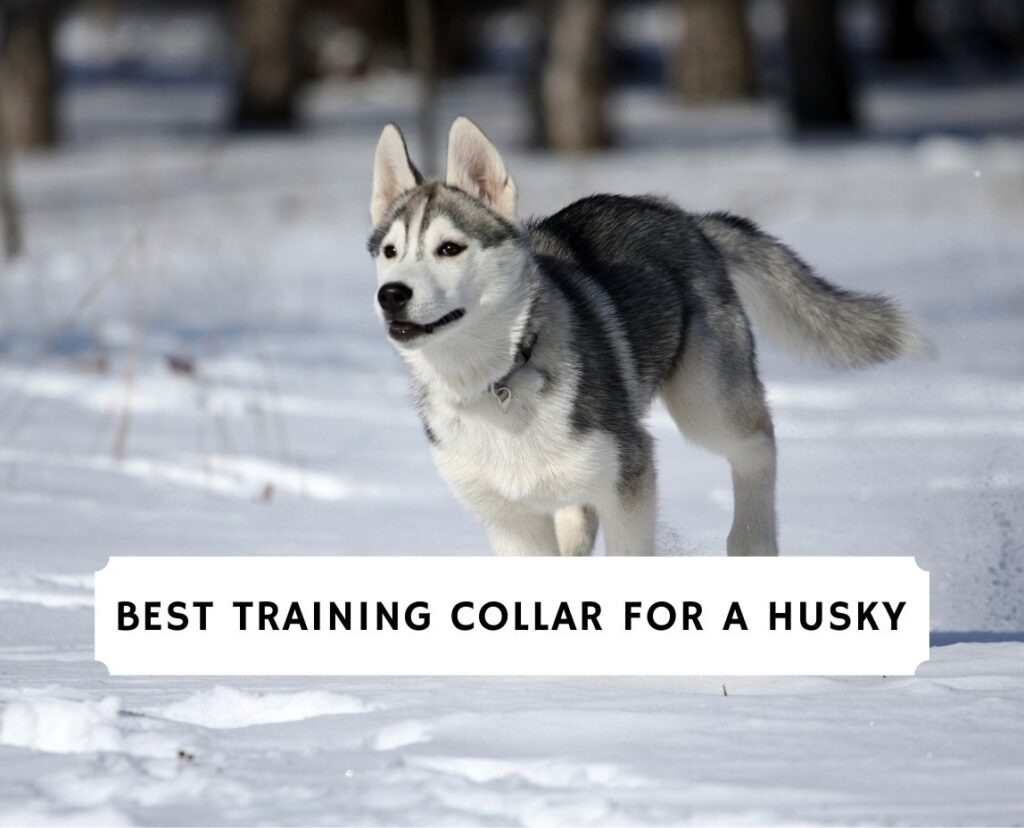 Charming and often blue-eyed, Siberian Huskies are a surprisingly quirky dog breed. Despite being a medium to large breed with a wolf-like appearance, they are prone to excessive barking and are sometimes difficult to control. Outside of pulling sleds, they make great companions, but Huskies are stubborn and energetic. 
Left on their own, untrained Huskies can be difficult to handle. Thankfully, we have perhaps the most effective device to reduce bad behavior in Huskies.
Shock collars, also known as electronic collars, are training tools with various options depending on the type of collar you'll get. Despite the name, the "shock" is more like a static stimulation or a "tap" and isn't intended to hurt your dog. You can adjust the strength of this tap, along with your choice of non-shock training modes. 
We'll help you find the best shock collar for a Husky and tell you more about your options on the market. If you still have doubts, we have a small guide on how to pick the right training collar for Huskies at the end of the list.
In a rush? Here are the top picks!
Product
Best Overall
Pet Resolve Shock Collar
Budget Pick
SpotDOG Remote Trainer
Image
The first shock collar on our list has a great array of features for its price. Out of the box, you get the remote control with a lanyard, the receiver attached to the flat collar that's enough to fit a wide weight range, a two-way USB charging cable and adapter, the receiver-tester, and the four different pairs of prongs. This is about the general content of most shock collar kits, so it boils down to their features.
Range and Control
The remote has an impressive 3/4 mile range, approximately 1300 yards range. That's a great range for its price point. This is a great e-collar for a Siberian Husky because you can let them roam around your backyard and you can still train them when they decide to bark.
Control-wise, this large dog training collar has up to ten adjustable levels of correction, which means you have that many levels of static intensity. The remote itself is pretty small and can be handled like a hand-held radio. The buttons are all in the front and it's easy enough to understand what they do. The small LCD on the front of the remote shows the current level of simulation.
Features and Functions
The Pet Resolve shock collar has a total of 4 training modes (static shock, vibrate, tone, and anti-bark). First is your standard static shock. This bark collar for Huskies comes with a pair of long metal prongs that actually make contact with your dog's skin so it works correctly. Alternatively, if you don't want to use the shock functionality, you can stick to vibrate and use the plastic prongs which guarantees you never shock your Husky. The tone or page functionality of this e-collar may not sound as loud for you but is very noticeable for your Husky.
The fourth mode is the anti-bark mode. When you switch to this mode, the shock collar will automatically trigger a static stimulation when your Husky barks too much. You don't need to be present for the shock collar to trigger and it will automatically minimize excessive barking. 
As for battery life, the remote and collar come with a lithium-ion battery cell that lasts around 30 hours. The Husky training collar does not have a standby mode which could save battery life, but this means the collar is reactive all the time. This is crucial since timing is important when you're correcting bad behavior. To compensate, both training collar can be fully charged in 2 hours.
The remote can support up to three collars and has a night light to help find your dog in the dark. The remote itself is splash-proof and withstands working in the rain, while the receiver is waterproof and can withstand being submerged.
Our second shock collar that works well for a Husky has a differently designed remote that is made for a no-look experience. The training collar comes with the remote, a flat collar with metal clasps, the receiver, and the wall charger. Like all the e-collar kits, it has a tester that lights up when you put it in the receiver's prongs. The collar is wide enough to fit neck sizes 26 inches and below which is all Huskies.
In lieu of other features you might find in other collars, this model has a high level of control and is made to handle bigger breeds. 
Range and Control
The receiver has an above-average range of 3/4 a mile or about 1300 yards. The remote has a wide range of static stimulation ranging from 1 to 127. This does not mean it's ten times more powerful than the collar above, it means that there's a lot of 'in-between' levels, and weaker levels. With this, you can fine-tune the intensity, to minimize the stimulation needed to get the attention of any stubborn Husky. The small blue-lighted LCD on the bottom tells you the intensity levels along with the general batter level. 
Features and Functions
The Dogtra e-collar has three training modes: Static stimulation, Vibrate, and Tone. To trigger these functions, the remote has buttons with specific patterns of bumps that help you feel which button is which. The remote has 3 triggers: two on the side and one at the front. The two triggers on the side are for continuous stimulation and a "snap" or a millisecond of static shock. The front for the shock collar remote is for both the vibrate and sound. 
The receiver's battery life is quite long, with a rechargeable lithium battery that lasts approximately 40 hours and can be charged using the wall charger it came with. The charger has split plugs so you can charge both the remote and collar at the same time. 
The third shock collar on the list is from the Educator Pro series. The training collar works well for a Siberian Husky and comes with the remote, the flat collar, a split USB charging cable, and the wall plug. It also comes with a tiny wrench to help you secure the prongs and a tester for the receiver. The e-collar can fit any neck size below 30 inches, which is all Huskies.
You may find that their brand has a control scheme of several functions made to fit a few buttons. It may take a small bit of effort to get used to it, but it's quite easy to use.
Range and Control
The remote can communicate with the receiver at 880 yards range, or 1/2 miles. In places with plenty of obstructions like a forest, the range can decrease.
The collar's shocking feature has an impressive 256 sensitivity levels, although the LCD will only show up to 100 levels. Not much of an issue because you'll rarely use levels as high as 100, although it's not unheard of to find dogs that can tolerate high levels of stimulation before they stop.
Features and Function
Like all the other shock collars we have in this list, this model also has Static shock, Vibrate, and Tone training modes. When programmed for vibrate, the buttons also give you different vibration options. The Educator series appears to have a more "blunt" static shock than most collars, which may be unique to the product.
As far as the number of collars the remote can handle, the standard one can only handle one Husky at a time. If you need to control more dogs, you can upgrade to versions that can handle up to 3, but it costs extra. However, if you're handling more than one dog, this is the way to go. If not, you can use the cheaper options.
The rechargeable battery lasts around 40-50 hours when on standby mode and can be fully charged in 2 hours. The receiver also has a nightlight, which is perfect for finding playful Huskies in the dark. The shock collar has both a steady light mode and strobe mode for higher noticeability.
The fourth e-collar for Huskies we're reviewing is a slightly smaller remote with even more emphasis on the no-look method of usage. The kit contains all the basic shock collar needs: the remote, the long flat collar with the receiver connected, and the charger. This model has a slightly different set of buttons for getting your Husky's attention which we will go into detail about in a bit. 
Range and Control
The remote has an average range of 500 yards. Despite us calling this average, the range is enough when training your dog in the yard or when you're in the park letting your Husky run around. 
The remote also has up to 21 adjustable levels of correction. Instead of two buttons for "snap" and continuous stimulation, the remote has three buttons for continuous stimulation with different shock options: Low, Medium, and High. The dial on the top of the dog training remote has 7 levels, giving you a total of 21 levels.
The remote does not have an LCD. Though it won't show you the battery levels, it does have a lengthy battery life of around 50-70 hours depending on usage.
Features and Functions
This shock collar for a Siberian Husky has the three standard training modes: 21 levels of static stimulation, vibration, and a page/tone function. With the three continuous buttons, you can simply release the button as soon as it's pressed if you need a short stimulation. Due to the limited number of buttons, you need to change modes in order to switch the button functions.
The remote can support up to 3 different receivers, and like all the shock collar kits in this list, the flat collar can definitely fit a medium to large breed like Huskies. 
Given the high control range and the 3 training methods, the kit is missing a nightlight feature and well as an automatic anti-bark system. It does make up for it further with high battery life and a 2-hour quick charge.
The last one on the list declares itself "The Boss". It has quality features seen in most shock collars but comes with a higher price. As soon as you open the box, you'll get the remote, the receiver attached to the collar, a pair of slightly longer spokes, and the dual wall-plug charger. 
Range and Control
This product has the highest remote range on this list, going as far as 1 mile or 1800 yards. Take note that this is for open spaces. Shock collars use certain radio frequencies to communicate and can pass through wood and bricks, but trees, metal, and insulation can dampen it.  
The small knob on the top lets you adjust the stimulation levels from 1 to 100. The collar's overall strength of stimulation can be considered high compared to most collars so take caution when using higher levels. 
Features and Functions
The stopwatch-shaped remote has three training modes which are static stimulation, vibrate, and tone. As a secondary function, you can actually use the tone as a way to locate the receiver in case you misplace it, given that it still has power. 
The remote can only support one collar. This might be alright if you have one particularly stubborn and moody Husky, and Husky owners know that they are as temperamental as they are lovable.
The receiver has a pretty wide and powerful nightlight which is great when your Husky goes out in the dark. 
How to Choose the Best Training Collar for a Siberian Husky
Now that you've seen the five best shock collars for a Husky, you should have a decent idea of what features a modern e-collar has. In case you have any doubts, here are a few buying tips we can share to help you decide which Husky training collar is best for you.
1. Ask Yourself Why You Need the Shock Collar
Buying a shock collar for a Husky is an investment meant for long-term use to help correct unwanted behavior. You might need the collar because your Husky loves to go on a joy run towards a busy street, is too aggressive to others, or excessively barks.
The electric collar can massively help correct these by conditioning, similar to the way prong collars, choke collars, and martingale collars condition a dog to follow the leash when it's tugged. 
If you need to correct your Husky's barking or behavior, look for a collar that has a high range and an anti-bark function. If you feel that a static shock is too much, these collars have various vibration levels
2. Check the Range and Effectiveness of the Collar
The range you need depends on what you'll use the e-collar for. Ideally, you'd want a range as far as you can afford. 
Some shock collars have a stand-by mode to help conserve battery life, which means that there might be a delay between pressing the button and the stimulation. We know that timing is important when training a Husky to correct unwanted behavior.
3. Consider the Function to Price Ratio
Who doesn't want the best bang-for-buck ratio when buying? When you know what you need out of a shock collar, then the next thing to consider is the price. Most training collars are really good at a few functions but come at a higher price, while others have a simple and wide variety of functions for less. 
Shock Collar Usage Tips
At this point, you may have decided on which collar you want to purchase. We want to share some tips to ensure you and your Husky have the best experience when using a shock collar. 
1. Let your Husky wear the collar for a few days without using it.
The Siberian Husky is a smart dog breed, often too smart. They can eventually figure out when they are wearing a shock collar versus a normal collar. Even worse, they may figure out when the shock collar is on or not. 
To prevent this, let them wear the shock collar for a week for 6-12 hours. Play with them, take them for walks, let them sleep with it, all without activating it. That way your Husky will get used to the collar and think it's just another collar they wear.
2. Rotate the collar every hour when in use.
It's good practice to relocate where the receiver is placed every now and then. Trainers and responsible owners alike do this to avoid pressure blisters and skin irritation. Despite the shock collar not really "zapping" your Husky with electricity, the spokes are still pressing on the skin, and prolonged pressure alone can cause problems. 
3. Make sure the collar is fitted but comfortable.
You wouldn't want the collar to suddenly slip over your Husky's head or loosen each time your dog tries to dry itself. To avoid this, fit the collar so that you can insert two fingers between the collar and neck to ensure a snug but comfortable fit. 
4. Use the collar as humanely as possible
Like choke collars, martingale collars, and prong collars, they are only as bad as people use them. When using your shock collar for the first time, always start at the lowest stimulation levels, then observe your furry friend's response. If it's not enough to get their attention, go to the next level until it gets their attention. If they start twitching their head or yelping, then it's too much. 
Conclusion for Best Shock Collar for a Husky
Shock collars are arguably the most effective tool in correcting a dog's bad behavior and are widely used by dog trainers for all manner of training, including high-risk activities like police, military, and rescue. Despite this, shock collars are only part of the process. The other, perhaps more important half, is the praise and love you must show to your Husky.
With enough effort, that loving half will be the only thing you need for your Husky to be a closer part of your family. We hope you found the best shock collar for your Husky!
Other articles you will like:
Garrett loves animals and is a huge advocate for all Doodle dog breeds. He owns his own Goldendoodle named Kona. In addition, he volunteers at the Humane Society of Silicon Valley, where he fosters dogs and helps animals. Garrett enjoys writing about Doodles and believes that dogs can teach humans more about how to live than humans can teach a dog.
Why Trust We Love Doodles?
At We Love Doodles, we're a team of writers, veterinarians, and puppy trainers that love dogs. Our team of qualified experts researches and provides reliable information on a wide range of dog topics. Our reviews are based on customer feedback, hands-on testing, and in-depth analysis. We are fully transparent and honest to our community of dog owners and future owners.