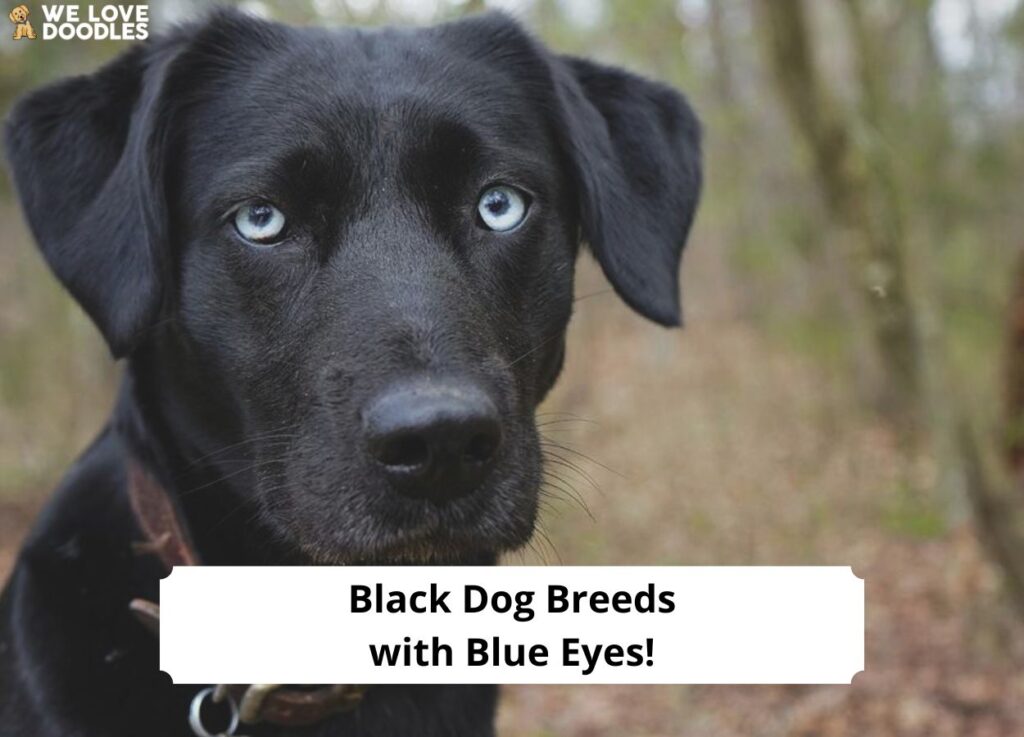 There are 190 dog breeds recognized by the American Kennel Club, and 360 are recognized globally by the Federation Cynologique Internationale. Then, of course, there are hundreds more mixed-breed pups, all with their own unique characteristics. Overall, there are several dog breeds with striking blue eyes and gorgeous black hair.
If this aesthetic is appealing, you may be interested in learning more. Whether you're shopping for a dog or looking to adopt from a rescue, you'll want to know which breeds to look for.
These are the top nine black dog breeds with blue eyes.
Before scrolling down this list of black dog breeds with blue eyes, check out: White Dog Breeds With Blue Eyes – Top 8 Breeds! (2023) and Brown Dog Breeds With Blue Eyes – Top 7 Breeds! (2023).
1. Siberian Husky
If you were to ask anyone to name a black dog breed with blue eyes, the Siberian Husky would probably be their first answer. While many Huskies are a sleek gray, many more are born with black fur, or are even white!
The Siberian Husky is an "ancient" dog, and it may have originated as long as 4,000 years ago. It's an intelligent and loyal breed, known for its ability to adapt to cold temperatures. The pups have historically been used as work dogs and sled dogs.
Today, Huskies are still used as work dogs but in the United States, they're more commonly raised as family companions. They're most comfortable in areas of the country with cooler climates but can thrive in slightly milder temperatures, too.
Huskies love company. Consider adopting a companion dog to befriend your Husky, or risk hearing the infamous "Husky scream" that often results from separation anxiety.
2. Australian Shepherd
Australian Shepherds are next on our list of black dog breeds with blue eyes. Aussies come in a rainbow of colors — your dog may be black, red, merle, tricolor, or another combination.
Additionally, not all Aussies have blue eyes. In fact, it's common for the breed to have two different colored eyes, a "condition" called heterochromia. Regardless of your dog's coloring, she's sure to be a loving and stunning addition to your family.
The Australian Shepherd is another working dog, primarily bred for herding. Due to their uses in the field, the pups are intelligent and highly trainable, and your Aussie will treat your family as her "herd."
Your black-haired, blue-eyed dog will require plenty of exercise and a grooming routine is also a must. Brush and detangle your pup frequently to mitigate matting and remove dirt from outdoor play. Speaking of outdoors, it'll be a good idea to provide your Australian shepherd with a fenced-in yard where she can safely run and chase the squirrels.
These dogs can acclimate to most climates, so no matter where you are in the world your Aussie will be comfortable.
3. Border Collie
The Border Collie is the eighth most popular breed in the United States according to several polls, and it frequently sports shiny black hair and blue eyes. They're another herding breed, making them trainable and loyal members of your family.
The Border Collie will get along well with children and other pets, but the breed isn't typically too fond of strangers. This makes them excellent guard dogs!
Their long hair can be trimmed to look tidy, but you should take care to keep some length. The dog's fur was designed by nature to help him adapt to differing temperatures. Trimming it too short may cause your pup to be uncomfortable in certain climates.
This black dog with blue eyes comes in a variety of colors. Border Collies can be lilac, gray, red, or even white. They're mid-sized dogs, growing to be between 30 and 55 pounds as adults.
Border Collie ownership will require that you're willing to exercise your dog, so for fun, take your pup to agility training. The breed excels at these exercises and has plenty of energy to keep it up to the task.
4. Welsh Corgi
The Welsh Corgi is a beloved breed, made famous in part by the royal family in the UK. The darling small dogs are typically a golden color, but the breed can be black, red, brindle, or other colors, too. Eye color will vary from dog to dog, and while some are black dogs with blue eyes, you may find that your dog's eyes are two different colors.
The Corgi makes a fantastic house dog, and your pup will never turn away the opportunity to ride along with you on your errands. Their little bodies make them perfect lap dogs, but they do have a lot of energy, too. Take your pup for frequent walks, or make sure he has a place to run around outdoors.
Be mindful that there are certain health conditions that frequently affect these black dogs with blue eyes. Hip dysplasia is one of the most common, so speak to your vet about whether a supplement like glucosamine is appropriate for your dog.
Did you know that many Corgis are born without tails? That's right! Not all pups have had their tails docked. Regardless of your dog's tail length, you're sure to fall in love with the wiggle-butt you choose to bring home with you.
5. Great Dane
The Great Dane is next on our list of black dogs with blue eyes. The breed is diverse in its coloring — a Great Dane's coat can be black, brown, brindle, blue, or a beautiful harlequin, among others.
Your dog's eyes can be blue or they can be a milky brown. Pups are generally born with blue eyes, but in rare cases, they can remain blue even into adulthood.
Your Great Dane will guard your family and will be gentle with children and other pets. The breed requires moderate exercise so be sure you're able to commit to walking your dog daily. Outdoor space to play is ideal for your dog, and she will be most comfortable in temperatures that remain in the 70s.
It's a good idea to bathe your Dane weekly to avoid that oily dog smell. Brush your pup daily to help keep her hair sleek and healthy, and to remove dead hair. Use a slicker brush first, then bathe your pup in your favorite dog-friendly shampoo. Condition her coat for a sleek shine and healthy skin.
Fun fact: Great Danes are the world's tallest dogs. The breed can weigh up to 200 pounds and can be almost three feet tall at the shoulder.
6. Pitbull
The Pitbull is a widely misunderstood breed and through no fault of their own. The pups are frequently bred for fighting, and many are born in pups mills. As a result, the breed has a reputation for being aggressive and dangerous. With proper training and responsible ownership, this is simply not the case.
Pitbulls are on our list of black dogs with blue eyes, but they, like other dogs, come in a variety of colors. Your Pittie could be black, brown, white, sable, or any other color! His eyes, too, will vary in color, and you won't know what that color will be until your dog is several weeks old. All pits are born with blue eyes.
Your Pitbull will need a firm hand and proper training. Socialize them with other animals, children, and adults, and be sure that you teach her the difference between a guest and a threat. Training schools are available specifically for the breed — a simple web search will bring up businesses near you.
Despite their stocky stature, Pitbulls are quite agile! They're intelligent and will take easily to you as the leader of the pack if you make it known that you're in charge.
Unfortunately, the breed was once used as bear bait and considered a threatening breed but, in all actuality, they're great with children and wonderful family companions.
7. Dalmatian
Technically speaking, the Dalmatian isn't a black dog with blue eyes. But many dogs of this breed are covered almost fully in their classic black spots, so the blue-eyed, black-fur contrast remains.
Dalmatians are guard dogs and aren't always family-friendly, so do your research before you bring a dog into your family with children. You'll need to commit to training your dog.
You'll need to groom and bathe your Dalmatian frequently, as its short, slick hair can become oily. Be sure to use a shampoo that's appropriate to the breed so as not to dry out those natural oils. A slicker brush is a must-have for Dalmatian owners; this will keep the dead hair and shedding at bay.
Dalmatians are prone to certain health conditions, and deafness is one of those health concerns. Regular trips to the vet will be necessary to ensure your pup is in tip-top shape.
No one knows precisely where the Dalmatian breed originated. The dogs traveled with the Romani people, a nomadic group, but may have been first bred in the Dalmatia province of Austria. We do know that they're an ancient breed and that they were celebrated by the ancient Egyptians.
8. Weimaraner
Weimaraners are next on our list of black dogs with blue eyes, though you're probably more likely to find a gray pup than a black one. A majority of Weimaraners take on the typical "silver ghost" appearance, but they do carry genes for black and other colors.
The Weimaraner is a loving, family-friendly dog that can grow to be quite tall! In some cases, your Weimaraner will be around 25 inches at the shoulder, and the male will grow to weigh up to around 80 pounds.
They're hunting dogs, and you'll appreciate the speed and agility of your friend. Their active nature, however, means that you'll need to commit to frequent exercise for your pup.
Weimaraners are wonderful family pets, but be careful! They're famous for standing up to give hugs, so small children may be intimidated — or knocked over! Obedience training can assist with this if you're concerned for your kids' safety.
Did you know that Weimaraners are born with stripes? Your Weimaraner litter will consist of striped, blue-eyed little beans that will mature into gray or black pups with blue or brown eyes.
9. Dachshund
The Dachshund is the last on our list of black dogs with blue eyes. These little cuties are much smaller, so if you're interested in buying or adopting a dog for a small space, this might be a good option for you.
Blue eyes in Doxies are a rare trait, and they're not considered desirable in shows. However, we think the pups are beautiful when they display sky-blue eyes against a dark coat.
The Dachshund is a little sausage dog that's really good at hunting! In fact, it was originally called a badger dog because of its ability to track badgers into tight little spaces — an admirable quality when badger pelts were in high demand.
A pin brush will be essential to caring for your Dachshund's smooth coat. This is particularly true if you have a long-haired variety. Pups can easily get matted after playtime outdoors, especially if you're not religious about bathing your dog.
Your Dachshund won't need to be bathed as frequently as some other breeds as they don't carry that "dog smell" that other dogs are known for. However, a sleek and shiny coat is best achieved with proper shampoo and conditioner.
If you're up for a bit of entertainment, be sure to check out a Dachshund race in your area. These adorable events will keep the whole family entertained — there's nothing quite as cute as watching the sausage dogs compete for the gold.
Frequently Asked Questions
Is a black dog with blue eyes rare?
Apart from breeds like the Husky and Australian Shepherd, blue eyes are generally uncommon in black and brown dogs.
How long do puppies' eyes stay blue?
Puppies with blue eyes can change colors by the time they're four months old.
Are dogs with blue eyes more sensitive to light?
Dogs with blue-colored eyes can be extra sensitive to light.
Conclusion for "Black Dog Breeds with Blue Eyes"
If you've ever searched for a new dog to bring home, you know that there are hundreds of breeds to choose from! Some owners choose a dog based on temperament, some based on talent, and others simply based on appearance.
A black dog with blue eyes has a striking appearance, and the color combination is not as uncommon as you might think. Our list of black pups with blue eyes is just a sampling of breeds that carry the genes to exhibit these stunning traits.
Whether you'd like a small dog, working dog, lap dog, or guard dog, check out the dogs in this guide to help you in your search.
Check out these other lists of dog breeds:
Learn more about dogs by watching "10 Curly Haired Dog Breeds" down below: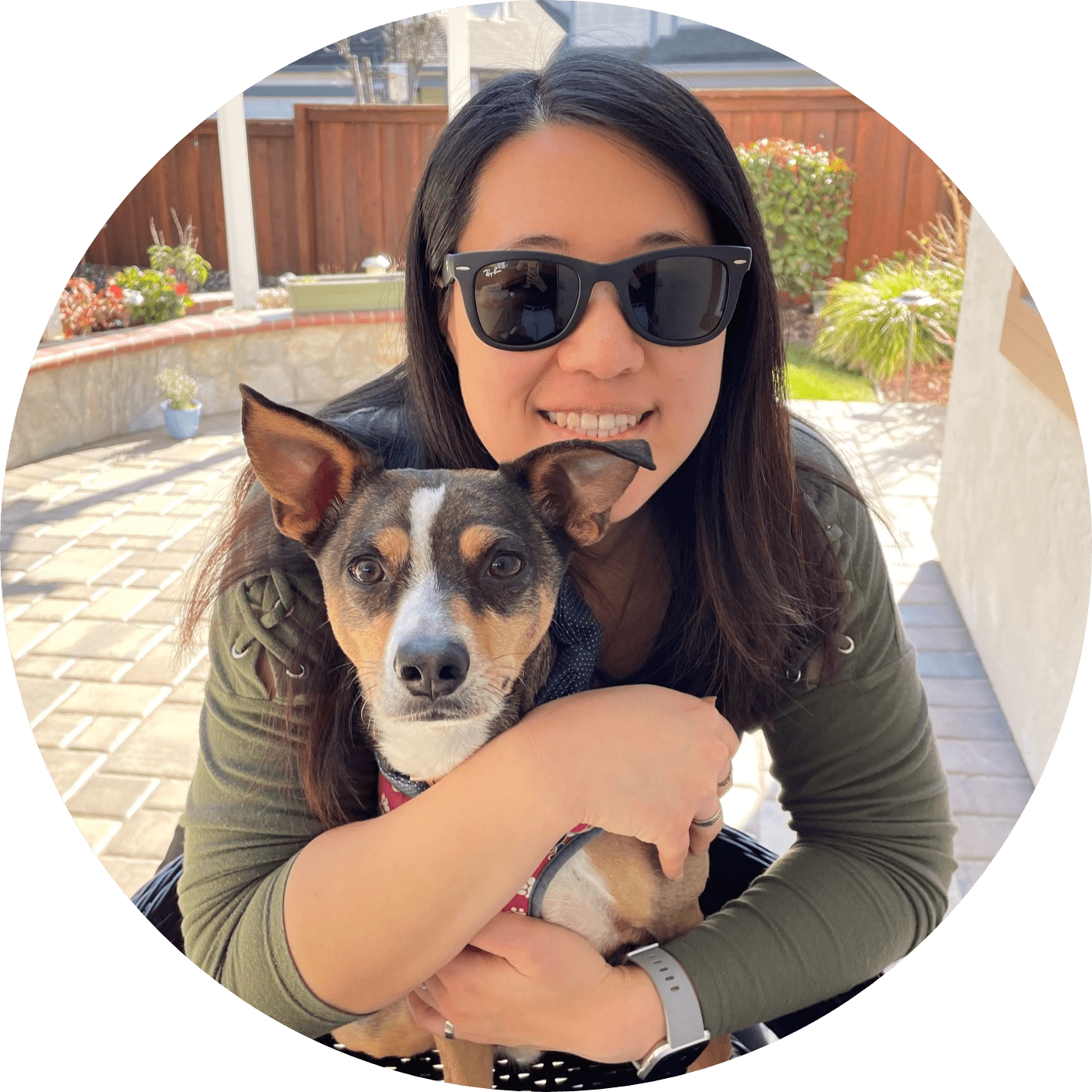 Dr. Sabrina Kong graduated from the Royal Veterinary College in England in 2016 and has been working at a small animal clinic in Northern California since then. She grew up in the Bay Area and got her bachelor's degree from Cal Poly San Luis Obispo. She also became a Certified Canine Rehabilitation Practitioner through a program at the University of Tennessee.
When she isn't in the clinic taking care of her four-legged patients, she enjoys traveling and trying new foods with her friends and her three-legged dog, Apollo. She adopted Apollo from her clinic when he was a puppy with numerous health issues. Dr. Kong truly cares about taking care of animals.