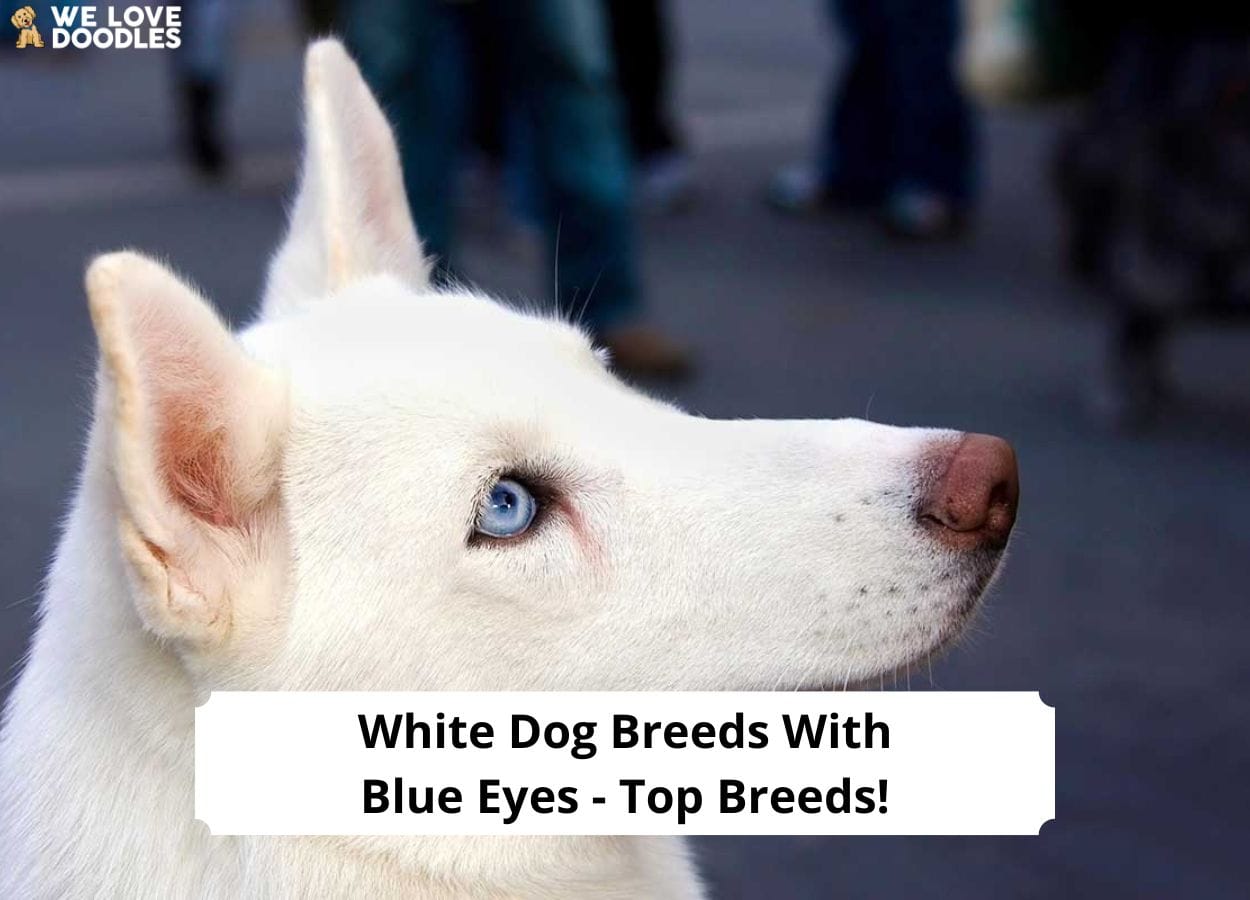 White dog breeds with blue eyes have an arresting appearance, and if you adopt one of these dogs, she'll be the talk of the dog park. You may already be familiar with the Siberian Husky or the Australian Shepherd, but did you know there are dozens of dog breeds that have characteristically pale eyes?
In this guide, we'll focus on dogs that have white fur and light blue eyes. However, remember that only nature can decide your dog's colorations! Your puppy may be born with light eyes and white fur, then grow to have, for example, brown eyes and sable fur.
Our list was compiled to guide you as you look for the breed that's right for you. Ready to begin? Here are the top dog breeds with white fur and blue eyes.
Before you scroll down this list of the white dog breeds with blue eyes, check out: 15 Grey Dogs With Blue Eyes – Top Breeds! (2023) and Dogs with Gold Eyes – Top 9 Breeds! (2023).
1. Siberian Husky
Of course, we need to list the Siberian Husky as the top white dog breed with blue eyes. Huskies can be white, black and tan, sable, black, or gray, or they can carry traits that will cause them to have any combination of these colors.
The Husky's eyes are usually blue, though it's not at all uncommon for your dog to have heterochromia. That means she'll have two different eye colors. In some cases, different colors can be displayed within the same eye.
Your Husky will thrive in cooler climates. Owners in warmer places can adopt a Husky, too, but will need to watch for signs of overheating. If outdoor temperatures exceed around 80 degrees, bring your pup inside to keep her safe.
Your Husky will typically shed twice per year, though you'll need to brush her frequently to keep shedding to a minimum. The Husky was bred to be a sled dog, or a working dog, so she'll need plenty of exercise to keep her healthy and happy.
2. Australian Shepherd
Second on our list of white dog breeds with blue eyes is the Australian Shepherd. Despite its name, the breed has origins in Spain. The Aussies we're familiar with today were bred and fine-tuned in the American west. They're working dogs through and through, and your pup will exhibit loyalty, intelligence, and an eagerness to learn.
Because these dogs are so active, it's best if you can provide plenty of exercise or room to play. Your Aussie will love chasing squirrels until it's time to join your family indoors. Their double coat protects them from both cold and heat, so owners in all climates are welcome to adopt an Australian Shepherd.
Like the Husky, the Australian Shepherd will often have two different colored eyes. Your pup's beautiful eyes may be blue, green, or brown. That said, light blue is such a common eye color for your Aussie that they were called "ghost eye" by some Native American tribes. Pale, haunting eyes are a trademark.
3. Weimaraner
Most Weimaraners are gray dogs, but the pups can be white, too. When they're born white, they commonly carry the gene for their distinctive light eyes, making them next on our list of white dogs with blue eyes. Technically speaking, the dogs are varying shades of taupe and gray, but the light coloration of some dogs gives them a white or silver appearance.
Weimaraners are excellent family dogs — they'll get along with kids, other dogs, and seniors. They'll need stimulation, though, so be prepared to give your pup plenty of activities to keep his mind occupied. Failure to do so may cause boredome, resulting in the "innocent" destruction of your furniture.
They love company, so they're happiest when they have a human or another animal home with them during the day.
In addition to your attention, your Weimaraner will need firm training. They're prone to aggressive behavior around dogs they've not met and must be taught acceptable behavior around strangers. Weimaraners can also be strong-willed, making them difficult to house-train. Use a crate to potty train your puppy from an early age.
4. Dalmatian
Dalmatians are, perhaps, one of the most easily recognized dog breeds. You pick out a Dalmatian by its black spots, but did you know the dog breed can be white with blue eyes, too? It's rare, but it's possible for Dalmatians to be spot-free. Full-white dogs are recognized for the show by the American Kennel Club.
Of course, all Dalmatian puppies are born without spots — the markings develop several months after they're born. If you're choosing a Dalmatian as your pet, and you want a white dog with blue eyes, you'll likely have to adopt an older dog.
This comes with its challenges, as the Dalmatian can be stubborn and set in her ways. If your dog wasn't properly trained, you'll need to help her "unlearn" undesirable behavior. Make sure you have the time to do so before you adopt an adult.
Despite their stubborn tendencies, Dalmatians are fun-loving pups that just want to play. At times, your Dalmatian will forget her own size — she likes to jump on people and may be intimidating to younger children. Bring your dog for runs or walks each day. She'll get her zoomies out and will be more likely to be calm when it's time to settle down.
5. Aussiepoo
The Aussiepoo is a designer breed and, as such, it's not recognized by the American Kennel Club. However, we thought this breed was worth mentioning on our list of white dogs with blue eyes, largely because they're an excellent option for those with allergies to animals.
Their Poodle parent passes down somewhat hypoallergenic traits, so you won't be as likely to sneeze with an Aussiepoo in your home as you would with some other breeds.
The Aussiepoo's parents can both carry the gene for blue eyes. It's a common coloration in the Australian Shepherd. While it's rare in Poodles, blue eyes do occur. In addition to striking blue eyes, your dog will inherit both parents' intelligence: the Poodle's fun personality, and the Australian Shepherd's herd loyalty.
Aussiepoos are also called Aussiedoodles, and you can adopt these wonderful companions from animal shelters in your area. Should you decide to seek out a breeder, make sure the kennel is responsible and reputable. Avoid puppy mills, which are known for their mistreatment of dogs and inhumane conditions.
6. Cane Corso
If you're familiar with mastiffs, you know the Cane Corso to be a large, gentle, black dog. But did you know that the breed comes in a variety of colors? The white Cane Corso is called a straw Cane Corso, so it's not technically a white dog with blue eyes. However, the straw coloration can be light enough to fool anyone but the closest observer.
Breeders and enthusiasts have differing opinions of the straw Cane Corso. They're certainly a variation on the norm, so many breeders find them unacceptable for showing and breeding. Other breeders recognize the straw coloration as the rare occurrence it is, and will charge premium prices for puppies.
Regardless of your breeder's opinion of the dogs' coloration, we know that you'll fall in love with this white dog with blue eyes. Cane Corsos are attentive and watchful when necessary, and big, droopy couch potatoes when they feel comfortable.
7. French Bulldog
The French Bulldog, or Frenchie, is an award-winning dog that's beloved among American families. The breed can come in a wide range of colors including brindle, black, brown, fawn, and white. All Frenchies are born with blue eyes and in some cases that eye color changes over time. Some dogs, though, retain those beautiful blue globes, making the breed next on our list of white dogs with blue eyes.
The Frenchie is an absolutely irresistible puppy, and grows into a loving, playful, and adorable little dog. Your dog typically won't grow to exceed a foot in height at the shoulder, and that sweet, wrinkly little face will win over the hearts of everyone in your family.
The French Bulldog has perky, alert ears that match its perky, alert personality. Your Frenchie will love to play with you, and gets along well with children and with other animals. Whether you have cats or dogs in your home or you live alone, your Frenchie will fit right in with socialization.
8. Shetland Sheepdog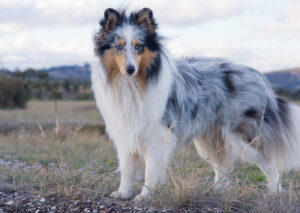 The last white dog with blue eyes on our list is the Shetland Sheepdog, but these characteristics in the breed come with a caveat: white Shelties with blue eyes are prone to blindness and deafness. This disqualifies dogs with these markings from being shown in AKC-recognized shows, but it doesn't mean the pups don't make wonderful pets.
Your Shetland Sheepdog is a gentle, playful dog that can be quite serious when it comes to working. They were bred as herding dogs, and like others of this nature, your dog will treat your family as its herd. It will be important to establish yourself as a pack leader at an early age, but once your puppy has been introduced to your family you'll enjoy the company of a watchful dog with a calm demeanor.
Shetland Sheepdogs shed quite a bit. You'll want to keep this in mind if you have allergies, or if you just don't love dog hair on your work clothes. You can help eliminate messes by brushing your dog outdoors. During shedding season, it may also be helpful to blow out your dog. A groomer can do this or you can take a DIY approach if you have the right equipment.
Frequently Asked Questions
What breeds of dogs can have one blue eye?
Dog breeds like Australian Shepherds, Border Collies, Dalmatians, Dachshunds, and Great Danes can have heterochromia, giving them multiple eye colors.
Can blue-eyed dogs see color?
Dogs are only capable of seeing blue and yellow.
Conclusion for "White Dog Breeds with Blue Eyes – Top Breeds"
If you're in search of breeds with a unique appearance, you may be interested in adopting a white dog with blue eyes. Be cautious, as in some cases light or cloudy eyes may be indicative of medical conditions.
Bring your dog to the vet for regular checkups to ensure there are no symptoms of these disorders. If all checks out, you're in the clear. Enjoy your uniquely colored dog that will certainly turn heads during walks through your neighborhood.
You might also like these other lists of dog breeds:
Learn more about dog eyes by watching "The Science Behind Puppy Dog Eyes" down below:
Garrett loves animals and is a huge advocate for all Doodle dog breeds. He owns his own Goldendoodle named Kona. In addition, he volunteers at the Humane Society of Silicon Valley, where he fosters dogs and helps animals. Garrett enjoys writing about Doodles and believes that dogs can teach humans more about how to live than humans can teach a dog.
Why Trust We Love Doodles?
At We Love Doodles, we're a team of writers, veterinarians, and puppy trainers that love dogs. Our team of qualified experts researches and provides reliable information on a wide range of dog topics. Our reviews are based on customer feedback, hands-on testing, and in-depth analysis. We are fully transparent and honest to our community of dog owners and future owners.