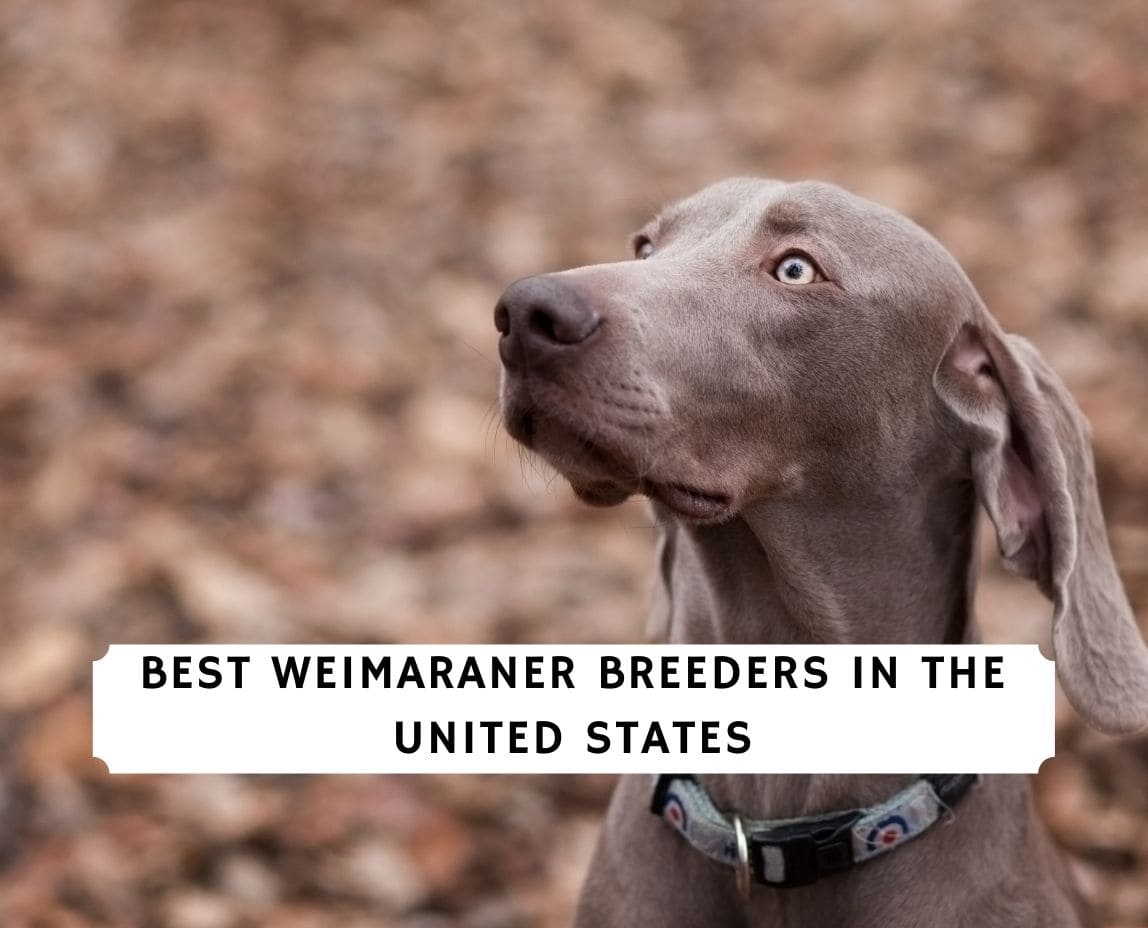 Finding the best Weimaraner breeders in the United States can be challenging. After all, there's a story and reason why many people want to raise a Weimaraner. The Weimaraner breed is often called the "gray ghost" as a result of the unique color of its sleek, short coat. It's a fantastic canine with notable superior characteristics, bred for intelligence, courage, good scenting ability, and speed. They remain an excellent game hunter and actively participate in other dog sports. Are you considering a Weimaraner for your family? It would be best if you keep in mind that this breed is brilliant and active. The Weimaraners thrive on teamwork and application, and these characteristics make them well fit as hunting buddies.
Before scrolling down this list of Weimaraner breeders in the United States, check out these similar breeds: Best Whippet Breeders in the United States and Best Pointer Breeders in the United States.
Weimaraner Puppies For Sale in the United States
Being satisfied with this new addition to your family can only be attained when you have purchased your dog from an excellent breeder. Here are some great breeders of Weimaraners in the United States.
Get started in advance with your Weimaraner companion: Best Anti-Bark Dog Collar and Best Dog Foods For Joint Health.
1. Hanson Weimaraner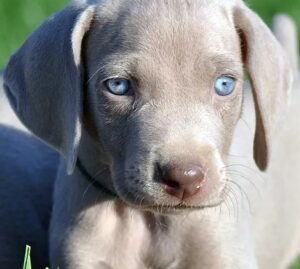 First on the list of Weimaraner breeders in the United States is "Hanson Weimaraner." Hanson Weimaraners is a division of Sun Colors Ranch LLC. They were initially located in Ramona, San Diego, California but relocated to Sheridan, Oregon, in January 2019. They focus on decades proven, healthy, true to the origination of the breed bloodlines. The Hanson Weimaraners kennel has made importations of various dogs from many different countries because they desire to get what they find to be the most inclusive of this model. Their Weimaraners are loyal, athletic, have the instincts for hunting dogs, and make great companions.
The Hanson Weimaraner dogs are used for hunting, show, upland fieldwork, testing, and loved family companions. The dogs all have various accomplishments and bloodlines that are well-proven in natural hunting ability, conformation, and health. The Hanson Weimaraners continually participate in training days, shows test events, and other programs within AKC (American Kennel Club), UKC (United Kennel Club), WCA (Weimaraner Club of America), NAVHDA (North American Versatile Hunting Dog Association), Barn Hunt, and IABCA (International All Breed Canine Association).
Hanson Weimaraner Details
2. Peak Pikes Weimaraners
Peak Pikes Weimaraners are one of the breeders for your best friend, hunting companion, and performance dog, with a rating in the top ten in conformation for the past decade. They breed every other year and make provision for health guarantees on all their puppies. The kennel provides top-of-the-line dogs and also offers stud services. The Peak Pikes Weimaraners puppies are healthy and of sound temperament. They undergo evaluations for performance homes, pet homes, hunting, and show homes. They also come with a guaranteed free of hip dysplasia. The breeding service is strictly according to the American Kennel Club standard for the Weimaraner breed.
Peak Pikes Weimaraners Details
3. Pennywood Weimaraner
Bob and Jackie Chalifoux own the Pennywood Weimaraners kennel. They have been in the ownership of the Weimaraners since 1978 but have been involved in showing and breeding since 1990. The Pennywood Weimaraners have earned AKC Championships, Agility titles, hunting titles, CGC, BROM, and Versatile. They have also been ranked in Top Ten Best in Breed, Best In Futurity (as well as many futurity and maturity placements), 2000 WCA Nationals, WCA Award of Merit Winner, multiple Best in Specialty Sweepstakes wins, and Multiple Specialty winners. They are connected to the American Kennel Club (AKC), Weimaraner Club of America (WCA), Orthopedic Foundation for Animals, Nutmeg Weimaraner Club, Yankee Weimaraner Club, and Weimaraner Club of the Washington DC Area.
Pennywood Weimaraner Details
4. Versa Weimaraners
Versa Weimaraners is a responsible breeder of the Weimaraners and has owned Weimaraners for more than forty years. The Versa Weimaraner kennel was founded in 2008, and they produce and show quality Weimaraners, focusing on conformation, temperament, versatility, field ability, and structural soundness. They are members of the Weimaraner Club of America (WCA) and strictly adhere to their standards. The Versa Weimaraner kennel is also a member of the Tarheel Weimaraner Club, the Sandhills Pointing Breed Club, and the Charleston Weimaraner Club.
The dogs from Versa Weimaraner kennel have excelled in the show ring and performance ring. Their various dogs have earned achievements like Best-In-Futurity, Best-in-Maturity, All-Breed Best-In-Shows, Award of Merits at the Top Twenty Invitational, and Award of Merits at their National Specialty Show. Their digs are extremely biddable and birdie, achieving performance titles owners trained and handled, including Utility Dog, Master Hunters, Tracking Dog, Retrieving Dog Excellent, and Versatile Excellent awards.
Versa Weimaraners Details
5. SureShot Weimaraners
Next on the list of Weimaraner breeders in the United States is "SureShot Weimaraners." The SureShot Weimaraner kennel is committed to protecting the Weimaraner as an all-around breed and striving to produce intelligent, hard-hunting, sound, healthy dogs with inherent abilities and solid temperaments. Complemented by work ethic, cooperation, and biddability, natural ability is their breeding program's core qualities. Their dogs are proven in the field, in both competitions, and on wild birds in multiple types of terrains. The SureShot Weimaraner kennel strives to produce well-balanced, healthy dogs.  Every dog in their breeding program has excelled in numerous health tests guided by the Weimaraner Club of America and include OFA Hip, Thyroid, Cardiac testing, and CERF eye clearances.
The SureShot Weimaraner kennel is affiliated with the Weimaraner Club of America and Fingerlakes NAVHDA (North American Versatile Hunting Dog Association). They raise their puppies in their homes as part of the family.  They follow the Puppy Culture program, providing Early Neurological Stimulation (ENS), socialization, the communication trinity, enrichment, and problem prevention. This program enables their puppies to have the skills and abilities to adapt, learn, and take on the world.
As the puppies will be exposed to other dogs, children, new people and be suitable to romp in the forest and dip their feet in the pond. Before puppies are sent to their new homes at eight weeks of age, they will have gone through beginning crate training and potty training, gone on car rides, and (weather permitting) exposure to water and birds. They would have been dewormed, given their first vet checks and vaccinations, and are registered with both American Kennel Club (AKC) and NAVHDA. Their dewclaws are removed, tails are docked at 3 to 4 days of age, and microchipped.
SureShot Weimaraners Details
6. Sindar Weimaraners Kennel
The Sindar Weimaraner kennel bred the Weimaraners to the highest ethical standard as regulated by the WCA. The kennel is a member of the Weimaraner Club of America (WCA) and adheres to its code of ethics. The Sindar Weimaraner kennel places its highest priority in selecting excellent temperament and genetic diversity in its breeding program. The Sindar Weimaraner puppies are raised with the best science-based approach (AviDog and Puppy Culture practices) to ensure excellent mental health for a lifetime. The puppies are also health tested for eyes (OFA), hips (PennHip or OFA), thyroid (OFA), and other genetic disorders (DNA tested for Spinal Dysraphism, Hypomyelination, and Hyperuricosuria). A licensed veterinarian is in charge of vaccinating the Sindar Weimaraner puppies, making them undergo a thorough health evaluation and microchips before leaving for their new homes.
Sindar Weimaraners Kennel Details
7. Touchstone Weimaraner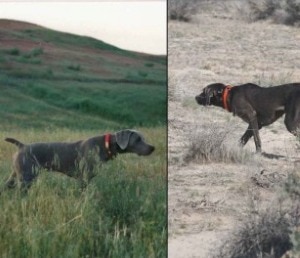 The Touchstone Weimaraner is owned by Anne Taguchi, with the kennel established in 2000 and is associated with various clubs such as the Weimaraner Club of America (WCA), Orange Coast Weimaraner Club, CalWEAR (Weim Rescue), and NAVHDA (North American Versatile Hunting Dog Association). Occasionally, Anne breeds the Blue Weimaraners; however, they are disqualified in the breed standard. They are registered AKC and NAVHDA and can participate in performance events such as NAVHDA testing and field trials, but not in show events.
This inability is probably a result of some biased talks instead of the color compared to other Weimaraner lovers. The Touchstone Weimaraner puppies are socialized, home-raised, started on potty training and crate training and made to undergo exposure to birds. Their dewclaws are cut off; tails are docked. They also come having received their first shots and dewormed. Puppies are also tested for character and structure.
They are also formally temperament, field-tested, and vet checked before they are placed. When you purchase a Touchstone Weimaraner puppy, it comes with a purchase agreement and contract (signed by both parties), copies of AKC registration, Weimaraner Club of America sponsorship and futurity forms, a health record (vaccinations and worming), and a vaccination protocol. A veterinarian's statement on your puppy's health, an implanted microchip, and an eBook copy authored by Anne Taguchi and Meredith Wadsworth, who owns Southpaw Weimaraners with the title, "Your Weimaraner Puppy: How to Survive the First Six Months."
Touchstone Weimaraner Details
8. Brymar Weimaraners
The Brymar Weimaraners are committed to the excellence of the Weimaraner breed. They strive to produce versatile dogs capable of competing in any number of events ranging from the show ring to the field and everything in between. At the same time, they make sure to focus on producing Weimaraners that they can live with, which will be an integral part of people's homes and their families. The Brymar Weimaraners are small breeders and usually only produce a litter every couple of years. It is no understatement that their focus is on quality, not quantity. They are an active member of the Weimaraner Club of America.
Brymar Weimaraners Details
9. Zauberhaft Weimaraners
Michelle and Stan Nowacki own the Zauberhaft Weimaraners. The dogs live with them in the house as part of the family. They do not allow them to live their lives in kennel runs, but they, first of all, serve as their companions. Zauberhaft is a German term that implies "Magical," which they believe the Weimaraners to be. The goal of the breeding program at the Zauberhaft Weimaraners facility is versatility, upholding the origin of the breed.
The Zauberhaft Weimaraners breeds have participated in AKC field trials, tracking tests, rally and obedience trials, hunt tests, NACHDA Natural Ability tests, and WCA rating tests. Their dogs have participated in and have excelled in conformation events. The Zauberhaft Weimaraners are members of The Weimaraner Club of America, The Queen City Dog Training Club, and The Greater Cincinnati Weimaraner Club. Their breeding program considers various health screenings, temperament, conformation, performance, and overall hunting ability.
Zauberhaft Weimaraners Details
10. Palimar Weimaraners
Last on the list of Weimaraner breeders in the United States is "Palimar Weimaraners." The Palimar Weimaraners are a family of strict breeders who succeed on showcasing the talent of their dogs. Each of the dogs is made to reside in the house as family members, and they enjoy them that way. They have been active members of both the Southern Michigan Weimaraner Club and the Weimaraner Club of America for close to 30 years. They have been reputable breeders of quality Weimaraners for just as long. The passion of the Palimar Weimaraners breeders lies in Field Trialing; however, they are active in numerous other areas of UKC, WCA, and AKC competition, including Rating and Hunt tests, conformation shows, and Obedience and Rally trials.
They rarely breed, but when they do, it is always to enhance this excellent breed, and they sell the dogs to standard homes only. Their breeding is cautiously planned to ensure optimum health, temperament, and remarkable hunting instinct. Because of this, the Palimar Weimaraner dogs have an inherent hunting instinct that is nourished from a tender age. The Palimar Weimaraner breeders strictly adhere to the Weimaraner Club of America breeder code of conduct.
This adherence implies that, when they breed, they only breed healthy, gray, or silver-gray, short-haired Weimaraners that adhere to the national Weimaraner Standard. Their primary initiative is to improve the breed through health, hunting ability, temperament, trainability, and structure. All the puppies are sent home with a health guarantee against any congenital diseases, including but not limited to heart murmurs and hip and elbow dysplasia. They are a proud member of the Weimaraner Club of America, Southern Michigan Weimaraner Club, Kalamazoo Kennel Club, KKC Third Leg Club, and MUCC.
Palimar Weimaraners Details
Conclusion For The "Best Weimaraner Breeders in the United States"
The Weimaraners are clever canines, and sometimes, they are referred to as dogs with human brains. Although they were initially bred as a gundog to handle big games, they have also been made to undergo training to become companions even at home. Check this through our list of reputable Weimaraner breeders in the United States, make your choice, contact the breeder and enjoy the companionship that your dog offers.
For more articles from WeLoveDoodles related to the Weimaraner, you can check out:
You can learn more about the Weimaraner dog breed by watching "Weimaraner Pros and Cons" from Cocker Spaniel World down below: