There are many types of grey dogs but not as many with blue eyes.
While many puppies are born with blue eyes, their eyes change color as they get older. If you are hoping to choose a breed that has blue eyes and a grey coat, keep some of these options in mind when you are checking with breeders or your local rescues.
Before you scroll down this list of the grey dog breeds with blue eyes, check out these articles: 10 Friendliest Dog Breeds with Images! (2023) and 10 Most Dangerous Dog Breeds in the World! (2023).
Why Do Some Dogs Have Blue Eyes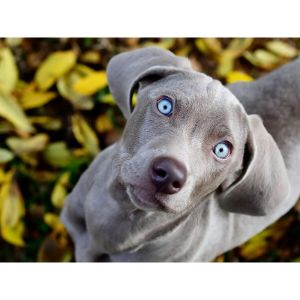 Melanin, the pigment in the iris, is what gives the eye its color. Eyes with brown pigment in both layers of the iris are the most common color. There is a small amount of melanin (or none at all) in the front layer of blue eyes. A dog's DNA determines how much melanin is produced.
Researchers are still studying the phenomenon.
According to previous studies, genes that determine coat color play a major role in determining a dog's eye color, but it has been discovered that a gene that is involved in eye development may also be involved.
Which Breeds Have Blue Eyes
Almost any breed of dog can have blue eyes, not just grey dogs, but these breeds are more known for them than many others.
Weimaraner
The Weimaraner's bright blue eyes fade to amber, blue, or grey as it ages. Their beauty is just amazing! Their original purpose was to hunt all day, so they require ample exercise as well as strong leadership.
Despite their headstrong nature, these dogs are extremely loyal, fun, and the perfect family pet when trained properly. Weimaraners are not dogs that can be left at home alone for most of the day, as they need companionship and a way to burn off steam.
Alaskan Malamute
Alaskan Malamutes are large dogs that originated in the far north of Alaska. The breed was originally developed to help herd musk oxen but has since become a popular pet. These dogs are very loyal to their owners and are intelligent and energetic.
The male Alaskan Malamute stands between 15 and 20 inches tall at the shoulder, whereas the female stands 14 to 17 inches tall. On average, males are taller than females by about an inch.
It is possible to find Alaskan Malamutes in a variety of colors, including black, white, cream, red, blue, and grey. As compared to other colors of this breed, grey is the most prevalent color. In addition to red, blue, and cream, there are other colors as well.
Because Malamutes are so intelligent, they should be trained from a young age. When left alone for too long or without enough mental stimulation, they can easily become bored.
Husky
A Siberian Husky may be the first breed that comes to mind when you think of grey dogs with blue eyes. Often, these dogs have iconic icy-blue eyes reminiscent of their native tundra. Brown eyes are also possible, as well as a heterochromatic combination of both.
These dogs were bred for companionship and pulling loads by dogsled, making them perfect for active families.
French Bulldog
Currently, French Bulldogs are all the rage. They come in a variety of colors, grey being one of them.
Despite their friendly nature, they make excellent companion animals for pets, strangers, and even children. As friendly as they are, they will wag their short tails at intruders, even if they bark to alert them that someone is nearby.
Cane Corso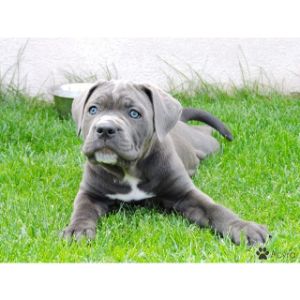 The Cane Corso is an imposing-looking, large dog. Their intelligence and trainability make them excellent guard dogs. Farms and estates use them as guards, and they once hunted deer and boar. Cane Corsos are notoriously stubborn and independent, but once bonded with their owners, they are deeply loyal.
This breed's coat has a short, smooth, dense, and glossy appearance. It comes in two colors: red and black. Generally, red is the more common color, but black can also occur. A red coat may range from deep red to strawberry blond or even yellowish-red.
Although the Cane Corso is known for being aggressive towards other dogs, it is also very social and enjoys being around people and other animals with proper training. They can be very protective of their families, and if necessary, will attack anything that gets too close to them.
It is important to provide enough exercise for the Cane Corso each day, so make sure to take them on long walks or play fetch with balls or frisbees. Keep an eye on them around water too, as they love to swim in ponds and lakes.
Great Dane
With a svelte build and iconic oversized ears, the Great Dane has a majestic and noble appearance. They have coats in almost any color and some even have special coat patterns. Their eyes can also come in different colors, including blue.
As they grow older, Great Dane puppies typically have amber or brown eyes instead of blue. Rarely, their eyes may remain blue, but in grey dogs or dogs with lighter coats, they may stay blue.
Old English Sheepdog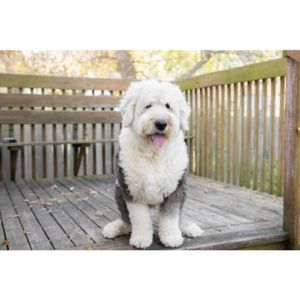 The Old English Sheepdog is one of a number of beautiful fluffy white and grey dog breeds. It may not seem like it weighs that much with its fluffy coat, but the breed weighs more than 60 pounds. These dogs are patient, smart, courageous, and loyal — it's no wonder they are loved by Americans and the rest of the world. You may find one with blue eyes if you are lucky, but most of the time, their eyes are brown.
Chinese Crested
Unlike most dogs with grey fur, the Chinese Crested's patches are few and far between, especially on the neck, head, socks, feet, and ears. It is possible to get their skin in a beautiful grey color, however.
Since this breed has very little fur on its body, it requires little grooming. Blue eyes give grey Chinese Crested dogs an air of elegance, charm, and beauty.
Pit Bulls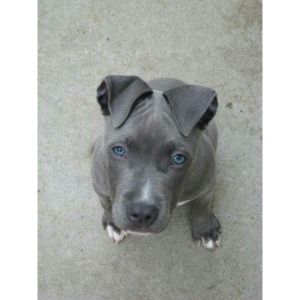 As a breed, Pit Bulls have a reputation for being dangerous. Although some dogs may fit this description, an entire breed cannot. It's a handsome grey dog with a loving nature that makes a great family pet with proper training.
If you buy a dog with aggressive fighting genes, you'll get a dog that is incredibly aggressive. It's also a good idea to check whether you're allowed to own a Pit Bull since they're banned in some locations. An owner should have experience with the breed and a deep understanding of it.
Australian Shepherd
Light blue eyes are more likely to occur in Australian Shepherds with merle coloring. A mix of blue and brown eyes is more likely to occur in these breeds. In agility competitions, the herding Aussie is brilliant and full of energy, so a home with an active lifestyle is the best place for them.
Catahoula Leopard Dog
The Catahoula Leopard Dog's spotted coat can come in a variety of colors, including blue, red, grey, black, cream, and chocolate, hence its namesake. Additionally, their eyes can be blue, amber, green, brown, or a combination of these colors. Merle patterns and leopard-like spots commonly appear on Catahoulas.
As a Louisiana-bred working dog, it hunts, herds, and needs a lot of room to run.
Poodle
There are few breeds of dogs that are more intelligent than Poodles. There are three sizes of Poodles: Standard, Miniature, and Toy, and they all come with a grey coat to some extent. They're wonderful family pets because they're so loving and affectionate. They're playful, lively, and intelligent, making them fast learners
Greyhound
You may associate a Greyhound with race tracks when you think of them. Agility and speed are highly regarded characteristics of this breed. They are also very docile, shy, and even backward, despite their racetrack reputation. After a spurt of intense play, they are perfectly willing to take a nap.
Pumi
These grey dogs are easily recognized by their half-pointy ears and corkscrew curls. It's hard to believe Pumis were originally bred as Hungarian sheepdogs, given their cuddly appearance. There are three distinct colors: silver-grey, grey and white, and black. It is not uncommon for these pups to bark a lot and be quite vocal. In addition to loving to play, they can be a bit naughty from time to time.
Keeshond
Known for its long body, medium-length ears, and alert expression, the Keeshond is a medium-sized dog. In the smooth and wirehaired varieties, the top coat is hard over a softer undercoat, while the classic version has a glossy and soft coat. It is not necessary to brush this breed's short hair frequently due to its short length.
The coat of a keeshond is short, smooth, and soft. There is a dense undercoat underneath the long outer coat, which sheds seasonally, or it may be single- or double-coated.
Keeshonds come in numerous coat colors, such as grey, blue merle, red merle, or black and white harlequin patterned variations.
There is no doubt that Keeshond is intelligent and trainable. They are patient dogs who do not act aggressively by nature but can become protective if a family member or another pet is threatened.
Keeshonds are energetic dogs who need daily exercise and playtime. It's important to give your puppy a lot of attention when he's young since this breed can develop separation anxiety if left alone for too long.
Do Dogs With Blue Eyes Have Health Problems?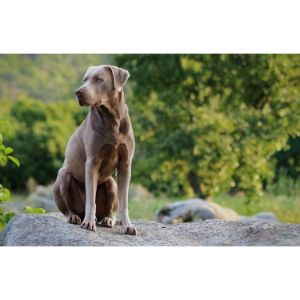 A dog's sight and hearing are also influenced by pigment. The pigment is more than just color. Some blue-eyed dogs are more susceptible to certain health problems than others.
Deafness caused by cochleosaccular cell pigmentation in dogs is a hereditary condition. It usually appears in one or both ears within 1 to 3 weeks of age in white dogs with blue eyes.
There is an occurrence of merle ocular dysgenesis when two merle-coated dogs have puppies. In addition to smaller eyes, off-centered pupils, and light sensitivity, offspring are more likely to develop cataracts.
The condition albinism occurs when a dog cannot produce sufficient melanin and is completely colorless. Rarely, this condition causes smaller eyes, sensitive eyes, and deformities in the lens or iris causing poor vision or blindness.
Dogs with pannus accumulate fluid and inflammatory cells on the surface of their eyes. Reddened and swollen eyes, along with crusty eyelids, are common symptoms. A dog with blue or hazel eyes is most likely to develop pannus.
The blue pigment in a dog's eye offers less protection against UV radiation. If left untreated, this condition can lead to vision loss.
Pannus occurs when there are insufficient tears in the eyes, causing dryness and irritation. Keratoconjunctivitis sicca (KCS) is a common cause of pannus. Overgrowth of blood vessels and tissue in the cornea can cause vision impairment or blindness due to the accumulation of cells and fluid.
Frequently Asked Questions
What is a good name for a dog with blue eyes?
Some of our top names for blue-eyed dogs include Sky, Azure, Kai, Yale, and Azul.
What dog breed is known for being grey with blue eyes?
While a lot of different breeds fit this category, the Weimaraner is a grey-coat-blue-eyes icon.
What is a dog with different colored eyes called?
Like in other animals, heterochromia is the term used for a dog with a different color for each eye.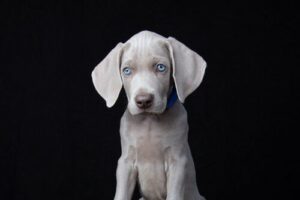 Conclusion for "15 Grey Dogs With Blue Eyes"
After running through the full list of breeds, it's clear there are many dogs that can have a grey coat with blue eyes. That said, it's worth reiterating: puppies born with blue eyes can change their eye color as they get older.
You can check out these other lists of dog breeds from our team at We Love Doodles:
You can learn more about dog eyes health by watching "Top 10 Most Common Eye Conditions In Dogs | How To Treat Eye Infections In Dogs | Vet Explains" down below:
Garrett loves animals and is a huge advocate for all Doodle dog breeds. He owns his own Goldendoodle named Kona. In addition, he volunteers at the Humane Society of Silicon Valley, where he fosters dogs and helps animals. Garrett enjoys writing about Doodles and believes that dogs can teach humans more about how to live than humans can teach a dog.
Why Trust We Love Doodles?
At We Love Doodles, we're a team of writers, veterinarians, and puppy trainers that love dogs. Our team of qualified experts researches and provides reliable information on a wide range of dog topics. Our reviews are based on customer feedback, hands-on testing, and in-depth analysis. We are fully transparent and honest to our community of dog owners and future owners.