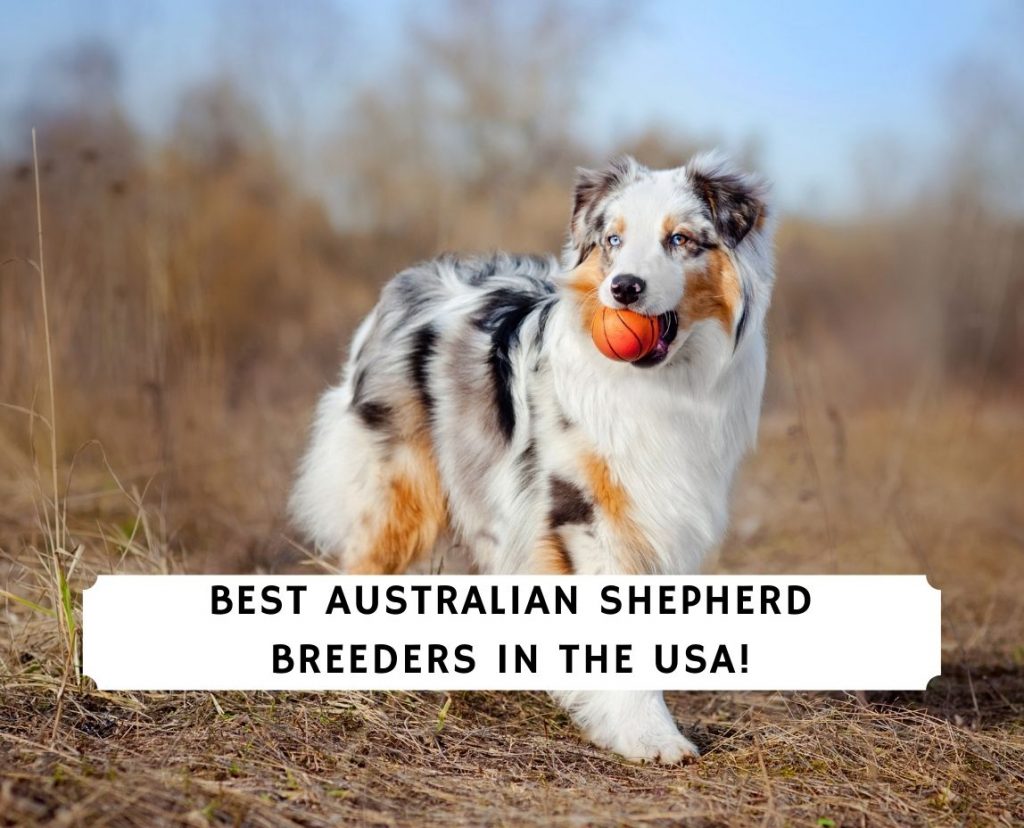 Are you looking to adopt an active, affectionate, and intelligent dog? Then an Australian Shepherd would be an excellent choice for you! Australian Shepherds were initially bred to be herding dogs, so these dogs are naturally very energetic. If you're in search of the best Australian Shepherd breeders in the USA, then you've come to the right place!
Once you decide to add an Australian Shepherd to your family, make sure you have the time and energy to keep your dog busy. A busy Australian Shepherd is a happy Australian Shepherd. A bored one will find a way to distract itself (probably with something like your shoe).
Other articles you might like: Mini Goldendoodle Breeders and Mini Labradoodle Breeders!
Australian Shepherd Puppies For Sale in the United States
If you are ready to add one of these active dogs to your family, you will need to find a reputable breeder. There are many Australian Shepherd breeders all across the United States, but it's important to find someone you can trust that will be health checking and socializing their puppies. All the breeders on our list are more than happy to help with any of your Australian Shepherd needs. Feel free to ask them questions and understand the dog breed more.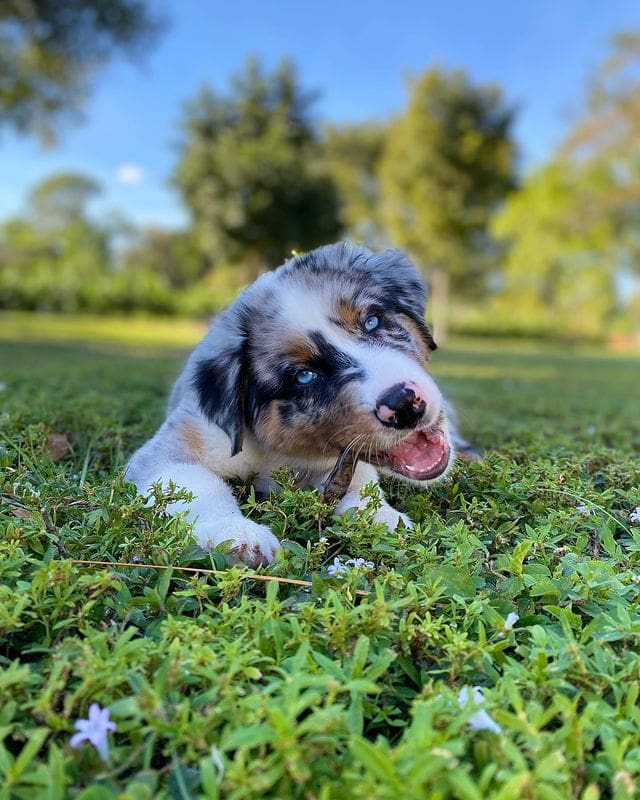 PuppySpot is the top breeder for Australian Shepherd puppies on our list. We used them to purchase one of our puppies and had a really great experience. They do all the breeder screening for you so you can ensure that you will not be getting scammed out of a puppy. Additionally, they have a 200 point breeder inspection that is so strict that less than 10% of all Australian Shepherd breeders who apply make the cut.
They will also transport your Australian Shepherd puppy directly to you since they have their own airline. PuppySpot also has the longest health warranty out of any dog breeder that we know of that is 10 years. This means that they truly believe in the health of their Australian Shepherd puppies. Prior to purchasing a puppy, you can also sort by coat color, gender, and size. Since most of the time you never know what coat color an Australian Shepherd will have, it's nice to know exactly what you are buying.
PuppySpot has also recently offered our blog readers $100 off a new puppy with coupon code "WLD100".
PuppySpot Australian Shepherd Details
2. Watermark Australian Shepherds
The first on the list of Australian Shepherd breeders in the USA is Watermark Australian Shepherds. Watermark Australian Shepherds, located in New York, is a small hobby breeder focused on providing you with a healthy, well-tempered, and structurally sound Australian Shepherd.
At Watermark Australian Shepherds, they want to preserve the breed by breeding dogs with fit bodies and loyal temperaments. They know a well-tempered dog is a treasure, so they work very hard to socialize their Australian Shepherd puppies from the very start of their lives. These puppies have lots of exposure to other dogs and humans of all ages to adjust well to new people.
The parent dogs at Watermark Australian Shepherds come from champion bloodlines. You can view each parent dog and the list of awards they have won on Watermark's website. This website will also show you photos, measurements, and health results for each of their dogs. Knowing this information about parent dogs can help you predict what your future puppy may grow to be like as an adult. The puppies at Watermark Australian Shepherds are bred for three different roles.
First, you can adopt a companion dog; this type of dog is not meant to reproduce because it does not preserve the breed's best qualities. There is nothing wrong with these companion Aussie puppies sold, but they will not improve Australian Shepherds' next generation. Companion dogs are great for families who are not looking to breed their new puppy but just add a dog to their home.
Breeding quality puppies are another type of Australian Shepherd that Watermark breeds. These Australian Shepherd puppies are sold to people who have more experience with the breed. Additionally, these dogs are perfect for professional breeders looking to improve the breed and those who want their new dog to compete in the show ring.
Performance puppies are the in-between type of Australian Shepherd available at Watermark Australian Shepherds. These Aussie puppies are structurally sound and beautiful, but they may have one quality that disqualifies them from being included with the show or breeding puppies. Whether you are looking for a companion to add to your family or a beautiful and agile dog to compete in the show ring, Watermark Australian Shepherds has you covered. Contact them today to get started on welcoming home one of these pups!
Watermark Australian Shepherds Details
3. Mountain Springs Kennels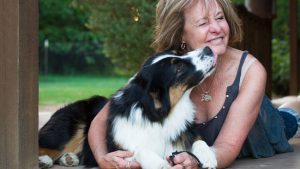 Located in Paradise, Texas, Mountain Springs Kennels provides customers with show-quality puppies with the friendliest personalities. At Mountain Springs, they focus on pairing each family with their perfect match, so you are guaranteed to find your ideal Australian Shepherd puppy here. The parent dogs at Mountain Springs Kennels are the best of their show-winning dogs. These are beautiful dogs who have undergone thorough health-testing to ensure that genetic illnesses are not passed down to their offspring. You can view each parent dog on the Mountain Springs website. Here you will find photographs, pedigree information, measurements, and all health test results.
Each Australian Shepherd puppy at Mountain Springs Kennels comes with a two-year health guarantee. This guarantee states your puppy is free from any life-altering genetic defects at the time of adoption. Along with this health guarantee, your new puppy will also be fitted with a microchip. This microchip is a tracking device, so if your dog ever gets lost, you will promptly be reunited with it.
At Mountain Springs Kennels, they begin taking deposits once a new litter is planned. After you have made your deposit, your name will be added to a waiting list. You will be notified when further information becomes available regarding your new Aussie puppy. Once the puppies are born, selection can take place; this typically happens at 6 weeks of age. If you are interested in adopting an Australian Shepherd Puppy from Mountain Springs Kennels, contact them today!
Mountain Springs Kennels Details
4. Sanddollar Australian Shepherds
Sanddollar Australian Shepherds is a small breeder located in Orlando, Florida. Sanddollar Australian Shepherds has a small breeding program to ensure all puppies get one-on-one care and attention. This breeder's focus is creating Australian Shepherd puppies who are well-tempered, structurally sound, and healthy. Whether you are looking for a show dog or just a family companion, Sanddollar Australian Shepherds has a puppy for you!
You can view all parent dogs and their essential biographical information on the Sanddollar website. Here you can see photographs, view pedigree information, and see a list of awards each parent dog has earned. This proves these parent dogs are of the highest quality, ensuring your new pup will be too. If you are interested in adopting a puppy from Sanddollar Australian Shepherds, complete their new owner questionnaire, located on their website. This questionnaire will help you find the best fit for your family.
Sanddollar Australian Shepherds Details
5. Dogwood Lane Aussies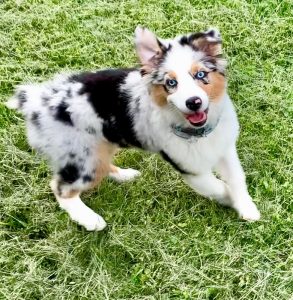 Last on the list of Australian Shepherd breeders in the USA is Dogwood Lane Aussies. Located on a small farm in Southern Illinois, all puppies at Dogwood Lane Aussies are born and raised in the family home. This early socialization will ensure your puppy will grow into a well-mannered and friendly companion with lots of love to share. All parent dogs at Dogwood Lane Aussies are registered with the American Kennel Club. This registration guarantees these dogs meet breed standards. These dogs are also tested for and free of any genetic markers that could result in their puppies' congenital disabilities.
Every Australian Shepherd at Dogwood Lane Aussies receives a thorough health examination by a professional veterinarian before going to its forever home. Puppies are also vaccinated and dewormed before adoption, so you can assure your new pup is in the best of health! Whether you are looking for a show dog or a new family member, Dogwood Lane Aussies can help you find what you are looking for. Contact them today and get started on welcoming home your new pup.
Dogwood Lane Aussies Details
Choosing an Australian Shepherd Breeder in the United States
There are many Australian Shepherd breeders across the United States that you may begin to feel overwhelmed. However, do not worry because there are some easy questions to ask yourself that will help you narrow down your choice of breeders. First, decide what color Australian Shepherd puppy you want to adopt. Australian Shepherds come in a variety of colors and patterns, so you have many options. Choosing what color you want will help narrow your breeder choices because the puppy colors depend on the parent dogs available for breeding.
If your heart is set on a specific color puppy, you need to look at the dams and sires used to determine which breeder will be able to give you the puppy you want. Additionally, you need to decide if you will pick up your puppy in person or want your puppy to be shipped to you. Some breeders refuse to ship any puppies, while others have shipping procedures already in place.
Note, if you do not pick up your puppy on the specified date, some Australian Shepherd breeders will begin to charge you a boarding fee, while others might even offer to sell your puppy to the next person on the waiting list. If you know you do not have reliable transportation or that you do not have time to travel a long distance for a puppy, your choices will be narrowed down.
Another thing to consider when choosing a breeder is how long you are willing to wait to bring your new puppy home. Some Australian Shepherd breeders have very long waiting lists and can take over a year to get to your name. Other Aussie breeders' waiting lists are not as long and may be more suitable for a person who wants a puppy in a shorter amount of time. If you are unwilling to wait for your puppy, you may also want to consider other options, such as pet stores or animal shelters.
Conclusion For The Best Australian Shepherd Breeders in the USA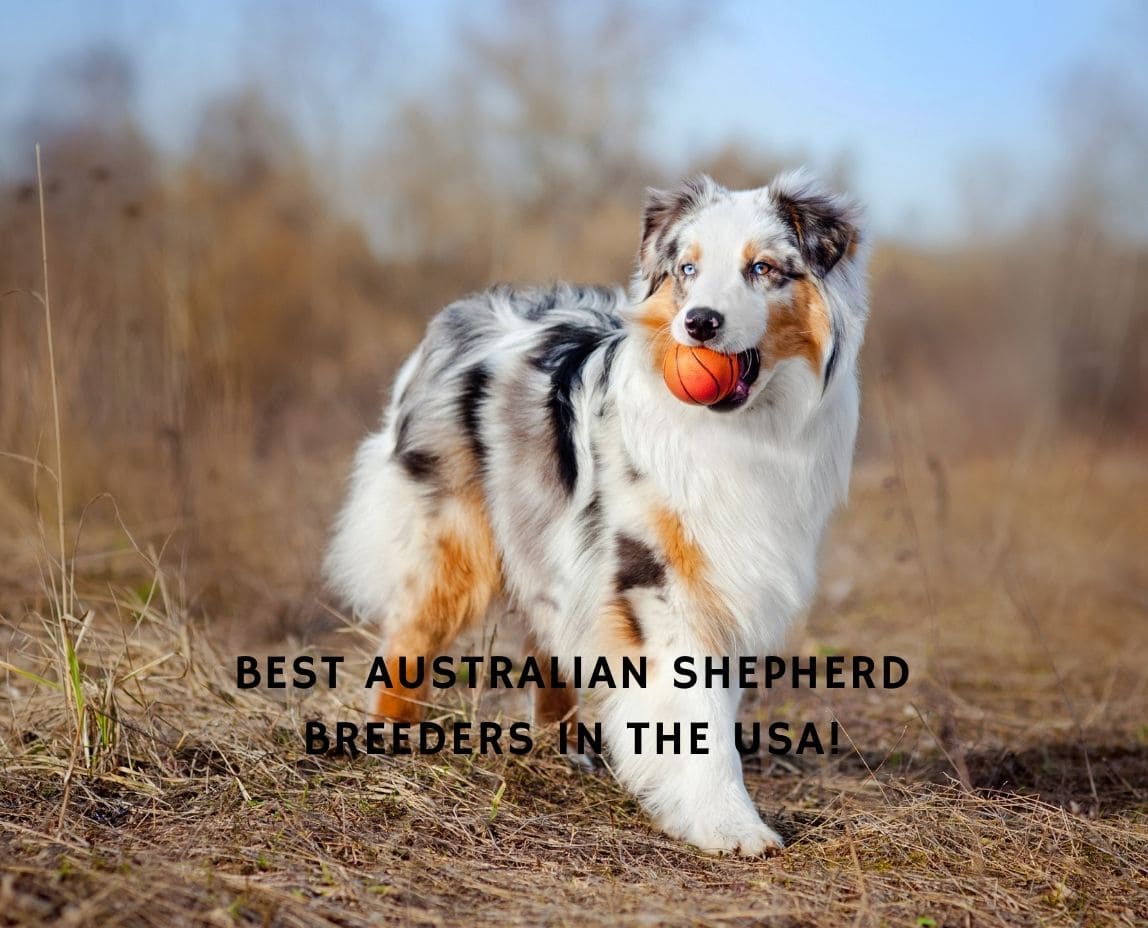 Whether you are looking for a herding dog, a show dog, or a companion dog, an Australian Shepherd is out there for you! If you are ready to add one of these beautiful dogs to your life, contact any of the Australian Shepherd breeders above. They will be happy to answer any questions you may have and will help you every step of the way to bringing home your new Australian Shepherd!
If traveling to these Australian Shepherd breeders in the USA is a distance for you, check out our recommendations for specific states:
To learn more about the Australian Shepherd dog breed, watch "Dogs 101 Australian Shepherd" from AllBoutDogs4U1 down below:
Garrett loves animals and is a huge advocate for all Doodle dog breeds. He owns his own Goldendoodle named Kona. In addition, he volunteers at the Humane Society of Silicon Valley, where he fosters dogs and helps animals. Garrett enjoys writing about Doodles and believes that dogs can teach humans more about how to live than humans can teach a dog.
Why Trust We Love Doodles?
At We Love Doodles, we're a team of writers, veterinarians, and puppy trainers that love dogs. Our team of qualified experts researches and provides reliable information on a wide range of dog topics. Our reviews are based on customer feedback, hands-on testing, and in-depth analysis. We are fully transparent and honest to our community of dog owners and future owners.