We have searched for reputable Australian Shepherd breeders in New York selling purebred puppies to help you in your quest for a new puppy. Through researching reviews and websites, we believe that these breeders will sell you healthy puppies. That being said, always ask any breeder multiple questions before you put a deposit down for an Australian Shepherd puppy. Ultimately, you want to find someone that you can trust.
We suggest that you ideally make an appointment with them to go visit, have with you a list of questions to ask to ensure the quality of the breeding program, and ask for references of past buyers that would be willing to share their experience with this breeder with you. There were tons of puppy mills and backyard breeders that had Australian Shepherd puppies for sale in New York. You will want to avoid those.
Check out these other articles: Labrador Breeders in New York and Corgi Breeders in New York.
1. Australian Shepherd Puppies Long Island
A year-round, family-owned breeder who has been successfully delivering high-quality and healthy Australian Shepherd puppies by word of mouth is Australian Shepherd Puppies Long Island.
Regina, the owner, set up a simple website for easier contact with those looking to purchase puppies her. Regina makes herself available to any and all questions about the breed as she is very devoted to her Aussie puppies in New York. She cares about placing them in homes that are the correct fit for both puppy and family.
This breeder has numerous reviews on Google and an extensive waiting list that requires a $200 deposit to secure a spot on. Before purchasing one of her Australian Shepherd puppies, Regina ensures each one has been fully vaccinated and dewormed by the time the puppy is ready to live its happy life out with its new family. She also ensures proper socialization before the puppy leaves for their forever home!
Australian Shepherd Breeder Information
2. Snow Ridge Australian Shepherds New York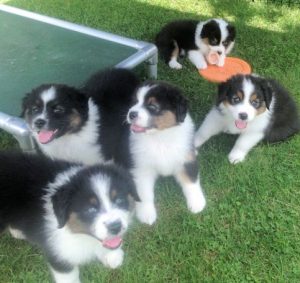 Mary Detor is a breeder of award-winning Australian Shepherd show dogs. She excels at breeding exemplary standards into the puppies she breeds at her "small hobby kennel".
When using her simple website, you will be able to view her boys and girls that she couples for breeding. This will give you a sense of what coat type and size you can expect the puppies to be.
If the pictures on her site entice you to buy a purebred Australian Shepherd puppy from her, make sure to get in contact with her to get information on upcoming litters she will have available. Her Australian Shepherd puppies for sale in New York range from $2000 – $3000 with a $500 deposit.
Australian Shepherds Breeder Information
3. Silver Linings Australian Shepherds NY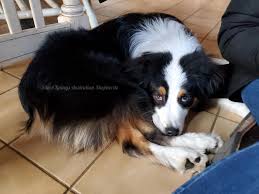 Silver Linings Australian Shepherds breeds loving and show quality puppies which they train and give daily personal attention to. This guarantees the puppy you bring home has started out on the right foot in life and will be less anxious and stressed by the time it arrives in your home.
They are an AKC registered Australian Shepherd breeder in New York who focuses on breeding qualities of temperament and health. Please do know that these breeders are extremely selective in who they sell their puppies to. They will ask an extensive amount of questions to make sure that you are a good fit for one of their puppies
As mentioned at the beginning of this article, Australian Shepherds are extremely energetic and active and thrive better in homes where they get daily attention and can be a companion rather than a dog to be crated several hours per day.
These aspects of dog ownership are what Silver Linings Breeders are searching for when they look to place their dogs in forever homes. Families that will be consistently active with their dog and give it the proper amount of attention and exercise to keep the dog stimulated and happy are ideal.
Silver Linings offers mentoring, guidance, and a "close relationship" with the dedicated families they choose to home their Australian Shepherd puppies with. They also enjoy visiting and keeping tabs on the puppies they sell. All of their Australian Shepherd puppies for sale in New York range from $2000-$3000. Take time to view their YouTube page for videos on tricks and training they teach their dogs.
Australian Shepherd Breeder Information
4. Rising Star Australian Shepherds New York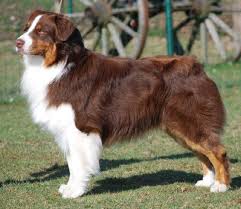 Rising Star breeds "THE Australian Shepherd" show quality puppies by AKC Breeder of Merit Sarah and Linda Bowdish. If you have not owned an Australian Shepherd before, you can find links to information, on the breed, under their "available" section on their website.
They are very particular in who they sell puppies to as they desire the right fit for all their dogs. If interested in one of their puppies, potential buyers must first fill out a Puppy Buyer Questionnaire. They will not ship the dogs nor will they sell outside of the United States. Thus, you will have to meet them at their residence in Springville, New York.
Look through their web pages to view their breeding dogs as well as the dogs that created the foundation of their whole business. Australian Shepherd puppy prices are $1,800 which includes vaccinations, deworming, contract, microchip, and registration among other support. A $200 deposit is required when litter is born.
Australian Shepherd Breeder Information
5. Crofton Australian Shepherds
Linda Braun, an ASCA Breeder Judge, is your AKC Breeder of Merit and USASA Hall of Fame Breeder who will be supplying you top-notch, full-bred Australian Shepherds through Crofton Australian Shepherds. They are an Aussie breeder located in Stephentown, New York.
Her love of this smart and loyal breed has inspired her to breed puppies that can bring these qualities of love and joy to all families. Any interested family must apply to Crofton Australian Shepherds so a right match can be found. The estimated wait time for an Australian Shepherd puppy is about three months with the puppy price coming in around $2000.
Australian Shepherd Breeder Information
6. Homespun Kennel
Maybe a full-sized Australian Shepherd doesn't fit your living situations but you still love the breed. Susan Trnka, the owner of Homespun Kennels, has been specifically breeding miniature Australian Shepherds, or American Shepherds since 1983. Susan is licensed by the American Kennel Club (A.K.C) and the Australian Shepherd Club of America (A.S.C.A). For what its worth, she's one of the oldest Australian Shepherd breeders in New York on our list.
All Homespun Kennel dogs are show quality and any puppy you purchase from Homespun Kennel will come with registration papers, information on proper care of the breed, a health guarantee, and a written bill of sale.
Visiting her Facebook page will allow you to view her most recent litters that she has available for purchase.
Australian Shepherd Breeder Information
More Information About Australian Puppies in New York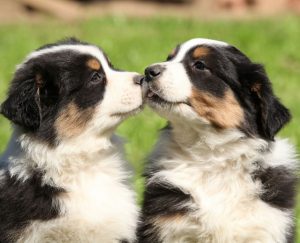 The Australian Shepherd ranges from 40-65 lbs with a height averaging 18-23 inches at the shoulder. Though their name might cause you to think that they originated in Australia, the breed we are familiar with today in the United States was created here in the States around the Gold Rush Era. The striking, medium length hair colors and markings of an Australian Shepherd do vary from blue or red merle to pure black with or without white or copper markings.
The Australian Shepherd eye color can also range from blues to browns to multi-colored. Additionally, their tails will come either naturally bobbed or will be docked.
This breed of dog has an abundance of energy that will need to be consistently worked with as they were bred to be a herding dog breed for ranchers. You can expect to exercise them at least one hour per day. Aussies require space to exercise, to be taken on walks or runs in order to use up their energy. The best scenario is to give them a job, whether it be fetching the Frisbee, protecting the family, or herding cattle out in a pasture.
If this is the dog breed you wish to pursue then you will need to consider signing them up for obedience training and they are very intelligent dogs. If they get bored, they can become destructive around your home.
The Australian Shepherd is an amazing family dog that is playful, affectionate, kid-friendly, sensitive, intelligent, dog-friendly, and tolerant of different climates.
Conclusion for Australian Shepherd Breeders in New York
Australian Shepherds can be one of the most beloved additions to your family if you know what they need to be raised correctly. With any breed you are considering, you should always do research to be informed about the necessary care the breed requires to thrive. Thus, when you bring that sweet ball of fur home for the first time you will be prepared for all the positive vibes and happiness it will bring into your life for years to come. We hope that we helped you narrow down your list of Australian Shepherd breeders in New York!
Other articles you will like:
Garrett loves animals and is a huge advocate for all Doodle dog breeds. He owns his own Goldendoodle named Kona. In addition, he volunteers at the Humane Society of Silicon Valley, where he fosters dogs and helps animals. Garrett enjoys writing about Doodles and believes that dogs can teach humans more about how to live than humans can teach a dog.
Why Trust We Love Doodles?
At We Love Doodles, we're a team of writers, veterinarians, and puppy trainers that love dogs. Our team of qualified experts researches and provides reliable information on a wide range of dog topics. Our reviews are based on customer feedback, hands-on testing, and in-depth analysis. We are fully transparent and honest to our community of dog owners and future owners.