Corgis are the low riders of the dog world. They're cute, they're friendly, and they even have their place in the Royal Family. In fact, we love the breed so much that we've put together this list of the best Corgi jokes, puns, and memes online!
Read through the list and giggle, then share the ones you love with your friends.
Before you read this list of Corgi jokes, puns, and memes, check out: 4 Best Corgi Breeders in the United States! (2023) and 7 Best Corgi Rescues for Adoption in the United States! (2023).
The Best Corgi Jokes on the Internet
These little jokes are quick and funny, perfect for lunchbox notes or water cooler conversations.
Question: Why are Corgi jokes so bad?
Answer: Because they're so short!
Question: What did the handsome Corgi say to his beautiful date?
Answer: Wow! You look Cor-geous!
Question: What do you get when you flip a Corgi's switch?
Answer: A short circuit!
Question: Why do Corgis love retail shopping so much?
Answer: They're hoping to buy back their tails!
Question: How many Corgis does it take to change a lightbulb?
Answer: Just one. He'll bark and bark and bark until you come to change the lightbulb yourself.
Question: Why do Corgis get so mad about everything?!
Answer: Because they're so short-tempered!
Question: Why do Corgis make such good spies?
Answer: Because they're great at going in-Corg-nito!
Question: What do you call a Corgi who's had too many treats?
Answer: Low-fat!
Question: Why aren't Corgis allowed to run the cash register?
Answer: Because they always come up short!
Question: Where do Corgis go to retire?
Answer: Albe-Corgi!
Corgi Dad Jokes, Puns, and One-Liners
These short little eye-rollers are great for working into your conversations at work or just around the dinner table.
My Corgi took me out for drinks but then couldn't pay the tab. Makes sense — he's a PemBROKE Corgi.
Did you know that a Corgi in the northern hemisphere runs clockwise, but one in the southern hemisphere runs counter-clockwise? It's the Corgi-olis effect.
My dog can't dance because he has two left feet, but he's a great Corgi-ographer!
I wanted to be a cowboy, but I settled for becoming a Corgi breeder. At least now I can get a long little doggy.
My Corgi's girlfriend always wants him to check in. She has him on a short leash.
I love my dog so much! She has the Corg-key to my heart.
Never ignore a Corgi that's barking — they have great pre-Corg-nition.
I tried to tell my Corgi some of these jokes, but he'd herd them all before.
The Best Funny Corgi Stories
Those jokes were short like your Corgi, but these are a little longer. Enjoy reading these while you're sitting at your desk at work — don't forget to laugh out loud!
Corgis Love Treats
A Corgi walked into a diner and asked the server, "Hey, you got any treats?"
"No, we don't serve treats here. And we definitely don't serve dogs!"
The Corgi walked away, then returned the very next day. "Hey, you got any treats?"
The server replied, "I told you yesterday that we have no treats, and you're not allowed in here. Go away!"
The Corgi waddled away and returned the following morning. "Hey, you got any treats?"
Furious, the server shouted, "I told you we don't have treats! We don't serve dogs! And if you ask me one more time, I'll duct tape your tail to the wall!"
The Corgi glanced at his backside and said, "Sooooo… You got any treats?"
Corgi House Rules
To be observed and followed by all Corgi owners:
If I have it in my mouth, it's mine.
If I like it, it's mine.
If I saw it first, it's mine.
If it looks like it's mine, it's mine.
If I destroy it, the pieces are mine.
If I take it from you, it's mine.
If you put it down, it's mine.
If it's mine, it's never going to be yours.
If it used to be yours, too bad.
If I'm not interested, it's yours.
Getting My Exercise
Sam and Gus were out fishing, and Sam had brought his Corgi along for the afternoon. Gus noticed that Sam's dog was wearing an activity tracker.
"Why is your Corgi wearing that bracelet? Is he trying to lose weight?"
"No," said Sam as he laid back in his lawn chair. "I wear that so I can show my wife when I get home."
Corgi Memes to Save and Share
Corgis are fun to read about, but they're even more fun to look at! We've gathered some of the best Corgi memes from around the web so you can have a giggle whenever you're away from your wigglebutt.
The three stages of Corgis found in the wild. Just kidding! But remember that dogs do get sunburned, so slather your baby with some sunblock before heading to the beach!
From: Cuteness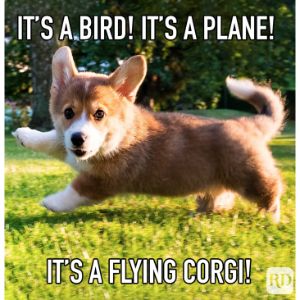 Corgis are known for their short legs and their uncanny ability to levitate. Just look at this little one go!
From: Rd
This little Corgi knows how endearing his backside is. Just look at it!
From: Cheezburger
Corgis are actually very smart, trainable, and hard-working dogs. But the derp factor is definitely there. Here are the three stages of Corgi-derp.
From: The Smart Canine
This Corgi wants you to share your burrito — or chips. Or ice cream. Or any of your favorite snacks, really.
From: Pinterest
If this little guy with those little legs can do it, you can, too! Pin this to your mirror or save it as your desktop for a little encouragement on Monday mornings.
From: MemeGenerator
Why yes, yes they are. But as cute as they are, remember to limit your pup's playtime when temperatures drop. If you're cold, they're cold!
From: Memedroid
Have you been curious about the scientific names of the Corgi's body parts? Well, here they are, though we can think of about 30 other names for the sass-quadrant.
From: Know Your Meme
We're not disappointed, either! Look at that little cutie — ready to sail the seven seas!
From: 9GAG
We all have days like this. Hopefully, this little low rider will help you get through the gloomy days.
From: Cheezburger
Frequently Asked Questions
Are Corgis funny dogs?
Corgis are some of the funniest dogs to play and interact with — you're sure to crack a smile. They have a unique personality and aren't afraid to show it.
What is special about Corgis?
Corgis have a special herding ability that helps them excel on the farm, but they also do well as family companions. Just be sure to keep them physically and mentally stimulated.
Why are Corgis so bossy?
Corgis can come across as bossy due to their independent and sometimes stubborn personalities.
Conclusion for "Best Corgi Jokes, Puns, and Memes"
So there you have it, those are the best Corgi jokes and Corgi memes that will keep you and your friends chuckling for a while. Did you love them? Be sure to check out our other dog jokes — French Bulldogs, Huskies, and Pugs are just a few of the other breeds we've laughed about!
If you enjoyed these Corgi jokes, puns, and memes, you could also check out:
If you enjoyed these Corgi jokes, puns, and memes, you'll also like "Dog Memes That Make You Want A Dog Immediately 🥰" down below:
Garrett loves animals and is a huge advocate for all Doodle dog breeds. He owns his own Goldendoodle named Kona. In addition, he volunteers at the Humane Society of Silicon Valley, where he fosters dogs and helps animals. Garrett enjoys writing about Doodles and believes that dogs can teach humans more about how to live than humans can teach a dog.
Why Trust We Love Doodles?
At We Love Doodles, we're a team of writers, veterinarians, and puppy trainers that love dogs. Our team of qualified experts researches and provides reliable information on a wide range of dog topics. Our reviews are based on customer feedback, hands-on testing, and in-depth analysis. We are fully transparent and honest to our community of dog owners and future owners.