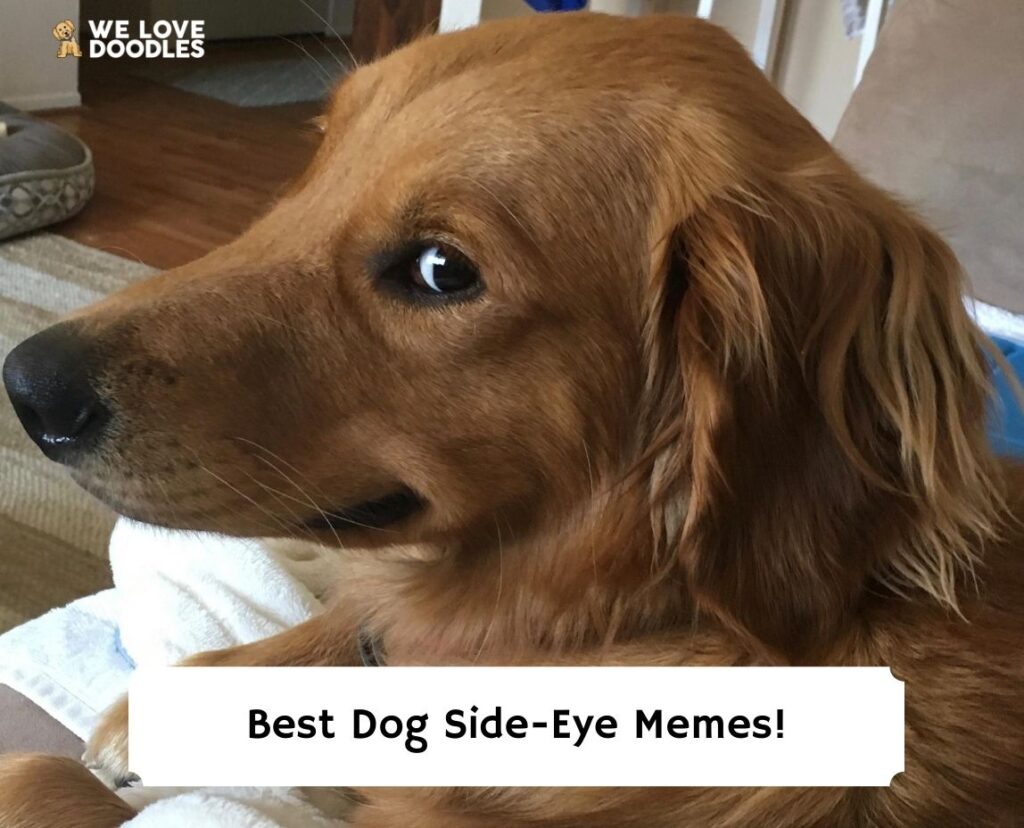 The dog side-eye memes are arguably one of the most popular memes on the internet! Do you agree? It applies to many different situations. People are hilarious in making it relatable to almost everything. Did your friend say something weird?
Did something strange happen to you, and you need to help explain it? Is someone acting suspiciously? Did someone make a random comment? Sending a side-eye meme helps explain the situation and ease the tension hilariously.
It is a multi-purpose meme that is extremely easy to use. You could even create your own! Some of the most popular side-eye memes include dogs! Owners worldwide have taken pictures of their dogs and caught them at just the right moment: the eyes looking over, sometimes in a judgemental way.
We have collected hilarious side-eye memes from creators and expert meme-makers across social media platforms and the internet. So, let's take a look at 15 of the best dog side-eye memes!
Before you scroll down this list of dog side-eye memes, check out these other recommendations from our team at We Love Doodles: Best Crying Dog Memes and Best Walter Dog Memes.
1. Come home At 1 A.M., And Your Dog Is Up Waiting For You.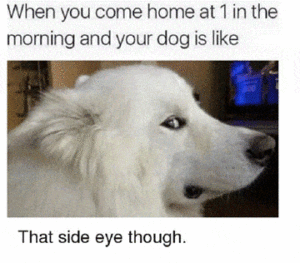 It's the judgemental stare that will get you! Have you ever got home late at night after a fun time, and your dog is up waiting for you? This meme is most certainly for you. Just look at the way the dog is staring!
That would make you feel guilty after spending so much time away from your furry friend. Sorry pup! But, this photo could be used to describe various situations. It doesn't just have to be for this one.
Related articles to dog side-eye memes you would like: Sad Dog Memes and Funny Smiling Dog Memes.
2. It's The Sad Side-Eye!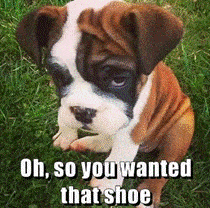 Do you even own a dog if your dog hasn't ever eaten one of your shoes? Haha! Lots of dogs love to eat shoes. It's something humans will never quite understand.
This cute little pup is showing a sad side-eye to its owner. Maybe he didn't realize that the shoe was being used for something! Sorry, owner.
3. Dogs Love To Eat Human Food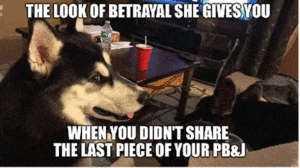 I don't blame dogs for not wanting to eat dog food. Fruits, veggies, meats, dairy, and grains are so delicious! How could we live without them? Think about your favorite food.
Dogs get to eat healthy food, but this dog in this meme is particularly upset that it did not get a taste of the yummy sandwich. PB&J is a go-to staple!
4. Take My Time? I Think Not!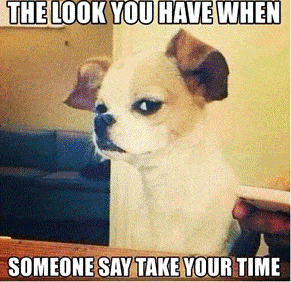 This angry dog reaction meme is too good! Look at the way his little eye is piercing right into the human's gaze. Love it! This angry dog meme could be used for many scenarios, but this one is hilarious.
Have you ever had someone tell us to "take your time"? It can come off as sarcastic. Sometimes, it's not a great thing to say. And this dog's face says it all!
5. Who's a Good Boy? You Are!
This doggo isn't so angry! Look at that cute, sly little side-eye. Picture perfect. And it's ideal for memes. This pup knows that they are good dogs.
Is your dog a good boy, or are they a little troublemaker? If they are a "good boy," maybe this meme reminds you of them. They sometimes already know that they make your life fun and better!
This picture is incredible and can be used to describe other situations.
6. Oh No, Not a Karen!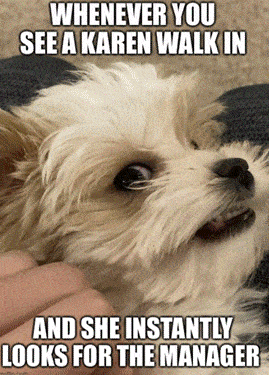 If you don't already know what a Karen is, let me explain it to you. The term is a slang word used to describe a white woman who uses her privilege to get her way. The "let me speak to your manager" person is at the store.
This dog's face says it all! Those Karens aren't messing around and will do what it takes (talking to the manager) to get the discount they came for.
7. Give me food!
We will repeat. No wonder dogs like human food so much. It seems a lot tastier than dog food.
Have you ever thrown away food in front of your dog? We all have watched as their eyes lock with the food on our plates and follow it to the trash. It's a shame human food is not healthy for them!
That way, we could share with them all the time, and we wouldn't have to deal with sad faces.
8. Are You Serious?!
This meme can be used pretty universally. Did your friend do something they shouldn't have? Did someone say something crazy? Send this meme into your group chat!
That dog is giving a pretty sly look with those perky ears. You may not know exactly what he is thinking, but you know that he is judging hardcore!
9. Sorry, We Lied!
Have you ever lied to your dog? I think we all have maybe a time or two, unfortunately. This angry doggo meme shows what might be running through a dog's head when they thought they were going somewhere fun but ended up at the veterinarian's office. What a shame! Amad puppy meme is hard to beat. Anyone can use it in any situation, but dog lovers will especially love this one.
10. Please Stop.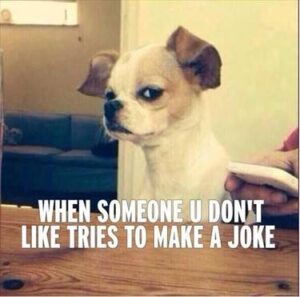 We all know the feeling. When someone we do not particularly care for tries to joke around and be happy. We don't want to laugh or smile. This face says it all! The mad pup meme is hilarious and can be used for various scenarios. The side-eye of this dog is ideal for any situation where you may feel like you hate what is happening.
11. Tell Me!
Have you ever been frustrated with a boss or manager who won't tell you details about something you want to hear? We have all been there! That is why this dog's face is perfect for the scenario. It explains how we all feel at that moment when we read an email from a manager.
This face is used universally for several situations. It is too good not to use it over and over again!
12. That Is Not True!
Even though they may have a bad reputation, Pitbulls are not as angry and aggressive as some people think. They can be sweet dogs. This mad dog meme helps illustrate what a pup may be thinking when someone says something negative about Pitbulls! It is used for other situations. Just look at that face!
13. A Pandemic Joke!
Not too long ago, we all had to stay 6-feet apart to social distance during the coronavirus pandemic. The Centers for Disease Control and other health organizations advised the 6-feet rule because of COVID-19 and how it spreads. Naturally, this brought about many different jokes, including this meme.
That face says it all. While that joke may be out of date, you can still use the picture for other funny life moments
14. Girl, You Are Crazy
The picture is not your average angry puppy meme or mad puppy meme. The dog looks like it is annoyed at the camera!
That is the look you would give someone if they just said something stupid, right? It is picture-perfect and the best meme to use.
All dog owners can relate. Our dogs know we love them, but sometimes we can go a little overboard.
15. It's The Year For Realizing Things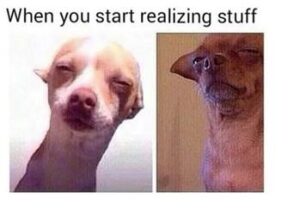 Lastly, for this list of Dog Side-Eye Memes, we got "It's The Year For Realizing Things". The dog's face is the perfect reaction for when you start connecting the dots. (It may be about some drama!)
If you enjoyed these Dog Side-Eye Memes, you could also check out:
If you enjoyed scrolling through our list of Dog Side-Eye Memes, we think you'll enjoy watching "Best Cat and Dog Memes Compilation" down below:
Garrett loves animals and is a huge advocate for all Doodle dog breeds. He owns his own Goldendoodle named Kona. In addition, he volunteers at the Humane Society of Silicon Valley, where he fosters dogs and helps animals. Garrett enjoys writing about Doodles and believes that dogs can teach humans more about how to live than humans can teach a dog.
Why Trust We Love Doodles?
At We Love Doodles, we're a team of writers, veterinarians, and puppy trainers that love dogs. Our team of qualified experts researches and provides reliable information on a wide range of dog topics. Our reviews are based on customer feedback, hands-on testing, and in-depth analysis. We are fully transparent and honest to our community of dog owners and future owners.