If you're searching for laughing dog memes to share with a friend or family, then here's what you need to know. Man's best friend. They make it known when they're bored, unhappy, or over the moon with excitement to see you when you get home.
They recognize our silly faces better than anything else in the animal kingdom and are certainly not beyond giving a few silly looks themselves. Luckily, dogs don't always laugh like hyenas, but they can certainly give pretty relatable smiles and smirks.
Before you scroll down this list of laughing dog memes, check out these other recommendations from our team at We Love Doodles: Best Sad Dog Memes and Best Walter Dog Memes.
1. Stay In Bed
This dog knows a good time. Running, jumping, and smiling in the sun are what any healthy dog needs. Even dogs have that Monday morning feeling when they can't get out of bed, especially when it's cold out.
This image has two frames. The top one has a dog running joyfully outdoors, and the bottom is the same dog sleeping soundly in bed.
Related dog memes you would like: Scared Dog Memes and Dancing Dog Memes.
2. Awkward Tourist Pups
We've all seen those awkward-looking tourists at every attraction, and if you haven't seen them, those might be you. And maybe next time you're at the Great Pyramids, or somewhere else like that, you should ask someone else to take one for you.
These two puppies look pretty cringe as they go for their selfie in front of the Pyramids of Giza, but maybe they don't know that you shouldn't take a picture from beneath. Double-chin much.
3. Chat With An Old Pal
Lockdowns, quarantines, and Zoom meetings will hopefully stay in 2020, but who didn't get 200 video chats a day then. After a long day of work, lying back and chatting with a friend is the best, but it doesn't always give the best camera shots. These two dogs, lying back in their beds in a group call with each other, are just too relatable.
4. Special Brownies
This one is highly not recommended to try at home, chocolate and the wacky-tobacky can both be dangerous for our furry friends, but we're hoping the camera went off at just the right time to get this silly shot.
At any rate, this laughing puppy looks like it's been mesmerized by its paws all day and may have the munchies. Here, we can see a small dog smiling, with its front paws bent while on a vet's table. Someone is holding it up to get checked out, and it's wearing a small dog sweater.
5. Dog Ate My Homework
Everyone has wanted to use the "my dog ate my homework" excuse at some time or another, but this dog did it. Too bad that line is a little too played out to work on any teachers these days. Having just chewed up someone's homework, this dog laughing meme has a smirking labrador hunching over.
6. Not Remotely Funny
They'll eat your shoes, eat the garbage, and try and wolf down just about anything else. Probably best to invest in a chew toy or a nice big bone because these guys like to gnaw.
This puppy looks like it knows exactly what it did, so maybe the owner should spend less time on the TV and more time walking. In this meme, the dog has a suspicious-looking grin after having eaten and broken the TV remote control. Points for the pun.
7. Under The Influence
They are pretty loopy-looking dogs. Whether the vet had to give this dog laughing gas or something else, it's got a pretty giggly look. Maybe even a little derpy, no judgment. This dog is coming home from the vet, sitting in the car, with the tongue sticking out and a glassy expression in its eyes.
8. Dad Jokes
This template is pretty famous, but a little wordplay never hurt. You've got to be able to laugh at your jokes because not all of them will be a crowd-pleaser. We're sure most people have made this face when waiting for a response after a fairly cringe-worthy joke.
This picture has two frames. The top sees a dog looking bashful captioned with the setup for a pun, and the next is the punchline of a pun with a laughing dog face.
9. Pot Holder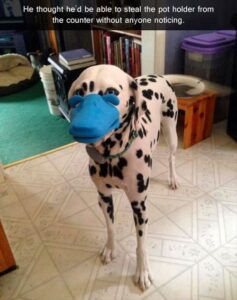 Is this a duck or a dog? We think this silly puppy is just too much. It almost looks like it's wearing a mask—a mask with a big smile on its face—how this little kitchen tool is being held in its mouth. Maybe it just wants to be a sous chef. This image has a dalmatian holding a blue pot holder in its mouth, standing in the kitchen.
10. Lost
Fake it 'til you make it. Not a bad adage if you're lost with a job assignment or in a conversation with friends at a party. This dog might also have a little imposter syndrome, but we love this laughing dog. This image is just a close-up of a dog smiling away.
11. Say Cheese
Smile for the camera. Nobody wants to get caught off guard when the flash goes, and this puppy is no exception. The fluffy little guy went from a resting face to a big grin in a hot second. This image has a small dog riding on someone's back. The dog doesn't have much facial expression in the top frame, and in the bottom frame, it has a big smile.
12. Seasons Change
Happy year-round except when fall comes. This dog doesn't like to think summer is ending but seems to enjoy having a run through the snow. Dogs are just like big, fluffy toddlers at the end of the day.
This image has four frames: spring, summer, autumn, and winter. The god is running and smiling through them, except for autumn, where it is looking back, frightened.
13. Nicknames
A dog won't always listen when you call it over, but especially not if it keeps getting called different names. It's no secret why some rambunctious puppies might think that the same command would be their very name. This picture has a smiling dog on a fence who thinks its name is 'get down, no.'
14. Superdog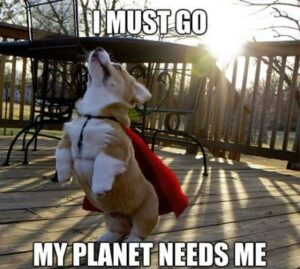 Just too cute. No other words. This caped crusader has stolen our hearts and given us a giggle. Not sure how much it's laughing, but we certainly are. The Corgi is wearing a superhero cape, standing on its hindlegs.
15. Open Secret
So the simulated surprise isn't exactly a dog laughing, but still, this couldn't be missed. Please don't lie. We've all been there. This is a pretty relatable dog. He's looking like it's getting away big with that open, shocked expression, but with its wide, glossy eyes, this dog looks like it's holding back a chuckle.
For more guides similar to this list of laughing dog memes, you can check out:
If you enjoyed these funny laughing dog memes, you'd enjoy watching the "Try Not to Laugh – Funny Dogs" video down below:
Garrett loves animals and is a huge advocate for all Doodle dog breeds. He owns his own Goldendoodle named Kona. In addition, he volunteers at the Humane Society of Silicon Valley, where he fosters dogs and helps animals. Garrett enjoys writing about Doodles and believes that dogs can teach humans more about how to live than humans can teach a dog.
Why Trust We Love Doodles?
At We Love Doodles, we're a team of writers, veterinarians, and puppy trainers that love dogs. Our team of qualified experts researches and provides reliable information on a wide range of dog topics. Our reviews are based on customer feedback, hands-on testing, and in-depth analysis. We are fully transparent and honest to our community of dog owners and future owners.