If you're searching for the best crying dog memes, you've come to the right place. Dog memes are hilarious. From an adorable little puppy throwing a cute tantrum for treats to a lazy lab who is done with the matters of the world – these little "works of art" are loaded with massive doses of happiness that can instantly lift your mood.
Are you hunting for dog memes when you should be working? We caught you. Here is a quick crying dog meme compilation to get you through the week.
Before you scroll down this list of crying dog memes, check out these other memes from our team at We Love Doodles: Best Sad Dog Memes and Best Walter Dog Memes.
1. Can Someone Cheer This Guy Up?
Yep, we've all been there – unleashing major drama at the smallest of the triggers. Our handsome little heartbroken Fido is going through precisely the same phase of life.
You know that classic gesture you see in the movies? A sad character looks out the car window, and somehow, there's always this pouring rain to accentuate the sorrowful situation… It's alright, furry friend – the world is a tough place.
More Dog Memes: Funny Smiling Dog Memes.
2. Not Fair. Not. Fair.
We get that dogs are our most loyal companions and all that jazz, but this scenario seems to have crossed all the boundaries. Don't dog mommas and daddies get it? Stop blaming your problems on the little boy. As if it's not already too difficult being an adorable Pug.
This dog-crying-meme case deserves to be taken to court right away. Let's get the puppy jury together; our sad little Pug here needs justice. Humans are just as guilty as our little Pugs if we're to blame them. You'll have to be ready to face the consequences and better apologize, but if you have any treats hidden somewhere, those will do too.
3. The True Existentialist
You're 100% wrong if you think your dog doesn't have a philosophical mind of its own and this funny dog crying meme is here to prove that. Remember the times when your fluffy hound sits by the window in deep contemplation of god-knows-what? No, it's not daydreaming about treats.
He's thinking about the meaning of life and the massive dog universe that could be hidden outside your backyard. We'd say it's a painful thought if you ask us. We're trying to say: take the dog for a walk already.
4. Nobody Gets It, Nobody Understands
Sorry, dog parents, we're on the puppy's side here. From jumping around with a wagging tail when you're back home to dancing happily at dinner time – dogs are the happiest folk in the whole wide world, and their energy is contagious.
But then there is the occasional and (slightly) angry "No." they get for their little mischiefs. Yes, that's enough to cause them to pull adorable sad faces as if they can get away with everything just by being disarmingly adorable (FYI: they can).
5. Feeling The Monday Blues
A great weekend comes to an end. You have to hit the drawing board all over again. There is a long eternity before the next weekend arrives. The struggle of getting out of your comfy bed, especially when you're snuggled next to your furry friend, is hands down one of the most challenging things to do. But fortunately for your cuddly canine, getting out of bed quickly becomes a happy adventure once they realize they have plenty of space to stretch, play, and dance.
6. Being Healthy Is Easy, They Said. Healthy Food Is Yummy, They Said
The road to "health" is treacherous, especially if you have a furry friend who loves gulping down the scrapes of your snacks. There's a diet to follow, an exercise regimen to deal with, and the most painful process of avoiding late-night snacks. If you plan to stack some sweet or salty savories when dreams about junk food don't leave you, make sure you share some with your adorable puppy.
7. Believe In Yourself, PLEASE?
This sad and borderline crybaby doggo is so sad because it wants the best for you. It loves you so much and wants you to be happy – today, tomorrow, and every day.
He understands your emotions all too well and feels the aftereffects of your sadness, anger, and happiness. Your dog is your partner in crime and treats. So, believe in yourself for it. Now.
8. The Sad Tale Of A Teary-Eyed Chihuahua
"How could you, Hooman?" Our little chihuahua carries Niagara Falls in its eyes. He breaks into tears at the drop of a hat, and his feelings are easily hurt. Perhaps mom refused to play with it, or its doggo best friend found new friends at the dog park.
If you're hypersensitive, we're sure you'd relate to this chihuahua dog crying meme all too well. Yes, there's a lot of involuntary drama involved, but we can't hold back a laugh thinking how cute this misty-eyed chihuahua looks.
9. You Think Deception Is Funny, Human?
Admit it; you've psyched and fooled your doggo many times during the game of fetch. You pretended to throw the ball. Your doggo got excited, only to realize it had been played. We're sure you're guilty of stealing a laugh or two when the look of extreme betrayal crosses your face. Seriously though, how could you?
10. Take Me Out, Please.
No journey is tedious when it comes to walking with your furry friend. Even if you're only walking to the driveway, your Pawsome furry companion would jump with joy and happily walk with you.
So, each time you're heading out to grab your packages, keep the leash handy and let your companion keep you company. We're sure we'd be happy to have an opportunity to hang out with you.
11. The Most Sensible Excuse
Is it one of those days when your sad, almost-on-the-brink-of-tears canine doesn't want you to head to work in the morning? As a dog parent, you probably get that a lot. But how to make your doggo understand that you can't get yummy treats or cool toys if you don't head to work?
The simple answer is: you can't. When working and spending quality time with your puppy, let the latter win sometimes. Maybe call in sick at work once in a while and spend a day full of adventure to cheer your good boy up.
12. Sadly, We All Grow Up
We know the struggle all too well. Whether it's your gorgeous prom dress from school or a charming button-down that refuses to fit you today – it can be disappointing not to be able to flaunt your favorite attire anymore. Our sweet puppy is going through something similar here. But does it know it looks more adorable than ever, even if it can no longer fit into that sweater?
13. But Momma Said To Be A Good Boy
Our cute puppy is sad because mama asked it to be a good boy. He can no longer transform himself into a bad boy with tattoos and leather jackets to woo the doggo ladies around the block. Ladies, if you can be so kind as to like good boys too, it would cheer up our doggo real fast here. We promise you'll love its good-boyness more than its bad-boyness.
14. The Haircut Fiasco
You got that bob cut you always wanted, only to realize that it wasn't exactly your style. This dog crying meme addresses the same struggle you're going through. This dog here has been gloomy since morning because it cannot find its old charm back. But for us, it's just as adorable.
15. Preparing For The Worst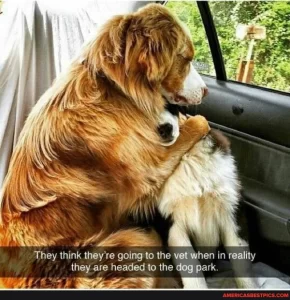 Going to the vet's office is not an enjoyable activity for our canine companions. Our dogs here have already assumed the worst and are on the brink of tearing up. But we're pretty sure that once the dog park is within sight, the sad mood will quickly become a frenzy of excitement.
So, there you have it – the 15 best crying dog memes. We hope you had a good time skimming through these. We also know you're missing your good boy who's probably looking out the window, contemplating life in general, and waiting to play ball with you.
For more guides similar to this list of crying dog memes, you can check out: 
If you enjoyed looking at these crying dog memes, we think you might like to look at this "Animal Memes To Lift Your Spirits" video down below:
https://youtube.com/watch?v=Pco-nfOpT0A
Garrett loves animals and is a huge advocate for all Doodle dog breeds. He owns his own Goldendoodle named Kona. In addition, he volunteers at the Humane Society of Silicon Valley, where he fosters dogs and helps animals. Garrett enjoys writing about Doodles and believes that dogs can teach humans more about how to live than humans can teach a dog.
Why Trust We Love Doodles?
At We Love Doodles, we're a team of writers, veterinarians, and puppy trainers that love dogs. Our team of qualified experts researches and provides reliable information on a wide range of dog topics. Our reviews are based on customer feedback, hands-on testing, and in-depth analysis. We are fully transparent and honest to our community of dog owners and future owners.