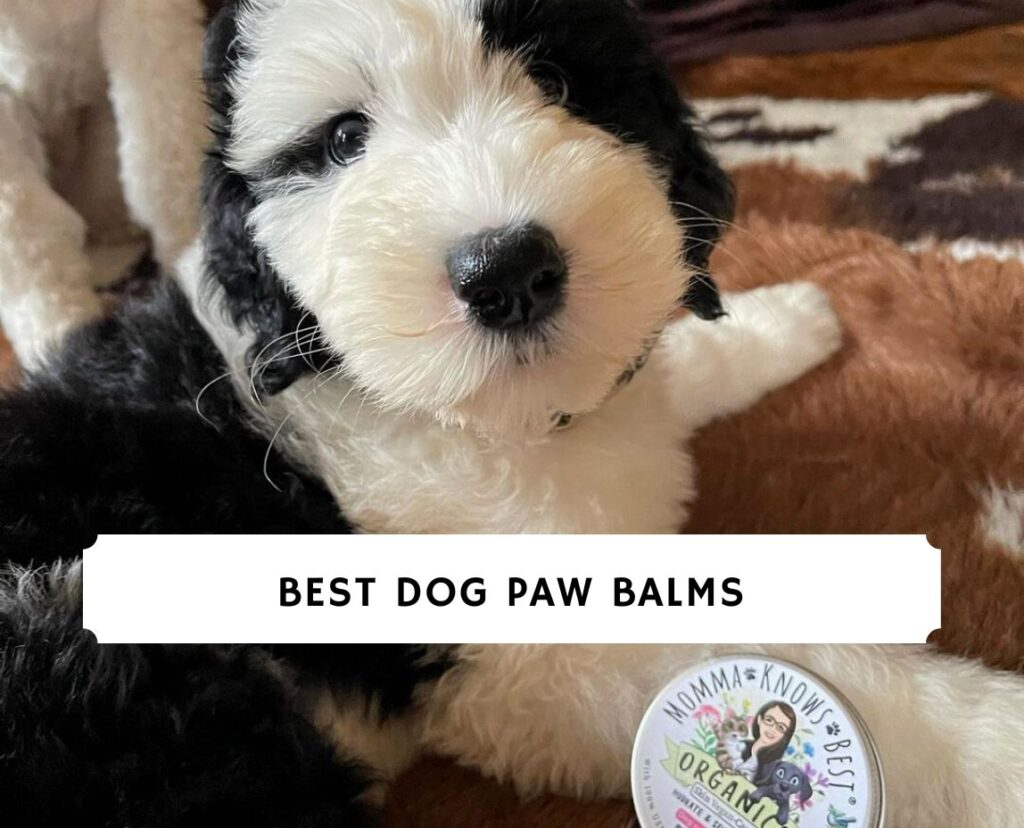 Whether you're enjoying summer or the winter season with your pup, paw balm is a must-have for their paw protection. Paw balm helps to protect and soothe your pup's paw pads from harsh weather, rough surfaces, and allergens.
With so many really good paw balms out there, it's easy to find one that is safe and effective. Paw butters for a dog's paws help to create a barrier against the elements that can cause irritation or infection. It's important to use this product regularly as part of your pup's overall health care routine.
In this buying guide for the best dog paw balms, we're going to look at the ingredients and benefits of using a paw balm, as well as how it can help soothe your dog's cracked, dry, or sore paws.
We'll also discuss the different paw balms available and what makes them effective in treating paw pad issues. Finally, we'll provide you with our top picks for the best dog paw balms to help you save time and money.
In a rush? Here are our top picks!
Product
Best Overall
Musher's Paw Wax
Runner Up
Vets Preferred Paw Balm
Editor's Choice
Pet Head Oatmeal Paw Balm
Image
This product is one of the most popular dog paw balms, with close to 27,000 positive reviews. Musher's Paw non-toxic paw wax is crafted with Vitamin E and beeswax to combat the side effects of snow, heat, sand, and rocky terrain. This product also protects your pet against pesticides, lawn fertilizers, salt residue, ice melts, hot pavements, sand, and sunburn.
his is a must-have for all pet parents because it acts as a breathable barrier for your pup's paws to protect paws from the elements. This company recommends applying paw wax between the toes and in paw pads for optimal protection.
Musher's Paw balm contains food-grade waxes and oils with vitamin E that is safe for pups even if licked off. It can also be used for year-long protection. The ingredients included are the following:
Candelilla wax
Carnauba wax
White and yellow beeswax
Vegetable oil
Vitamin E
Features
Affordable
100% pure and natural
Over 26,900 positive reviews
It can be used on the snout, elbows, ears, and other body parts
Crafted with food-grade waxes
Moisturizing pure blend
Advanced Dog Paw Protection Balm contains cold-pressed natural oils and waxes to moisturize, soothe, and protect your dog's sensitive paw pads from extreme weather conditions such as ice or snow. 
We like this product because it helps to lock in moisture and protect from ice and heat. This product's ingredients are safe and natural and include organic olive oil, beeswax, coconut oil, shea butter, jojoba oil, vitamin E oil, and more!
Vets Preferred dog paw wax is easy to apply and will protect your pet's paws from the elements in even the most extreme weather conditions. The formula contains cold-pressed natural oils and waxes. This is a veterinarian-recommended paw wax with over 5,000 positive reviews.
Features
Affordable
Veterinarian-grade paw wax
Over 5,000 positive reviews
GMP seal
Made in the US
Crafted with all-natural ingredients
Includes cold-pressed natural oils and waxes only.
You can't go wrong with Pet Head. This is another vegan and cruelty-free paw palm that dogs can safely lick off. The takeaway with this paw balm is that it has over 18,000 positive reviews and only uses high-quality ingredients like shea butter, oatmeal, mango, vitamins E and F, coconut oil, olive oil, and aloe vera to help soothe and heal cracked sensitive paws.
Pet Head paw balm can also be used on your dog's nose, and they are pH balanced for dogs and free of petroleum derivatives and DEA. This paw butter also smells good.
Features
Over 18,000 positive reviews
All-natural ingredients
Free of petroleum derivatives and DEA
Crafted with shea butter, oatmeal, mango, vitamins E and F, coconut oil
Affordable
Although this product doesn't have as many reviews (new formula) as some other paw butters, the Warren London hydrating butter balm for cats and dogs is effective and one of our favorites. 
This is because the ingredients include aloe vera and white tea, and it's formulated as a thicker and richer version than the original formula. The unscented paw moisturizer helps relieves dog's noses, elbows and paws cracks, and dryness.
Features
Natural humectant
Suitable for paws and as a dog nose soother
Crafted with natural emollients
Affordable
Includes aloe vera and white tea leaf
Thick formula
Unscented
If your dog's paws are cracked, dry, and irritated from the elements, then you need the pad protection balm paired with the paw fizz tablets for a paw soak. This is made from natural tea tree oil to fight allergy-causing irritants that trigger itching. 
The Warren London paw soak contains seaweed extract, white tea tree oil, and sunflower oil that helps soothe, moisturize, and hydrate paw pads. We like this paw soak for dogs because it leaves paws conditioned and comfortable. It's also easy to use- just drop a paw-wash tablet into water and let it fizz. This product comes in 3 sizes and also helps to stop paw licking.
 Features
Crafted with white tea tree oil
Affordable
Three size options
Natural tea tree oil fight allergy causing irritants 
Includes sunflower oil, natural white tea tree oil, and seaweed extract
Natural Dog Company PawTection Dog Paw Balm is a vegan, plant-based product that helps form a protective barrier that helps to prevent paw pad cracking and peeling. The balm is easy to apply and can be used outside or before exposing your pup's paws to any potentially harmful condition. This paw balm contains the following:
Mango butter
Rice bran oil
Lavender essential oil
This product has over 9,000 positive reviews and creates a nourishing, protective barrier for your pup's paw pads. Natural Dog Company paw balm also reduces the effect of contact with allergens, including grass, pollen, & mold, and is safe for all dogs. 
We like this product because it's easy to put on and is an all-natural vegan product. The takeaway is that this product moisturizes well and heals tissue that's already damaged.
Features
Over 9,000 positive reviews
Organic, vegan, and natural
Crafted with mango butter, rice bran oil, lavender oil, and rosemary extract.
Easy to apply
Perfect container (twist stick) for travel
This is another product we like- another twist stick that makes it easy to travel. PetLab Co.'s Paw Balm for Dogs is a highly effective paw wax that can help soothe and moisturize your dog's paws from irritation caused by licking. 
Made with natural ingredients like organic shea butter, coconut oil, and jojoba oil, this paw balm for dogs can provide a barrier from internal and external irritants while also helping to support your pup's paws by soothing and moisturizing them. 
Features
Concentrated balm
All-natural ingredients like coconut oil, sunflower oil, shea butter, hemp oil, jojoba oil, rosemary oil, and more
Moisturizers dry or rough paws
Large product line
 Includes organic shea butter and coconut oil
This is another favorite and must-have for every pet parent. It's also a two-time winner of the Family Choice Award. Bodhi paw balm product is vegan and organic and also hypoallergenic.
It features a non-toxic formula designed to soothe and heal dry, cracked paws naturally. This product does not contain harsh chemicals, parabens, sulfates, or synthetic, artificial dyes or fragrances.
Made with USDA-certified organic shea butter, jojoba oil, beeswax, and calendula extract, this paw balm will help restore paws to health, softness, and smoothness. 
We like this product because it's fast acting formula that works deep into the skin layers to repair damage caused by dryness, allergies, or hot pavement. This product has over 2,400 positive reviews.
Features
100% USDA organic certified
Safe and natural
Vegan and cruelty-free
 It does not contain any harsh chemicals, parabens, sulfates, or synthetic, artificial dyes or fragrances.
No alcohol
One of the most popular paw balms is Musher's Secret, which provides an effective blend of all-natural waxes that form a semi-permeable shield to protect your pup's paws from snow, ice, sand, and other harsh elements. It also contains vitamin E to nourish and heal dry, cracked pads.
Another great paw balm for your pup is Natural Dog Company's Pawtection Paw Soother, which contains certified organic ingredients that gently heal and protect your pup's paws from extreme temperatures and rough surfaces. It also helps to soothe itchy skin, allergies, and irritations. The all-natural formula is free of parabens, sulfates, and dyes.
Winter and summer paw care doesn't need to be extreme, but you can take precautions like doggie boots and paw balms. Cracked, dry paws are uncomfortable and painful, so having paw balm or ointment on hand to keep their paws moisturized can be very helpful. Protection is vital in keeping your furbabies' feet healthy.
What are paw balms?
Paw balms for dogs, including salves and butters, are all made to keep your pet's paws supple and healthy.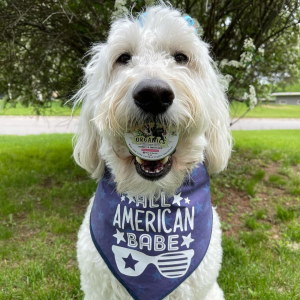 They tend to work on two levels:
As a barrier to repel ice and snow and other elements that result in cracking and drying of the skin
To moisturize and heal tissue that has been damaged. Some paw balms are crafted with ingredients that help reduce inflammation and infection.
As usual, it's key to reach out to your veterinarian if your pup has paw issues that seem to persist or worsen. Be sure to read the ingredients list and don't apply anything that could cause an allergic reaction or exacerbate any existing skin conditions your pup may have. You should also pay attention to expiration dates on paw balms, just as you would any other cosmetics.
Above all, make sure you're using a balm designed explicitly for paw care — human products may contain ingredients that could be harmful to your dog's skin. 
Also, look for something with natural ingredients and organic options, which are usually more effective and less likely to irritate.
Paw health
What do your dog's paws tell you about their health? If your dog has trouble walking or licking and chewing their paws frequently, it could be a sign that they have painful and cracked paw pads. Paw pad problems can cause dogs to lick their feet in discomfort and are painful for dogs. 
PetMD explains that paw injuries like burns can happen from walking on hot surfaces like pavements or undiluted chemicals, such as cleaning products on floors. 
They add, "You may see red or cracked dog paws blistering or peeling. Medicine for secondary infection or pain relief may be needed. Your vet can prescribe these."
Dog paw pads
The canine paw features specialized structures that help with movement across different surfaces. The bottom of the paw is covered by thick, resilient pads that become callused with time. Paw pads protect the paw and help provide a firm grip on the many surfaces your dog encounters.
Cracked dry paw pads
Paw pad problems can be caused by several factors, from environmental issues like excess heat or cold to underlying conditions such as autoimmune disorders or allergies. 
Whatever the cause, if your pup is suffering from cracked, dry, or sore paw pads, a paw balm can help. A good quality paw balm will contain ingredients that are specifically designed to nourish and protect the delicate skin of your pup's paws. 
Ingredients
Common ingredients in many formulas include beeswax, shea butter, coconut oil, olive oil, and other natural oils and butters. These moisturizing ingredients help form a protective barrier over the skin, helping protect it from the elements. 
When choosing a paw balm for your pup, look for one free of artificial fragrances, dyes, and preservatives. Also, check the label for any ingredients that could be irritating to your pup's skin (such as tea tree oil).
Additionally, keep in mind that most paw balms are intended for external use only and should not be ingested by your pup. Yet some are safer than others and can be licked off.
Additionally, some formulas may include healing ingredients like honey, aloe vera, and essential oils for their antibacterial and anti-inflammatory properties. 
Paw wax
Paw wax is more protective than a lotion and helps to ward off irritants. The best way to use paw wax is to apply it before going for a walk. However, you should always opt for healthy natural products.
Paw care tips
If you're dealing with freezing temperatures or the wind chill is very cold, frostbite during the winter is a big concern. Some breeds will tolerate cold weather better than others. Consider several shorter walks throughout the day instead of two long ones. Some breeds that do well in the cold include the following:
Alaskan Malamute
Greater Swiss Mountain Dog
Chemicals in ice melts
Not only does snow damage paw pads, but the ice melts too. The chemicals in ice melts, as in salt-based ice melts, can hurt your dog's paws. Rock salt can heat up to 175 degrees F, and dogs can get second-degree burns at 125 degrees F. 
FAQ's Best 8 Dog Paw Balms in 2022 
How often should you use paw balm?
The frequency with which you should use a paw balm on your pup depends on the severity of your pup's paw pad problems and the climate in which you live. 
If it's particularly hot or cold outside, or if your pup has significant issues with cracked and dry paws, you may need to reapply the paw balm multiple times a day. 
However, if your pup's paws are in good health and you live in a temperate climate, then applying the paw balm once or twice weekly should be sufficient.
Is paw balm safe for dogs?
Paw balm is generally safe for dogs as long as it is specifically formulated for canines. It's essential only to use products that are made with natural ingredients and to avoid any containing artificial fragrances, dyes, or preservatives. 
Also, read the label carefully and look for any potential allergens or irritants, as well as instructions on how often to apply the balm. 
Finally, keeping any paw balm out of your pup's reach is best, as some can be toxic if ingested in large quantities. A good quality paw balm is an effective way to help soothe and protect your pup's dry or cracked paw pads.
What are the benefits of paw balm?
There are many benefits to using a good quality paw balm on your pup. The moisturizing and protective ingredients can help to keep their paws well-nourished and protected from the elements while also helping to soothe any cracked, dry, or sore areas. 
Some formulas may also contain healing ingredients like honey, aloe vera, and essential oils for their antibacterial and anti-inflammatory properties, making them an excellent option for helping to treat existing issues. 
Finally, paw balms can also be used as a preventative measure against dryness and cracking in all climates. Opt for one of our top picks to keep paws healthy and supple!
How to apply paw balm?
Video credit: Saker
Winter and summer paw care doesn't need to be extreme, but you can take precautions like doggie boots, paw balms, and regular nail trimming to make sure your pup's paws stay healthy and happy all year long.
Shop for the best product for your pup, and always read the ingredients list before purchasing. With constant use, you can ensure healthy paws year-round – no matter what season you're in!
Investing a little time and effort into your pup's paw care routine ensures they enjoy the best of both seasons without worry!

Claudia Bensimoun is a writer who specializes in dog content and veterinary topics! Aside from writing for We Love Doodles, Claudia also writes for other major dog blogs like Fido Friendly, Animal Wellness Magazine, and the United States Dog Agility Association (USDAA). She has a ghostwritten over 50 different dog e-books. Her passions include animal welfare, veterinary research, and wildlife conservation.
Why Trust We Love Doodles?
At We Love Doodles, we're a team of writers, veterinarians, and puppy trainers that love dogs. Our team of qualified experts researches and provides reliable information on a wide range of dog topics. Our reviews are based on customer feedback, hands-on testing, and in-depth analysis. We are fully transparent and honest to our community of dog owners and future owners.