Is the black Labradoodle its specific breed? Here's what you need to know. Labradoodles are one of the most popular dog breeds today. These dogs come in a variety of colors, one of which is black. Black Labradoodles have a beautiful black coat and are a favorite among dog owners. Read below to learn more about this popular breed.
Before scrolling down this black Labradoodle guide, check out these other similar content: Labradoodle Dog Breed Guide and Blonde Labradoodle Guide.
What is a Black Labradoodle?
A black Labradoodle is one of the many color varieties of the popular Labrador and Standard Poodle cross. As the name implies, this breed has a black-colored coat. This color is produced by selecting black-colored parent dogs, whose genes are passed to their offspring.
Depending on whether a Labradoodle is an F1 or F2 generation, its parents will be either a labrador and a poodle, or a Labradoodle and a poodle, respectively. This means that a black Labradoodle can have different coat types depending on its parents, but the color will always be black.
Related: Red Labradoodle Coat Guide and Australian Labradoodle Guide.
History of the Breed
While there are records of Labradoodles dating back to the 1950s, they didn't become popular until 1989, when Wally Conron, the breeding manager of the Royal Guide Dog Association of Australia, bred a female Labrador with a male Standard Poodle.
This was done out of the need to produce a guide dog that would not trigger an allergic reaction. The result was a few Labradoodle puppies, one of which had fur and saliva that proved not to aggravate the client's allergies. It was this litter of Labradoodles that sparked the beginning of the Labradoodle craze.
Color and Coat Type
While all black Labradoodles have coats that are, well, black, the texture and length of their coats can vary depending on which genes are dominant in each dog. For example, a black Labradoodle can have the short, wavy fur of a labrador or the long, curly hair of the poodle. It is also common for black Labradoodles to have a coat that resembles both parent breeds.
While most people think of Labradoodles as the offspring of a labrador and a standard poodle, this is not often the case. Labradoodles are categorized into generations based on their parentage. For example, puppies born from a Labrador and a Poodle are considered an F1 generation.
The most common type of Labradoodle, however, is what is known as the F1B generation. F1B generation is a Labradoodle whose parents are a Standard Poodle and an F1 generation Labradoodle. Because F1B Labradoodles have a higher percentage of Poodle DNA than their F1 counterparts, their coats will favor the Standard Poodle, which is more allergy-friendly than that of the labrador.
There are also F2 generations, Labradoodles bred from two F1 generation dogs, or an F1 dog bred with a second-generation or higher dog. Multi-generation Labradoodles are defined as third-generation or higher.
It is important to consider which generation a Labradoodle puppy belongs to determine what type of coat it is likely to have as an adult. The more Poodle DNA a Labradoodle has, the more likely that their coat will be hypo-allergenic. Because of this, F1B generation Labradoodles are the most popular, as many people enjoy the low-shedding and allergy-friendly coats of these dogs.
Fading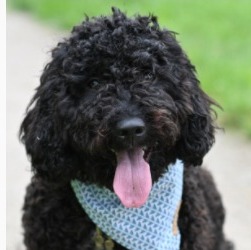 While all black Labradoodle puppies start with solid black coats, they may lighten over time. This is due to a process known as "fading," which affects Labradoodles of all colors. In black Labradoodles, fading results in the solid black color turning a light charcoal/grey color.
Fading can occur for several reasons, including:
Dilute Gene: The "D" or Melanophilin gene, known as the dilute gene, will cause black Labradoodles to appear a light gray color. This is because the dilute gene disperses the coat's shade on the hair shafts, resulting in a lighter hue. The dilute gene is recessive, meaning a dog must inherit two recessive "dd" genes from its parents. Since a dog can carry this gene without showing any symptoms, it is hard to know if this trait will be passed on to puppies.
Kemp Hair: Kemp-hairs are coarse white hairs that usually appear in adult Labradoodles. Appearing most often around a dog's eyes and down their backs, these hairs can break up the solid color of a black Labradoodle.
Health: Some health issues, such as hypothyroidism and liver and kidney problems, can cause a black Labradoodle's coat to lighten in color. It is important to consult a veterinarian about any sudden changes to your dog's appearance, as it could be caused by illness.
Temperament
In addition to coat type, the genetics of black Labradoodles will also determine their temperament. Both the Labrador Retriever and the Standard Poodle have friendly, even-tempered dispositions. However, the Poodle is a bit more standoffish than the Labrador and tends to be more independent. This is why Wally Conron chose to create the Labradoodle instead of simply training a standard Poodle to be a guide dog.
If you are looking for a black Labradoodle to work as a service dog, it is a good idea to consider selecting an F1 generation Labradoodle, as these dogs will have an even amount of DNA from both the Labrador Retriever and the Standard Poodle. Compared to the other color varieties, there is nothing about the black Labradoodle's temperament that sets them apart.
After all, coat color does not affect a dog's temperament. Instead, that is determined by the genetic makeup of the dog. While there is no guarantee of what a black Labradoodle puppy's temperament will be, carefully considering its genetics and parentage can give you insight into its potential as a service dog or friendly companion.
Related: Are Labradoodles Good with Kids?
Grooming
All Labradoodles require a fair amount of grooming, and black Labradoodles are no exception. Depending on the type of coat, grooming can range from once a week to once a day. Labradoodles that favor the Poodle's curly coat, for example, will require daily grooming to prevent mats. At the same time, those with the short, flat coat of the Labrador can be groomed every week to minimize shedding.
Related: Labradoodle Grooming Guide.
Exercise
Labradoodles are active dogs that require daily exercise. A long walk once a day followed by some games of fetch will keep them happy and healthy. Because of their high intelligence, mental activity, such as teaching new tricks or puzzle toys, are also very important.
Recommendations: Best Dog Playpen for Hardwood Floors.
Size
Black Labradoodles are available in three sizes: Standard, Medium, and Miniature. Standard Labradoodles typically weigh between 55 to 65 lbs, while Medium doodles weigh around 30 to 40 lbs. The miniature is the smallest size available, weighing no more than 25 lbs. With three different sizes, it is easy to find a black Labradoodle that fits your lifestyle.
Related: Labradoodle Size Guide.
Conclusion For "Black Labradoodle Information, Facts, Images"
With black Labradoodles being so popular, many people will, unfortunately, breed these dogs without regard to health or genetics. It is very important to purchase black Labradoodles only from reputable breeders. Having the adult parent dogs on-site and providing health certificates for both the parents and the puppies are signs that a breeder is invested in the well-being of their dogs.
For more Labradoodle guides, you can check out:
Learn more about the Labradoodle by watching "Labradoodle Dogs 101" from Animal Facts down below: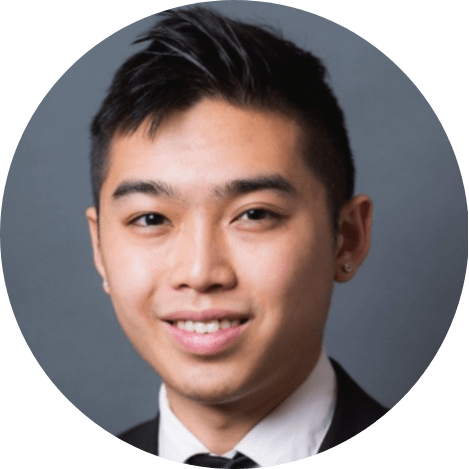 Andy is a full-time animal rescuer and owner of a toy doodle. When he's not saving dogs, Andy is one of our core writers and editors. He has been writing about dogs for over a decade. Andy joined our team because he believes that words are powerful tools that can change a dog's life for the better.
Why Trust We Love Doodles?
At We Love Doodles, we're a team of writers, veterinarians, and puppy trainers that love dogs. Our team of qualified experts researches and provides reliable information on a wide range of dog topics. Our reviews are based on customer feedback, hands-on testing, and in-depth analysis. We are fully transparent and honest to our community of dog owners and future owners.