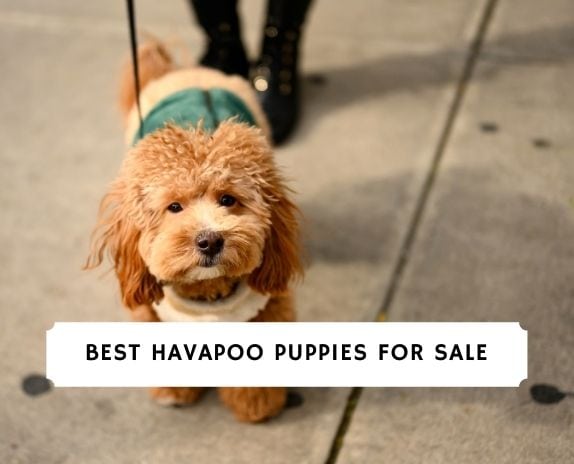 If you were to describe a teddy bear look-alike, the Havapoo would be an excellent way to describe it. Mixed between the Poodle and the Havanese, Havapoos are a miniature and adorable dog breed. Over the years, interest in raising Doodles has skyrocketed, which means locating Havapoo puppies for sale in the U.S. can be challenging for future pet owners. From children to elders, people love this Doodle breed due to its high intellect, kindness, and miniature size. Whether you're living with a family, cats, roommates, or alone – the Havapoo will easily adjust to your living environment.
Throughout the history of dog breeds, the Havapoo didn't gain attention until less than three decades ago. Since then, Goldendoodles and other Doodle breeds have increased in interest from all over the world. With hypoallergenic coats and an above-average lifespan, the Poodle and Havanese mix created the perfect lap dog weighing between 7 to 30 lb. Finding reputable Havapoo breeders isn't easy. There are dishonest sellers, puppy mills, unbroken promises, Havapoos with health issues, and other red flags to avoid. At We Love Doodles, we're going to help you uncover the best Havapoo puppies for sale from reputable breeders across the United States.
Before getting started, make sure to check out our Havapoo dog breed guide! We also have articles on Mini Labradoodle Breeders and Mini Goldendoodle Breeders.
We know that one of the hardest things is finding a Havapoo puppy that isn't coming from a puppy mill. PuppySpot is a dog marketplace filled with reputable breeders that are vetted and they have a no puppy mill promise which is backed by the American Kennel Club (AKC). This marketplace has high standards and ensures that breeders are licensed.
The safety of all dogs is PuppySpot's number one priority, which means that you're less than likely to come across an unethical puppy mill or backyard breeder. Using PuppySpot will make your life many times easier because the majority of the work is done for you. All you have to do is choose your Havapoo puppy's gender, age, color, and size. There won't be any waiting lists as they have Havapoo puppies available today. You won't have to wait for months or even years on a breeder's waitlist, which is one of the great benefits of PuppySpot.
If you or your family are still indecisive about a breed, then you can browse through a collection of purebred and designer dogs. Once you welcome your Havapoo puppy into its new living environment, don't hesitate to return to PuppySpot's website for free training guides and additional resources. It's also worth mentioning that PuppySpot has its own airlines and can personally fly your puppy anywhere in the United States.
Since we got one of our puppies from PuppySpot, they offer a $100 discount with coupon code "WLD100".
Havapoo Breeder Details:
Premier Pups has carved a name for itself in the field of providing responsibly-raised Havapoo puppies to families and individuals who yearn for the love of a puppy. They only sell toy or miniature Havapoo puppies and can transport them throughout the United States. They also have affordable pricing when compared to PuppySpot.
Their facility is located in Ohio and You can choose from various delivery options: from air to ground network to picking up your Havapoo puppy yourself.
The company also ensures each puppy is sent home with all necessary health guarantees, guides, and starter kits. This helps both the puppy and the parents to smoothen the transition.
Each Havapoo puppy for sale is thoroughly checked, from nose to tail, by a registered on-site vet and a puppy care specialist. Before departure, these health checks include abdominal, heart, knee, and vision examinations.
Premier Pups also arranges easy financing options at decreased interest rates if you have budget issues. Therefore, they make it easier for you to have a faithful puppy by your side. All their Havapoos come with an industry-leading 10-year health warranty. We highly suggest you check them out if you're looking for smaller-sized mini Havapoo puppies.
Premier Pups is giving our blog readers $250 off a new Havapoo puppy. Use code WLD250 at checkout to get an affordably priced Havapoo puppy.
Havapoo Breeder Details:
3. River View Puppies
At River View Puppies, the team's dedication to delivering the best Havapoo puppies is unquestionable. By obtaining a Havapoo from this breeder, you can expect your puppy to come home with an up-to-date immunization record and a veterinarian exam. If your puppy is getting delivered by air, you'll receive a health certificate from your Havapoo breeder so they have clearance to fly. You'll also receive a care package with samples of the dog food they have been eating. At the moment, the price of their Havapoo puppies for sale varies. To get an accurate price, River View Puppies requests that you call or email them.
If you want a Havapoo puppy from this breeder, you'll have to fill out an application. The cost of applying will cost you a $250 non-refundable fee (similar to a deposit at most other breeders). After the birth of a Havapoo puppy, you will receive information and images of the litter about 2 weeks after they're born. Once you're content with your potential companion, you're required to put a down payment of at least half of the Havapoo puppy's cost. You will send in the rest of the payment once your Havapoo puppy is at 8 weeks old and any additional costs (flight delivery, etc.). During the selection process, you won't be able to choose a Havapoo puppy until they're at least 4 to 6 weeks old.
If you don't live close by to pick up your Havapoo puppy, then air shipment will be the best option if you're planning to purchase from River View Puppies. The cost to deliver via air shipment is currently $370 but the cost can change depending on the airline. Keep in mind that your Havapoo puppy won't get delivered until it's at least 10 weeks of age. The reason for this is to maintain and check the overall health of the puppy. As stated on their website, the Havapoo breeders here have the right to delay shipment for the betterment of your companion.
Havapoo Breeder Details:
4. Happy HavaPoos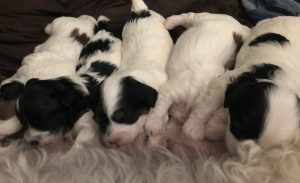 Another reputable Havapoo breeder on the list is Happy HavaPoos. These Havapoo breeders prioritize the happiness of their puppies. According to testimonials, these little puppies are energetic and are always cheery. Happy HavaPoos are one of the best Havapoo breeders in the United States because of how they spoil their puppies with unconditional love and socialization. These puppies are played with every day until they leave for their forever home. What makes Happy HavaPoos great is that they don't hand their puppies to just anyone. If you can provide the same unconditional love to your puppy then you qualify. 
The Havapoos here are estimated to be around 10 to 11 pounds when they're fully grown. Every few months, Happy HavaPoos will have new litters. For more information on litter updates, you'll have to contact the website. Similar to River View Puppies, every Havapoo puppy will get their deworming and vaccines before coming home to you.
The adoption of a Havapoo puppy for sale will cost you $1,800. While it may seem expensive, these puppies are loved and well-cared for. Since the demand for Havapoo puppies is high, you'll have to apply for the waitlist for upcoming litters. A waitlist is common for most reputable Havapoo breeders around the United States.
Once you've chosen your desired Havapoo and made an agreement with the breeders, the deposit fee will be half of the full price of the puppy. When you pick up your Havapoo puppy, then the other half will be charged.
Havapoo Breeder Details:
5. Prides Puppies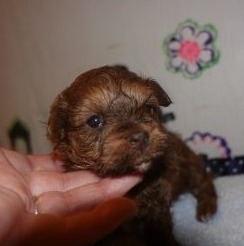 Prides Puppies is another unique Havapoo breeder worth looking into. As mentioned above, there are many shady Havapoo breeders out there but Prides Puppies has a reputation for being trustworthy and filled with valuable knowledge. Raised in their home in West Michigan, the Havapoo puppies here are constantly interacting with the breeders most of the time. If you're from around the area, Prides Puppies welcome you into their home to visit and check out their litters. Treated with care, raised in a family environment, and CKC/AKC dual-registered – you can expect your Havapoo puppy to be in great hands.
If West Michigan seems like a distance for you, Prides Puppies provide shipment of your selected companion. For other ways to ship your Havapoo puppy, contact the breeder for additional details. Depending on the distance, meeting you halfway by car shouldn't be much of a problem if it isn't too far. As for air shipment, there will be a "Havapoo nanny." The Havapoo nanny will travel with your companion to an airport closes to you.
All of their Havapoo puppies are examined and veterinarian checked before getting to their owners' homes. The Havapoo breeders here will provide you with paperwork once you pick up your puppy. Other information to keep in mind is that these puppies are fed with quality 4-star food. One wholesome piece of information we love hearing about is that these Havapoo breeders sleep with several puppies during bedtime.
Havapoo Breeder Details:
6. Windy Acres Puppy Adoptions
Run by a family in Illinois, Windy Acres Puppy Adoptions makes it on the list as one of the best Havapoo breeders because of their love and passion for popular Poodle mixes. Randall (husband) grew up always having at least one dog around him throughout his life. He raised a Labrador Retriever, which eventually led to Goldendoodles and Labradoodles. As for Laura, she grew up living on a farm. Over time, they have partnered with families that are passionate about dogs.
Windy Acres Puppy Adoptions ensures that their puppies are filled with joy and health. The Havapoo puppies here are fed high-quality food made for the wellness and betterment of these dogs. Whether you're from Illinois or anywhere in the United States, you'll be able to work out a transportation method with Randall to finally bring home your new family. Depending on your location, the cost of delivery varies. For more transportation information, you'll have to contact the breeders in advance.
Havapoo Breeder Details:
7. Little Joy Pups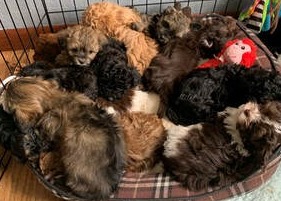 Last on the list of the best Havapoo puppies for sale is Little Joy Pups. The Havapoo breeders here ensure that you have enough knowledge about the dog breed before bringing your new friend home. Their Havapoos are always filled with high energy levels and enjoy playing outside. "Little Joy Pups," it's in the name. The puppies here will come with shots and proper health care before getting to their owners. Included with vet checks, the puppies come with a 1-year health guarantee.
Not only does Little Joy Pups provide Havapoo puppies but they have a variety of mixed breeds such as Pooton, Poochan, Havachon, Havaton, and Havanese puppies. If you're planning to visit these dog breeds, you'll have to make an appointment during business hours.
Havapoo Breeder Details:
More Information About Havapoo Puppies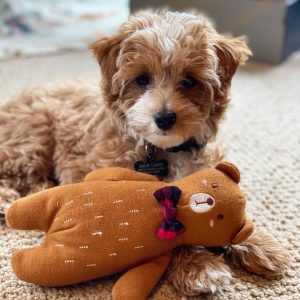 Havapoos are loved by many people around the world. Being a mixed breed between the Poodle and Havanese, Havapoos are charming and spirited dogs. Since they're tiny-sized dogs (8 to 15 inches in height and 7 to 30 pounds), the Havapoo makes the perfect lap dog. Other nicknames for them include Poovanese, Havanoodle, and Havadoodle.
With hypoallergenic coats from the Poodle, the non-shedding ability makes them perfect for people with allergies. Like humans, Havapoos have health issues on this journey called life. When you're raising your Havapoo, keep an eye out for cataracts, hip dysplasia, hypothyroidism, patella luxation, or potential dental issues. If you're prepared to take on the responsibilities of raising a Havapoo, then expect to be flooded with love and unforgettable memories for many years to come.
Conclusion for Havapoo Puppies for Sale
If these recommended Havapoo breeders are too out of reach, then we'd like to remind you to do your due diligence when finding a breeder. To stop shady puppy mills, false promises, and other tactics for money – we recommend you find a Havapoo breeder that wholeheartedly cares for their puppies.
You'll want to always request an in-person visit to see the breeding operations and facilities. If you can't see the facilities in person, always have a video conference to get to know the breeders, the parent dogs, and the puppies.
Other articles you might like: