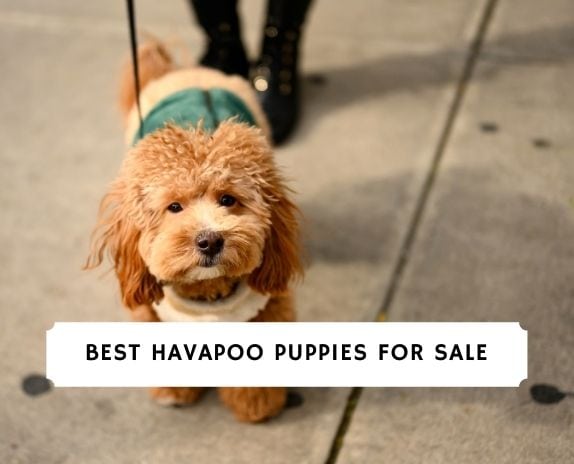 If you want a teddy bear look-alike, a Havapoo would fit the bill! A mix between the Poodle and the Havanese, Havapoos are a miniature and adorable dog breed. Over the years, interest in raising Doodles has skyrocketed, so locating Havapoo puppies for sale in the U.S. can be challenging for future pet owners. People of all ages love this Doodle breed due to its high intellect, kindness, and miniature size. Whether you're living with a family, cats, roommates, or alone – a Havapoo will easily adjust to your living environment.
Throughout the history of dog breeds, the Havapoo didn't gain attention until fairly recently. The Havapoo came onto the designed dog stage in the 1980s when breeders started creating Poodle mixes, also known as "Doodles." Since then, Goldendoodles and other Doodle breeds have increased in interest from all over the world.
With hypoallergenic coats and an above-average lifespan, the Poodle and Havanese mix created the perfect lap dog, weighing 7 to 30 pounds. However, finding reputable Havapoo breeders isn't easy. There are dishonest sellers, puppy mills, unbroken promises, Havapoos with health issues, and other red flags to avoid. At We Love Doodles, we'll help you uncover the best Havapoo puppies for sale from reputable breeders across the United States.
Before getting started, check out our Havapoo dog breed guide! We also have articles on Mini Labradoodle Breeders and Mini Goldendoodle Breeders.
We know that one of the hardest things is finding a Havapoo puppy that isn't from a puppy mill. PuppySpot is a dog marketplace filled with reputable breeders that are vetted and have a no puppy mill promise backed by the American Kennel Club (AKC). This marketplace has high standards and ensures that breeders are licensed.
The safety of all dogs is PuppySpot's number one priority, which means that you're less than likely to come across an unethical puppy mill or backyard breeder. Using PuppySpot will make your life much easier because most of the work is done for you. All you have to do is choose your Havapoo puppy's gender, age, color, and size. There won't be any waiting lists as Havapoo puppies are available today. You won't have to wait for months or even years on a breeder's waitlist, which is one of the great benefits of PuppySpot.
If you or your family are still indecisive about a breed, you can browse through a collection of purebred and designer dogs. Once you welcome your Havapoo puppy into its new living environment, don't hesitate to return to PuppySpot's website for free training guides and additional resources. It's also worth mentioning that PuppySpot has its own airline and can personally fly your puppy anywhere in the United States.
Since we got one of our puppies from PuppySpot, they offer a $100 discount with coupon code "WLD100".
Havapoo Breeder Details:
Premier Pups has made a name for itself in providing responsibly-raised Havapoo puppies to families and individuals. They only sell toy or miniature Havapoo puppies and can transport them throughout the United States. They also have affordable pricing when compared to PuppySpot.
Their facility is in Ohio, and you can choose from various delivery options: from air to ground network to picking up your Havapoo puppy yourself.
The company also ensures each puppy is sent home with all necessary health guarantees, guides, and starter kits. This helps both the puppy and the parents to smoothen the transition.
Each Havapoo puppy for sale is thoroughly checked by a registered on-site vet and a puppy care specialist, from nose to tail. Before departure, these health checks include abdominal, heart, knee, and vision examinations.
Premier Pups also arranges easy financing options at decreased interest rates if you have budget issues. Therefore, they make it easier for you to have a faithful puppy by your side sooner rather than later. All their Havapoos come with an industry-leading 10-year health warranty. We highly suggest you check them out if you're looking for smaller-sized mini Havapoo puppies.
Premier Pups gives our blog readers $250 off a new Havapoo puppy. Use code WLD250 at checkout to get an affordably priced Havapoo puppy.
Havapoo Breeder Details:
3. River View Puppies
At River View Puppies, the team's dedication to delivering the best Havapoo puppies is unquestionable. By obtaining a Havapoo from this breeder, you can expect your puppy to come home with an up-to-date immunization record and a veterinarian exam. If your puppy is getting delivered by air, you'll receive a health certificate from your Havapoo breeder so they'll have clearance to fly. You'll also receive a care package with samples of the dog food they have been eating. At the moment, the price of their Havapoo puppies for sale varies. To get an accurate price, River View Puppies requests that you call or email them.
You'll have to fill out an application if you want a Havapoo puppy from this breeder. Applying will cost you a $250 non-refundable fee (similar to a deposit at most other breeders). After the birth of a Havapoo puppy, you will receive information and images of the litter about 2 weeks after they're born. Once you're content with your potential companion, you must pay a down payment of at least half of the Havapoo puppy's cost. You will send in the rest of the payment once your Havapoo puppy is 8 weeks old, along with any additional costs (flight delivery, etc.). During the selection process, you won't be able to choose a Havapoo puppy until they're at least 4 to 6 weeks old.
If you don't live nearby to pick up your Havapoo puppy, then air shipment will be the best option. Delivering via air shipment is approximately $450; the cost will vary depending on the airline. Keep in mind that your Havapoo puppy won't get delivered until it's at least 10 weeks of age. The reason for this is to maintain and check the overall health of the puppy. As stated on their website, the Havapoo breeders here have the right to delay shipment for the betterment of your companion.
Havapoo Breeder Details:
4. Prides Puppies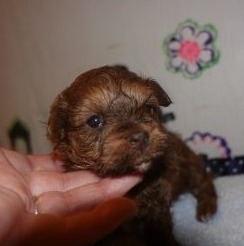 Prides Puppies is another unique Havapoo breeder worth looking into. As mentioned above, there are many shady Havapoo breeders out there but Prides Puppies has a reputation for being trustworthy and filled with valuable knowledge. Raised in their home in West Michigan, the Havapoo puppies regularly interact with the breeders. If you're in the area, Prides Puppies welcome you into their home to visit and check out their litters. Treated with care, raised in a family environment, and CKC/AKC dual-registered, you can expect your Havapoo puppy to be in great hands.
If you do not live near West Michigan, Prides Puppies provide shipment of your selected companion. For other ways to ship your Havapoo puppy, contact the breeder for additional details. Meeting you halfway by car shouldn't be much of a problem depending on the distance. If you choose air shipment, there will be a "Havapoo nanny." The Havapoo nanny will travel with your Havapoo puppy to an airport close to you.
Prides Puppies' Havapoo puppies are examined and checked by veterinarians before being picked up by their new owners. The Havapoo breeders will provide you with paperwork once you pick up your puppy. Additionally, these puppies are fed with quality 4-star food. One wholesome piece of information we love is that these Havapoo breeders allow the puppies to sleep with them in bed at night.
Havapoo Breeder Details:
5. Windy Acres Puppy Adoptions
Run by a family in Illinois, Windy Acres Puppy Adoptions makes it on the list as one of the best Havapoo breeders because of their love and passion for popular Poodle mixes. Randall, the husband/dad of the family, grew up always having at least one dog around him throughout his life. He raised a Labrador Retriever, which eventually led to Goldendoodles and Labradoodles. Laura, the wife/mom, grew up living on a farm. Over time, they have partnered with families that are passionate about dogs.
Windy Acres Puppy Adoptions ensures their puppies are filled with joy and health. They feed their Havapoo puppies high-quality food made for the wellness and betterment of these dogs. Whether you're from Illinois or anywhere in the United States, you'll be able to work out a transportation method with Randall to bring home your new family. Depending on your location, the cost of delivery varies. You'll have to contact the breeders for more transportation information.
Havapoo Breeder Details:
6. Sunny Day Puppies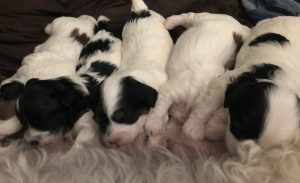 Sunny Day Puppies was started in 2010 by Mary Lisa, a retired nurse and long-time dog lover. Mary Lisa and her husband live on a 600-acre ranch where they breed and raise horses, cattle, and dogs. They have a lot of experience breeding and raising animals – and they have fun doing it! Mary Lisa and her husband converted one of the horse barns on their farm into a "PuppyDog Hilton." It has a swimming pool, toys, large indoor and outdoor play areas, and lots of other puppies to play with.
Sunny Day Puppies is inspected by the Ohio Dept of Agriculture, Division of Animal Health and is a licensed dog breeder. They breed Havapoo puppies, Yorkipoo puppies, and Sunshine puppies (their own special breed mix). Their goal is to raise healthy, lap-sized, family-friendly dogs.
Mary Lisa truly cares about the dog's long-term health and its transition into your home. She has a page on her website containing information about preparing for your new Havapoo puppy. Before taking home your puppy, she will test you on this information! She will also send you a copy of the book "How to Raise a Puppy You Can Live With."
If you want a puppy from Sunny Day Puppies, you will put down a $300 deposit. Once your puppy is ready to go home, several transportation options exist. You can pick up your puppy yourself or use one of their Puppy Nannies to fly your puppy to an airport near you. They also have a trusted ground transportation option. 
Havapoo Breeder Details:
7. Petite Joie Puppies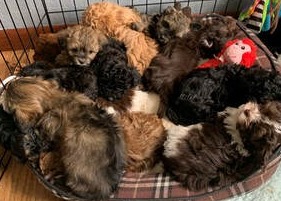 Last on the list of the best Havapoo puppies for sale is Petite Joie Puppies. The Havapoo breeders here ensure you know about the dog breed before bringing your new friend home. Their Havapoos have high energy levels, and they enjoy playing outside. It's in the name – "Little Joy Pups!" The puppies here will come with shots and proper health care before getting to their owners. Included with vet checks, the puppies come with a 1-year health guarantee.
Not only do Petite Joie Puppies provide Havapoo puppies, but they have a variety of mixed breeds such as Pooton, Poochan, Havachon, Havaton, and Havanese puppies. If you're planning to visit these dog breeds, you can an appointment during business hours.
Havapoo Breeder Details:
More Information About Havapoo Puppies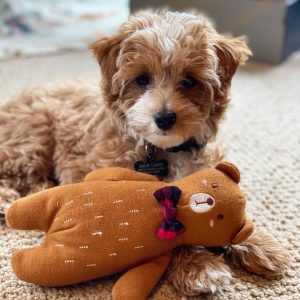 Many people around the world love Havapoos. Being a mixed breed between the Poodle and Havanese, Havapoos are charming and spirited dogs. Since they're tiny-sized dogs (8 to 15 inches in height and 7 to 30 pounds), Havapoos are the perfect lap dog. Other nicknames for them include Poovanese, Havanoodle, and Havadoodle.
With hypoallergenic coats from the Poodle, the non-shedding ability makes them perfect for people with allergies. Like humans, Havapoos may be prone to certain health issues. When raising your Havapoo, keep an eye out for cataracts, hip dysplasia, hypothyroidism, patella luxation, or potential dental issues. If you're prepared to take on the responsibilities of raising a Havapoo, expect to be flooded with love and unforgettable memories for many years.
Conclusion for Havapoo Puppies for Sale
If these recommended Havapoo breeders are too out of reach, we'd like to remind you to do your due diligence when finding a breeder. To stop shady puppy mills, false promises, and other tactics for money, we recommend you find a Havapoo breeder that wholeheartedly cares for their puppies.
You'll want to always request an in-person visit to see the breeding operations and facilities. If you can't see the facilities in person, have a video conference to get to know the breeders, the parent dogs, and the puppies.
Other articles you might like:
FAQs about Havapoo Puppies
How much does a Havapoo puppy cost?
Havapoo puppies from reputable breeders range in cost from around $2,000 to $3,400. This does not include any transportation costs. We always recommend that you travel in-person to see the breeder's facilities.
What is the temperament of a Havapoo?
Havapoos are spirited, energetic, and friendly. Havapoos make great family dogs. They are naturally friendly and outgoing, and it's in the Havapoo's nature to please their owners at all times. Read more about Havapoos in our Best Havapoo Dog Breed Guide.
How big will my Havapoo puppy get?
Havapoos are small dogs, often classified as "toy." An adult Havapoo measures between 8 to 15 inches (20 to 38 centimeters) tall. Depending on age, they may weigh between 15 to 33 pounds (7 to 20 kilograms).
I'm having trouble finding Havapoo breeders near me – what can I do?
You want to buy a Havapoo puppy from a reputable breeder, but you can't seem to find one near you. What are your options? Well, your best option is to invest in traveling out of town or out of state to see the breeder yourself. This may seem like a lot of money on top of the cost of the dog and preparing your home for a new puppy, but it's worth it.
Another option is using a transport service. Many Havapoo breeders offer air travel or ground travel, but at an additional cost. If you go this route, video chat with the breeder during your Havapoo puppy purchasing process. Many reputable breeders offer video chat appointments upfront, and some even require them.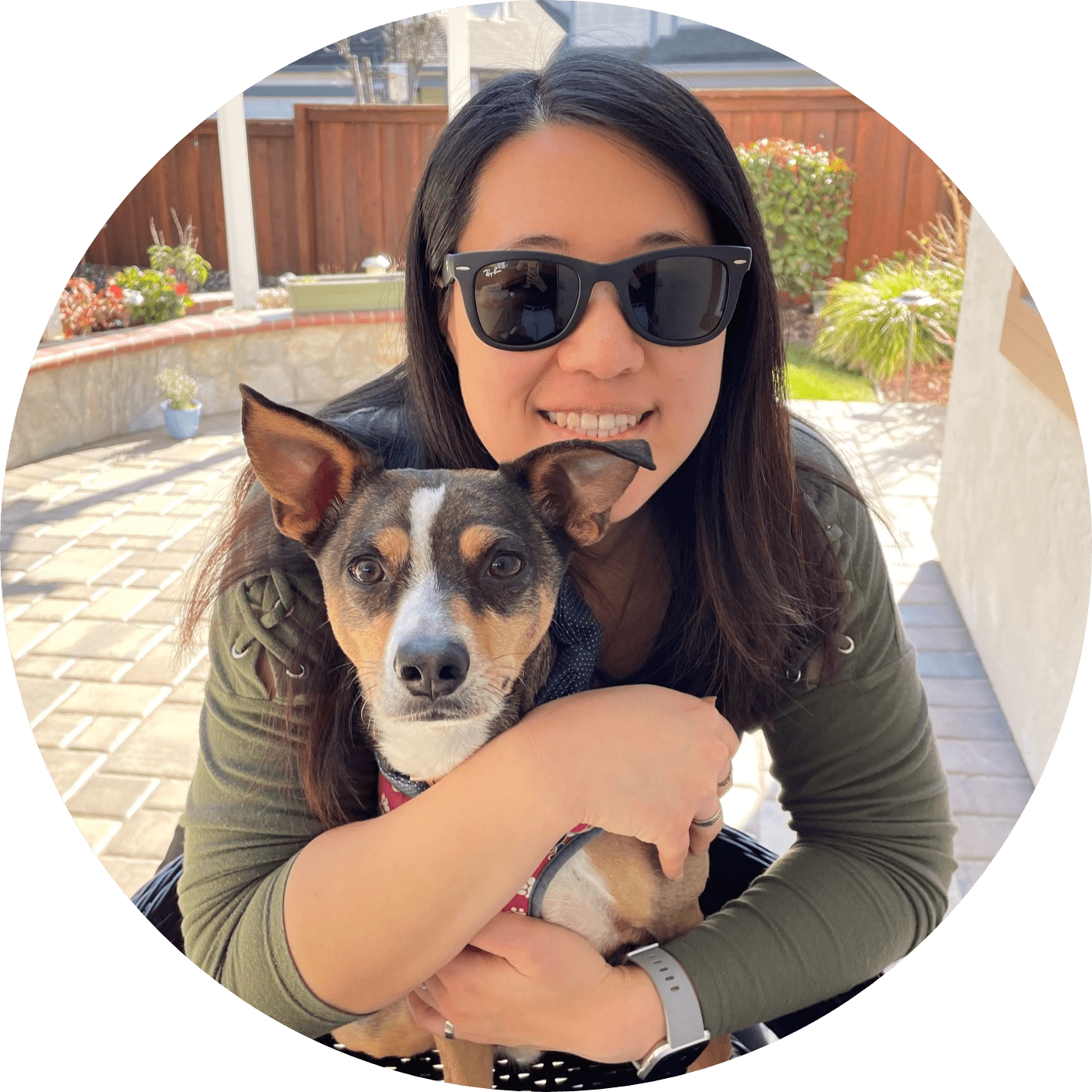 Dr. Sabrina Kong graduated from the Royal Veterinary College in England in 2016 and has been working at a small animal clinic in Northern California since then. She grew up in the Bay Area and got her bachelor's degree from Cal Poly San Luis Obispo. She also became a Certified Canine Rehabilitation Practitioner through a program at the University of Tennessee.
When she isn't in the clinic taking care of her four-legged patients, she enjoys traveling and trying new foods with her friends and her three-legged dog, Apollo. She adopted Apollo from her clinic when he was a puppy with numerous health issues. Dr. Kong truly cares about taking care of animals.