Are you searching for Havapoo breeders in Ontario? You're not alone! The teddy bear look-alike dog is more popular than ever in North America. The interest in Havapoos is not surprising, considering their playful personality, intelligence, and cute looks.
The fact that Havapoos are hypoallergenic certainly bolsters their popularity. These dogs are also known as Poovanese, Havadoodles, and Havanoodles are all the rage. They are great dogs for small living spaces and make ideal family pets as they are friendly with children and other pets.
Before scrolling down this list of Havapoo breeders in Ontario, check out these other recommendations from our team at We Love Doodles: Best Cockapoo Breeders in Ontario and Best Labradoodle Breeders in Ontario.
Havapoo Puppies For Sale in Ontario
If you are looking to buy Havapoos, make sure to choose reliable and ethical breeders. We recommend the following breeders below.
Havapoo Product Recommendations: Best Whitening Shampoos For Dogs and Best Dog Scooting Treatments.
1. O' Ranch Puppies
Although O'Ranch Puppies is not a Havapoo breeder in Ontario, it delivers puppies anywhere in Canada. Their online friendly policies and ready availability make it easy to choose a puppy remotely and have it delivered across provinces.
The breeders offer several breeds in addition to Havapoo; they breed Havanese, Cockapoos, and Cavalier King Charles crossbreeds. O'Ranch wants you to get a dog that suits you best.
They consult with you to understand your lifestyle and personality and then recommend the most suitable breed. They want you to see the adult dog instead of just falling in love with the puppy version.
They want you to understand the responsibility of keeping a puppy in your home and with your family, and they make sure of it during the application process.
If you wish to adopt a puppy from O' Ranch, then you need to keep the following in mind:
To visit the kennel, you need to make a reservation first.
A reservation contract will be sent to you by email that you need to sign and send back with a $100 deposit.
They will then send you the date you need to visit the kennel to pick up your puppy.
24 hours before you come to pick up your puppy, you will need to transfer the remaining money.
All puppies are sold with a 30-day guarantee from contagious disease and two years for genetic disorders.
It is on a first-come, first-serve basis. You will get priority if your reservation was first in line for a litter, then second, and so on.
 The reservation contract is essential for deciding who gets the first pick of the litter.
O' Ranch Puppies Details
2. River View Puppies
River View Puppies is a breeder that specializes in breeding the most adorable and well-bred Havapoos in Iowa, USA. Although they are not located in Ontario, they offer domestic and international delivery of their puppies. River View Puppies will air transport your Havapoo wherever you are located in North America.
To adopt a River View Havapoo puppy, you need to know the following:
The application fee is $250, and this is non-refundable. Filling out an application fee is the first step in the adoption process. The money will be applied to the purchase of your puppy.
The business will post about the availability of upcoming litters on its website. This is the time to submit your application.
If your application is shortlisted, you will be notified when the puppy is between 5-6 weeks. You will then have three days to choose your puppy.
After you have chosen your puppy, you will be kept up to date on their growth until they are around 10 weeks old.
Full payment for airfare and other expenses must be made by week 8.
If you do not pick up or pay for air transport for your puppy by 12 weeks, you will be charged $10 boarding charges per day.
The total amount charged for shipping the puppy within the country is $450. You'll have to contact the breeder for a cross-country shipping fee as the airfare may differ.
The shipping cost covers the following:
Airfare
Carrier
Health certificate
Mileage to airport
Immunization and de-worming certificate
Vet approved well-puppy certificate
River View reserves the right not to ship any Havapoo puppies if they feel the temperature is too cold or hot for the puppy.
Although the puppies travel in temperature-controlled carriers, it is the temperature on the tarmac that might be too extreme for them. In that instance, the pet parent will have to travel to the breeder to collect their Havapoo.
River View Puppies Details
3. Prides Puppies
Prides Puppies is a family-owned business that breeds Havapoo puppies in Michigan, USA but ships them all across North America. They are one of the most trusted sources for Havapoo puppies and were dubbed the top breeder for Havapoos by We Love Doodles.
Prides Puppies is a family-owned business, and they take pride in treating each puppy with love and affection. There is no kennel culture here, but rather treats and cuddles.
Prides Puppies has family volunteers and help with the care of the puppies, so they are constantly interacting with children all the time. All puppies from Prides Puppies are American Kennel Club and Canadian Kennel Club certified.
If you wish to adopt from Prides Puppies, you need to keep the following in mind:
Prides Puppies has provided references on their website so that you can do a quick background check.
They can ship your puppy if home delivery is not possible.
A pet nanny can be arranged if you would like that.
All puppies are guaranteed for one year
All pets are up to date regarding immunization and de-worming mediation.
All the pets are fed the best dog food available in the market, and their diet is given special attention.
They have shipped puppies to Canada and across the United States in the past with success.
Prides Puppies Details
4. Sunny Day Puppies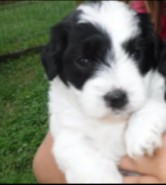 Last on the list of Havapoo breeders in Ontario is "Sunny Day Puppies." Sunny Day Puppies has been a breeder providing designer dogs since 2010.
They provide Havapoo puppies that are happy and healthy. Sunny Day advertises Havapoo as a great dog since they are lap-sized and do not shed. They are generally friendly dogs and great first-time dogs.
If you are interested in adopting from Sunny Day, then you should know the following:
The non-refundable deposit is $300.
There are two lists that your name will be on. One will be a backup list if you do not get your first choice.
The website has a complete directory of all the available puppies. You should read the web pages about their breeding practices.
All the puppies are very well socialized, which is one of the main characteristics of Havapoo puppies from Sunny Day.
All puppies are immunized and receive de-worming medication.
Every new puppy goes home with a small bag that has lots of information, including Sunny Day's book on 'How to Raise a Puppy You Can Live With.'
Having your puppy flown is possible and has been done before. Please call Sunny Day for more information.
If you are planning on picking up your puppy, then Sunny Day has given a list of possible hotels you can stay at so you can plan your visit easily.
Generally, their website is well stocked with information and will give you a complete picture of what you should be looking for when choosing a new Havapoo puppy.
Although they are not Havapoo breeders in Ontario, they are a great choice. Sunny Day ships Havapoo puppies across the US and Canada regularly; you can check reviews. Having a reliable breeder that will ship your puppy to you is a great option.
Sunny Day Puppies Details
How to Choose a Havapoo Breeder in Ontario
If you are looking for a Havapoo pet breeder in Ontario, you may find it difficult. But do not despair because, with so many great Havapoo breeders in other cities in Canada and the United States, you are certain to find one that fits your requirements.
When looking at breeders, you need to ensure that they are reliable, responsible, and reference-worthy. If you know other people who have used a breeder, definitely put them at the top of your list.
Where Can You Find a Reliable Havapoo Breeder in Ontario?
Finding a Havapoo puppy breeder in Ontario is a difficult task. But with the above list, you have a head start on where to look. Staying away from puppy mills and other shady businesses is important when looking for reliable breeders.
If you cannot find a reliable breeder in your area, you should consider looking at a breeder in a different town that is open to transporting the puppy by air. Air transportation has changed the way dogs are sold now across the United States and Canada. Therefore, the world is your oyster!
Conclusion For The "Best Havapoo Breeders in Ontario"
Havapoos are great dogs to have around your children and as a first-time pet. Small in size and very friendly, it is no wonder that the Havapoo is one of the most popular breeds of dogs.
However, they are hard to find! There are very few breeders that specialize in Havapoos. The most widely available Havapoos are found in pet marketplaces, but we recommend you steer clear of them unless sure of their ethics.
When choosing the breeder, it's best to visit in person. However, if you are too far away, then request a virtual visit to confirm the authenticity of the breeder.
For more guides similar to this list of Havapoo breeders in Ontario, you can check out:
Before you purchase a Havapoo from a breeder in Ontario, you can learn more about the breed by watching "Havapoo – All Important Facts and Details About the Havanese and Poodle Mix" down below: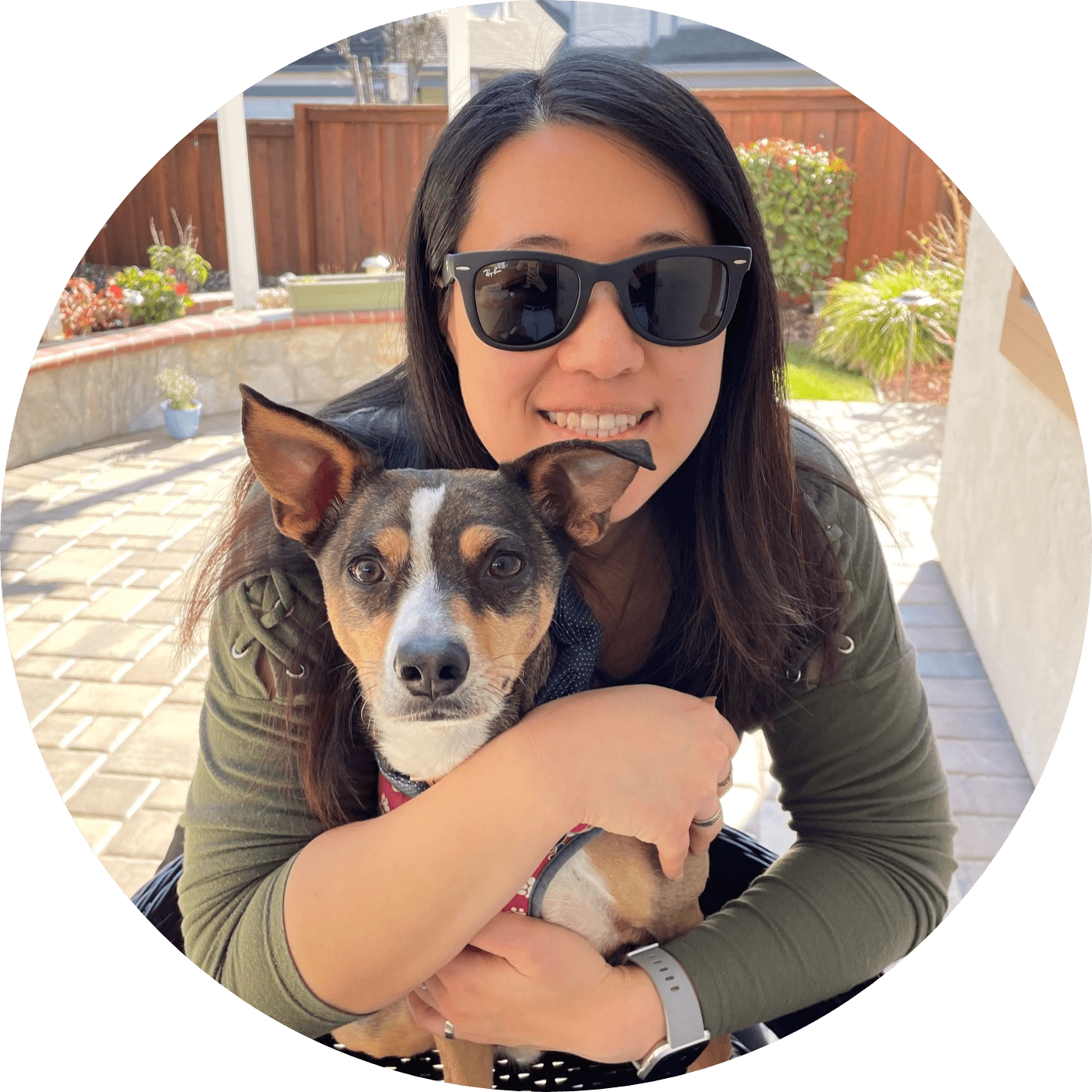 Dr. Sabrina Kong graduated from the Royal Veterinary College in England in 2016 and has been working at a small animal clinic in Northern California since then. She grew up in the Bay Area and got her bachelor's degree from Cal Poly San Luis Obispo. She also became a Certified Canine Rehabilitation Practitioner through a program at the University of Tennessee.
When she isn't in the clinic taking care of her four-legged patients, she enjoys traveling and trying new foods with her friends and her three-legged dog, Apollo. She adopted Apollo from her clinic when he was a puppy with numerous health issues. Dr. Kong truly cares about taking care of animals.