Known as the Havadoodle or Havanoodle, the Havapoo is a mix between the Havanese and the Standard Poodle. Since the Havapoo is partially Poodle, many dog enthusiasts describe them appearing teddy bear-like. They might appear small and shy, but Havapoos are quite companionable dogs. With the traits passed down from its parents, it's no wonder why they make the perfect addition to a family-like environment.
The Havapoo wasn't recognized by the American Kennel Club until 1995. Since then, there has been an increase of interest for this Doodle breed. If you're considering bringing home another family member, then this Havapoo dog breed guide will cover everything you need to know.
Other articles you will like: Labradoodle Dog Breed Guide
Characteristics of a Havapoo
Similar to other Doodle breeds (Goldendoodles, Bernedoodles, Labradoodles, etc.), the Havapoo is known to be quite the charm that's filled with energy. With that in mind, let's check out its characteristics.
Breed: Standard Poodle & Havanese
Temperament: Charming, loyal, spirited, outgoing, etc.
Typical Standard Height (Approx.): 8 to 15 inches
Typical Standard Weight (Approx.): 7 to 30 pounds
Life Expectancy: 12 to 15 years
Other Names: Poovanese, Havanoodle, Havadoodle
Aside from being a mix between the Havanese and the Standard Poodle, these dog breeds are loyal and spirited. For a small-sized dog, the Havapoo has an enormous heart and affection towards its owners. For typical standard height, they can grow as tall as 15 inches and weigh between 7 to 30 pounds. Unlike the Bernedoodle where its lifespan is up to 18 years, the Havapoo's life expectancy ranges between 12 to 15 years. In case you didn't know – the average life span of a dog is between 10 to 13 years, which means the lifespan of a Havapoo is slightly above average.
Origins
Without many documents, tracing the origin of the Havapoo is quite challenging. From what we gathered, they came into existence around 20 to 30 years ago. As for the parent breeds, the Havenese came from Cuba and the Standard Poodle is believed to have come from Germany.
Havanese: Originated from Cuba, the Havanese is considered the National dog. Adored by many, this dog breed gets flooded with love from people living in the country. Back then, rich people had them as their lapdogs. Aside from being loved by many generations, the name of this dog breed originated from Cuba's capital, Havana. According to the AKC, the Havanese is placed in the toy group category for dogs. For a small-sized dog, they provide almost anyone with the same kind of affection.
Poodle: Believed to have originated from Germany, the Standard Poodle has been around for four centuries. During the early of its existence, they were used as gun dogs helping hunters retrieve ducks and other small animals. Throughout history, the Standard Poodle's appearance was appreciated by many people in France. Known for its beauty and intelligence, this dog breed ranks among the top 10 trendiest dogs. After all, they're one of the oldest known dogs.
Size Information
The Havapoo measures between 8 to 15 inches (20 to 38 centimeters) tall. Due to their small size, they can weigh between 15 to 33 pounds (7 to 20 kilograms) depending on age. With short legs and a tiny body, they're often described as a "toy" dog breed. Because of its size, Havapoo owners love to have them on their laps. When you're purchasing a Havapoo, you need to be cautious about who you buy it from. 
You'll want to buy your Havapoo from a reputable breeder. By going to a trusted breeder who genetic and health tests their dogs, you're less likely to deal with potential health issues for your Havapoo. A Havapoo puppy will appear smaller than other Doodle puppies because of its physique. For such a small size, it's no wonder Doodle loves like this mini and toy size dog. Havapoo owners not only love to keep them as lap dogs but they also love to lay on their owner's lap as well.
Temperament & Personality
Just like their parent breeds, the Havapoo provides many admirable character traits. For instance, they are naturally friendly, lively, and quite the outgoing type. Havapoos are known to be intelligent, jaunty (jumping and running around), and caring. After all, it's in the Havapoo's nature to please their owners at all times. Due to their affection, it's normal to encounter them laying around on their owner's lap or hanging around by their side.
Havapoos also do this as a way of showing their friendship and unconditional love. It's enough to point out that some Havapoos (although rare) are calm and relax when around its owner. Other traits of the Havapoo includes them being shy, which will cause them to hide at times. If you happen to notice that your Havapoo isn't showing any natural traits or displaying love towards its owner, just know that they're okay.
If you're contemplating about bringing home a new family member but have a kid at home, then going for a Havapoo would be a great choice. Havapoos' spirited and energetic nature allows them to easily keep up with your child's energy. It's an ideal option given that they're not only easy to train but they like being around their owners and family. Unlike other dogs, Havapoos tend to get along with just about anyone including strangers. It's worth noting the more people Havapoos come across, the more comfortable and confident they'll become.
Havapoos' friendly nature extends to other animals and pets as well. Not only other dog breeds, but they can be friendly to even cats. If you're living with a family and have other pets at home, you can best bet that your Havapoo will blend in well.
Nutrition
Unlike Bernedoodles or Goldendoodles, the Havapoo doesn't consume that much food. They consume less food because of their small-bodied structure, which means they don't need much to satisfy their needs. Havapoos are rather tiny from the day they enter this world. To feed your Havapoo, you'll need about one cup of dog food. Weighing about 250 grams, you can feed your companion twice to three times per day.
You should always feed your Havapoo high-quality dog food. Avoid dog food that contains artificial fillers instead go for nutritious food that is high in proteins as well as minerals as this helps in sustaining their high energy levels.
Grooming
Just like every other dog breeds, Havapoos need grooming from time to time. Luckily, grooming this puppy is quite simple. They don't collect odor as easily as other dogs, which means less washing for the owner. With the proper dog shampoo, washing your Havapoo once per month is perfectly fine. If you overdo it and wash your Havapoo constantly, it'll eliminate its natural oil and dry out their skin.
Since they have curly hair, you're going to need to brush them at least once or twice per day. Once you've taken care of your Havapoo's coat, focus on its nails. For many dog owners, cutting a dog's nail can sometimes be a struggle. If you're unable to take care of this, then it might be a better option for you to bring your Havapoo to a professional dog groomer.
Exercise
Havapoos need exercise to stay healthy shape. Similar to every other dogs, you should have a daily routine for your companion to get exercise outdoors. Whether it's going for a jog, a walk, or letting it play around your house or backyard – an hour per day is the perfect number for a Havapoo. Like humans, Havapoos can get bored at times. You can help improve your companion's lifestyle by purchasing dog toys to keep them more entertained.
Training
Havapoos are ideal when it comes to training. Being a Havanese mixed with the Poodle, they are easy to raise and train. Havapoos love getting attention from people, which makes them easy to train for beginners and experts alike. It's worth mentioning that if you're training your Havapoo, you should reward them for good behavior. By rewarding them for good behavior, it's proven to be more effective than punishing them for bad behavior.
During the process of training your Havapoo, you should try to be as assertive as possible. While they're made of pure love and joy, Havapoos can be sensitive animals. To avoid them mirroring your emotions, try to stay calm and relaxed when and they'll feel the same way.
Health
The lifespan of a Havapoo is between 12 to 15 years of age. Even if your Havapoo appears to be healthy, there are certain issues that it could inherit from its parents. As mentioned in several other Doodle guides, not all dogs are 100% free from health problems. If a Havapoo breeder promises you this, it's better to walk away and work with an honest breeder instead. Below are the potential health problems that your Havapoo may potentially deal with.
Cataract: When this problem arises, your Havapoo may be dealing with sight issues. Since their eyes become cloudier, it'll be difficult for them to see due to slight blindness. Your Havapoo won't understand what's going on, which can increase its anxiety. Fortunately, the removal of the cloudiness in their eyes is possible through surgery. If you're suspecting that your Havapoo is dealing with this, you can take your companion to get his/her eye examined.
Hip Dysplasia: When your Havapoo's hip joint shows an unnatural development, it'll make them irritated and in pain. To ease your dog's pain, you can help your Havapoo get by through medication. If the problem appears to be severe from the looks of it (Havapoo limping, etc.), then surgery might be the right direction to take.
Hypothyroidism: This is another common disease that could potentially happen to your Havapoo. This situation occurs when your dog's thyroid does not produce a healthy amount, which leads to the reduction of its metabolic level. With the right medication, you can treat your Havapoo.
Patella Luxation: Unlike bigger dog breeds, this health issue occurs mainly in smaller breeds with kneecap problems. It'll be difficult for you to tell whether your Havapoo is in pain but the sooner you find out, the better. Depending on the severity, your Havapoo might need surgery.
Dental Issues: Your Havapoo could be dealing with tooth decay and gingivitis. Other dental issues include plaque and the build-up of tartar. If you're not taking your Havapoo to get its dental problems treated, it can lead to more unnecessary problems such as gum disease. These small infections can lead to bigger problems. To reduce the risks, try feeding your Havapoo a healthier diet and brushing.
Appearance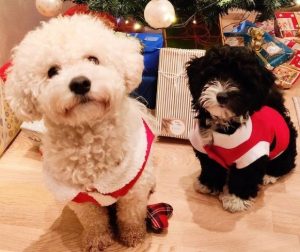 As for the appearance of the Havapoo, they generally have the curly hair of a Poodle. Havapoos are small with a roundish head and dark eyes. As for their coats, it's usually thick and curly. You can find a variety of colors when it comes to the Havapoo such as gray, white, black, apricot, red, cream, light brown, etc.
Price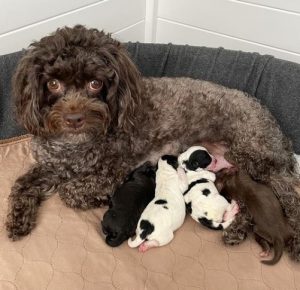 If you're ready to purchase and bring home a Havapoo, you can expect the price to range between $1,800 to $5,000. Usually, the high price is because they're registered Havapoo puppies that have multi-color coats. For budgeters, it can be less costly if you find a Havapoo puppy to rescue or adopt from a shelter instead.
For rescued puppies, the price can range between $200 to $500. While cheaper might sound better, you won't be able to see their medical or health history and it will take a lot of time to find one of these dogs to adopt. We usually recommend purchasing your Havapoo from a reputable breeder because they'll understand your potential companion better than anyone else.
Conclusion for Havapoo Dog Breed Guide
For a tiny-sized dog with a heart of gold to the high intelligence of a Poodle, the Havapoo (along with other Doodles) can be a great addition to a family with children or other pets. Unlike other Doodles, the Havapoo's small size body is perfect for owners who don't like managing bigger dog breeds.
They're easily adaptable to new environments, affectionate, and trainable. If you're sad, happy, or feeling whatever emotions, your Havapoo will be there on your lap bringing you indescribable feelings for many years to come. After all, they are the gift that keeps on giving.
Like this Havapoo Dog Breed Guide? Check out this video:
Garrett loves animals and is a huge advocate for all Doodle dog breeds. He owns his own Goldendoodle named Kona. In addition, he volunteers at the Humane Society of Silicon Valley, where he fosters dogs and helps animals. Garrett enjoys writing about Doodles and believes that dogs can teach humans more about how to live than humans can teach a dog.
Why Trust We Love Doodles?
At We Love Doodles, we're a team of writers, veterinarians, and puppy trainers that love dogs. Our team of qualified experts researches and provides reliable information on a wide range of dog topics. Our reviews are based on customer feedback, hands-on testing, and in-depth analysis. We are fully transparent and honest to our community of dog owners and future owners.