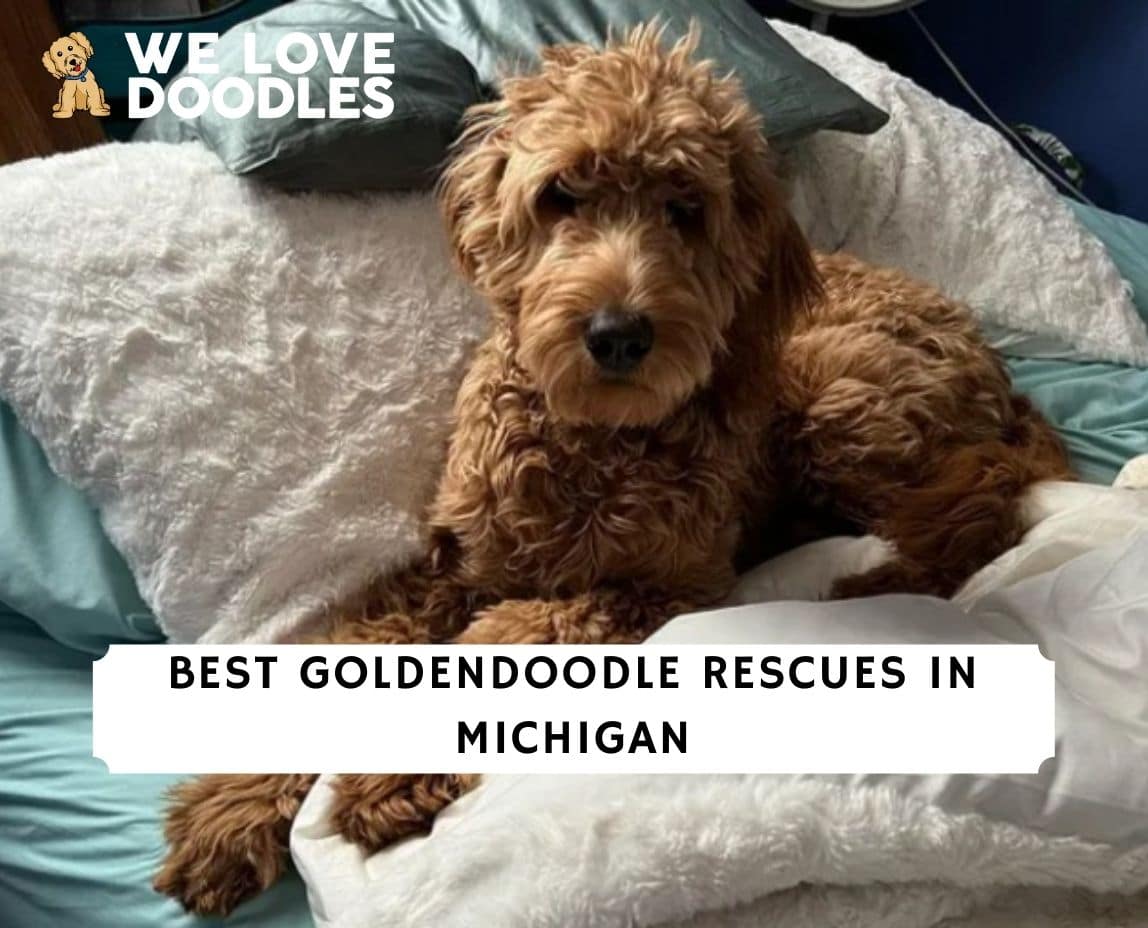 If you're searching for the best Goldendoodle rescues in Michigan, then you've come to the right place. Goldendoodles are incredibly wonderful dogs that make the perfect family pet. Goldendoodles are classified as a designer hybrid cross between Golden Retrievers and Standard Poodles. One of the reasons they're so popular is because they have the best qualities of each.
Goldendoodles are loyal, affectionate, enthusiastic, playful, intelligent, and low-shedding. They make great family dogs because they're wonderful with children and other pets and easy dogs for first-time pet owners and experienced owners alike.
Many people believe that the only way to add a Goldendoodle to their family is by buying a puppy from a breeder, but this isn't the case. Did you know that you can quickly adopt a Goldendoodle from a shelter or a dog rescue? There are even a ton of breed-specific dog rescues across the country that focus on rescuing and rehoming breeds of all different kinds.
Not only are there a lot of Goldendoodle rescues out there, but you can also have a lot of luck finding Goldendoodles from rescues that are specifically dedicated to rehoming Golden Retrievers or Poodles as these will usually take in mixes containing those breeds. If you've never heard of breed-specific rescues, you may be wondering why they exist, but the answer is simple.
Certain breeds are in high demand around the world. As a result, these breeds are at risk of being put in abusive or neglectful circumstances so someone can use them to profit, either by selling the dog itself or by breeding it to sell the puppies constantly. Breed-specific rescues work hard to keep certain breeds out of the shelter system so that this doesn't happen to them.
They also work to seize these dogs from puppy mills which are abusive places where dogs are forced to breed and kept in small cages for their whole lives. Some states have more breed-specific rescues than others, but even if your state doesn't have a Goldendoodle rescue, it's still possible to adopt a Goldendoodle from a shelter or more general dog rescue.
These places will get all sorts of dogs and breeds throughout the year, so you may have to do a bit more work to check if they have a Goldendoodle, but it's worth it. You can also try reaching out to the staff at these rescues to let them know you're looking for a doodle. They may reach out to you the next time one comes through the doors.
Before scrolling down this list of Goldendoodle rescues in Michigan, check out these other recommendations from our team at We Love Doodles: Best German Shepherd Rescues in Michigan and Best Golden Retriever Rescues in Michigan.
Find a Goldendoodle Rescue Near Me in Michigan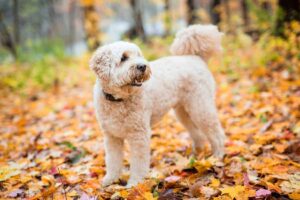 If you live in Michigan and are looking to adopt a Goldendoodle from a shelter or Goldendoodle rescue, this article is for you. We took the time to research all of the best doodle rescues and general dog rescues in the state to make your doodle adoption journey as easy as possible.
Goldendoodle Product Recommendations: Best Dog Bowls Made in the United States and Best Odor Resistant Dog Beds.
1. Almost Home Animal Rescue
Almost Home Animal Rescue is an incredible dog rescue located in Michigan. This non-profit organization was founded first in 1999 by a mother and daughter who loved to volunteer at animal shelters but quickly became distraught by the fate of many of the animals that ended up there.
All of the shelters they volunteered for were high-kill shelters, and the animals they bonded with were frequently euthanized before they had a chance to find their forever homes.
This rescue prides itself on being the first true Never Kill 501(c) non-profit rescue. Although this rescue isn't doodle-specific, they do frequently have doodles and doodle mixes available to adopt, so be sure to check out the dogs up for adoption on their list today.
Almost Home Animal Rescue Details
2. Detroit Dog Rescue

Detroit Dog Rescue is a non-profit dog rescue organization passionate about raising awareness of the ever-present homeless dog epidemic around the nation. They believe in educating the public on alternatives to high kill shelters. All of the dogs they pull for rescue are at risk of being euthanized in one of Detroit's countless high-kill shelters.
They rely on the help of volunteers and donations, and their dogs often go to live with foster families until they are ready for adoption. This isn't a doodle-specific rescue, but you can check their adoptable dog list to see if any Goldendoodles come up for adoption.
Detroit Dog Rescue Details
3. Wag Animal Rescue

Last on the list of the best Goldendoodle rescues in Michigan is "Wag Animal Rescue." Wag Animal Rescue is a non-profit rescue located in Michigan.
This rescue is super passionate about helping homeless dogs, cats, kittens, and puppies love forever homes that will keep them out of the shelter system and help them find the love and care that they truly deserve.
This shelter was founded in 1988 and since then has managed to rescue and re-home 15,078 pets. When this article was written, they had 86 animals in foster homes waiting to find their forever families. Talk about impressive.
Although this isn't a rescue specifically made for Goldendoodles, they do frequently see a lot of doodles in their rotation, and it's worth keeping an eye on their list of adoptable dogs for the next doodle that pops up.
Wag Animal Rescue Details
Getting Ready For Your Goldendoodle in Michigan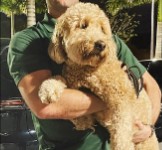 Many people look forward to owning a dog for their whole lives, and they are surprised to learn that dog ownership requires way more work than they initially thought. Dogs are living creatures and need a lot of love and support, and they depend on their owners entirely for everything.
Before you bring a dog into your home, you should do some reflecting to make sure that you're emotionally and financially ready to give a dog everything it needs. Be prepared to spend a few hours a day engaging with your puppy with walks, playtime, and snuggles.
You should also expect to spend quite a bit of money on your dog because they need things like food, treats, toys, grooming, vet visits, and regular medication for heartworm prevention and flea and tick treatments. If you want to get a sense of what to expect from dog ownership, we suggest talking to a dog owner you know who is in a similar stage in life and has a similar financial situation to yours.
They'll be able to answer all of your questions and help you understand what you can expect from the experience. Be sure to ask them questions about how much they spend on their dog each month, what they wish they knew before adopting a dog, how to make the transition more manageable, and anything else they think you should know.
Related: How to Train a Goldendoodle and Are Goldendoodles Hyper?
Goldendoodle Puppy-Proof Your Home in Michigan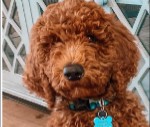 It's also essential to make sure your house is ready and safe for your new puppy before you bring them home. Dogs are incredibly curious and energetic creatures, and all dog owners can tell you that puppies have a knack for getting into things they shouldn't. To keep your dog safe and healthy (and protect your belongings), you need to puppy-proof your home before your dog arrives.
Dogs also love to chew on anything they can reach— especially when they're puppies. This means placing all harmful substances out of reach of your dog, including cleaning supplies, medications, and human food. Make sure you don't have a lot of exposed power cords where your doodle can quickly get them, and you may also want to put your expensive belongings on a higher shelf (including things that your dog can knock over with its tail).
If you're adopting your dog from a shelter or a rescue, keep in mind that coming into your home may be a stressful experience for your dog. An easy way to help them during this transition is by creating a safe space just for them. We suggest a bathroom or closet retreat if they feel overwhelmed.
Stock the room with a comfy bed or blanket, an item of clothing that smells like you, and some water in case they get thirsty. Show them this special room right away, so they know how to find it, and don't pressure them or force them to spend time with you at first. Don't worry. Once they get used to the new space, they'll act like they own the place.
Related: F2 Goldendoodle Guide and Goldendoodle Energy Level Information.
Conclusion For The "Best Goldendoodle Rescues in Michigan"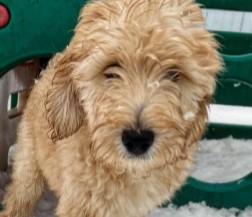 It's such an exciting time when you finally decide to adopt a Goldendoodle into your family. They indeed are the best dogs, and they make excellent companions. Adopting a doodle from a shelter or rescue is a great way to help save a life (and save a few thousand dollars). We hope this list of Michigan Goldendoodle rescues was helpful.
For more guides similar to this list of Goldendoodle rescues in Michigan, you can check out:
Before you adopt a Goldendoodle from a rescue shelter in Michigan, you can learn more about the breed by watching "Goldendoodle Dog Breed Guide – Dogs 101 – Goldendoodle Puppies to Adults" down below: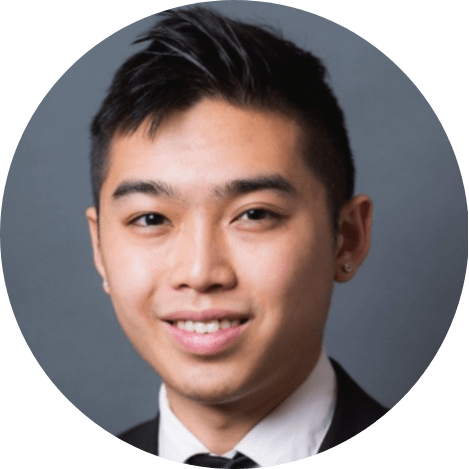 Andy is a full-time animal rescuer and owner of a toy doodle. When he's not saving dogs, Andy is one of our core writers and editors. He has been writing about dogs for over a decade. Andy joined our team because he believes that words are powerful tools that can change a dog's life for the better.
Why Trust We Love Doodles?
At We Love Doodles, we're a team of writers, veterinarians, and puppy trainers that love dogs. Our team of qualified experts researches and provides reliable information on a wide range of dog topics. Our reviews are based on customer feedback, hands-on testing, and in-depth analysis. We are fully transparent and honest to our community of dog owners and future owners.