If your dog has been hospitalized with a collapsing trachea, you're naturally concerned and unsure about what to do next. With this condition and the treatment options available, you're probably nervous about your dog's life expectancy. You may be contemplating euthanasia or just wondering whether it is in your dog's best interests to put him down. This article will discuss when to euthanize a dog with tracheal collapse and provides expert advice by a veterinarian.
Before scrolling down this list, you might like: When To Euthanize A Dog With Kidney Failure
What Is Tracheal Collapse In A Dog?
Tracheal failure is a progressive, fatal, and irreversible disease of the windpipe and lower airways that results in the collapse of the mainstem bronchi. Small dog breeds such as Chihuahuas, Poodles, Shih Tzus, Lhasa Apsos, Pomeranians, and Yorkshire Terriers, are more prone to tracheal failure because of their smaller airways.
Tracheal collapse in dogs can vary in severity because it is a major source of airway obstruction. Dogs with mild falls have little or no health symptoms, while those with more serious collapses have severe coughs and respiratory difficulties.
The cartilage in most small dogs is thick enough to hold the windpipe open when they are born, but when they get older, the cartilage weakens. When a dog's cartilage deteriorates with age, tracheal collapse signs appear in this older dog.
What Causes Tracheal Collapse In Dogs?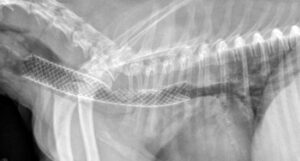 Tracheal collapse in dogs is caused by a collapsed trachea or windpipe, which makes it difficult for oxygen to reach the animal's lungs.
Tracheal collapse occurs as the tracheal rings flatten during inhalation while the wind is forced through the airway. This occurs as the cartilage rings lose some of their rigidity and resilience, or when the membrane becomes weak. This is often the outcome of a dog pulling or yanking on a leash that is wrapped around his neck.
Tracheal collapse in dogs is most common in middle-aged to senior dogs aged 4 to 14 years, but younger dogs can also be affected. Since tracheal collapse can be caused by a genetic factor, all dogs, regardless of breed, size, or age, are at risk.
The explanation for why tracheal failure happens in dogs is unclear, although there are reports of a congenital abnormality being a cause. As a result of congenital defects, the cartilage of the trachea rings weaken and become less cellular, resulting in respiratory difficulties.
Symptoms And Signs Of A Collapsed Trachea In Dogs
Coughing is the first symptom that a dog might be suffering from tracheal failure. This is because the narrowing of the trachea while breathing creates a tickle in the dog's throat, resulting in coughing.
The incidence of tracheal collapse symptoms in dogs is increased where there is rapid airflow, which strengthens the forces that cause the tracheal collapse. The more forcefully the dog breathes or coughs, the more severe the tracheal collapse signs may be.
When a dog with tracheal failure coughs, it is normally dry and can occur in solitary or clusters, depending on the strain in the trachea. This strain serves as a stimulant for the trachea, assisting veterinarians in diagnosing the disease in dogs.
Other signs and symptoms of tracheal collapse in dogs include difficulty coughing, exercise intolerance, fainting, wheezing noises when breathing in, and turning pale when excited, in addition to the dry cough.
The most common clinical symptom of tracheal failure is the goose honk, or a dry, harsh, and recurrent cough. The gums of dogs with tracheal collapse are also bluish in color.
Is It Possible For A Collapsing Trachea To Kill A Dog?

A falling trachea can be fatal to a puppy. The narrowing of the tracheal space can be so severe that not enough oxygen can enter the lungs. The dog will die of respiratory arrest in this situation.
Most of the time, the disease will not worsen and the symptoms will be reduced to coughing and exercise intolerance.
Evaluate The Treatment Options Before Euthanizing
As veterinary medicine progresses, new treatment options are constantly being created. Before deciding to euthanize, consult with your veterinarian for alternative treatment choices.
According to VCAHospitals, healthcare choices range from generic medications to complicated and advanced surgical procedures. It should be remembered, though, that regardless of medication, the dog will continue to experience pain and coughing throughout their lives.
It is beneficial to take the dog on a stroll. However, walking your dog isn't the only thing you'll need to do. It would be preferable if you walked your dog with a harness rather than a collar. This is because each time you add pressure with a collar, you could be obstructing the airway. This normally worsens the dog's ailment.
Humidification will be needed if the humidity in the air is poor. In areas with a high pollen count, air filtration becomes much more critical.
Surgery could be the only option in the most serious cases of tracheal failure. There are various surgical options available. However, prosthetic polypropylene rings are the most widely used. These are fixed to the trachea's exterior. Despite its complexity, this surgery has a high success rate.
There is also stenting, which is a form of surgical operation. This technique entails inserting a rigid frame into the windpipe. This helps to hold the windpipe open.
How Long A Dog Will Survive Tracheal Collapse – Whether To Bid Farewell

You will have some trouble if you have a terminally ill dog that is experiencing a tracheal collapse, and there are no manuals for how to cope with a tracheal collapse. You'll need a lot of patience because you'll be watching your dog's wellbeing deteriorate gradually.
When faced with a tracheal collapse, the dog may be unable to do quick leaps because it can experience pain when doing small movements. You will also have to contend with the hacking sounds of your dog's breathing.
Since dogs with a compromised trachea have a difficult time removing contagious microorganisms from their lungs, they will need to be treated with antibiotics regularly.
When the dog coughs violently, tramadol, hydrocodone, and other cough suppressants can come in handy.
Prednisone and related corticosteroid hormones are used to suppress inflammation and mucus secretion within the trachea. However, there are possible side effects of long-term usage that must be considered with caution.
Many severe cases of tracheal failure in dogs are lethal and the condition is rapidly progressing and permanent. The disease will deteriorate to the point that there is insufficient ventilation to the lungs, resulting in death due to respiratory distress.
Since there is no treatment for collapsed trachea in dogs, it might be necessary to seek euthanasia to ensure that your dog has a good quality of life in the end.
Tracheal Collapse Prognosis
A dog with a collapsing trachea will survive for up to two years after being diagnosed. A dog's survival with this disease can be doubled to 4 years or more with surgical operations.
You can help a dog live a longer life by taking extra precautions to help them treat their symptoms. Dietary modifications that result in weight loss, as well as maintaining clean air, will help your dog live longer with this disease.
Euthanizing your dog is a heartbreaking aspect of dog ownership, but you must decide whether or not to do so because the end stage of tracheal failure will occur as early as two years, requiring you to decide quickly whether or not to euthanize.
What Happens After Euthanization?

Your veterinarian will oversee the whole process and assist you in answering any questions you might have. Depending on the age of the canine, he or she will be set down on a table for the operation, whether it is a big breed or it is a small breed.
This will be the last time you see your pet, so emotionally brace yourself to say goodbye. Remember those happy times you had with your pet and remember that they will no longer be in agony.
You must make preparations to have your pet buried or cremated. This is a personal decision, and your veterinarian will usually give you the option of doing either and then assist you through the process.
Cremation is a common option because it helps you to keep your dog's ashes at home, close to you and your other pets. There are several resources available to help you honor your dog's memory.
Conclusion for When To Euthanize A Dog With Tracheal Collapse?
When your dog is terminally ill and suffering from tracheal collapse, it can be difficult to witness the dog's slow, steady, and painful decline in health. When you pull into the driveway, the dog avoids doing fun hops, and even the smallest movement causes pain.
If your dog is making coughing noises and trying to pull oxygen into his lungs, you should consider calling your doctor to have him put down. It's heartbreaking, but it's preferable to seeing your dog die from a collapsed trachea.
Pets are considered family members by the majority of people. In the same way, as family members can become ill, your dog can become ill, which can lead to death.
Although no one wants to think of euthanasia, it is sometimes a part of dog ownership and can happen to any dog. It is not easy to decide to put your pet down, but when the situation demands it, you must be courageous enough to let your pet rest easy.
Frequently Asked Questions
Can a dog live with a collapsed trachea?
Depending on how severe the trachea is damaged and blocked, a dog can live with a collapsed trachea. As long as there is oxygen reaching your dog's lungs, your dog can live a rather normal life. Severe cases of a collapsed trachea can be fatal.
How long do dogs with collapsed trachea live?
Dogs can live a rather normal life if a collapsed trachea is detected early. However, it's worthwhile to note that tracheal collapse is a progressive disease and gets worse as your dog ages. It's important to monitor your dog if you notice any signs of tracheal collapse like difficulty breathing. Severe cases will need treatment.
How much will it cost to euthanize my dog?
Euthanasia is affordably priced, and is accessible to most pet parents. You can typically expect to pay between $50 and $100 for the service.
However, services exist which allow you to have the procedure performed in your own home. The cost for this service is a bit more than for a procedure in the vet's office, but it may be worth your dog's comfort for you to invest.
Can my dog die from tracheal collapse?
Yes, in severe cases, a dog can die from tracheal collapse. However, most cases of trachea collapse are not fatal and can be treated by a veterinarian and by properly monitoring your dog. As your dog continues to age, its tracheal collapse will typically get worse so it's important to always monitor your dog.
You will also like:

Dr. Chyrle Bonk received her veterinary degree from Oregon State University in 2010. She has been practicing in a mixed animal clinic in rural Idaho ever since at Clearwater Valley Veterinarian Clinic. When she's not busy writing, treating animals, or working on her cattle ranch, she may be found somewhere in the Idaho wilderness with her husband and kids. Dr. Chyrle Bonk is a writer for We Love Doodles and verifies that the information we post is accurate the up to date! She is also an advisor and editor.
Why Trust We Love Doodles?
At We Love Doodles, we're a team of writers, veterinarians, and puppy trainers that love dogs. Our team of qualified experts researches and provides reliable information on a wide range of dog topics. Our reviews are based on customer feedback, hands-on testing, and in-depth analysis. We are fully transparent and honest to our community of dog owners and future owners.