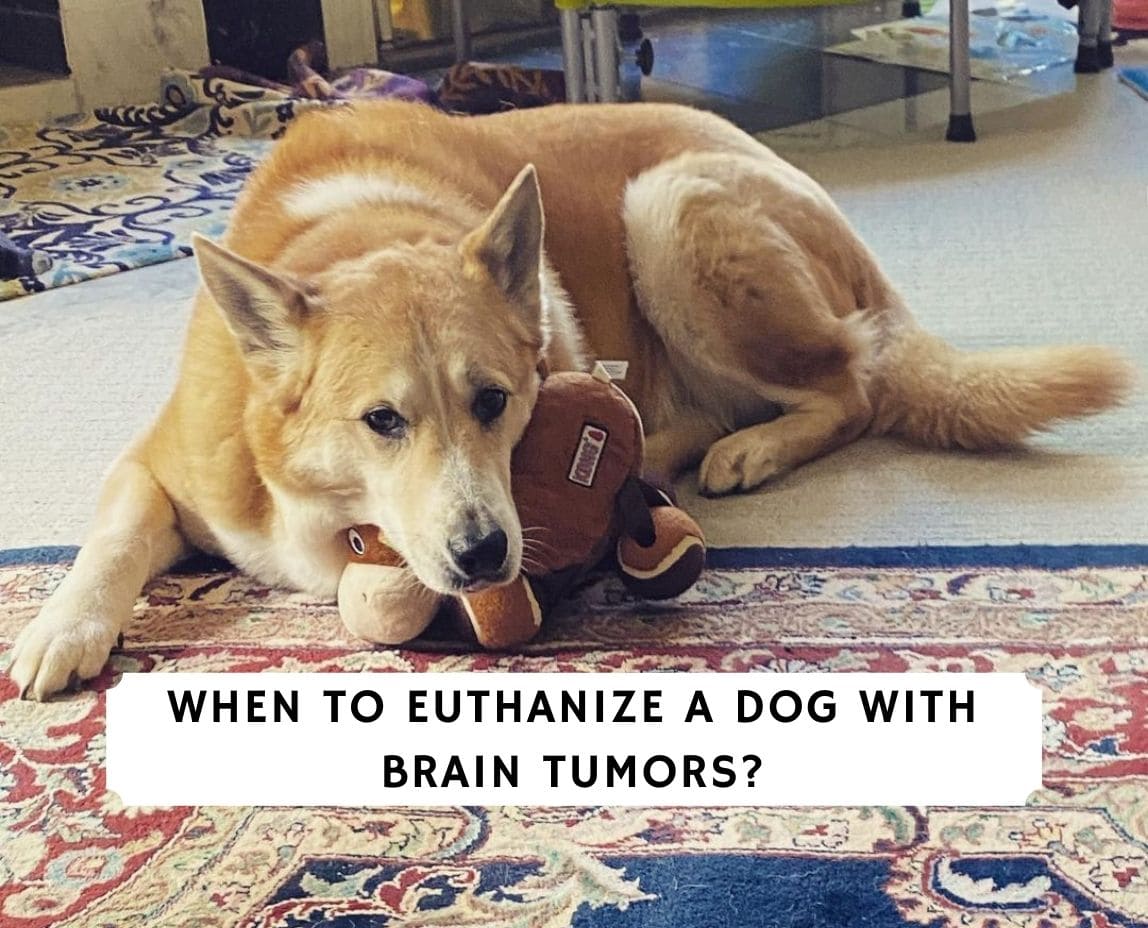 When your dog is diagnosed with a brain tumor, it's heartbreaking news. You likely have many questions, and of course you want to know how best to care for your baby. Making your dog comfortable during his illness is of the utmost importance, but you'll also need to know when to euthanize a dog with brain tumors.
Unfortunately, putting your dog down is sometimes the best option for your pup. We've asked Dr. Chryle Bonk, DVM, a veterinarian at Clearwater Valley Veterinarian Clinic, to assist us as we help guide you through the diagnosis, prognosis, and illness.
Remember that the cause of brain tumors in dogs is unknown. It's a relatively rare condition, and as far as we can tell, dogs and their owners can't be blamed for the onset of cancer. It's normal to go through the process of grieving your beloved pet – please seek professional assistance if you find yourself anxious or depressed.
Related article: Where to Euthanize a Dog for Free or Cheaply?
What Are the Symptoms of Brain Tumors in Dogs?
A brain tumor is a cancerous mass in your dog's brain, which is also called the cranial cavity. There are two main types of brain tumors in dogs: primary and secondary. Primary brain tumors arise from the actual brain tissue and can include several different types of cancers, including:
meningioma
choroid plexus papilloma
glioma
adenocarcinoma
pituitary adenoma
Secondary cancer types begin elsewhere in the dog's body and spread to the brain. These cancer types include:
hemangiosarcoma
melanoma
mammary carcinoma
Secondary tumors typically carry a more grim prognosis, as these cancers have already spread through other parts of your dog's body.
The placement of your dog's tumor will dictate the symptoms your pup experiences. Depending upon the location of the tumor, your dog may show one or many of the following symptoms:
Seizures
A loss of learned behaviors
Loss of hearing or vision
Incoordination
Tremors
Change in behavior
Change in appetite
Pain in the head or neck
Brain tumors occur most commonly in dogs over five years old, and some dog breeds are more likely to be diagnosed with the disease. Golden retrievers, boxers, and Dobermans are among these breeds. Even if your dog has not been diagnosed, it may be important to understand the ins and outs of brain cancer in dogs.
How Quickly Do Brain Tumors in Dogs Progress?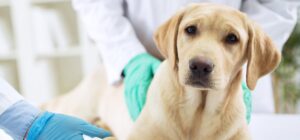 Just as the symptoms of brain cancer in dogs can vary with the location of the tumor, the speed in which the cancer develops will depend on the location and the type of tumor. For instance, tumors in the brainstem can accelerate very quickly if they impact your dog's respiration. Conversely, a small tumor in the forebrain can go undetected for months. You'll most likely only notice progress when your dog's behavior changes.
If you begin to notice any of the symptoms listed above, please bring your pup to the vet. If it is, in fact, a tumor, it's large enough to begin causing damage to the brain tissue and surrounding membranes. That means vet care is essential, particularly if the symptoms are progressing rapidly. Quick progression typically means quick growth of the tumor.
The prognosis, or life expectancy, of a dog with a brain tumor varies. Once again, you'll need to understand what type of tumor, the location of the cancer, and the speed at which the cancer is spreading or growing. The treatment you and your vet choose for your dog will also help determine how long your dog will survive.
A dog with a brain tumor can live anywhere from several months to just under two years. Speak with your vet about your dog's treatment plan, if any, and about when to euthanize a dog with brain tumors.
How Are Brain Tumors Treated in Dogs?
Depending on where and how big a brain tumor is, it may be treated using one of four ways:
Medication: Some brain tumors will respond to chemotherapy, although the brain is a tough area for these drugs to get into.
Radiation: Radiation is usually the treatment of choice for most brain tumors. It is able to deliver treatment to a specific area without affecting the rest of the body. However, there is still the risk of damaging healthy tissues around the tumor.
Surgery: Some dog brain tumors may be surgically removed depending on their size and location. Radiation or chemotherapy is often used after surgery to remove any leftover cancer cells.
Palliative: This is the course of treatment that most dog parents opt for. It just helps to keep your pup comfortable for as long as possible without treating the actual cancer. Palliative care may include pain medications, steroids, or anti-seizure medications.
When to Euthanize a Dog With Brain Tumors
With or without treatment, many dog parents still have to decide when to euthanize dogs with brain tumors. Unfortunately, there is no cure for cancer and the disease often progresses in a way that adversely impacts your dog's quality of life.
However, we know that making the decision to euthanize your dog is not an easy one! You and your veterinarian can discuss options together, and can develop the best plan of action. In the meantime, it's a good idea to watch for symptoms that indicate that your dog is suffering. These include:
Not eating: Dogs love to eat and get treats, often more than nearly anything else in their life. When a dog with a brain tumor stops eating for more than a couple of days, it means that they are either not feeling well enough to eat, are too weak to, or aren't coordinated enough to.
Inability to walk: Some brain tumors can mess with a dog's balance and mobility. When these symptoms progress to the point that a dog can't walk or get up and down by themselves, they are at risk for other injuries.
Inability to control bladder/bowel function: This may be due to decreased mobility or a form of dementia where they can't remember to go. Either way, if a pup is constantly having accidents, it creates a problem for the owners and can lead to other health issues.
Pain: Dogs with growing brain tumors may experience severe headaches simply because of the compression of the brain and surrounding tissues. When this pain becomes extreme enough to affect their daily activities and can't be controlled with medications, it's time to think about other ways of relieving it.
Endangering themselves or others: Sometimes, brain tumors bring on massive behavioral changes, including aggression. If a dog with a brain tumor becomes aggressive, it can endanger people or other animals in their lives.
Along with that goes endangerment to themselves. If a dog develops dementia due to a brain tumor, it may be at risk of hurting itself. For example, a dog with a brain tumor may wander out into traffic because they don't remember that it's a danger. If you've noticed your dog's quality of life significantly decrease, you should always consult a veterinarian about when to euthanize a dog with brain tumors.
Frequently Asked Questions
Of course, there is no way we can possibly answer each and every question you may have when a tumor is detected in your dog's brain. Treatment and care are personal decisions, and should be made between you, your family, and your veterinarian.
However, the disease can be confusing and we understand that you're looking for answers. Here are some of the most frequently asked questions we receive from our readers about when to euthanize a dog with brain tumors.
Is my dog in pain?
In many cases, yes. Brain tumors can cause pain in dogs, but once again, this will depend upon the location of the tumor. Your vet will probably prescribe pain medications for your dog. These will help to alleviate your dog's discomfort, but please note that the pain meds come with their own set of considerations. While NSAIDs (non-steroidal anti-inflammatory drugs) will help your dog, a stronger medication may be necessary. Prescription painkillers can make your dog's behavior change in several ways. Side effects include:
lethargy
loss of appetite
aggression
social distance
restlessness
inability to sleep
sleeping frequently
Speak with your vet if you have concerns. If you feel that your dog's reaction to painkillers is more disruptive than the pain, it may be time to decide whether to euthanize your dog.
How is cancer in dogs detected?
Before your dog's cancer is found, you'll probably have noticed that your pup is acting differently. If you've noticed symptoms of brain tumors, your vet will choose from a variety of diagnostics tests. Blood tests, biopsies, ultrasound, and needle aspiration are a few of the available tests.
Once cancer is detected, your vet will determine staging of the cancer. At this point, you can discuss available treatments, and you can decide whether to treat your dog at all. At this point, you can have an open discussion about when to euthanize a dog with brain tumors.
Does euthanasia hurt my dog?
No, your dog won't experience any pain should you choose to euthanize. Your pup will be sedated, and may feel a bit weird – like a "high" – as he's being put under. He will fall asleep, and only once he is asleep will his lungs and heart stop functioning. Rest assured that the process is peaceful for your dog, and he will feel no pain.
What happens to my dog after he is euthanized?
The decision regarding when to euthanize a dog with brain tumors is a difficult one. If you ultimately decide that this is the best course of action, you'll need to consider what to do with your pup's remains when it's over.
Ask your vet about ordinances in your area – in some cases you may be permitted to bring your dog home to bury him in your yard or a place that's special to you. Cremation services for dogs also exist, and you can typically leave your dog with the vet if you'd like your pup cremated. Individually cremated dogs will be returned to you, while communally cremated dogs will not.
You can scatter your dog's ashes in a place where this is permitted, or you can choose one of the other, more creative options. Your dog's remains can be mixed into paint, made into jewelry, or even pressed into a precious stone.
How much does it cost to put a dog to sleep?
Seek out references from your vet and from others who have gone through the process. The price of the procedure can range from $35 all the way up to $300, depending upon the provider and the methods they use. For an additional cost, you may even choose to have your dog euthanized in the comfort of your own home. Explore your options before you make a final decision.
I'm having trouble coping with the loss of my dog. What do I do?
The decision to euthanize a dog with brain tumors can be life changing – even debilitating – for some. After all, your pet was more than just a dog. He was your companion and your best friend. Grieving the loss of a pet is a normal, but painful, process.
Surround yourself with the people who love you as you go through this process. Commemorate your dog's life in a meaningful way such as holding a memorial service or even getting a tattoo. Observe your dog's birthday or the day of his passing each year if you like, and don't immediately rush to adopt a new puppy!
Should you find yourself grieving to an extent that you can't handle on your own, please seek help. Check with the AKC Pet Loss Support Group on Facebook, or find a local church or non-religious group that meets in your area. Remember – it will be okay. Mourning is natural and normal, and this feeling will feel subside. You'll never forget your companion, but the pain will become less intense with time.
Conclusion for When to Euthanize a Dog With Brain Tumors?
No dog parent wants to think about end-of-life care for their dog with a brain tumor. However, a diagnosis of a brain tumor can spark that conversation a lot earlier than anyone expected. Euthanasia shouldn't be looked at as a sad or cruel act; rather, it's a means of providing your dog with comfort and relief when he is suffering.
Not every dog diagnosed with cancer will need to be put down. But knowing when to euthanize a dog with brain tumors can be critical to your dog's comfort and your own peace of mind.
Other articles you would like:
Still curious about brain tumors in dogs? Check out the video below:

Dr. Chyrle Bonk received her veterinary degree from Oregon State University in 2010. She has been practicing in a mixed animal clinic in rural Idaho ever since at Clearwater Valley Veterinarian Clinic. When she's not busy writing, treating animals, or working on her cattle ranch, she may be found somewhere in the Idaho wilderness with her husband and kids. Dr. Chyrle Bonk is a writer for We Love Doodles and verifies that the information we post is accurate the up to date! She is also an advisor and editor.
Why Trust We Love Doodles?
At We Love Doodles, we're a team of writers, veterinarians, and puppy trainers that love dogs. Our team of qualified experts researches and provides reliable information on a wide range of dog topics. Our reviews are based on customer feedback, hands-on testing, and in-depth analysis. We are fully transparent and honest to our community of dog owners and future owners.