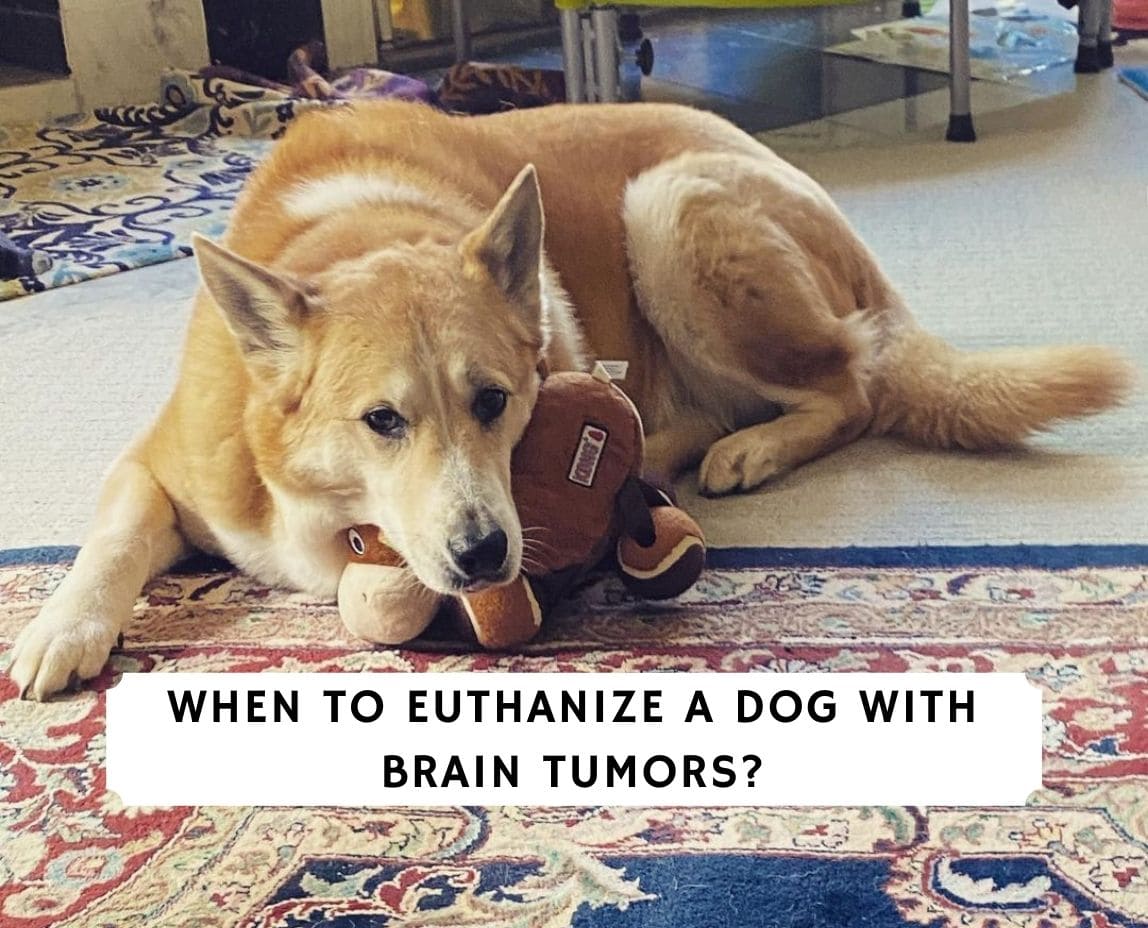 When your dog gets the diagnosis of a brain tumor from a veterinarian, you're no doubt filled with a lot of questions. In this article, we will break down what to expect, how long your dog has, and what are possible treatments for brain tumors. Additionally, most dog parents undoubtedly wonder when "when do euthanize a dog with brain tumors." We're here to help walk you through this process to help give your dog their best quality of life for as long as possible. This article was written by Dr. Chryle Bonk, DVM, a veterinarian at Clearwater Valley Veterinarian Clinic.
Always remember that the cause of brain tumors in dogs is not known. The disease is considered relatively rare, and it's not necessarily anyone's fault. Understanding the facts and when to euthanize your dog is an important question that veterinarians get asked a lot.
Related article: Where to Euthanize a Dog for Free or Cheaply?
What Are the Symptoms of Brain Tumors in Dogs?
A brain tumor is a cancerous mass in your dog's brain, which is also called the cranial cavity. There are two main types of brain tumors in dogs: primary and secondary. Primary brain tumors arise from the actual brain tissue and include caners such as meningioma, choroid plexus papilloma, glioma, adenocarcinoma, or pituitary adenoma. Secondary tumors are made up of cancer cells that have metastasized from a tumor elsewhere in the body. Examples of secondary tumors that have traveled to the brain include hemangiosarcoma, melanoma, and mammary carcinoma. Secondary tumors are the most lethal because cancer has already spread throughout your dog's body.
Where these tumors grow in the brain will determine what symptoms accompany them. Dogs with a brain tumor may show symptoms of:
Seizures
A loss of learned behaviors
Pacing or circling
Loss of hearing or vision
Incoordination
Tremors
Change in behavior
Change in appetite
Pain in the head or neck
Brain tumors occur most commonly in dogs over five years old. Some breeds, such as the Golden Retriever, Boxer, and Doberman, have a higher propensity for developing brain tumors.
How Quickly Do Brain Tumors in Dogs Progress?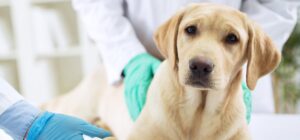 How fast a brain tumor causes damage to your dog depends on the type of tumor and the location. Tumors in the brainstem, for example, can be extremely quick if they cause damage to the part that regulates breathing, while a small tumor in the forebrain may go unnoticed for months. Most people only realize the progress of brain tumors in their dogs when they change their behavior.
If you're starting to notice symptoms of a brain tumor, that means that it is large enough to start causing some damage to the brain tissue and surrounding membranes. If those symptoms appear gradually, it means the dog tumor is growing more slowly. If symptoms appear suddenly and progress quickly, that brain tumor is growing more rapidly.
The life expectancy of a dog with a brain tumor varies, again, depending on the type of tumor, how quickly it is growing and where it is growing in the brain. Life expectancy can also be affected by which treatment, if any, you choose for your dog. That being said, dogs with brain tumors can expect to live anywhere from a couple of months to just under two years. Having a veterinary diagnosis with imaging is the best way to determine how long your dog may live with a brain tumor, as well as the best form of treatment.
How Are Brain Tumors Treated in Dogs?
Depending on where and how big a brain tumor is, it may be treated using one of four ways:
Medication: Some brain tumors will respond to chemotherapy, although the brain is a tough area for these drugs to get into.
Radiation: Radiation is usually the treatment of choice for most brain tumors. It is able to deliver treatment to a specific area without affecting the rest of the body. However, there is still the risk of damaging healthy tissues around the tumor.
Surgery: Some dog brain tumors may be surgically removed depending on their size and location. Radiation or chemotherapy is often used after surgery to remove any leftover cancer cells.
Palliative: This is the course of treatment that most dog parents opt for. It just helps to keep your pup comfortable for as long as possible without treating the actual cancer. Palliative care may include pain medications, steroids, or anti-seizure medications.
When to Euthanize a Dog With Brain Tumors
With or without treatment, many dog parents still have to decide when it's time to euthanize their dog with a brain tumor. No treatment is a cure, and the disease often progresses to the point where a puppy's quality of life is severely declined. Even after seeing how detrimental a brain tumor can be to a dog, it's still hard to know when euthanasia is the best option. Here are some signs that it's time to think about end-of-life care for your dog.
Not eating: Dogs love to eat and get treats, often more than nearly anything else in their life. When a dog with a brain tumor stops eating for more than a couple of days, it means that they are either not feeling well enough to eat, are too weak to, or aren't coordinated enough to.
Can't walk: Some brain tumors can mess with a dog's balance and mobility. When these symptoms progress to the point that a dog can't walk or get up and down by themselves, they are at risk for other injuries.
Can't control bladder/bowel function: This may be due to decreased mobility or a form of dementia where they can't remember to go. Either way, if a pup is constantly having accidents, it creates a problem for the owners and can lead to other health issues.
Pain: Dogs with growing brain tumors may experience severe headaches simply because of the compression of the brain and surrounding tissues. When this pain becomes extreme enough to affect their daily activities and can't be controlled with medications, it's time to think about other ways of relieving it.
Endangering themselves or others: Sometimes, brain tumors bring on massive behavioral changes, including aggression. If a dog with a brain tumor becomes aggressive, it can endanger people or other animals in their lives.
Along with that goes endangerment to themselves. If a dog develops dementia due to a brain tumor, it may be at risk of hurting itself. For example, a dog with a brain tumor may wander out into traffic because they don't remember that it's a danger. If you've noticed your dog's quality of life significantly decrease, you should always consult a veterinarian about euthanasia options.
Conclusion for When to Euthanize a Dog With Brain Tumors?
No dog parent wants to think about end-of-life care for their dog with a brain tumor. However, a diagnosis of a brain tumor can bring that conversation around a lot earlier than anyone expected. Euthanasia shouldn't be looked at as a sad or cruel act; rather, it's something that we can do for our dogs to help relieve their pain and discomfort. Knowing when to euthanize a dog with a brain tumor will be a decision made between you and your veterinarian. The type and location of the brain tumor will determine the extent and progression of symptoms. You and your veterinarian will use that to determine your dog's quality of life.
Other articles you would like:
Still curious about brain tumors in dogs? Check out the video below: