Is your dog very sick and needs to be euthanized? Many people look for common medications that they have at home to euthanize their dog. One medication that some people consider using is Benadryl. This is a common over-the-counter medication used to treat allergies in dogs and people. Many people wonder how much Benadryl it would take to effectively euthanize their dog.
Today, we will discuss "How to euthanize a dog with Benadryl" with Dr. Sara Ochoa who is a veterinarian based out of Texas. In general, before euthanizing your dog with Benadryl, we suggest that you call your veterinarian to make sure that you give them the right dosage.
Other articles you would like: Where can you Euthanize a Dog for Free or Low Cost?
Can you euthanize your dog with Benadryl?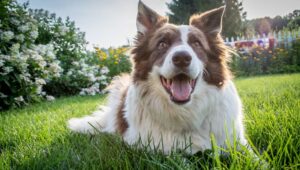 No, Benadryl will not effectively euthanize your dog unless done properly. There are not many great at-home over-the-counter medications that will euthanize your dog.
If you think it is time to euthanize your dog, it would be best to call your vet. They can help you decide if it is time, and may even help you find a low-cost or free method. Many veterinarians may offer house call euthanasia or recommend someone in your area that makes house calls for euthanasia.
How to Euthanize a Dog with Benadryl?
When looking at the dosage to use for euthanizing a dog with Benadryl, we look at the LD50. This is the dosage at which 50 % of animals in the study died. The dosage is 24 to 30 mg/kg IV.  So, a 50-pound dog would need to have 545mg to 681mgs or 22 to 28 tablets of Benadryl. This would mean that 50% of dogs could die from this amount. So, to effectively euthanize your dog with Benadryl, you may have to give a much higher dosage than this.
Since all studies are done with IV dosages, the oral dosage could be even higher. There are much better ways to euthanize your dog than by giving them a large amount of Benadryl. Additionally, Benadryl could cause other unwanted side effects that would cause your dog to suffer while they are dying.
If you are looking for an effective way to euthanize your dog, call your vet. They can assist you with euthanizing your dog. Your vet has access to medication that will swiftly and effectively euthanize your dog. If you don't properly euthanize your dog with Benadryl, there can be side effects.
Side Effects of Benadryl in Dogs
If you give your dog Benadryl, there are some side effects that you need to know about that you may see from high dosages of Benadryl. These side effects are:
Increased Heart Rate
Rapid Breathing
Dry mouth
Unable to urinate
Hypersalivation
Vomiting
Diarrhea
Change in appetite
Dilated Pupils
Agitation
Seizures
These side effects are not pleasant for you or your dog to experience. This makes Benadryl a medication that should not be used for euthanasia in dogs or given at very high dosages.
What does Benadryl do for your dog?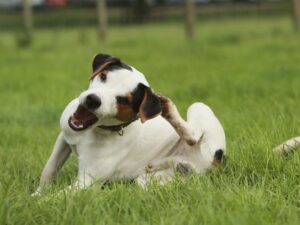 Benadryl is an effective anti-histamine for dogs.  If your dog is having an allergic reaction to something or has allergies, Benadryl is a great choice. The typical dosage is 1 mg/ pound twice a day.  This medication is a great first line of defense for an at-home allergy medication that you can give to your dog.
Other common uses of Benadryl in dogs are to treat:
Hives
Reddened skin
Runny nose and eyes
Swelling or inflammation
Sneezing
Coughing
Anaphylactic reaction
Decrease Histamine Response
Before giving any medication to your dog, it is best to talk to your vet. They can make sure that the dosage that you are giving is correct and that Benadryl will not cause any other issues.
How long does it take for Benadryl to work?
It can take 6 to 12 hours before your dog starts getting relief from taking Benadryl. This is why it is not an effective medication to use to euthanize your dog. You may give your dog this medication one morning, and it would take all day for you to start seeing results. After 12 hours, you would need to give your dog even more to maintain the levels of Benadryl in your dog's body.
What dogs should not take Benadryl?
There are certain medical problems where Benadryl will make your dog's disease and should be avoided. If your dog has any of the following conditions, it would be best to take with your vet before giving them Benadryl.
Glaucoma
Hypothyroid disease
Heart disease
Seizures
High Blood Pressures
Pregnant
Allergic lung Disease
Benadryl can cause these diseases to get worse or cause unwanted side effects that can cause your dog to have many other health-related issues.
When should I consider Euthanasia in my Dog?
When looking to know when it is time to euthanize your dog, there are a few things that you should consider.  These are questions that you should ask yourself:
Is your dog having more bad days than good days?
Is your dog eating and drinking normally?
Is your dog using the bathroom normally?
Is your dog happy to see you?
Does your dog seem to be in pain and suffering?
Your answers to these questions can help guide you on when it is time to euthanize your dog.  Your vet can also be a great person to talk to when trying to make the hard decision on if it is time to euthanize your dog.
Is it painful for a dog to be euthanized?
Euthanasia at your vet's office is the most humane way to euthanize your dog and is not painful at all. Most vets will sedate your dog before they euthanize them to help decrease any pain that they will feel. This even helps them not feel the stick of the needle.
Euthanasia solution first causes your dog to be very deeply sedated before stopping their heart.  Some dogs will take a breath or two after the injection. Many will quickly and peacefully pass.
Conclusion for How to Euthanize a Dog with Benadryl? 
If it has come time to euthanize your dog, there are many options for you to easily euthanize your dog. Most medications that you have at home will not euthanize your dog. It would be best for you to discussed euthanasia with your vet. They can help you decide if it is time to euthanize your dog or if there is something that can be done to help your dog feel happy and healthy again.
Other articles you might like:
Frequently Asked Questions
Will Benadryl kill a dog?
Benadryl can kill a dog if given in extremely high doses. If you're trying to euthanize your dog with Benadryl, we highly suggest that you consult a veterinarian. There are better medications and more humane ways to euthanize a dog.