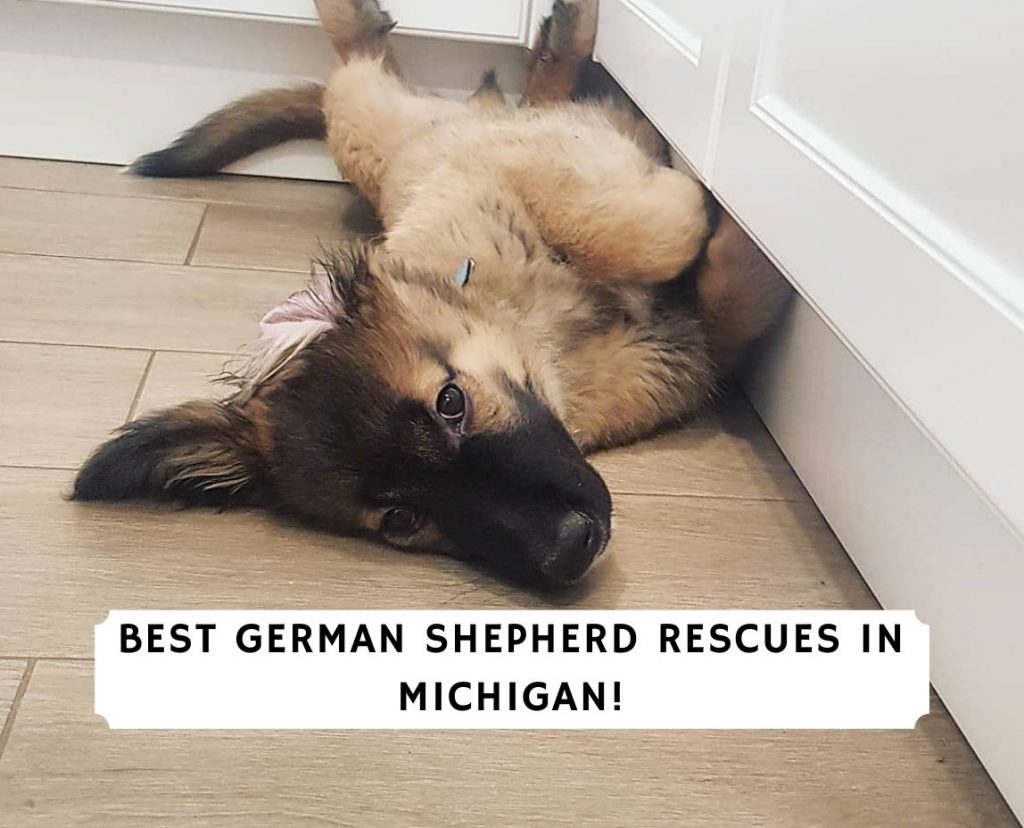 Famous for its iconic ears, beautiful black and brown coats, and high intelligence, the German Shepherd is one of the most popular dog breeds in the world. This active breed traces its origin to the classic German Shepherd, bred in the 1850s, for herding and protecting livestock. Despite the fact that it's one of the most recognizable dog breeds in the world, there are so many rescues that need help.
While there are many German Shepherd breeders and owners in Michigan, there are equally as many German Shepherds that need a rescue home. While there are few breed-specific shelters in the state of Michigan, there are many rescues and shelters that take in German Shepherds.
Many of these rescues and shelters receive their dogs from owner surrenders and the streets. Some German Shepherd rescues in Michigan are strays, abandoned dogs, homeless, or abused dogs. Since they are a large dog breed, many dog owners find it difficult to care for this type of dog. All of these factors important to keep in mind before choosing to adopt a German Shepherd rescue. Without further ado, here is our list of the 6 best German Shepherd rescues in Michigan.
Other articles you would like: Best Dog Rescues in Michigan and Best Doodle Rescues in Michigan.
1. Precious Pets Adoption League Michigan
Stray and abandoned companion animals find sanctuary at Precious Pets Adoption League located in Sterling Heights, Michigan. This non-profit rescue uses its foster home network to rescue as many companion animals as possible in Michigan and surrounding states. The rescue takes in dogs and cats, gives them the necessary medical care, and re-homes them with loving families.
They allow the rescued dogs and cats to stay as long as they need to before re-homing them. Some of their rescues have stayed in their foster care for as long as 1 year as they recover for their forever home.
While the dog shelter takes in all breeds, you have a good chance at adopting a German Shepherd from this rescue. Keep in mind that most German Shepherds at the rescue will be 1-year-old or older. It's unusual to find German Shepherd puppies at a rescue because many people typically surrender older dogs.
If you're interested in adopting from this rescue, call them during the week and they can inform you whether they have any German Shepherds in their care. The rescue usually has adoption shows every weekend at Sterling Heights Petco or Shelby Township Petco. Their adoption fees range from $250 to $500 for a German Shepherd rescue.
German Shepherd Rescue Details:
2. All About Animals
Founded in 2005, All About Animals is one of the largest wellness centers for surrendered or abandoned companion animals in Michigan. The rescue drives a "no more homeless pets mission" through four pillar programs, namely spay/neuter, wellness care, adoption, and community awareness. This dog rescue also has 4 veterinarian wellness centers in Auburn Hills, Flint, Detroit, and Warren. This will help ensure that all dogs are taken care of before being adopted out.
They place rescued cats and dogs in foster care with their Michigan volunteers as they search for permanent homes. In addition, All About Animals evaluates adoption applications on a best-match basis. This means that even though you apply early, you may not adopt a pet as quickly. They try to match all their dogs, especially German Shepherds, with someone who lives a similar lifestyle.
At the moment, the rescue doesn't adopt out of state and makes no exceptions. They adopt out German Shepherd rescue dogs at a fee of $150 and above. If you don't have time to adopt a German Shepherd rescue in Michigan, you can also consider volunteering to be a foster home. This will give you an awesome experience of what it is like to own a dog.
German Shepherd Rescue Details:
3. Detroit Dog Rescue
Over the years, Detroit's rate of homeless dogs has been on the rise. In 2012, rescue groups placed the number of strays between 20,000 to 50,000. This narrows down to 350 stray dogs per square mile which is an insanely high rate of dogs needing to be rescued. Although news sources report Michigan as a "no-kill state", this doesn't mean euthanasia rates in Detroit are non-existent. If these rescue dogs can't find new homes, chances are they will be euthanized.
Detroit Dog Rescue claims to be the first no-kill shelter in the city. The rescue was founded in 2012 and has committed itself as a canine companion rescue, rehabilitation, and placement facility. This dog rescue in Michigan has expanded its programs to include monthly low cost and free vaccination clinics. Since there are many dog breeds in their foster care system, you can easily find a German Shepherd in this rescue in Michigan.
To apply for adoption, you will need to fill in an adoption application for review. A Detroit Dog Rescue volunteer will review your application and help you determine the best dog match for you. Before applying, consider speaking to the rescue to find out the breakdown of dog breeds in their care.
Senior German Shepherds will cost you $200, adult German Shepherds are $250, and German Shepherd puppies are $300. It's rare that you will find a puppy at this German Shepherd puppy, but it's always worth trying.
German Shepherd Rescue Details:
4. SPCA Southwest Michigan
Founded in 2002, SPCA Southwest Michigan has been rescuing homeless dogs and cats in Michigan. The non-profit organization has rescued and re-homed over 25,000 pets since its founding. The no-kill shelter is not a county pound facility, but it has a cooperative relationship with such agencies to help save pets' lives.
The shelter has a 99.5% save rate and serves 10 counties in Southwest Michigan. The shelter does not accept any stray dogs and encourages well-wishers to contact their local animal control shelter.
The shelter's adoption procedures are simple. Unlike other dog rescues or shelters on this list, SPCA Southwest Michigan encourages you to visit their rescued dogs and see if any spark an interest. If a dog sparks your interest, the shelter will place you in an adoption room for a meet and greet.
The shelter will provide you with all the information they have on the dog and point out what's missing. You will get to spend a couple of minutes with your potential dog. If you feel it's a match, you will fill out an adoption contract form, pay the fee, and go home with your new companion.
The shelter's adoption fees range from $50 to $280 depending on the German Shepherd rescues age. Senior dogs above 10 years cost $50 while puppies below 9 months cost $280. The fee covers spaying/neutering, microchipping, medications needed, parasite and flea preventative control, and all vaccinations required by Michigan's state and the dog's age.
German Shepherd Rescue Details:
5. Furget Us Not Rescue
Furget Us Not Rescue's mission is to provide a haven and permanent home for companion pets who are found abandoned, rescued from shelters, and owner surrenders. They do this by providing owner education, compassionate care, and animal advocacy to save our companion dogs' lives.
The rescue provides compassionate care through their foster care network where they give necessary medical care and socialize the dogs further. At the moment, the canine rescue adopts to Michigan residents but also considers parts of New York, Ohio, Indiana, and Canada.
They place companion pets as per the best-match. Furget Us Not Rescue requires adopters to be 21 years of age, have a veterinarian reference, a landlord reference, and a physical home check. The rescue required $275 to $300 adoption fees for German Shepherd dogs depending on their age. Puppies under 12 months are $300 and dogs above 12 months are $275. For senior dogs, you can negotiate the cost.
German Shepherd Rescue Details:
6. K-9 Strays Michigan
For many new owners, adopting a well-tempered German Shepherd is a plus. While you will take your German Shepherd for training, a little help always goes a long way because it's more difficult to train older dogs who have developed routine habits. This is where K-9 Strays Michigan comes in.
K-9 Strays takes in dogs from owner surrenders and county shelters' euthanasia list with a mission to give them a better second chance at life. The rescue provides a humane environment where the dogs are spayed/neutered, receive excellent medical care, receive behavioral evaluations, free veterinarian visits, and care by compassionate volunteers.
To adopt a forever friend, K-9 Strays encourages you to bring a filled out adoption application from their website in advance. This will make the process go faster when visiting the rescue. The rescue also encourages you to bring your family along if you live with them. For some dogs, you can leave with them on the same day. For other dogs, it might take a little longer.
The rescue requires you to be a minimum age of 21 years to adopt a dog. Feel free to contact them with any questions you may have!
German Shepherd Rescue Details:
Conclusion for German Shepherd Rescues in Michigan
Max von Stephanitz, credited for creating the German Shepherd, developed the breed into a working dog that could be relied on for its courage, speed, and intelligence. Today, the German Shepherd has evolved to become more than a working dog. Individuals and families across the US have embraced the German Shepherd as a companion and therapy dog.
The German Shepherd is an excellent companion and can be an equally great addition to your household. We recommend you contact the rescues/shelters on your list and see if you'll get a match. Since Michigan has a high rate of animals that need to be rescued, we always encourage people to consult a result before they buy a dog from a breeder.
Check out these other articles:
Garrett loves animals and is a huge advocate for all Doodle dog breeds. He owns his own Goldendoodle named Kona. In addition, he volunteers at the Humane Society of Silicon Valley, where he fosters dogs and helps animals. Garrett enjoys writing about Doodles and believes that dogs can teach humans more about how to live than humans can teach a dog.
Why Trust We Love Doodles?
At We Love Doodles, we're a team of writers, veterinarians, and puppy trainers that love dogs. Our team of qualified experts researches and provides reliable information on a wide range of dog topics. Our reviews are based on customer feedback, hands-on testing, and in-depth analysis. We are fully transparent and honest to our community of dog owners and future owners.