There is nothing nicer than a well-groomed Goldendoodle coat. The best way to keep your pup's coat looking healthy and shiny is to use a high-quality dog conditioner. A good pet conditioner helps moisturize and protect the fur from damage while providing additional nutrients for healthy hair growth. In this buying guide, we'll look at the best conditioners for Goldendoodles so you can keep your pup looking and feeling good.
When choosing dog conditioners, you want to ensure it's specifically formulated for dogs with Doodle-type coats. Look for ingredients that add moisture, nourish hair follicles, repair split ends, and create a protective barrier against environmental damage. Bathing your Goldendoodle is key to keeping skin and coat clean and healthy, and to combat dull coats.
Product
Best Overall
We Love Doodles – Dog Shampoo, Conditioner, and Detangler
Runner Up
Bark2Basics Oatmeal Dog Conditioner
Editor's Choice
DOG by Dr. Lisa Wash
Image
The one solution to keeping your Goldendoodle's fur soft, clean, and less tangled with a simple step. This organic 4-in-1 Doodle detangling shampoo effectively cleanses; conditions without adding excess moisture (which can cause frizziness); detangles wet hair, so it's easier for you to towel/brush out all those tangles from their coat.
Plus, the eco-friendly formula smells so fresh and natural! Genuine American-made products formulated and tested in FDA-inspected facilities. The We Love Doodles 4-in-1 Doodle shampoo has no parabens, sulfates, formaldehyde, alcohol, or synthetic dyes, and if you're parenting a Doodle breed, this is a must have conditioning shampoo.
 Features
4-in pet shampoo, conditioner, and detangler
Affordable
Hypoallergenic
Lavender chamomile scent
pH balanced
All-natural and organic
No parabens, sulfates, formaldehyde, alcohol, or synthetic dyes.
Crafted with chamomile and lavender
Eco-friendly
Bark2Basics Oatmeal dog conditioner is a gentle yet effective way to soothe and soften dry skin. Crafted with natural colloidal oatmeal, Bark2Basics oatmeal dog conditioner provides intense relief to irritated skin and coats. This cruelty-free conditioner for pets is soap-free and 100% biodegradable.
Replenishes and conditions the skin and coat leaving them feeling soft, silky, and refreshed! This conditioner detangles mats and tangles in the coat while eliminating static.
Features
Cruelty-free
16:1 concentration
Crafted with colloidal oatmeal
pH balanced
Coconut fragrance
Affordable
Crafted in small batches
DOG by Dr. Lisa Wash and LIC's Conditioner is a no-rinse conditioner that hydrates your dog's skin and coat. It reduces knots and tangles and is made with natural, plant-based ingredients. This is a no-rinse, hydrating conditioner that makes your pet's skin soft and fluffy. This leave-in moisturizer is designed by Australian veterinarian Dr. Lisa Chimes and is used and recommended by vets worldwide!
Features
Vet formulated
Plant-based
pH balanced
Specifically formulated for the Doodle coat
Vegan and eco-friendly
No rinse conditioner
Recyclable aluminum bottle
Since we're talking about bathing pups, we had to include the Pride and Groom microfiber tower. This is a terrific bathing towel for Goldendoodles because it's thick and chunky with pockets. This towel dries your Goldendoodle much faster than an ordinary bath towel. 
The takeaway with the Pride and Groom microfiber towel is that it holds seven times its weight in water, so all you need is just this one towel. We like this bathing towel for dogs because it's odor resistant and holds no wet dog smell.
Features
The towel has pockets on either side for your hands
High-quality microfiber towel
It holds seven times the weight of water
Quick drying 
Odor resistant microfibers
Gift worthy
Machine washable
Kibble's Pet Store coat moisturizer gently conditions and deodorizes your Goldendoodle's coat with natural ingredients. Their conditioning formula is crafted with organic coconut, sesame seed, and argan oils. 
It's also pH balanced and safe for sensitive skin, while their patented "Odor Synthesis" technology controls flyaway hair and removes tangles. We like this conditioning formula for Goldendoodles because it contains all-natural organic ingredients. 
Kibble's Pet Store conditioner also contains aloe vera, an oatmeal alternative, to hydrate and smooth skin to decrease itchiness. This deep conditioning formula for dogs is free from SLS, parabens, toxins, harsh soaps, grains, and petroleum. This is another vegan, cruelty-free pet grooming product.
Features
All-natural formula
pH balanced for pets
Aloe vera honey formula
Odor synthesis technology
 Human-grade, salon-quality performance 
Certified organic
Cruelty-free pet product
Warren London's hydrating butter leave-in dog conditioner lotion for skin and coat is a must-have for any dog owner. This dog fur conditioner works well, hydrating, conditioning, and moisturizing skin and coat. The takeaway with this leave-in conditioner for dogs is that it releases moisturizing emollients every 2 hours.
All you need to do is rub the dog lotion into the coat, leaving the fur shiny and smooth without any oily residue. It also detangles and is an excellent dog conditioner for matted hair.
Gentle enough for use as a puppy conditioner, it can also be used with pet wipes and other dog grooming products. This unique formula hydrates for 24 hours and has a long-lasting fresh scent.
There are two scented options: pomegranate and acai or guava and mangosteen. The Warren London leave-in dog conditioner can be used on all types of coats and is also suitable for dry and flaky skin or to prevent dryness from occurring. This product has over 11,600 positive reviews and is a must-have at home if your Goldendoodle needs extra conditioning.
Features
Over 11,600 positive reviews
Releases moisturizing emollients every 2 hours.
Non-oily hydrating treatment
Leave-in conditioner for dogs
Hydrates, conditions, and moisturizes both skin & coat
Aroma therapeutic fragrance
Value for money pet grooming product
This gentle and effective formula allows for a clean, healthy coat that's soft to the touch. This leave-in hair conditioner and detangler will help reduce tangles and matting while increasing shine. It also helps to prevent dry skin and itching associated with allergies. 
Lillian Ruff Pet Products are made here in the USA with high-quality ingredients, no animal testing, and are 100% cruelty-free. We like this product because it comes in spray form, making it easy to use while grooming your Goldendoodle. This is vegan, dye-free, tear-free, non-aerosol, gluten-free, paraben free, and sulfate-free. Puppies can also use this product.
Features
Affordable 
Subtle fresh scent
Numerous sizes
Vegan grooming
pH balanced for puppies and dogs
No harsh chemicals
Choosing a conditioner for your Goldendoodle

There are plenty of pet grooming products on the market, and choosing the right conditioner for your Goldendoodle can involve trial and error, not to mention the cost. Generally, a natural organic conditioner will do plenty for your dog's coat.
You can also opt for conditioners that are beneficial for long or wavy coats and that help make grooming easier. It's also key to preventing hair breakage that can occur with the comb through.
If your Goldendoodle has sensitive skin or allergies, opt for a mild, all-natural hypoallergenic conditioner or one designed for sensitive skin. Most of our top picks are all-natural and vegan.
How to use a dog conditioner?
When using a conditioner, avoid applying it to the face, massage it throughout the coat, and allow it to sit for a few minutes. This is an excellent time to work through mats with a comb before rinsing your Goldendoodle. The key part of bathing is ensuring that you rinse out all the conditioner, so there's none left in the coat. Conditioning residue can cause skin irritations and hot spots.
How to detangle Doodle coats?
The trick to easier and gentler grooming is knowing how to brush correctly and doing so every day. It also entails knowing when and how to demat. Start by brushing your Doodle's coat in sections and using a detangling tool.
Use a spray bottle with water or one of our top picks for a detangler to help loosen any mats before you begin brushing. Start at the bottom of the mat with a slicker brush and work your way up, using gentler tools such as combs for body brushing and finer areas like legs and faces. Ask your groomer to show you the difference between felted and tangled coats.
Felting happens when large areas of the coat cannot be seen due to tightly tangled hair. You can have both tangled and felted matted areas on your Doodle, and in some cases, it's not humanely possible to brush out heavy mats.
Your groomer will have to clip the area to make it more manageable and give your Doodle some relief. If you do come across felted hair, be sure to comb through the coat with a mat breaker or wide-tooth comb first before brushing, as this will help protect the individual hairs from breaking.
Only do so if you're dealing with a small area that's not tightly adhered to the skin. Slicker brushes like the We Love Doodles gentle slicker brush are great tools to begin the dematting process.
For heavier knots, you'll need to use dematting tools and a really good wide tooth dog comb on the outside of the mat while your pup is wet to split the mat. If you're worried about hurting your Doodle or are unsure how to proceed, don't hesitate to ask a professional groomer or vet for help.
FAQ's Best Conditioners for Goldendoodles
Do Goldendoodles need a conditioner?
Yes, Goldendoodles need a conditioner to keep their coats healthy and looking good. Conditioners help restore moisture, nourish hair follicles, repair split ends, and protect against environmental damage. To save time and money, you can opt for a 4-in-1 all-natural conditioning and detangling shampoo by We Love Doodles.
How do I make my Goldendoodle have a shiny coat?
To make your Goldendoodle's coat shiny and healthy, you need to use a high-quality conditioner. Look for conditioners with natural ingredients like jojoba oil, almond oil, shea butter, and aloe vera that will help moisturize their coat and protect it from environmental damage.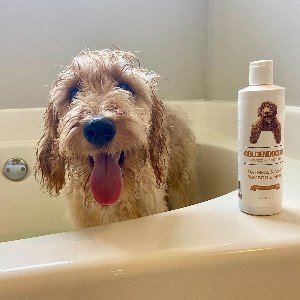 Additionally, brushing your pup's coat regularly with a gentle slicker brush for Doodles or comb will help to reduce knots, mats, and tangles while distributing the natural oils throughout their coat. Doing this will give your Goldendoodle's coat a beautiful sheen and make it look healthier than ever! 
How do you moisturize Goldendoodle skin?
The best conditioner for Goldendoodles is one that is specifically designed for dogs. A good conditioner should be free of harsh ingredients, such as sulfates and alcohol, that can irritate a dog's sensitive skin, like the We Love Doodles rehydrating pet shampoo.
Look for conditioners with natural ingredients like aloe, coconut oil, shea butter, and jojoba oil, as these will help keep the coat and skin healthy. You should also look for conditioners free of artificial fragrances, dyes, and parabens.
Coat wellness in Doodles is a great way to keep your Doodle healthy and happy. You can ensure a lifetime of good health and wellness by providing your Doodle the proper nutrition, grooming, exercise, and environment. 
Choosing light conditioners featuring silicone or silk proteins also helps to smooth and seal individual hair shafts. We're big on using natural products that are safe and effective on Goldendoodles and that don't contain salts, sulfates, parabens, or harsh ingredients. 
If you have a Doodle with sensitive skin and dermatitis, opt for products with calming ingredients like chamomile, oatmeal, honey, and green tea. Additionally, natural ingredients like jojoba oil, coconut oil, rooibos tea, and other aromatherapy additions and plant derivatives work well. 
Taking all these steps to ensure your Doodle's health and wellness is an investment in their long-term well-being. Investing the time to care for your Doodle will pay off in years of happy, healthy life together. 

Claudia Bensimoun is a writer who specializes in dog content and veterinary topics! Aside from writing for We Love Doodles, Claudia also writes for other major dog blogs like Fido Friendly, Animal Wellness Magazine, and the United States Dog Agility Association (USDAA). She has a ghostwritten over 50 different dog e-books. Her passions include animal welfare, veterinary research, and wildlife conservation.
Why Trust We Love Doodles?
At We Love Doodles, we're a team of writers, veterinarians, and puppy trainers that love dogs. Our team of qualified experts researches and provides reliable information on a wide range of dog topics. Our reviews are based on customer feedback, hands-on testing, and in-depth analysis. We are fully transparent and honest to our community of dog owners and future owners.