Are you looking for goldendoodle rescue centers in the UK? You've come to the right place!
Affectionate, loving, and loyal dogs, the goldendoodle is an intelligent and family-friendly breed. They're a cross between a golden retriever and a toy, mini, or standard poodle, and they seem to inherit the best traits of each parent. Unfortunately, many goldendoodles end up in rescues through no fault of their own. Their owners simply can't – or won't – take care of them any longer, putting them in need of a new forever home.
Before scrolling down this list of Goldendoodle rescue centers in the UK, you can check out these other recommendations from our team at We Love Doodles: Best Dog Rescue Centers in South West England and Best Dog Rescues in Hampshire.
Find Goldendoodle Rescue Centers in the UK
If you're looking for goldendoodle rescue centers in the UK, we thank you for making a difference! You can change the life of a dog when you adopt, and you'll be making room for a new dog to receive care, too! Here are our top picks for goldendoodle rescue centers in the United Kingdom.
Goldendoodle Product Recommendations: Best Dog Food For Goldendoodles and Best Grooming Tools For Goldendoodles.
1. DoodleAid
DoodleAid is one of the best and most well-known poodle cross foster homes in Wales and the United Kingdom. Established in 2016, they are dedicated to the rehoming and adoption of doodles, helping with the transfer of doodles from their current owner to a new owner when the current owner can no longer provide a suitable home. Besides adopting or fostering doodles, you can assist this charity by purchasing merchandise on their website, volunteering, or donating.
DoodleAid Details
2. Many Tears Animal Rescue
Many Tears Animal Rescue is a dog and cat rescue located in Carmarthenshire, South Wales. Even though they are located in South Wales, many foster dog homes are scattered across the United Kingdom. This rescue center focuses on breeding dogs – most of their dogs are ex-puppy millers or backyard breeders who are now in hopeless situations and need a loving home.
Although they are not a breed-specific rescue center focused primarily on rehoming poodle cross dogs, you can use the search engine on their website to find the kind of dog you need. They often have a wide variety of doodles in need of homes that you can adopt.
Many Tears Animal Rescue Details
3. Poodle Network UK
Dedicated to the three R's, rescue, rehabilitation, and re-homing of poodles, Poodle Network operates throughout the United Kingdom, caring very much about the welfare of the dogs that come through the system. To start the adoption process, you will fill out a form that will assist them in finding the best poodle match for you.
Their over-extending protection is also evident in their mandatory home check that is part of their adoption procedure even after you have acquired ownership of the dog. As the new owner, you will be supervised through regular check-ins to ensure that the dog is happy, in tip-top shape, and provides a good environment.
Poodle Network UK Details
4. Poodles in Need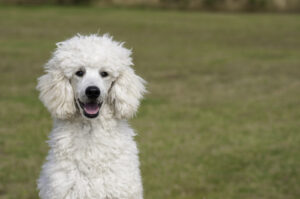 A safe and trusted alternative to buying, Poodles in Need is dedicated to ensuring that all poodles, regardless of age and size, are rehomed into a loving home. They do not believe in kenneling their dogs, so the poodle is placed in a volunteer's care, preferably with other dogs, until a suitable home is found.
Although they primarily rehome poodles, this shelter often also take in poodle crosses, so try your luck and maybe land your perfect goldendoodle. If you want to donate to this organization, you are welcome to do so, and they are always in need of foster homes, so you may become a volunteer if you are not yet ready to adopt.
Poodles in Need Details
5. Doodle Rescue
Doodle Rescue, formally known as Doodle for Rehoming UK, is a charity run by a small group of volunteers. Since they first began operating, they have been committed to providing the best foster care for doodles throughout the UK. They have relieved many owners who could no longer look after their doodles by matching the dogs with the best new owners.
You need to fill out a form, and they will get back to you since their phone number is strictly for doodle owners who want to rehome and not adopt. If you want to adopt a dog, you will need to check either their website or Facebook page for any dogs available for adoption.
Doodle Rescue Details
6. DogsTrust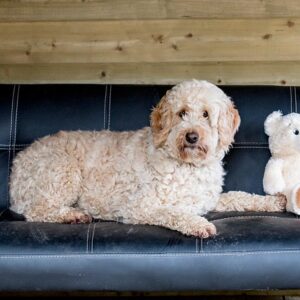 Last on the list of the best Goldendoodle rescue centers in the UK is DogsTrust. Also not a doodle-specific center, DogsTrust has over 20 centers in different locations around the UK and is quite a well-known and reputable animal rescue because of their work.
Founded in the 19th century, they are very vocal about their stance against animal cruelty. This particular charity is in a league of its own. They are very practical about their stance as they have projects and training classes all dedicated to the service of animals. As with most charities, they also rely on fundraising to keep the rescue centers open.
DogsTrust Details
How to Choose a Goldendoodle Rescue Center in the UK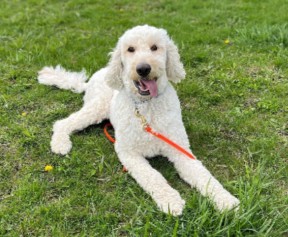 You might think that the first thing to look for when choosing a rescue center is located or finding a rescue closest to you. However, there are thousands of dog rescue centers in the United Kingdom with various options. It is always best to choose a center that understands your needs and has the type of dog that you are looking for.
Once you've set your heart on being a dog owner, the greatest influence when choosing a center should be the type of breed you want and if that dog is compatible with your home environment. The adoption fees and other cost factors such as kennels, medical procedures, training, and equipment will also come into play, so make sure you know what you must pay for.
It is also wise to check that the adoption policies align with your ethics; therefore, a good rescue center will provide a home check, vaccinations, spay/neuter procedures, and ongoing support and guidance even after you've adopted the dog. You should also visit the foster home at least once to see if the foster conditions are safe. Make sure that the organization and its volunteers love and are passionate about the animals' health, safety, and psychological welfare.
Related: Are Goldendoodles Good With Cats and Are Goldendoodles Protective Dogs?
Why Do Goldendoodles Get Given Up in the United Kingdom?
Goldendoodles are highly trainable, intelligent, loving dogs and are highly unlikely to be given up due to aggression issues. The only behavioral issue might be separation anxiety, and goldendoodles will do well in a household with a family member present at all times or at least most of the time.
There are many reasons one would choose to give up their beloved doodle, which is not always an easy decision to make. Many dogs, especially loving, kind ones like goldendoodles, are given up because of a change in the owner's life situation. Changes in family structure and maintenance costs are among the most popular reasons doodles are given up.
Most of the time, it is a situation beyond the owners' control which may include death, divorce, the birth of a child, and relocation. Huge things come in small packages. Goldendoodles tend to be active, athletic dogs that require moderate to high amounts of exercise.
Some owners might give up their goldendoodles if they feel they cannot give their dog the adequate amount of care and attention they need to be happy. Doodles do best in a fast-paced environment and where a lot of physical activity takes place.
Often, the owner brings a dog home for entertainment and companionship but might later realize that the breed they have chosen is unsuitable for them. Goldendoodles are highly intelligent dogs that need mental and physical stimulation. Under-stimulated Goldendoodles that are bored can exhibit destructive behaviors like chewing, digging, and excessive barking.
Related: Can Goldendoodles Be Black and Are Goldendoodles Hyper?
Pros and Cons of Adopting a Goldendoodle
Here are the pros and cons of owning a goldendoodle if you plan to adopt one in the United Kingdom.
Pros
Hypoallergenic: They may be hypoallergenic, making them a perfect pet for people who suffer from allergies because they do not have much dander and saliva.
Personality: They are very affectionate and can be identified as friendly.
Attentive: Because they are so full of energy, these dogs have often been used as rescue dogs or alert dogs and are ideal for people with underlying conditions.
Cuddlesome: Ideal for people looking for a companion or living alone as they love to cuddle and sit on your lap or even just to be held.
Excellent with children: Goldendoodles don't have aggressive tendencies and make for excellent playmates and family dogs.
Size: Depending on the size of the poodle parent, a goldendoodle can be a small to medium dog suitable for most living spaces.
Cons
Health: They tend to suffer from hip dysplasia genetically passed down from both parent breeds.
Shedding: Some of these dogs may still be heavy shedders despite being hypoallergenic. This will depend a lot on which genes are inherited from which parent.
High energy: They need a lot of attention. As an owner, you will need to have a lot of time on your hands to take them out for walks and play in the park. If they do not use their energy, they can become disruptive and hard to deal with.
Related: Do Goldendoodles Shed and Best Pet Insurances For Goldendoodles.
Conclusion For The "Best Goldendoodle Rescue Centers in the UK"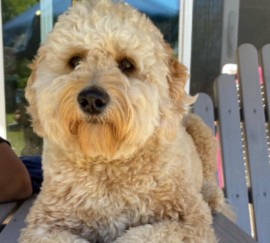 Goldendoodles are truly wonderful, loving dogs, often employed as emotional support dogs or therapy dogs. They are sometimes alert dogs for people suffering from seizures or disabilities, and these dogs have also been known to aid in rescues during times of trouble.
Loving, friendly, and completely devoted to their family, they make a wonderful addition to any family. However, they are also active, intelligent dogs requiring mental and physical stimulation to stay in tip-top shape.
For more guides similar to this list of Goldendoodle rescue centers in the UK, you can check out:
Before you adopt a Goldendoodle from a rescue center in the United Kingdom, you can learn more about this dog breed by watching the "Goldendoodle Dog Breed Guide" down below: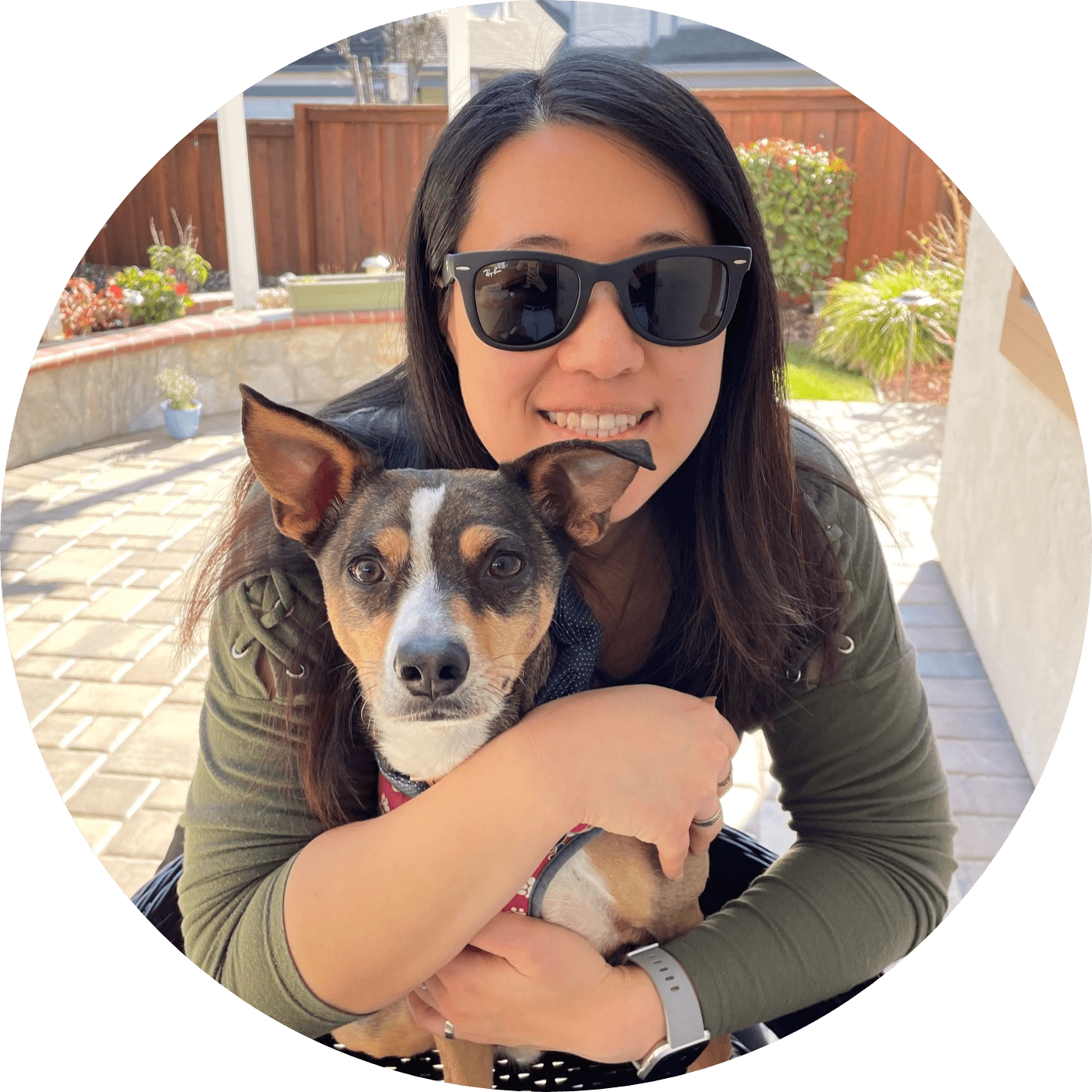 Dr. Sabrina Kong graduated from the Royal Veterinary College in England in 2016 and has been working at a small animal clinic in Northern California since then. She grew up in the Bay Area and got her bachelor's degree from Cal Poly San Luis Obispo. She also became a Certified Canine Rehabilitation Practitioner through a program at the University of Tennessee.
When she isn't in the clinic taking care of her four-legged patients, she enjoys traveling and trying new foods with her friends and her three-legged dog, Apollo. She adopted Apollo from her clinic when he was a puppy with numerous health issues. Dr. Kong truly cares about taking care of animals.