If you're searching for Goldendoodle rescues in Houston, then here's what you need to know. These cuddly dogs look just like real-life teddy bears, especially when they're puppies. In addition to being super cute, Goldendoodles also have great personalities and many traits that make them the perfect family pet.
Those who don't know much about Goldendoodles are a designer hybrid breed that crosses the Golden Retriever with the Standard Poodle— a truly winning combination. Goldendoodles are known for their great personalities and outgoing and affectionate dispositions. They are also intelligent, high energy, and low shedding.
They are so low shedding that they are considered one of the most hypoallergenic dogs around (as is the case for most doodle mixes). Another reason why doodles are so popular is that they are easy to own for experienced and novice pet owners alike. Their high intelligence means they learn quickly, and their high affection and loyalty traits make them eager to please their owners.
That being said, Goldendoodles are very high energy and need a lot of playtime and quality time with you. This is not the right dog to get if you can't spend much time with them or you plan to leave them home alone frequently (even with outdoor access). These puppies need social stimulation to be happy, so be sure you can provide that before deciding on a Goldendoodle.
Before scrolling down this list of Goldendoodle rescues in Houston, check out these other recommendations from our team at We Love Doodles: Best Dog Daycares in Houston and Best Dog Rescues in Houston.
Find a Goldendoodle Rescue Near Me in Houston
If you're looking to add a Goldendoodle to your family, you might be under the false impression that the only option is to spend thousands of dollars for a Goldendoodle puppy from a breeder.
However, this isn't the case, and you can adopt a Goldendoodle quickly from a shelter or a breed-specific rescue. If you aren't familiar with breed-specific rescues, you might be wondering why such places exist.
The answer is that many dogs (like Goldendoodles) are so popular that they are worth a lot of money. Profit-hungry people sometimes scour shelters to find these valuable breeds and resell them for a considerable profit.
Breed-specific rescues work hard to ensure that certain breeds never fall into the hands of such people and instead end up in loving families who will give them the care and attention they deserve.
They also try to seize puppies and dogs from puppy mills that keep dogs in awful conditions and force them to breed to sell the puppies. If you live in Houston or the surrounding area and are looking to rescue a Goldendoodle, check out some of the great organizations on this list.
Goldendoodle Product Recommendations: Best Dog Food For Goldendoodles and Best Grooming Tools For Goldendoodles.
1. Poodle Rescue of Houston
Poodle Rescue of Houston is a non-profit dog rescue first founded in 1999. Their mission, according to their site, is "to rescue, rehabilitate, and find homes forever for distressed Poodles, Poodle mixes, and 'honorary' Poodles." Since they began operations, they've saved thousands of dogs.
This rescue works so hard to save dogs that they might have 50 dogs in their shelter at one time or even pick up 50 dogs in a single day. They accept Poodles with special medical needs and work hard to keep these dogs out of high-kill shelters.
Poodle Rescue of Houston Details
2. Doodle Dandy Rescue
Doodle Dandy Rescue is a dog rescue in Texas that strives to rescue, rehabilitate, and re-home doodle dogs in crisis. They help these dogs find safe and loving homes and implement only the best practices for treating and caring for all the puppies in their care.
Additionally, this rescue provides training and vet care to their doodles. Volunteers run this organization, so be sure to reach out if you're interested in helping.
Doodle Dandy Rescue Details
3. Forgotten Friends
This non-profit rescue works to rehabilitate and re-home mixed breeds dogs who often go unnoticed in the shelter system. They operate entirely on a volunteer basis, and all of their dogs are cared for by foster families until they can find their forever homes.
The fosters work hard to train the dogs, get them used to people and pets, and expose them to the environmental and social stimuli they're likely to encounter in their new home. Head to their website today to check out their list of adoptable dogs.
Forgotten Friends Details
4. Doodle Rock Rescue Texas
Last on the list of the best Goldendoodle rescues in Houston is "Doodle Rock Rescue Texas." Doodle Rock is an excellent Texas-based doodle rescue that helps abused, neglected, and abandoned doodles find their forever homes.
They source their dogs from shelters, and the owner surrenders and works with the dogs on behavioral training and medical treatment if necessary.
This rescue is volunteer-based and works with foster families to help get their adoptable dogs ready for their new homes. Check out their available dogs on their website today, or fill out the contact form to learn more.
Doodle Rock Rescue Texas Details
Are You Ready to Raise a Goldendoodle in Houston?
Owning a dog is so exciting, but if you don't have any experience owning pets, you might be shocked at just how much work it takes to own a dog. Dogs need a lot of interaction, supplies, and patience, especially for puppies.
One of the reasons that the shelter system is so full is because people adopt dogs that they later realize they aren't in a position to care for. To avoid this, it's a good idea to reflect on your current situation to figure out if you're in a place to own a dog right now.
To get a clear picture of what to expect, we suggest chatting with a friend who owns a dog about their experience. Make sure this friend is in a similar situation to you financially and time-wise, and it also helps if they know you well enough to know your personality and habits.
In your conversation with them, be sure to ask about what their experience has been like, how much it costs them to own a dog, what they wish they knew before adopting, and other helpful information that they think you need to know before deciding to adopt.
Goldendoodle Guides: F2 Goldendoodle Guide and Goldendoodle vs. Mini Goldendoodle.
Prepare For Your Goldendoodle From Houston
You'll also need to take some time to make sure you puppy-proof your home before bringing your new Goldendoodle inside. Dogs are curious, fun-loving creatures, and they can accidentally get themselves into trouble.
Like babies, dogs love to explore the world around them, and they often will smell or taste things they shouldn't during their adventures. To protect your dog from dangerous substances, be sure to keep hazardous materials out of reach of your dog.
This includes cleaning chemicals, medications, and human food.  It's also a good idea to put valuable items away where your dog can't chew on them or knock them over with their tail. Also, be sure to hide as many power cords as you can so your puppy doesn't accidentally electrocute themselves if they decide to chew it.
Additionally, given that shelter dogs are usually pretty stressed out, it's a good idea to have a designated space for your new dog where they can retreat if they feel overwhelmed. Bathrooms and closets are great for this. Be sure to add some water, a comfy place for them to sleep, and some items that smell like you.
Related: Ways to Find Hypoallergenic Dog Rescues and How to Train a Goldendoodle.
Conclusion For The "Best Goldendoodle Rescues in Houston"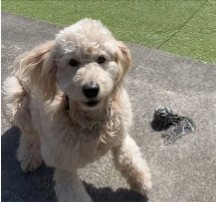 Owning a dog is super exciting, and Goldendoodles are just the best. Check out these dog rescues in Houston, and we hope you found this article helpful.
For more guides similar to this list of Goldendoodle rescues in Houston, you can check out:
Before you bring home a Goldendoodle from a rescue shelter in Houston, you can learn more about the breed by watching "Goldendoodle Dog Breed Guide" down below: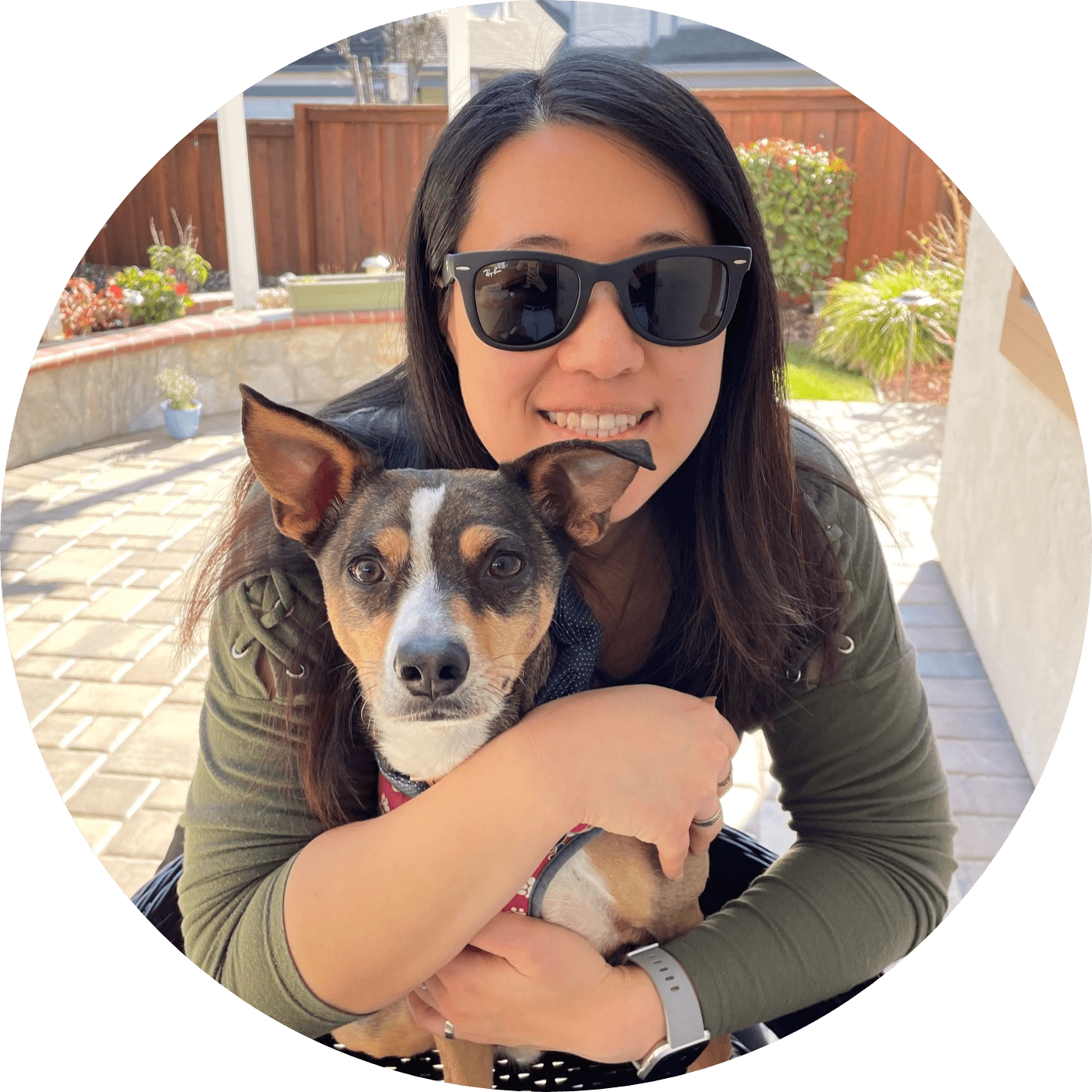 Dr. Sabrina Kong graduated from the Royal Veterinary College in England in 2016 and has been working at a small animal clinic in Northern California since then. She grew up in the Bay Area and got her bachelor's degree from Cal Poly San Luis Obispo. She also became a Certified Canine Rehabilitation Practitioner through a program at the University of Tennessee.
When she isn't in the clinic taking care of her four-legged patients, she enjoys traveling and trying new foods with her friends and her three-legged dog, Apollo. She adopted Apollo from her clinic when he was a puppy with numerous health issues. Dr. Kong truly cares about taking care of animals.