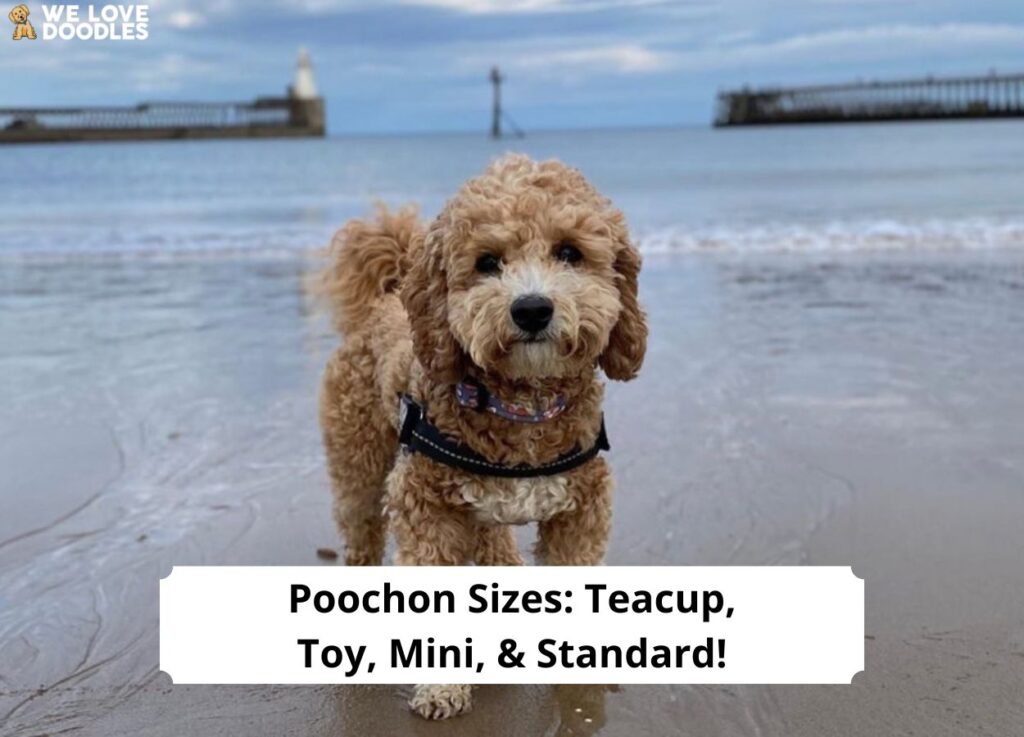 Poochons are gentle, sweet dogs who love to be with their owners and will gladly spend hours playing with any children in the home. However, certain Poochon sizes can be concerning for prospective owners.
Poochons can come in four sizes, ranging from very small and lightweight to slightly heavier. However, each size is easy to manage and can easily be scooped up when they misbehave. Although these dogs are small, affectionate, and lively, some owners may not want a Teacup or Toy Poochon because they are more likely to get injured by rowdy children or pets in the home.
Although a Standard Poochon is also small, there are many benefits to choosing a larger-sized dog. For example, you may find a Miniature or Standard Poochon to be less yappy than Teacup or Toy Poochons.
Read on to learn more about Poochon sizes and how a Poochon of any size can benefit your household.
Before you scroll down this list of Poochon sizes, check out: Types of Poochon Colors – With Pictures! (2023) and When is a Poochon Full Grown? (2023).
How Big Do Poochons Get?
Due to their Poodle and Bichon Frise lineage, Poochons can grow to many different sizes, depending on their category, parentage, and environment. Because of the many factors that contribute to the size of a Poochon, it can be hard to determine how big it will grow.
Poochons can be anywhere from six to 18 pounds, and they may grow anywhere from eight to 15 inches tall. Some Poochons may be smaller or slightly larger, depending on their genetic makeup.
For example, Teacup Poochons may be smaller if they are crossbred with other runts in the litter or Teacup dogs. Typically, the largest Poochon is the Standard Poochon, which may weigh more than 15 pounds when fed high-quality food and exist in a healthy environment.
What Impacts Poochon Size?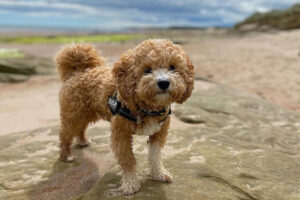 A lot of factors can impact the size your Poochon can achieve. Although the main factor will be their genetic makeup and their parents' size, environmental components may boost or stunt growth.
Environment
The environment your Poochon grows will have a significant impact on how big and strong it will get. Dogs frequently kept in crates or cages often will suffer from inhibited growth and may not be able to achieve their highest weight and height potential.
Additionally, Poochons in homes with consistent smoking of tobacco or other health hazards may not be able to reach their largest weight and height. Other factors in the environment that can stunt growth include hazardous cleaning chemicals and artificial ingredients in food.
Some chemicals are known to cause cancers in dogs, which may also inhibit growth and development. Be mindful of keeping your dog away from toxic chemicals and ingredients like chocolates, xylitol, and artificial colors in foods.
Diet
Your dog's diet will have a role in ensuring your Poochon is comfortable and happy. A diet high in vitamins and nutrients will help your dog remain as healthy as possible and will boost its growth.
However, choosing kibble and wet food options with fillers, by-products, and artificial ingredients can cause health issues with your puppy that may inhibit their growth. For example, artificial colors are often found in kibble and wet food, and some of these color additives are known carcinogens and can cause some canine cancers.
A diet rich in proteins and vitamins will also be essential to ensuring your Poochon grows to its maximum size. Choose a food option with plenty of lean meat, and always check the nutrition label to ensure your dog gets all the vitamins they need.
Genetic Makeup
Recessive genes may run in your Poochon's DNA, meaning that although they may come from two small dogs, they may grow taller than predicted. The main factor in your Poochon's size will be its genetic makeup since this will decide its maximum and minimum sizes.
Some Poochons may not be physically able to grow taller or heavier than a certain amount due to their genetic makeup. However, some Poochons may be able to grow much taller than predicted if they have genes in their DNA that allow a growth spurt or boosted weight.
You may want to consider getting your dog's DNA tested to see which dog breeds they come from and which health conditions they may be at risk for developing.
Parent Breeds
Parent breeds may be one of the easiest ways for you to tell how tall and heavy your Poochon will be. For example, if your Poochon comes from two Teacup breeds, you can expect your precious pup to be just as small in most cases.
Looking at the average between the two parent sizes can give you a good idea of how tall and heavy your Poochon will grow. You can also keep a log of their growth over the first few months of life to see how they will progress until they reach their full size.
Usually, parent breeds will dictate how tall your Poochon is able to grow, but genetic factors can sometimes determine size more.
Poochon Sizes
Poochons can come in a wide range of sizes, but these designer dog breeds are uncommon, and not much is known about how them. These dogs can be only a few pounds heavy, or they may be 15 pounds, depending on their parents, genetic makeup, and environmental factors.
However, there are four general categories for Poochon sizing: Teacup, Toy, Miniature, and Standard.
Teacup Poochon
Teacup Poochons are the smallest Poochon you can find, and these dogs will likely only weigh about six pounds. These dogs won't grow more than nine inches tall but may be much shorter. Some Teacup Poochons won't get more than six or seven inches tall. You may also find Teacup Poochons to be especially yappy.
How to Crossbreed a Teacup Poochon
You can crossbreed a Teacup Poochon by using runts from a Toy Poodle litter and a Bichon Frise litter. Runts are the smallest dog in a litter and may have a harder time accessing their mother for milk or navigating with the rest of their litter.
However, these dogs can create Teacup dog breeds that make an even smaller dog.
Toy Poochon
Toy Poochons come from crossing a Toy Poodle with a Bichon Frise, and these dogs are famously small. They won't grow taller than around 10 inches and will likely weigh no more than 10 pounds. These dogs may be yappy because of their size, an attempt to keep themselves safe and not get injured by quick feet.
Miniature Poochon
Mini Poochons come from crossing a Miniature Poodle with a Bichon Frise. These dogs will likely only grow to 13 inches tall, maximum. A Miniature Poochon may not weigh more than 15 pounds but usually stays close to 12 pounds.
Miniature Poochons may not yap much, but you'll still need to be mindful of where these dogs are at all times to prevent injuries and accidents.
Standard Poochon
Standard Poochons hail from Standard Poodles and Bichon Frises, and these dogs are the largest Poochons available. They can weigh up to 18 pounds and may grow as tall as 15 inches.
Standard Poochons are the least-yappy and will spend their time quietly cuddled with you.
At What Age Are Poochons Fully Grown?
Poochons are fully grown by the time they are between eight and 12 months of age. However, some factors may impact how quickly your Poochon will reach its full size.
Premature Birth
A premature birth can make a puppy smaller than usual, and these dogs may need extra time to reach their full size. Premature puppies may also be at risk for health conditions and concerns with their internal organs or body functions.
Some premature puppies can hit their full-grown size by 15 months of age, but some may be smaller than other dogs for the rest of their lives.
Exposure to Mother
Being with a mother can give a puppy access to high-quality milk that can help boost its growth. Dogs who have access to their mother and the milk she provides will likely be healthier and reach their full-grown size faster since they've had plenty of bonding time and support from their mother.
Those separated too soon may suffer from depressive symptoms, including a loss of appetite that can stunt growth. These dogs may need extra time to reach their full-grown size.
Environment & Diet
Like environment and diet can impact how big your Poochon can grow, it can also impact the age at which your Poochon will be fully grown. If your Poochon doesn't have access to high-quality food and an environment with everything they need to thrive, it may not be able to reach its fully-grown size until they are a little older than one year.
Environments with high exposure to chemicals or diets low in protein can make it harder for your Poochon to reach its full-grown size within its first year. Dogs who are smaller may need a few extra months to reach their full size, but offering a clean environment and a diet rich in vitamins and minerals.
Frequently Asked Questions
At what age is a Poochon fully grown?
Between eight and twelve months, your Poochon should be full-grown.
Does a Poochon bark a lot?
To get a handle on excessive barking, it's a good idea to start training your Poochon early with socialization.
Is a Poochon a lap dog?
Like its parent the Bichon Frise, the Poochon is definitely a lap dog.
Conclusion for "Poochon Sizes"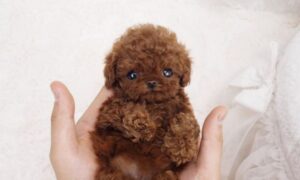 Poochons are gentle dogs who take after their Bichon Frise and Poodle parents. These dogs have a calm, playful temperament that makes them ideal for homes with small children or pets who love to run around and play.
Poochons love to spend time with their owners and will remain loving for the rest of their lives. These dogs will reach their full-grown size around 12 months and maintain that size forever. Poochon sizes may range from six to 18 pounds and between nine and 15 inches tall, depending on several factors.
Things like environment, parentage, and genetic makeup can play a role in how big your Poochon grows.
For more guides similar to this list of Poochon sizes, check out:
If you want to learn more about this breed, watch "10 things only Poochon dog owners understand | Poodle Mixes World" down below:
Garrett loves animals and is a huge advocate for all Doodle dog breeds. He owns his own Goldendoodle named Kona. In addition, he volunteers at the Humane Society of Silicon Valley, where he fosters dogs and helps animals. Garrett enjoys writing about Doodles and believes that dogs can teach humans more about how to live than humans can teach a dog.
Why Trust We Love Doodles?
At We Love Doodles, we're a team of writers, veterinarians, and puppy trainers that love dogs. Our team of qualified experts researches and provides reliable information on a wide range of dog topics. Our reviews are based on customer feedback, hands-on testing, and in-depth analysis. We are fully transparent and honest to our community of dog owners and future owners.