Here's what you need to know if you're searching for breeders with Poochon puppies in the United States for sale. Poochon puppies are the designer breed produced when a toy Poodle and a Bichon Frise are crossed. The puppies are playful and friendly but love to "speak."
A Poochon puppy breed is a great option for families that can give puppies and dogs a lot of attention; they don't often understand that barking is rude. If you've been in the market for a friendly, attention-loving dog, look into the Poochon breed. Sometimes called Bichpoos, the dogs are great companions, and there's a good chance there's a Poochon breeder near you.
Before scrolling down this list of breeders with Poochon puppies in the United States for sale, you can check out these other breeder recommendations from our team at We Love Doodles: Best Havashu Breeders in the United States and Best Pomachon Breeders in the United States.
PuppySpot's Poochon Puppies For Sale in the United States
This list contains the top Poochon breeders in the United States to help you begin your search for your new furry friend.
Poochon Product Recommendations: Best E-Collars For Aggressive Dogs and Best Dog Ramps For a Pontoon Boat.
1. PuppySpot's Poochons For The United States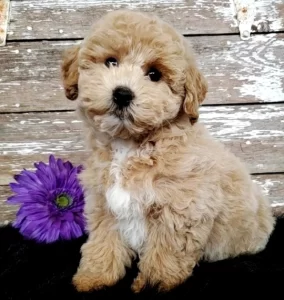 If you should have trouble finding a local Poochon breeder, look to PuppySpot. This is another nationwide network of breeders that advertise in the PuppySpot marketplace to connect adoptive families with the puppy of their dreams. Breeders are committed to upholding the highest standards of care for dogs; you can be assured that your dog is coming from a safe, clean, loving home.
To choose a dog from PuppySpot, first, select Poochon from the list of available breeds. You'll be directed to pictures of puppies waiting to be adopted. Select the puppy you love the most, and you'll be given information about pricing, Gotcha Date, and more.
You can apply for financing, ask about your puppy, or purchase the dog outright. Puppies come vet checked, vaccinated, and dewormed, and your dog will come with a ten-year health guarantee. PuppySpot is New Jersey-based, but guardian families are located across the United States. Contact the kennel for pickup and delivery options for your dog.
PuppySpot Details
2. Premier Pups
Premier Pups is one of the top breeders and sellers of Poochon puppies in the United States. Rather than operating as a breeder, the company works to match puppies with their forever homes by allowing reputable breeders to list puppies for sale. Puppies are born and raised all over the United States, but Premier Pups is based in Johnstown, Ohio.
Delivery and pickup options are available. Your puppy comes with a ten-year health guarantee to be free from genetic conditions. They will be vet-checked, vaccinated, and dewormed upon arrival at your home. You will receive all relevant health records and pedigree information for your puppy.
To choose your Poochon from this breeder, first, select Poochon from the list. Then, you'll be given access to pictures of available puppies, and prices will be listed alongside their photos. Click through to find more information about the dog you like, including their available date, health information, and any registry information.
You can purchase the dog outright, reserve the puppy, or make an offer to the breeder. Choose from shipping and delivery options at checkout, and wait for your new puppy to come home. Financing is available through Terrace Finance should you decide to split payments over 90 days.
Premier Pups Details
3. Grace Wood Farm
Grace Wood Farm operates five locations in the eastern United States, primarily in the southeast. North Carolina, South Carolina, Georgia, and Ohio residents are just a short drive from Grace Wood Farm and their new Poochon. However, the kennel does deliver dogs using a dedicated team of puppy nannies.
There is a $250 deposit required to be placed on the wait list for a Poochon from Grace Wood Farm. That deposit guarantees that your adoption fee will not change for one year; currently, Poochons are $3,550 in total. Grace Wood Farm has a zero-tolerance policy for puppy mills, and they guarantee that puppies will be health-checked, vaccinated, and dewormed when it's time to go home with you.
You will be required to spay or neuter your dog by six months of age and will need to sign a contract stating that you will do so. Puppies go home at eight weeks, whether you pick up your dog or have them shipped to you. Speak with the kennel about the cost of transporting your baby to your home.
Grace Wood Farm Details
4. Rolling Meadows Puppies
Rolling Meadows Puppies is located just outside Burlington, Iowa, but they offer a "valet" service to deliver dogs. Within 100 miles, you're eligible for ground transportation. If you live outside that radius, you'll need to opt for air travel for your dog. Prices will vary, so contact the kennel to make arrangements.
First, fill out an adoption application to adopt a Poochon from Rolling Meadows. You'll be asked to describe your perfect puppy, the gender you'd like to adopt, and several other preferences. Rolling Meadows will use this information to help match you with a puppy once litters are born. The $250 deposit will help to determine your pick order.
Your puppy comes with a one-year health guarantee – you must take them to the vet within three days of adoption. Puppies will be vaccinated, dewormed, and dew claws will be removed. Rolling Meadows offers lifetime support if you have any questions about the training or care of your puppy. You will need to contact Rolling Meadows for information about puppy pricing once litters are born.
Rolling Meadows Puppies Details
5. Waggs to Riches
Waggs to Riches is a Florida small breed kennel. They specialize in a variety of designer breeds, including Aussiedoodles, Cavapoochons, and Poochons, to name a few. In addition to selling puppies, Waggs to Riches offers grooming services and a boutique supply store.
Stop in at any point in your dog's life; the team loves building relationships with adoptive families. Waggs to Riches does not routinely ship or deliver puppies, so it's best if you're local to the Boca Raton area. Pricing for dogs will vary based on breed and characteristics.
You'll need to contact the kennel when puppies come available; the team can discuss deposits and the total cost of adoption. To choose a puppy, you can first search by breed. Available dogs will be listed, and you can call to inquire about the dog you wish to adopt.
If you have a special request, contact Waggs to Riches. They will do their best to accommodate your preferences. Waggs to Riches offers financing options to those families who wish to split payments. This is provided through third-party company EasyPay.
Waggs to Riches Details
6. Elmbrook Farm
Elmbrook farm is convenient to New England residents as it's a Maine-based kennel. The Elmbrook team has over 20 years of experience in breeding dogs, and they've recently begun to specialize in toy Poochon puppies. Elmbrook does offer delivery options across the United States; pricing info is available on the website and will vary based upon where you live.
You can view available puppies on the Elmbrook website. Puppies are only born a couple of times each year, so be sure you put yourself on the waiting list as early as possible. The deposit for a puppy is $400, and the total price to adopt is $3,400.
Interestingly, Elmbrook will only present puppies to you that are compatible with your lifestyle. Your deposit will be transferred to the next litter if none are available. Puppies come with a generous five-year health guarantee for genetic conditions.
Your puppy will be vaccinated and dewormed when you pick them up, and you will receive health records for your dog. Ask the kennel about their Polished Puppy program. This is a preliminary training program that is designed for socializing your dog and ensuring a smooth transition into your home.
Elmbrook Farm Details
Conclusion For "Poochon Puppies in the United States"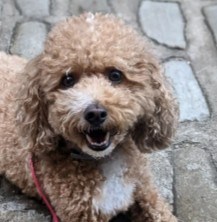 Poochons are a designer breed requiring attention and affection. In return, they'll offer you and your family companionship, whether you're a retired senior or a family with children. It would be best if you adopted your Poochon from a responsible breeder.
Buying from puppy mills increases the likelihood of your furry companion being unhealthy and improperly socialized. A reputable breeder will give your puppy the attention they need in the formative weeks so you can adopt a happy and healthy addition to your family.
For more guides similar to this list of breeders with Poochon puppies in the United States for sale, you can check out these other guides from our team at We Love Doodles:
You can learn more about the Poochon dog breed by watching "Poochon Dog Breed Information: How Can They Lighten Your Mood" down below: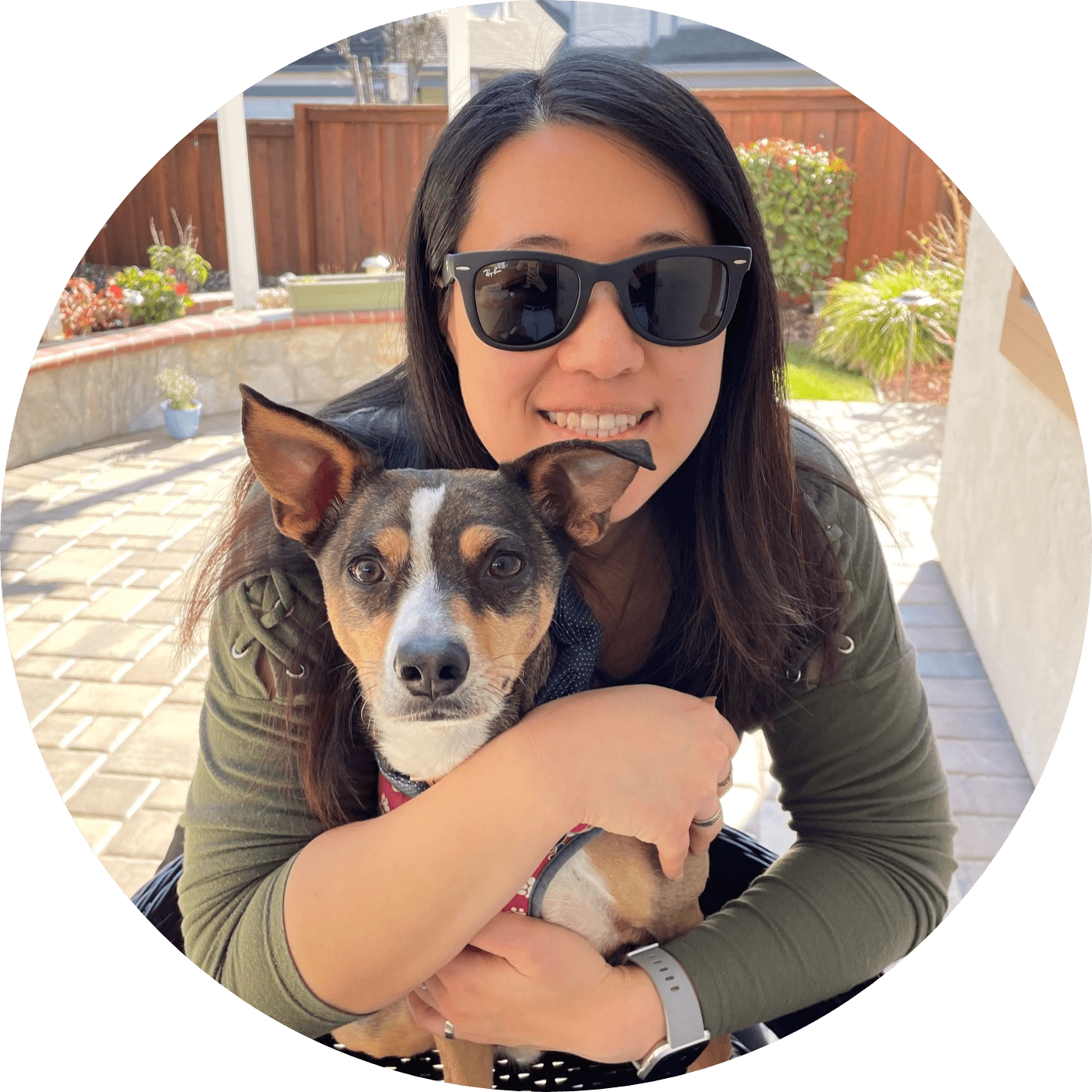 Dr. Sabrina Kong graduated from the Royal Veterinary College in England in 2016 and has been working at a small animal clinic in Northern California since then. She grew up in the Bay Area and got her bachelor's degree from Cal Poly San Luis Obispo. She also became a Certified Canine Rehabilitation Practitioner through a program at the University of Tennessee.
When she isn't in the clinic taking care of her four-legged patients, she enjoys traveling and trying new foods with her friends and her three-legged dog, Apollo. She adopted Apollo from her clinic when he was a puppy with numerous health issues. Dr. Kong truly cares about taking care of animals.