Poochons are energetic dogs who love to have fun and will remain loyal to their owners. However, these dogs can look very different than you might expect. The Poochon comes from a Bichon Frise parent and a Poodle parent, making a stunning dog breed with many types of curls and colors.
Poochons are sometimes called Bichonpoos or Bichpoos, but Poochon is the most popular name for this breed. A Poochon can be born with many different colors, depending on the appearance of its parents and genetic makeup.
Read on to learn more about Poochon colors and how to take care of your Poochon's coat.
Before scrolling down this guide, "Types of Poochon Colors," check out: Bichon Poodle Mix Facts and Images! (2023) and Best Shampoo For A Bichon Frise! (2023).
Do Poochons Come in Many Colors?
Poochons are famous for their versatile colors and gentle temperament. These dogs take after their Poodle parent regarding their coat, meaning they present with many stunning colors that can make them look more like lambs or teddy bears than dogs.
For example, Poochon puppies with cream or apricot shades can often blend in with a pile of stuffed animals and make it hard for owners to spot them among the teddy bears.
Poochons are usually light in color but sometimes have darker tones with brown, grey, or black shades. However, black is such a rare color for Poochons that this can make a black Poochon an expensive find.
Types of Poochon Colors
There are plenty of color mixes and shades that your Poochon may have on its coat, and knowing the color can help you take care of your precious pup's hair better.
These colors are the most popular:
White
White is the most common color for a Poochon because the color is prominent in both Poodle and Bichon Frise breeds. This color will likely be somewhere on your Poochon's body, regardless of what other colors grace their coat.
Solid white Poochons are very common and will likely be a part of every litter. If a Poodle parent and a Bichon Frise parent are both mainly white, they will produce a litter of Poochon puppies with the same solid white color.
Some Poodle parents may have a different color and produce Poochon puppies with different colors and patterns in their coats, but white will always be among the biggest portions of the body.
Cream
Nearly every Poochon born will have some cream color to its coat. However, some of these tones are uncommon or unique. Cream tones often accompany apricot, red, and beige tones and will likely make your dog look more white or golden.
Cream colors on a coat can often mingle with white on a pup's face to give them a bicolor appearance that will seemingly make their face glow in the sun. These Poochons are sometimes solid-colored but this is rare.
Apricot
Apricot is one of the most common and stunning colors for a Poochon. Most Poochons will have some apricot coloration in their coat, especially if they have a Poodle parent with apricot or cream hair.
Apricot tones can be light and nearly cream or white, while some may give a Poochon a golden appearance, making them the talk of the town. Apricot tones will likely blend with some white, cream, and red within the coat.
Some Poochons may have a tricolor or bicolor pattern with other shades of these stunning colors.
Red
Red Poochons are rare. This color may look similar to apricot or brown but lies between those two colors. Red Poochons may look most like apricot Poochons and likely have similar color mixes and mingling within their coat.
Red Poochons are likely to have a deep color, but apricot Poochons will have a lighter tone, similar to the flesh of an apricot, rather than red like a ruby. These Poochons will have apricot and cream tones in their coat, often giving them a bicolor or tricolor pattern.
Silver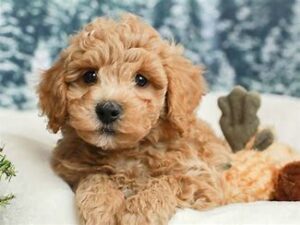 Silver, or a light grey, is among the rarest colors for a Poochon. This color will most often be accompanied by white, black, or brown shades, creating a bicolor or tricolor pattern along the pup's body.
Every dog will develop silver hair as they get older or experience stress, but some dogs are born with a coat of silver hair. These dogs will look different than those who develop gray hair since they may have plenty of darker tones still easily observable in their locks.
On some Poochons, silver hair may have a blue hue, and some may refer to this color as blue instead of silver.
Brown
Brown Poochons are uncommon but not as rare as black Poochons. Dark brown colors in a Poochon are challenging to achieve, but you may see one of two Poochon puppies with a brown coat of hair in every few litters that a Poodle and Bichon Frise parent has.
Brown Poochons will almost always have other colors in their coat of hair, including grey, black, or white. These dogs are the most likely to have a tricolor or bicolor pattern in their coat.
Brown Poochons are often confused with cream or apricot Poochons, but these colors are vastly different. Cream or apricot Poochons are much lighter, and brown Poochons will have a deeper shade.
Tan
Some Poochons may have a tan color to their coat that can be easily mistaken for apricot, brown, or cream. However, this tan color can look similar to beige or light gold. This color can usually be spotted on the coat of a tricolor Poochon.
Black
Black, or dark grey, is so rare on a Poochon that it's nearly impossible to find one. This color is stunning and rich on a Poochon coat, but so unlikely that it can make your precious pup much more costly.
Poochons are designer dogs and may cost several thousand dollars, but a black Poochon can make the dog several hundred or thousand dollars more expensive.
Black Poochons may have another color mixed into their coat. Solid black Poochons are rarely possible, but Poochons with a black coat and white patches are easier to find. These dogs may have white spots on their paws, neck, chest, and face.
Can Poochons Have More Than One Color in Their Coat?
Poochons may have multiple colors in their coat of hair, leaving many owners uncertain what color they would be classified as. Usually, Poochons have two types of color patterns and mixes.
Bicolor
Bicolor Poochons are very common and these dogs usually have light colors spattered across their bodies. They are most often white and apricot, but some are red and apricot.
Dark bicolor Poochons are rare, but when they are born, they usually have dark grey and black. Poochons with dark colors mingled on their coat may see lighter colors along the snout, head, chest, paws, and belly.
Bicolor Poochons usually have more defined portions of color, where the colors don't bleed or blend as much. These dogs may also have ears in an apricot or cream color that gradually changes to their primary color.
Tricolor
Poochons with a tricolor pattern to their bodies are rare, but sometimes this can happen and will cause a stunning Poochon pattern. These Poochons are usually light-colored, and the colors included in the coat will usually be apricot, cream, tan, or white.
A dark-colored tricolor Poochon is very rare but sometimes crops up in a random litter. When these dogs are born, they will have black, grey, and white in their coat.
Usually, a dark tricolor Poochon will have a solid color along its body but multiple patches of lighter colors can appear around its head and ears. Some may have spatterings of color around their paws, chest, and neck.
Frequently Asked Questions
Poochon colors and the types of mixes they may have in their coats can be confusing, but these answers can make it easier to understand.
Can a Poochon be black or grey?
Poochons can be black or grey, but these colors are rare since Bichon Frises are usually light in color. Black or grey Poochons will be more expensive than those of any lighter color.
What two breeds make a Poochon?
A Poochon comes from a Poodle and a Bichon Frise. Some Poochons can be smaller if they come from a Toy Poodle or Miniature Poodle.
What type of coat does a Poochon have?
Poochons have curly hair that can be long and may get tangled easily. These dogs will have soft locks that will look poofy and smooth.
How do I care for a Poochon coat?
You'll need to brush your Poochon frequently, nearly every day, to keep their coat tangle-free and healthy. You'll also need to give your Poochon a weekly or bi-weekly bath to ensure there is no debris in your pup's hair.
How often do Poochons need a haircut or grooming?
A Poochon will need a haircut every six to eight weeks. However, some of these dogs may need to visit the grooming salon more frequently if their hair grows faster than normal. Always get your dog groomed before its vision becomes obstructed and causes injury or damage to your home.
Conclusion for "Types of Poochon Colors"
Poochons are stunning dogs who are deeply loyal and loving, and they can present a wild variety of beautiful colors. This vibrant designer dog can come in many colors, and some will cost more or less money depending on the rarity and popularity.
Regardless, you'll need to ensure you take good care of your dog's coat of hair, including frequent trips to the grooming salon where your dog can get a thorough bath and brush.
For more articles similar to this guide on types of Poochon colors, check out:
You can learn more about this breed by watching "POOCHON BREED 101 | What you need to know about the Poochon breed" down below:
Garrett loves animals and is a huge advocate for all Doodle dog breeds. He owns his own Goldendoodle named Kona. In addition, he volunteers at the Humane Society of Silicon Valley, where he fosters dogs and helps animals. Garrett enjoys writing about Doodles and believes that dogs can teach humans more about how to live than humans can teach a dog.
Why Trust We Love Doodles?
At We Love Doodles, we're a team of writers, veterinarians, and puppy trainers that love dogs. Our team of qualified experts researches and provides reliable information on a wide range of dog topics. Our reviews are based on customer feedback, hands-on testing, and in-depth analysis. We are fully transparent and honest to our community of dog owners and future owners.