When you see a Bichon Frise out for a walk, it takes a tremendous amount of willpower not to stop and play or snuggle. Their personality leaves them in a constantly happy state, and their curly coats make them especially conducive to cuddles. When it's time for their next haircut, there are several ideas you can adapt for your Bichon Frise.
Between the teddy bear haircut, the lamb cut, the utility cut, and others, there's no shortage of looks the adorable little pups can take on.
If you are a Bichon Frise owner or a groomer who often cares for this breed, we have compiled a list of the best Bichon Frise haircut ideas. Continue reading below to find the best style for your favorite four-legged pal.
Before scrolling down this guide "Best Bichon Frise Haircut Ideas," check out these guides: Best Shampoo For A Bichon Frise! (2023) and Bichon Frise vs Poodle: Dog Breed Comparison! (2023).
1. Teddy Bear Haircut
The name of this hairstyle is indicative of the exact look it gives off. Having a tiny Bichon Frise mimic the appearance of a teddy bear is just as cute as it sounds. When incorporating this haircut into your dog's look, you keep the body hair short with extra fluff at the tail. You outline the ears at the dog's head and leave an extra layer of fur at the cheeks.
While the teddy bear haircut is one of the most popular, it isn't the easiest to maintain. Most dogs who have this look long-term are those who compete regularly. However, once you set up a regimen that preserves the quality of the cut, it is easier to manage for extended periods.
2. The Round Head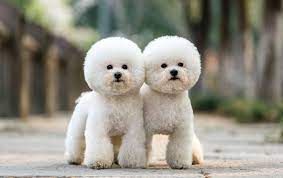 Unlike the teddy bear haircut, which can be challenging to take care of, the round head style provides a more simplistic cut that doesn't require much upkeep. Dogs who display this style will have their fur trimmed in a circular shape around their head and ears. While trimming, you will round the coat around the ears so that the entire head is the same shape.
The round head cut is arguably the most popular haircut for the Bichon Frise breed, so it's one of the best ideas to consider. While the cut itself is rather simplistic — and maintenance isn't overly burdensome — it is easy for dogs to get their fur dirty outside and with food.
3. The Cute Face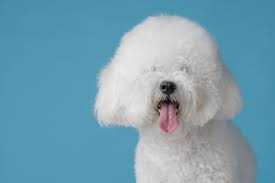 Sharing many similarities with the round head cut, the cute face hairstyle comes with relatable elements but an easier-to-manage design. Instead of the whole face being one circular shape, the fur is trimmed back to be closer to the dog's muzzle, and the ears have a higher level of definition throughout the cut.
Owners and groomers alike appreciate the cute face cut for its clean look and easy-to-manage style. With the fur trimmed back more, the hair tends to trap less debris.
4. The Regular Dog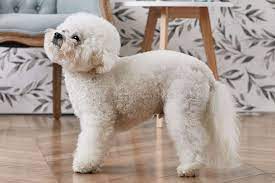 For a basic and trimmed-back look, the regular dog approach allows you to retain the natural look of your Bichon Frise while incorporating the appropriate grooming the breed needs. Like many types of dogs, the Bichon Frise requires consistent fur maintenance to avoid matting and infection. This cut provides a basic trim that keeps the fur healthy and in prime condition.
With the regular dog look, you see all the natural details that make up the animal, but the fur is trimmed back to an acceptable level. You won't see rounded shapes or hidden ears as those will be visible as they usually would.
5. The Bell Ear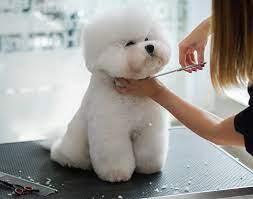 In this classic Bichon Frise haircut, the fur around the ears is allowed to drape down and fluff out to accentuate those particular elements. Many who take this grooming approach will do the same with the dog's tail, which also provides a cotton look in those with all-white fur.
The purpose of this cut is to allow the ears to stand out from the dog. A Bichon Frise's fur is highly versatile and can take on many different forms. At times, the ears are enveloped inside a cut and aren't visible. However, cuts such as this bring them to the forefront for all to see.
6. The Lamb Cut (Also Known As the Puppy Cut)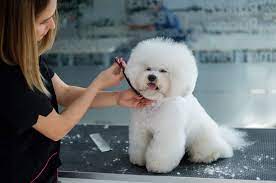 When it comes to the hot summer months, you want a haircut to keep your pup cool. The lamb cut, which also goes by puppy cut, employs a close trim that allows dogs to regulate their body temperature better.
When cutting in this style, pay special attention to keeping the fur short on the torso and legs, while the tail keeps a bit of extra hair to make it longer. Another benefit to this cut is that it is simple to maintain and doesn't collect much dirt and food.
7. The Utility Cut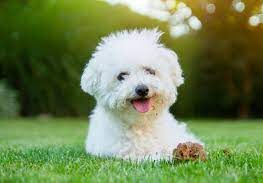 Here's another cut that is closer to the skin of the dog and resists dirt, matting, and tangling. The utility cut brings forward some of the best traits of the breed while incorporating a standard Bichon Frise haircut. With this look, your puppy will enjoy short hair throughout the torso and legs but still have the telltale breed look with the fluffy ears and tail.
Much like the lamb cut, this style is beneficial in hot weather months. It also gives owners a bit of reprieve from the constant maintenance that other cuts require. Ultimately, the utility cut provides standard grooming without any of the bells and whistles of more complex styles.
8. The Show Cut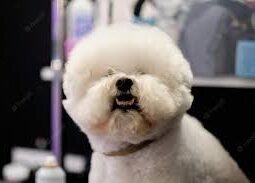 Many categorize the chow cut as a Bichon Frise haircut that is the opposite of the utility cut. Considering that it is primarily meant for show dogs, the style takes great detail and requires an immense amount of upkeep. With the show cut, your pup will have cotton-style fur all around its body, with some refining and shaping showing up around the edges to make it more circular.
While this style is perfect for a Bichon Frise, it will quickly attract dirt and food. Additionally, if not properly maintained, your pet will have ongoing matting and tangles in its hair. This style is comparable to the teddy bear cut in many ways, although you would use clippers to achieve the latter.
9. The Panda Cut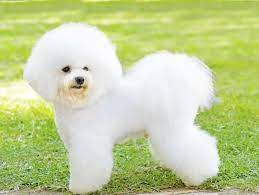 Incorporating the panda cut into your dog's look gives you the best of both worlds between a close-to-the-body clip and areas of longer, shaggier hair. With this style, you will see places with a thinner level of fur, but when it comes to the ears, tail, back of their legs, and chest, your pet will be fluffier.
Many dog owners appreciate this cut because it gives a unique look that is manageable. While styles such as the show cut and the teddy bear haircut require daily upkeep, the panda cut can get by with routine brushing to avoid matting and tangles. As the spring and fall seasons approach, this cut is an excellent transition from a short fur look to a longer one in preparation for the cold winter months.
10. The Fluffy Ear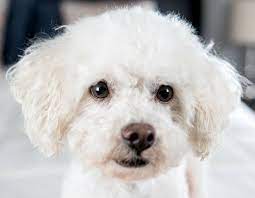 One of the greatest attributes of a Bichon Frise is its adorable and fluffy head, especially when it comes to its ears. Something about these traits makes you want to immediately scratch and pet them, which they almost always welcome. When pet owners or groomers add a bow atop their fluffy heads, it's almost too cute for words!
The fluffy ear Bichon Frise haircut emphasizes longer and fluffier fur around the ears. Unlike the round head cut, this style doesn't take a circular shape. Instead, it just makes the ears more prominent.
11. The Lion Cut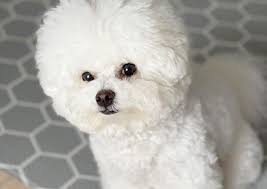 If you're looking for a proper style appropriate for colder weather, this haircut provides extra padding to help keep your pup's body warm. It also gives off a well-kept and groomed appearance.
With the lion cut, your puppy will have a fluffy mane of hair trimmed back from their eyes, maintaining a full range of vision. While their legs and torso will be trimmed, the hair remains long enough to keep them warm. Lastly, their tail will be long and fluffy to match their face.
12. The Long Hair Cut
It's more common to see a Bichon Frise haircut that incorporates short hair as opposed to long. The reason behind this is due to upkeep and the management of tangles, matting, and debris getting caught in the fur. However, several styles include longer hair that is particularly attractive in the breed.
When you see a Bichon Frise with a long hair cut style, you will notice their fur is trimmed relatively short on their body. However, the hair atop their head and tail will remain long, allowing it to drape down much like the long hair you would see on a human.
13. The Square Head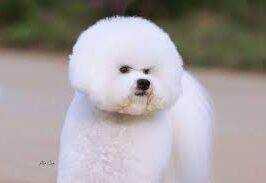 This unique look takes the approach of the round head cut but changes the shaping. As a result, you get a Bichon Frise with hair in a square. While you only see this shaping on the dog's head, it gives structure to an area that possesses a significant amount of fur, which can become unruly if not groomed appropriately.
The downside to this cut is that it can be tough to get the shaping right. Additionally, it requires a great deal of upkeep to keep the square intact. Most people find themselves trimming every few days to continue the look.
14. The Low Maintenance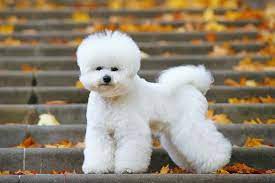 This style is for you if you are looking for a simple Bichon Frise haircut that requires little to no maintenance. Not only is it simple to manage, but they also put it in the name for you to know it up front! To perfect this haircut, the owner or groomer trims the dog's hair to the same length throughout their body.
With this style, management is next to nothing. The hair is short enough to resist most dirt and debris the pet comes in contact with daily. Additionally, the length reduces the number of tangles and matting you will encounter.
Frequently Asked Questions
What is the best haircut for a Bichon Frise?
The best haircut is whichever one looks great to you and fits into your schedule. The worst haircut would be any that requires more maintenance than you're able to keep up with long-term. So while the teddy bear or show cut might be popular, it's not always attainable. Also, keep in mind the weather — go for a shorter cut like the puppy cut in summer, and let it grow back out for winter.
How often does a Bichon Frise need a haircut?
It's recommended to keep up with regular maintenance, either with a professional groomer or with a grooming kit at home. Ideally, try to make time for a grooming appointment every four weeks.
How often should you bathe a Bichon Frise?
It's safe to give your Bichon Frise a bath every one to two weeks. Before you get started, take some time to brush out tangles and mats — they're much harder to deal with when they are wet.
Conclusion for "Best Bichon Frise Haircut Ideas"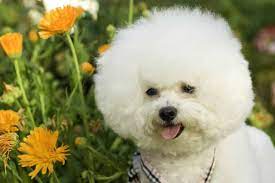 When it comes to finding the perfect Bichon Frise haircut, you have a variety of options. Whether it's the teddy bear haircut, the show cut, or even the round head cut, all of the styles have their pros and cons.
While show participants may want a highly groomed style, those varieties also come with significant maintenance and upkeep. For those who want an easily manageable option, cuts like the regular dog and the panda may be more suitable. And you can't forget about the low-maintenance option!
The Bichon Frise is a breed of dog that requires consistent grooming due to its curly coat. However, the wide range of style options makes the process much easier and allows for versatility in your dog's look.
For more guides similar to this list showing Bichon Frise haircut ideas, try these other articles:
If you want to learn more about Bichon Frise grooming, you can, by watching "How to groom a Bichon frise" down below:
Garrett loves animals and is a huge advocate for all Doodle dog breeds. He owns his own Goldendoodle named Kona. In addition, he volunteers at the Humane Society of Silicon Valley, where he fosters dogs and helps animals. Garrett enjoys writing about Doodles and believes that dogs can teach humans more about how to live than humans can teach a dog.
Why Trust We Love Doodles?
At We Love Doodles, we're a team of writers, veterinarians, and puppy trainers that love dogs. Our team of qualified experts researches and provides reliable information on a wide range of dog topics. Our reviews are based on customer feedback, hands-on testing, and in-depth analysis. We are fully transparent and honest to our community of dog owners and future owners.