Here's what you need to know if you're searching for the best Idaho Shag breeders in the United States. The Idaho Shag, originally bred in Idaho, is known for its shaggy coat, which can come in various colors, including black, white, brown, and gray. An Idaho Shag is a cross between an Airedale terrier, a border collie, a kelpie, or a heeler.
The Idaho Shag is known for its endurance, herding instinct, and, most notably, its distinctive worn look, as if it had an altercation with an electric fence and had its hair permanently burnt.
They are medium-sized dogs, typically weighing between 40 and 60 pounds. Idaho Shags are considered to be a friendly and outgoing breed, and they make great family pets. If you are thinking about adding an Idaho Shag to your family, you should know a few things before you run off to the nearest breeder.
Before scrolling down this list of Idaho Shag breeders in the United States, check out these other recommendations from our team at We Love Doodles: Best F1 Labradoodle Breeders in the United States and Best F1b Bernedoodle Breeders in the United States.
Idaho Shag Breeders in The USA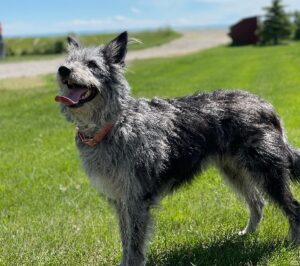 Despite their adorable, shabby appearance, which carries their huge working drive, Idaho Shags are first and foremost a working dog breed. Originally bred for herding sheep, they are frequently used for other jobs such as guarding property, livestock, or hunting.
They are incredibly intelligent canines and have loads of energy to spare, so they need a job to do to be happy. If you do not have a lot of space for them to run and play, an Idaho Shag may not be the right breed for you. If you're set on getting an Idaho Shag, here are some of our favorite breeders where you can get your new best friend.
Idaho Shag Recommendations: Best Dog Grooming Kit and Best Dog Soccer Ball.
1. Idaho Farm Bureau
Susie Morton, who operates a ranch south of Mackay, is dedicated to the Idaho Shag. She acquired her first Idaho Shag three decades ago and became one of the first breeders in central Idaho. Although the Idaho Shag's breeding origins are as hazy as its frayed hair coat, ranchers pledge their devotion to the breed after working with the comical-looking cow dogs.
Idaho Farm Bureau Details
2. Christensen Ranches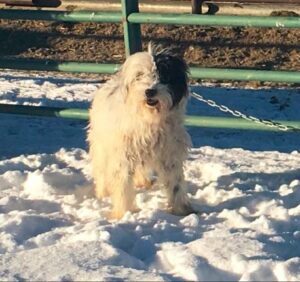 The Idaho Shag (which sounds like a dancing step) is a dog that just caught the attention of Christensen Ranches. They placed the breed on the back burner because they couldn't locate much information about it, including whether or if it was a registered breed.
However, after some contact with the Shag, they were impressed by the incredible herding ability and its popularity with cowboys for managing cattle on their ranches.
Dogs have unrestricted access to the outdoors in the Christensen Ranch, and they have a canine recreation and boarding facility managed by the family. They are committed to raising family-friendly, working Idaho Shags and breed for the betterment of the breed.
Christensen Ranches Details
3. National Purebred Dog Day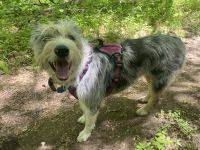 Susi Szeremy, a writer and Puli enthusiast, founded the day in 2013 to include the voice of purebred dog owners in the conversation about responsible dog ownership. Whatever their ancestry, all dogs should be valued, but the purpose-bred dog and its breed's predictability should be cherished and preserved.
Over 400 dog breeds worldwide, but many are on the verge of extinction in our lifetime. While the origins of the Idaho Shag are unknown, it is widely assumed that they are the product of crosses between Airedales, Border Collies, and Australian Shepherds.
This scruffy working dog with ruffled hair is known for its tenacity, endurance, adaptability, cold-weather resilience, herding ability, and stubbornness. Shags don't back down from the livestock they're in charge of, despite their average weight of 40 pounds.
National Purebred Dog Day Details
4. Idaho Senior Independent
The Idaho Senior Independent was established in 2005 to cater to the reading needs of senior citizens in Idaho. Idaho's numerous wonders extend beyond its distinctive terrain, which includes Hells Canyon, the world's deepest river canyon at 7,993 feet, and the Bruneau dunes, which rise to 470 feet and are the world's largest single-structured dunes.
Ranchers in Idaho are proud of a local canine marvel. The Idaho Shag, sometimes known as the fuzzy dog, is said to have developed in the Panhandle state's eastern region. However, its exact origins are unknown. It sounds like a cross between an Airedale terrier, a border collie, a kelpie, or a heeler.
Idaho Senior Independent Details
5. Premier Pups
Another nationwide network, Premier Pups' primary priority is the well-being of the dogs in their network. They take every care, from having their puppies examined by a physician to having their parents undergo annual physicals.
If you uncover something undetectable at 8 weeks of age and later turns out to be hereditary or congenital, they offer a ten-year warranty on their puppies. Their breeder partners are allies in advancing their clients' interests by bringing the highest quality puppies to market.
They are looking for breeding partners concerned about social responsibility and the environment. They have a stringent no-tolerance policy for bad breeders.
They visit their breeder regularly to ensure the health of their puppies, and the methods used to raise them are continually improving. Their pets and puppies are their first focus, and pay close attention to their breeders and practices.
Premier Pups Details
Thinking of Getting an Idaho Shag Puppy?
The Idaho Shag is a highly intelligent, trainable breed that wants nothing more than to work in partnership with us hoo-mans. After all, that is what they were bred to do. However, although the Idaho shag is a beloved breed, it may not be the dog for everyone.
They are a working breed that runs many miles a day herding cattle. Their high energy levels make them unsuitable for owners with sedentary lifestyles.
Without adequate mental and physical stimulation, the Shag can be prone to behavioral issues such as destructive chewing, digging, and separation anxiety. They are also known to be escape artists, so a secure fence is a must.
They are canine athletes that might be able to jump a six-foot-high fence easily. Idaho Shags are a popular breed because of their loyalty and friendly dispositions.
They make great family dogs and are known for being very loving. An Idaho shag can make a great addition to the family for those who are up for the challenge.
Working Dog vs. Companion Dog?
The Idaho Shag is a working dog breed, bred over decades to run many miles a day and to work in partnership with humans actively. If you are looking for a dog to help run a ranch or herd cattle, you might be better off going with a breeder specializing in herding dogs like Border Collies or Australian Shepherds.
If you are looking for a pet dog that is a valuable addition to the family but doesn't have an actual job, you might be better off going to a pet-friendly breeder that breeds Idaho Shags to be family dogs, not to work on ranches. A working dog might have too high a drive and energy level to be a peaceful companion at home.
Conclusion For Best Shag Breeders in Idaho
Like any working dog breed like Rottweilers and Australian Shepherds, the high-octane Idaho Shag isn't for everyone, especially those with sedentary lifestyles that don't exercise their dogs much.
If you are an active dog owner that wants nothing more than to go on long hikes, runs, and bikes with your puppy, then perhaps the Idaho Shag might be for you. Good luck and happy hunting.
For more guides similar to this list of Idaho Shag Breeders in The USA, you can check out:
Before bringing home an Idaho Shag companion from a breeder in the United States, you can see this dog live in action by watching "Idaho Shag" down below: