What in the world is an Australian Cattle Dog German Shepherd mix, you ask? Well, you may know the Cattle Dog by another name Blue Heeler. And if you know Blue Heelers, you know they're just as loyal as German Shepherds (GSDs).
Here's a comprehensive guide about the mixed breed, discussing each separately as well, and by the time you're finished reading, you'll know all there is to know about this incredibly intelligent Cattle Shepherd dog.
Before scrolling down this Australian Cattle Dog German Shepherd mix guide, you can check out our other mixed breed guides: Australian Shepherd Chihuahua Mix Guide and Border Collie Chihuahua Mix Guide.
How and When Did The Australian Cattle Dog German Shepherd Mix Originate?
The origin of the Australian Cattle Dog German Shepherd mix is mainly unknown but thought to have originated fairly recently as in the late 20th century.
More Dog Mixes: Best Poodle Mixes.
The Physical Appearance of the Australian Cattle German Shepherd Mix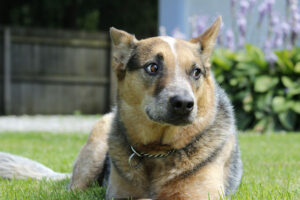 It's muscular with a dense, straight coat, athletic, and agile. Its entire body is sturdy, with long legs and a solid neck. It's 20-25 inches high and weighs 45-80 lbs with a thick tail.
Its eyes are brown (Shepherd and Cattle), blue (Cattle), or amber (mix), depending on which breed's genes are dominant. Its ears are alert and stand straight up.
Numerous color combination possibilities might include red, brown, blue, black, and brindle. Since the Cattle Dog is a moderate shedder that "blows" its coat twice a year and the Shepherd is a heavy-duty shedder, it needs to be groomed weekly.
Related: Dog Breeds That Look Like Fried Chicken.
Temperament
Intelligent
Hardworking
Protective
Loyal
Affectionate
Adaptable
Energetic
Needs supervision around children and strangers, but with lots of socializing and training as a puppy, it'll be just fine.
If poorly trained and isolated, you'll have a barker.
Unless it's been raised with a cat and other animals, you may need to re-think having another one.
Activity Level
The Australian Cattle Dog German Shepherd mix has high activity level. This may be the most active hybrid dog there is. Definitely one of them. It's a dog bred from two highly energetic dogs.
It'll need at least an hour a day of activity, whether it be a long hike, running, or just letting it romp through an enclosed field. Then, for an added surprise, get this flying disk.
Without many exercises, neither of you will be happy since you may have a destructive, aggressive dog on your hands. If you don't see yourself exercising quite that much with it, enroll in an agility class or hire someone to do the job for you.
Related: Top Low Energy Hypoallergenic Dogs That Don't Shed.
Possible Conditions and Diseases
Hip dysplasia
Progressive Retinal Atrophy (PRA)
Deafness
Flea allergies
Bloat
Epilepsy
Vision problems
Mental health
Prevention, prevention, prevention. See your vet regularly for the best chance to have a healthy, happy dog. The best and worst occupations for someone who wants to be the guardian of a Cattle Shepherd Dog.
Ideal Guardians
Athletes: Joggers, hikers, people who love the high of a great workout are perfect for the Cattle Shepherd.
Farmers: The dream home for this dog is an expansive farm with a full-time job to go with it. Animals to herd places to see. It couldn't get any better.
Entrepreneurs: Generally, an entrepreneur can make their hours, which would include time with your new buddy.
Professionals who work from home (i.e., CPAs, IT specialists): Being at home is right where it wants you. So everyone's happy.
Homemakers/SAHM's: You need to get out of the house and do something for yourself. Great time to go with your Cattle Shepherd to the park.
Part-time workers: You might have the extra time your dog needs to be with it after it's tired out from a good run.
Construction workers: Sometimes you can make your hours, and especially if you do seasonal work, you'd have some time on your hands to give to that cutie-pie.
Writers/Copywriters: I get to check in on my dogs as much as I want. I still get my work done while being with them all the time.
Clergy: Even though you're busy going here and there in service to other people, there are often you need to study and be at home with family. A Cattle Shepherd could be just the companion you need for walks and to spend time with someone who doesn't say a word.
Radio DJs: You work hard but sometimes not for long hours. So go home, play with the dog, and put some good music on for yourself.
Suppose you're a person who has a dog walker or someone who visits while you're working. Or if you're attending college part-time and are at home the rest of the day.
You might be a driver who can take your dog with you and make stops to play with it. You could be a singer who has a part-time gig during the day and time to spend at home.
But in general, those in the second group may not be the perfect fit for this type of dog. Like if you're a CPA who works at home but never works under 14-hour days with ½ hour break. But, on the other hand, you may be a SAHM with three toddlers, and any extra moments you have, you need to steal away for a shower.
Maybe you're in management in the construction business and work 10-hour days. This may not be the right dog for you in any of those cases. There are a million other occupations, but I have a word limit.
Related: Best Guard Dogs For Seniors.
Facts About The German Shepherd
Originated in Germany in the 19th century (which was the 1800s) by Max Von Stephanitz by crossing herding and farm dogs.
In 2020, the German Shepherd was listed as the third most favorite breed by the American Kennel Club (AKC). (Behind Labrador Retriever and #2, which is the French Bulldog)
It is a herding dog.
Added to the AKC as a purebred in 1908.
Average height: 22" to 24" (female) 24" to 26" (male)
Average weight: 50 to 70 lbs. (female) 65 to 90 lbs. (male)
Its life expectancy is 7 to 10 years.
Facts About The Australian Cattle Dog
Added to the AKC as a purebred in 1980.
Originated by Thomas Hall in Australia. Originally known as "Hall's Heelers," they were bred to herd cattle.
Besides "Blue Heelers," they're also known as Queensland Heelers and Australian Heelers.
Average height: 17" to 19" (female) 18" to 20" (male)
Average weight: 35 to 50 lbs.
Life expectancy: 12 to 16 years
It is related to Australia's famous wild dog, the Dingo.
German Shepherds As Work Dogs
There's barely enough room to list everything this dog can do, but here's a list of jobs it's a pro at:
Police dogs: Bomb, drug, explosives, blood, human remains/cadaver sniffing/detection, search and rescue, tracking, chase, and capture
Therapy/Emotional support dogs: Mental health, Alzheimer's/Dementia, visiting schools, hospitals, and nursing homes.
Service/Assistance dogs: They assist people with physical disabilities, including guide dogs for the visually impaired, guide dogs for the hearing impaired, service dogs for the neurologically impaired, service dogs for those who have seizures, and any physical injury such as with Veterans.
Military dogs: Detectors, trackers, sentries, scouts, search and rescue (they started as military dogs in Germany).
Herding dogs: But of course. It may try to herd you.
Australian Cattle Dog As Work Dogs
Herding: If you have land or even know someone who lives on a farm, a Cattle Dog is in heaven when there's space, space, and more space. Let it help herd the cows or sheep. You might just get a part-time job while you're at it.
Agility training: Get started.
Trick training: The Cattle Dog was born for this. This book might get you going.
Swimming: Take it to a creek, to a pool (some cities even have dog pools), or just get the hose out and run around. This dog's no wallflower, and it's one of the best exercises it can do.
Search and rescue training: This will give you details on how to begin.
Potential German Shepherd Conditions and Diseases
Hip dysplasia
Degenerative Myelopathy
Heart disease
Epilepsy
Vision problems
Bleeding disorders
Immune-mediated diseases
Hemangiosarcoma
Digestive problems
Mental health: Just as in humans, a GSD's temperament/mental health can be familial.
Potential Australian Cattle Dog Conditions and Diseases
Progressive Retinal Atrophy (PRA)
Hip dysplasia
Elbow dysplasia
Deafness
Osteochondrosis Dissecans (OCD)
Although no one can promise your dog will never get a debilitating condition or disease, this is just another reason to go to a reputable breeder, or if you're rescuing one, you might look for an older dog. Since rescues generally won't go through the adoption process with a dog that's not healthy.
Conclusion For "Australian Cattle Dog German Shepherd Mix Guide"
There are many puppy training YouTube videos, or get started with this excellent one by Cesar Millan and have fun going down that rabbit hole. Follow its lead, and you'll have your new best friend trained in no time.
Just like with the German Shepherd puppy, turn these "cons" into "pros" by putting in the work to adequately train your new ball of fur.
If you find this Australian Cattle Dog German Shepherd mix guide helpful, you might also enjoy:
You can learn more about this dog mix by watching "German Shepherd / Cattle Dog Mix / Dog Training" down below: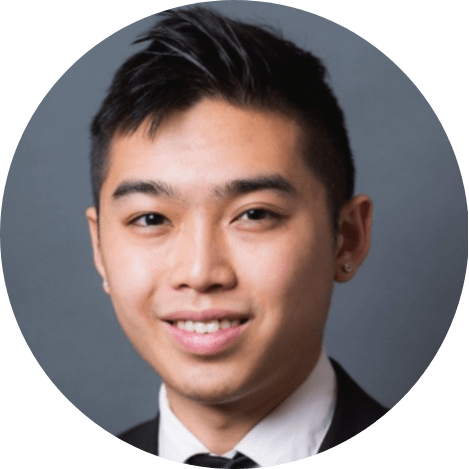 Andy is a full-time animal rescuer and owner of a toy doodle. When he's not saving dogs, Andy is one of our core writers and editors. He has been writing about dogs for over a decade. Andy joined our team because he believes that words are powerful tools that can change a dog's life for the better.
Why Trust We Love Doodles?
At We Love Doodles, we're a team of writers, veterinarians, and puppy trainers that love dogs. Our team of qualified experts researches and provides reliable information on a wide range of dog topics. Our reviews are based on customer feedback, hands-on testing, and in-depth analysis. We are fully transparent and honest to our community of dog owners and future owners.