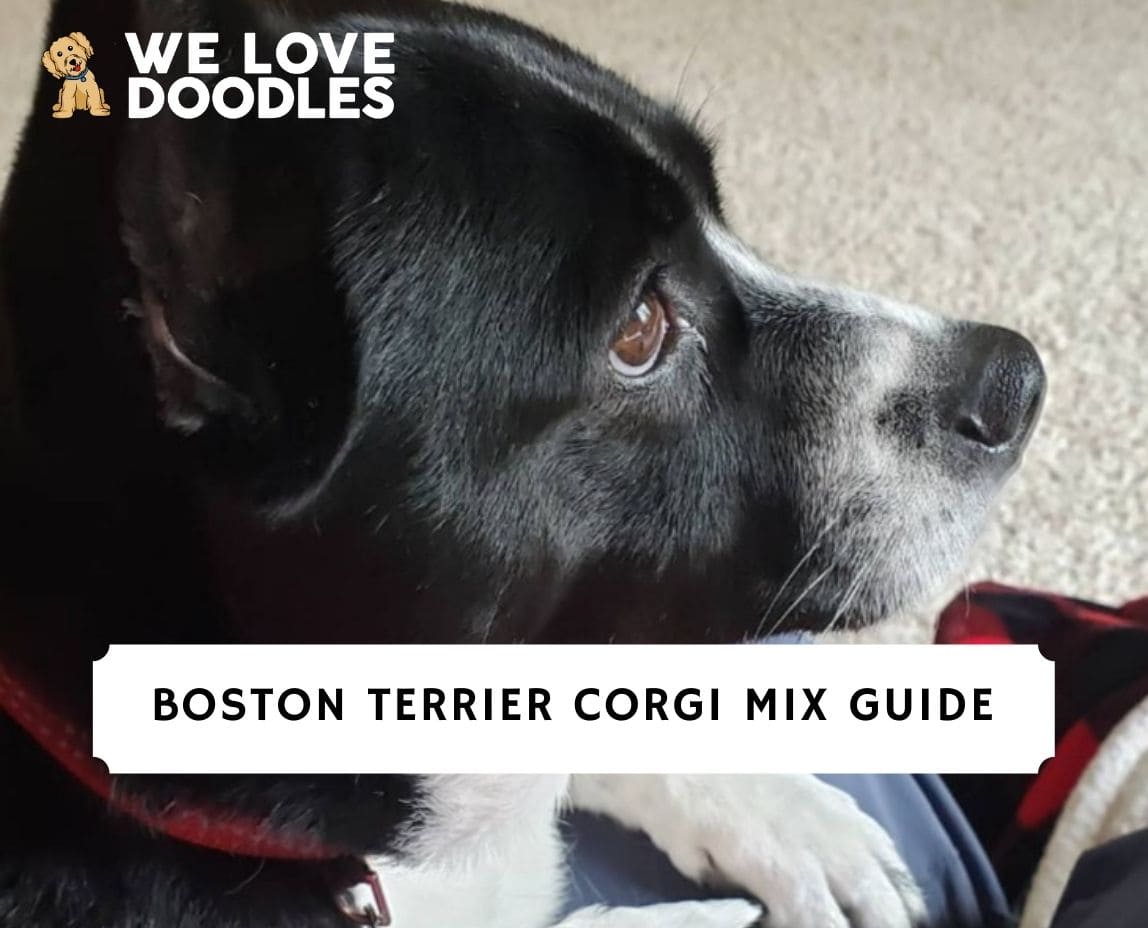 Here's what you need to know if you want to learn about the Boston Terrier Corgi mix. Boston Terriers and Corgis are some of the most well-loved dog breeds worldwide.
These dogs are beloved for their wonderful temperaments and their adorable looks. Therefore, it should be no surprise that you are left with perfect little puppies when you mix these two breeds.
This is where the Boston Terrier Corgi mix comes in. These dogs, also sometimes referred to as Corriers or Corgi Terriers, are beautiful hybrids. Below you will find our Boston Terrier Corgi mix guide. This will teach you everything you need to know about these adorable dogs.
Before scrolling down this Boston Terrier Corgi mix guide, check out these other dog mixes: Chihuahua Husky Mix Guide and Blue Heeler Poodle Mix Guide.
Origin
Unlike some hybrid breeds that have skyrocketed in popularity, Boston Terrier Corgi mixes are relatively new. These dogs are just starting to gain the attention of eager pet parents, and rightly so.
Corgi Terrier mixes are a hybrid breed that captures the best qualities of both Boston Terriers and Corgis. When breeding these dogs, two different types of Corgis can be used. Cardigan Welsh Corgis and Pembroke Welsh Corgis.
Although both breeds are Corgis, slight differences exist, such as size. These types of Corgis can be used to breed Boston Terrier Corgi mixes, creating different results. Carefully bred hybrid dogs are known for being healthier than purebred parents.
This is because hybrid dogs have fewer chances of developing diseases than purebred dogs. These diseases have been passed down through the generations.
Therefore, reducing the amount of each breed's genetics reduces the chances of the puppy developing these health problems. When it comes to any hybrid dog breed, including the Boston Terrier Corgi mix, you may end up with a dog that more closely resembles one parent than the other.
This preference for one parent over the other means your dog may look and act more like one breed than the other. Luckily, with these Corgi Terriers, both parent breeds are delightful. So, regardless of which parent your dog takes after more, it is sure to be sweet and cute.
More Dog Mixes: Samoyed Poodle Mix Guide and Border Collie Poodle Mix Guide.
Size
The Boston Terrier Corgi mix typically stands 10-17 inches tall and weighs 10-38 lbs. This may seem like an extensive range, but it is based on the size of the parent dogs. Because there are two different breeds involved in creating these dogs, two different sizes are involved.
The size of your Boston Terrier Corgi mix will depend on which parent your dog takes after more. If your dog takes more after its Boston Terrier parent, it is likely to be taller but lighter. Boston Terriers typically stand about 15-17 inches and weigh 12-25 lbs. The Boston Terrier size stands in stark contrast to that of the Corgi.
Suppose your dog takes after its Corgi parent more than its Boston Terrier parent. In that case, it is more likely to be larger but also slightly disproportionate (don't worry, this is part of what makes these dogs so adorable). Although standing much shorter at 10 to 12.5 inches tall, Corgis has a higher weight than Boston Terriers.
Cardigan Welsh Corgis typically weigh 25-38 lbs, while Pembroke Welsh Corgis are slightly smaller at 28-30 lbs. Therefore, the type of Corgi parent used when breeding these dogs will affect the size of the puppies.
Related: Most Aggressive Small Dog Breeds and Best Quiet and Small Dog Breeds.
Appearance
Similar to size, the appearance of your Boston Terrier Corgi mix will largely depend on which parent breed your dog takes after more.
General Appearance
As we mentioned above, your dog's proportions will significantly depend on which parent breed your dog is more like. Therefore, if your Boston Terrier Corgi mix is more like the Corgi parent, it will have shorter legs and a longer body.
On the other hand, if it is more like its Boston Terrier parent, it will have longer legs, making its body look more proportionate. Additionally, if a Corgi Terrier inherits more Boston Terrier genetics, it will likely have a shorter nose.
This is because Boston Terriers are brachycephalic dogs who have short snouts. If this is the case, monitor your dog for breathing problems associated with these small muzzles.
On the other hand, your Corgi Terrier could look more like its Corgi parent resulting in a longer nose.  Both breeds have large, pointed ears, so your hybrid puppy is sure to have these as well.
Related: Dog Breeds That Look Like Ewok and Dog Breeds That Look Like Rats.
Colors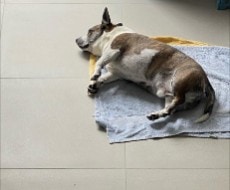 It is hard to predict what color your dog will be. Boston Terriers and Corgis have white stomachs with white markings on their faces. Therefore, their puppies should have these markings too. In addition to these white markings, Boston Terriers are black, seal, or brindle on the rest of their body.
Corgis can be black, tan, fawn, red, sable, blue merle, and brindle. Therefore, your Corgi Terrier can be many different colors. However, there is some overlap in the colors of these two different breeds making certain color combinations more likely.
Coat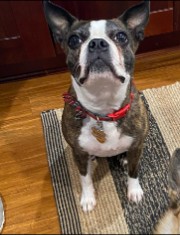 Boston Terriers have short and sleek coats that do not require specialized grooming. If your Corgi Terrier has a short coat like this, it will likely only need to be brushed weekly and bathed once a month.
This prevents dirt from getting caught in your dog's fur. Cardigan Welsh Corgis have fur that is somewhat thicker than a Boston Terrier's but still not too thick. These dogs also only require weekly brushing.
However, their hair does grow to longer lengths than the Boston Terrier, so it will likely need an occasional haircut, especially around its paws. If your Corgi Terrier has medium-length hair, it got it from its Corgi parent.
If your Corgi Terrier has a Pembroke Welsh Corgi parent, its hair might be even longer and thicker. This is because Pembroke Welsh Corgis have thick, double coats which require daily brushing.
These dogs also shed more and may need more baths to help remove dead hair. Be prepared for more intensive grooming if your Corgi Terrier has hair like its Pembroke Welsh Corgi parent.
Temperament
Boston Terriers and Corgis are both known for their friendly and affectionate personalities. In addition, both breeds are unconditionally devoted to their family. However, Boston Terriers are generally better around small children than Corgis are.
Because of their origins as herding dogs, Corgis are likely to chase small children. On the other hand, Boston Terriers are always happy to have a playmate regardless of whether that's a child or adult.
Boston Terrier Corgi mixes do tend to bark. This is because they are highly protective of their family, so they are always alert. Additionally, these dogs are athletic and energetic, so they need mental and physical stimulation.
Related: Friendliest Dog Breeds with Images.
Training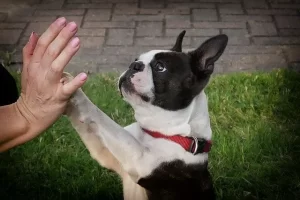 When training a Boston Terrier Corgi mix, you need to be firm in establishing a pack leader. Corgis are naturally independent dogs who will assume they are the leader, causing them not to listen.
However, you must be gentle and not scold your dog as their Boston Terrier genes make them sensitive to harsh words. It would be best to reward good behavior rather than reprimand bad behavior.
Related: Negative Reinforcement Dog Training Guide and Best Dog Training Shock Collars.
Health
Boston Terrier Corgi mixes are relatively healthy dogs with a lifespan of 12-15 years. However, although these dogs are typically healthy, they can still develop specific health problems. These problems stem from common health issues found among the parent breeds.
However, it is essential to remember that hybrid dogs have lower chances of developing health problems than purebred dogs. These dogs only share part of their genetics with their purebred parents.
It is important to remember, however, that breeding requires extreme care. Hybrid dogs are also known as designer dogs because they have been carefully designed to have these desirable characteristics. This requires careful selection of parent dogs.
So, suppose you want to adopt a hybrid dog. In that case, it is essential to get one from a reputable breeder who will ensure you are getting the healthiest and happiest dog possible. That being said, there are specific health issues that Boston Terrier Corgi mixes are more prone to.
However, it is essential to remember that just because these problems can develop does not mean that they do. Your Corgi Terrier mix could go its entire life without any problems at all. Or it could suffer from multiple of these problems.
Hip Dysplasia: Hip dysplasia is a disease that affects many different dog breeds. This problem occurs when the hip joint aligns incorrectly, resulting in the hip popping out of the socket. If not managed properly, this can have lasting effects on your dog. The most severe cases can result in lameness.
Progressive Retinal Atrophy: Progressive Retinal Atrophy (PRA) is a disease that affects the eyes. As time passes, dogs will lose their eyesight, eventually resulting in blindness. Unfortunately, this is an inherited disease that currently has no treatment for this disease.
Back Problems: Unfortunately, Boston Terrier Corgi mixes can inherit back problems from both of their parent breeds. Boston Terriers are prone to spinal cord deformities. This condition is called hemivertebrae and can lead to pain and lameness. On the other hand, Corgis often develop Intervertebral Disc Disease (IVDD). This disease is commonly found among dogs with long bodies but short legs.  IVDD is caused by slip disks in the back pushing on the spinal cord. Because both parent breeds are prone to back problems. There is a higher chance of your Boston Terrier Corgi mix developing these problems too.
Diet & Exercise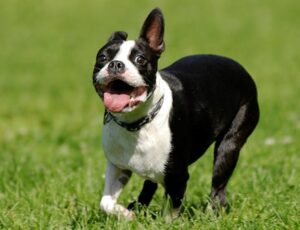 Boston Terrier Corgi mixes are prone to obesity. So, you must be extremely careful not to overfeed them as this can lead to weight-related health problems, including increased back problems.
You should always ensure your dog receives a well-rounded diet with plenty of nutrients. Specifically, you should focus on a low-calorie, high protein diet when it comes to Corgi Terriers.
This will ensure your dog is getting the protein needed to maintain strong bones and energy levels while avoiding extra calories that can cause weight gain. In addition to this well-rounded diet, you should ensure your dog gets enough exercise.
Corgi Terriers are high-energy dogs, so they need lots of activity. These dogs love walking, running, and playing. Therefore, you should try to exercise your Corgi Terrier for approximately one hour each day.
However, you should always ensure your dog is safe when exercising. These dogs can quickly become overheated, which can lead to health problems.
This is particularly applicable to the Corgi Terriers, who take after their Boston Terrier parent with the shortened muzzle. This can lead to breathing problems making them even less tolerant of extreme weather.
Related: Best Weighted Vest For Dogs and Why is My Dog Hyper?
Conclusion For The "Boston Terrier Corgi Mix"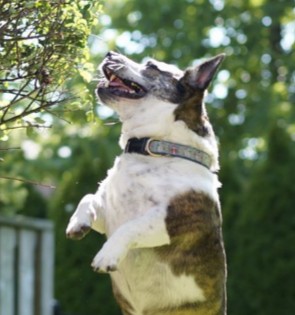 Boston Terrier Corgi mixes are a new hybrid dog breed, taking the world by storm. This should not be a surprise. These dogs have the best characteristics of two of the most well-loved dog breeds ever.
The beautiful personality and adorable appearance of these dogs make them irresistible. So, consider a Boston Terrier Corgi mix the next time you are in the market for a dog.
To learn more about dog mixes, you can check out these guides:
You can learn more about Boston Terrier mixes by watching "Boston Terrier Mixes – 20 Different Cross Breeds We Love" down below: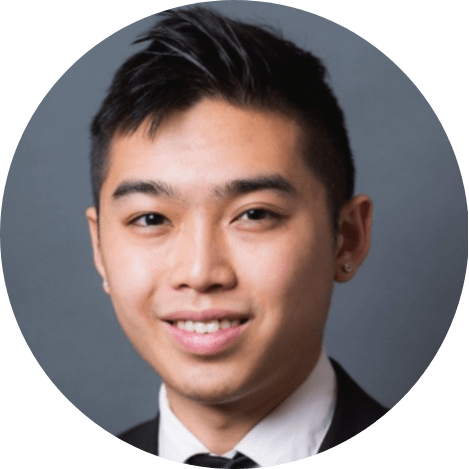 Andy is a full-time animal rescuer and owner of a toy doodle. When he's not saving dogs, Andy is one of our core writers and editors. He has been writing about dogs for over a decade. Andy joined our team because he believes that words are powerful tools that can change a dog's life for the better.
Why Trust We Love Doodles?
At We Love Doodles, we're a team of writers, veterinarians, and puppy trainers that love dogs. Our team of qualified experts researches and provides reliable information on a wide range of dog topics. Our reviews are based on customer feedback, hands-on testing, and in-depth analysis. We are fully transparent and honest to our community of dog owners and future owners.