If you're searching for the best indoor dog parks in Milwaukee, you've come to the right place. A trip to an indoor dog park or play area can highlight your and your dog's day if you plan it right. Outdoor dog parks are fun, but indoor dog parks have a different vibe because you can visit them whether it is snowy, raining, or sunny.
However, effective planning is necessary if you want to make the most out of your trip. The first step in planning is finding the right park or play area. There are dozens of secure play areas in Milwaukee to visit, but not all offer the same quality of service.
The next part of the preparation n is ensuring your dog is up-to-date on vaccinations and other preventative medications. To help make your experience worthwhile and memorable, we have reviewed and listed the best indoor dog parks in Milwaukee. Our list also includes daycare and boarding services with large play areas for you to exercise and have fun with your dogs.
Before you scroll down this list of indoor dog parks in Milwaukee, you can check out these other dog-related recommendations from our team at We Love Doodles: Best German Shepherd Rescues in Wisconsin and Best Goldendoodle Rescues in Wisconsin.
Find an Indoor Dog Park Near Me in Milwaukee
Here's a list of indoor dog parks in Milwaukee for you to check out.
Dog Product Recommendations: Strongest Shock Collars For Dogs and Best Dog Dental Wipes.
 1. Wag Social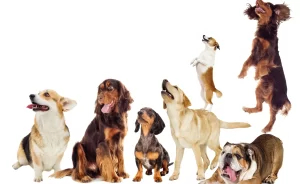 Wag Social is an indoor dog park for pet owners and their pets to play, socialize, and exercise. They have many pet-friendly toys and amenities to keep you and your dog busy and having fun for hours. The indoor dog park is fully air-conditioned, ensuring you and your dog remain comfortable throughout your stay.
Safety is one of the top priorities in this facility, and the management has adopted several measures to ensure everyone's safety. All dogs must be up-to-date on vaccinations before entering the park. You must provide your dog's vaccine records during the online registration process.
In addition, they assess every dog's temperament and play style before allowing them to join the other dogs in the park. These measures ensure a safe and comfortable environment for the dogs and their owners. The park also creates an avenue for pet parents to meet and socialize. You can make new friends and learn something from other dog owners in your city.
It also has a nice place to relax and have something to eat or drink while socializing with other pet owners and watching your dog have fun. Wag Social is more than an indoor dog park; it is a social environment for pets and owners. The park is open from Monday to Sunday, so you can visit when you're free during the week or weekend.
 Wag Social Details
2. Playtime Dog
Playtime Dog is a professional doggy daycare service with love and passion for these beautiful creatures. They believe pet parents go the extra mile by taking their dogs to parks and daycare services, so they also go the extra mile to ensure you get the best quality service possible.
They offer a healthy, fun-filled approach to bringing joy and excitement to your four-legged best friend and enriching their life. Playtime is the ideal place for pet parents who want to give their dogs an amazing treat. With well-equipped and climate-controlled play areas, your dog will have fun, exercise, and socialize in this daycare facility.
They have staff members well-experienced in dog handling, with varying backgrounds in vet experience, training, and dog psychology. Playtime's owners have more than three decades of professional dog-related experience, and there are dozens of experienced professionals caring for your dog on every shift.
Safety is one of the top priorities in this daycare facility. They care about the safety and well-being of your dog and have adopted several measures to ensure their safety throughout the facility. Pet parents are also allowed to spend quality time and play with their dogs in the play areas during pick-ups and drop-offs.
Your dog has a play area in this facility, regardless of size, breed, or temperament. Their indoor luxury play kennels are some of the largest in the city, about 25 square feet per kennel. The kennels are comfortable and spacious enough for your dog to play and exercise.
In addition, they have play equipment and swimming pools to ensure you have the best moments with your dog. The facility has artificial grass and epoxy floors with a built-in drainage system for the best play surface for your dog. Playtime also offers free baths to dogs that stay in the facility for five nights. You can also request a full-grooming service at affordable rates.
Playtime Dog Details
3. Dog City Hotel and Spa
With more than 40 years of combined experience, no better place to leave your dog than Dog City Hotel and Spa when you're not around. It is one of the best hotels to play, swim, exercise, and have fun with your pup. The hotel has state-of-the-art amenities to ensure your dog has a fantastic stay. All staff members in the facility are dog CPR and first aid certified.
Dog City Hotel and Spa offers:
Dog Boarding
Dog daycare
Grooming
Whether you are looking for a place your dog can stay while you are away or want them to be groomed by a professional groomer, you can count on Dog City Hotel and Spa. They have amenities your pup will love during their stay. They also have a raised bed, lots of room to play, and toys to keep them active and playing all day.
All dogs must pass a temperament test before entering the hotel. You must contact them and schedule a temperament test before booking your stay. Your dog will not be the only one to enjoy the amazing services. Dog City Hotel and Spa offers their customers coffee/tea, free Wi-Fi, and free parking while they make your pup look their best with their dog haircut and spa services.
The facility is open from Monday to Friday (7 AM to 7 PM) and Saturday to Sunday (10 AM to 4 PM). However, Saturdays and Sundays are for appointments only. The registration process is online, and you only need a few clicks to sign up. You will also need to provide your dog's vaccine record during registration.
Dog City Hotel and Spa Details
4. Unifursity
Unifursity provides a serene and conducive environment for your dog to express their dogginess. If you want to improve your dog's socialization skills and expose them to other dogs in a peaceful and safe environment, Unifursity is one of the best places to do so. They offer various programs, including daycare, boarding, and spa services.
If you are looking for a comfortable and fun-filled place to leave your dog when traveling or busy with work, we highly recommend Unifursity. Thanks to their various playing grounds and pet-friendly amenities, your dog will have a lot of fun in this facility. They have a large party room for large and active dogs.
You can also host a party for your dog in this large playground. Small and shy dogs are not left out of the fun, as they have a dedicated small party room that caters to their needs. The play rooms have many toys and amenities to engage your dog's body and mind. There is also an outdoor playground for daycare and boarding dogs.
Experienced professionals supervise all the playgrounds to ensure a safe and comfortable play area for your dog. They have very large dorms for boarding dogs. Your dog will have a comfortable and spacious space to pass the night. The environment is climate-controlled to ensure you and your buddy are comfortable. In addition, there is a lobby and retail section where you can buy basic dog supplies, including treats and food.
Unifursity recently added dog training courses to their list of services. You can opt for any of their dog courses; some of the courses require you to get involved. These training exercises will help increase the bond between you and your pup. It only takes a few clicks to enroll and register your dog online.
Unifursity Details
Conclusion For The "Best Indoor Dog Parks in Milwaukee"
The resorts, daycare, and boarding services listed here offer more than just a place for your pup to stay when you're not around. They offer large playgrounds with modern amenities and interactive toys to keep your dog active and happy. You can also spend time with your dog in the facility, playing, exercising, and socializing.
For more guides similar to this list of indoor dog parks in Milwaukee, you can check out these recommendations from our team:
Before you bring your companion to a dog park in Milwaukee, you can check to see what it's like by watching "Indoor Dog Park" down below: