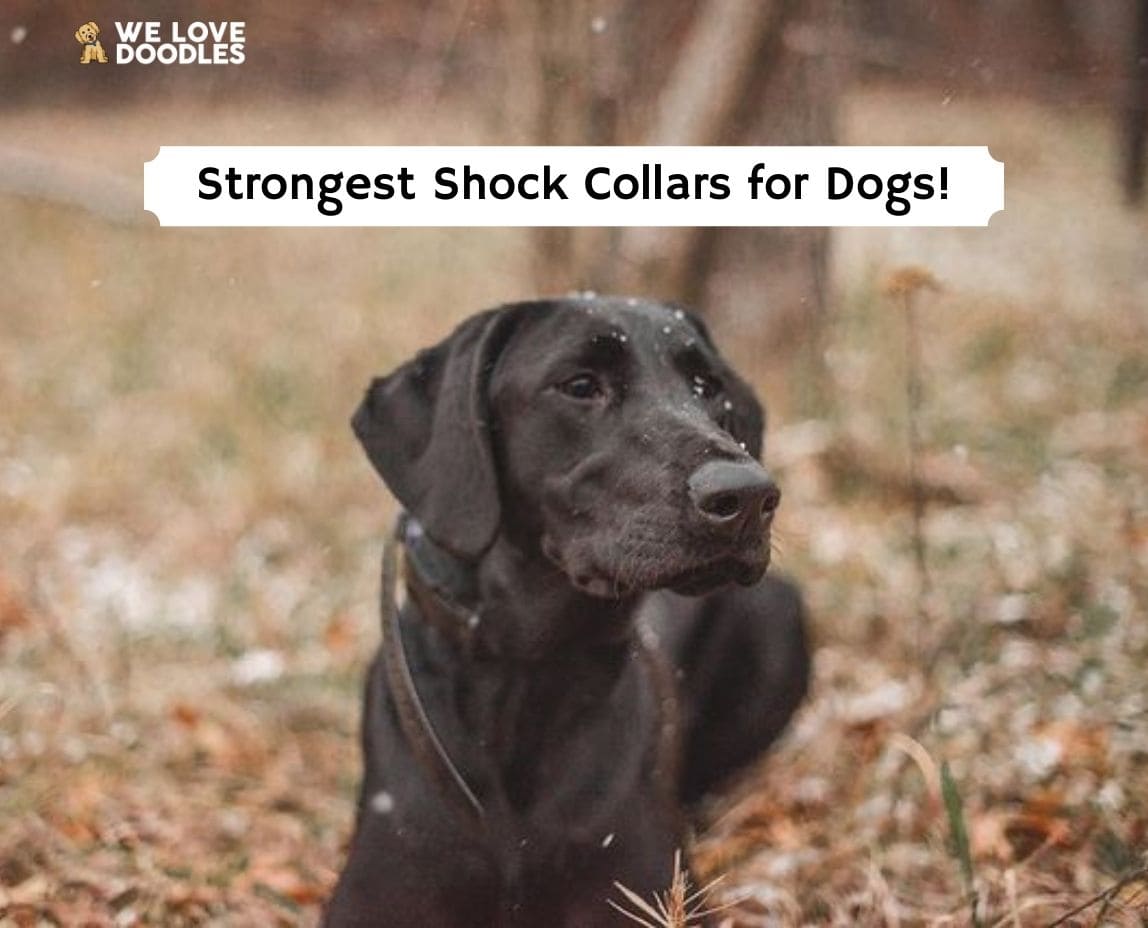 Dogs are known for their tenacity, endurance, and stubbornness. They're related to wolves, after all. They can tough it out and rough it out, and we love them for it. In that spirit, we do our best to train them and minimize the friction they cause between us. Sometimes though, a treat and a firm voice aren't enough. This is where shock collars a.k.a e-collars come in useful. Through the use of electricity, they deliver an irritating sensation meant to grab your dog's attention, keep their focus, and help with reinforcing proper behaviors. 
Sometimes still, it's not enough. Some breeds are so strong-spirited, that some weaker collars don't even make a dent in their determination. To solve that, we've gathered collars that are known to deliver the right level of power to match the most stubborn of dogs, but at the same time, completely safe that we don't end up hurting them. 
When we say strong, we don't just mean powerful and effective, we also mean training kits that can tough it out alongside your equally stubborn buddy. 
In a rush? Here are the top picks!
Product
Best Overall
Pet Resolve Store
Best For Hunting
SportDOG Brand
Image
We start off strong with the training kit that may have the most features jam-packed in it. The Pet Resolve collar is meant to be an all-around collar for basic training, hunting, fieldwork, and other kinds of outdoor activities.
It has the three standard training functions, with 10 levels of shock. The number of levels doesn't actually tell you the strength of the collar, just the amount of in-betweens you can choose between the minimum and maximum strength. 
It also has an above-average range. Granted, you can only achieve this kind of range in open spaces, as a lot of things can dampen the range like trees, cars, and weather. Even with that, it can give you a good 500-yard range on the worst times. 
The remote is splashproof. It means even a jet of water from a hose won't damage it, so even the nastiest rainfall won't stop it from working. The receiver is waterproof and can take a dive under 25 feet of water for half an hour and it would still work. In case you either lose the collar in the dark or your dog along with it, the remote-activated LED lights are bright enough to see from a long distance, which helps locate your dogs when you're out hunting and it's getting dark. We say dogs because one remote can support up to three collars, and you can quickly switch at the press of a button. The remote also remembers the level of each collar, saving you the trouble of switching levels. 
You'll understand how jam-packed this collar is when you look at the rest of the list. One more feature it has is the bark limiter that efficiently minimizes excessive barking. You can't use the remote in this mode though. Instead, the receiver will automatically listen for your dog's barks. If they bark too much in a few seconds, the collar will let out a warning beep. If they keep on barking further, the collar will deliver a shock. You can choose the level of shock in this mode.  Afterward, to keep your dog safe, it will pause for 1 minute before listening again. This is all automatic and you don't need to be there to control anything. 
As far as the battery life goes, it will yield about 50-70 hours before it needs a recharge. The one downside this product doesn't go to standby mode.
Normally, when the kit is on and has been idle for a few minutes, it will go to standby mode and turn all features off until you press a button to "wake" it up. This ultimately saves battery life but can mess your timing up if you forget that it went to sleep mode. This collar has one of those cases where a downside can turn out to be a handy feature.
In contrast to our first collar, this model is what you would (and should) expect of modern e-collars. They should have three training modes: Shock, Vibrate, and Beep mode, and has a respectable range, with this one reaching as far as 1/2 miles. It's up to you how you use these functions, like using the vibrate to call their attention, using the shock for behavior reinforcement, and using the beep to signal them that they did the correct behavior. 
The dial on the top of the remote controls the shock levels, giving you a wide range. 127 intensity levels don't mean it's 12.7 times more powerful than a collar with 10 levels, but it does mean you can fine-tune the level your dog will respond to. With precise stimulation levels, it will be easy to find the lowest functional level your dog requires.
You'll also find the remote to be on the slightly bulky side. This has its upsides as the buttons will align nicely with your fingers when you grip it, and the remote is quite durable. Both the remote and the receiver can survive being submerged in water for an hour before any potential water damage.
It does not have multi-collar support though, nor any other features for utility. It does, however, have a slightly longer battery life, lasting over 70 hours depending on how often you use it. 
Despite it being basic, it will still function as a great hunting collar due to being waterproof and the remote being sturdy overall. 
This collar is also advertised as a hunting collar. Stronger shock collars tend to be geared for hunting, as you need all the power you can get, especially in dangerous situations. 
Perhaps one such exception to using very strong shock levels is if your dog is in immediate danger. If your dog suddenly chases off an animal or gets into a fight with another dog, you'd need a sure-fire way to intervene. 
It has 10 intensity levels, which may not offer much precision, but instead offers better adjustment speeds, especially in situations stated above. 
As it is a hunting collar, the remote and receiver are waterproof. The remote is also easy to grip and has a clear OLED screen with simple but important information about the collar. 
The battery life is around the same range as most of the collars in this list. Depending on how much you use it, it will yield about 50-70 hours of usage before it needs a recharge. 
That's all this collar can offer. If you're aiming for simplicity backed with quality (like all the collars in this list) then this may be the training tool for you.
Don't be fooled by the kit's small remote. It's as effective as the rest of the collars on this list with a slightly longer battery life. It has all the basic functions needed for modern training collars and has 36 static shock levels. That's 36 levels you can pick using a button with a digital display rather than a knob. With its rather punchy static shock, you will need a certain degree of precision, and this collar can deliver. 
It has an above-average range for a collar of its caliber, reaching as far as 1300 yards in open space and good weather. Of course, any objects between you and the collar can dampen the range, but with this range, you can guarantee that the collar will activate within earshot, especially when you lost it, and are using the beep to locate it. This will be especially useful when you handle 2-3 dogs since the remote can handle up to three collars paired to it.
The remote and the receiver can withstand being underwater for about 30 minutes without any water damage, and despite the small remote, has an extra 10 hours more battery life on average.
Like our third collar, it has tried and tested functions all shock collar owners should need in basic training sessions. It can also be a hunting collar due to the multiple collar support, which already makes it an all-around collar for other uses. 
The last collar on the list has certain features that make it extremely useful for outdoor use, especially when going without leashes. It has all three basic training functions and has 15 levels of static shock to choose from. The remote has a simple LCD screen to show the shock level, alongside a unique piece of information. 
The Distance Gague feature shows a small estimate of how far the receiver is from the remote via the LCD screen. With a range of about 1/2 miles, it won't be hard to estimate if your dog is already quite far in an open space. It can come in handy when you're handling two dogs since you can check the remote for their relative distance from you. The receivers also have a remotely activated nightlight which helps you spot them in the darkness, or in low-visibility conditions. 
Like nearly all the collars on this list, the remote and the receiver are waterproof and have a pretty sturdy design. The lithium-ion battery also lasts around 50-70 hours and can be charged to full in about 2-3 hours. 
The button mapping on this collar takes some time. It has buttons labeled A B and C, which are supposed to stand for Audible Beep, Brief Stimulation, and Continous Stimulation respectively. Once you get that memorized, you need to get used to the button placements themselves, which can be a little confusing until muscle memory takes over. 
Frequently Asked Questions
Thank you for taking the time to read our list. We understand that shock collars are given a bad reputation through the years due to the fact that it uses electricity to train, and how extremely powerful and cruel it was in the 1950s. To help clear the fog of doubt, we'll answer some of the most frequently asked questions about shock collars and give you more insight into how they work.
Do shock collars make dogs aggressive?
No. In fact, when used properly, they can help train aggressive dogs to become more responsive to their owner and provide a much-needed sense of order that usually lessens their aggressive tendencies. It takes a considerable level of neglect to actually make them aggressive with shock collar training. If not, it's likely that they have an aggressive disposition already, or have a problem that needs attention like illness or pain.
At what age can a puppy wear a shock collar?
6 months at the minimum. There are 2 reasons for this. First is that around this time, dogs enter their 2nd "Fear Phase". In this state, they are more sensitive to negative stimuli and therefore, also more responsive to positive stimuli. It's a natural learning phase that helps them understand the do's and dont's of the world they're in. Since shock collar training is a push-and-pull process, they will quickly understand the concept, which also ironically lessens the need to use the electric shock collar. 
The second is more trivial. Most shock collars are meant for dogs 10-15 lbs and some puppies are just too small. Medium and large dogs tend to be the right size around 6 months of age. 
How long should I leave a shock collar on my dog?
8 Hours Maximum. This is assuming you've placed the collar on the usual tight way. It's also highly recommended that you rotate the collar every hour or two so that the prongs touch a different part of the dog's neck. This completely avoids friction and pressure wounds on your dog's skin, which can be mistaken for burn marks. 
This also applies if you're just using the vibrate function, or are using a no-shock collar. 
What's the best way to use a shock collar?
The golden rule is to never use the collar for punishment. This means never using the collar's shock or vibrate functions after your dog has already done something bad. One such example is simply using the shock function when your dog is in a fit of excessive barking.
The most effective way is to use the shock collar for Negative Reinforcement alongside a form of Positive Reinforcement. A simplified process is as follows:
State the command like "Sit!" and as soon as you say it, activate the collar's continuous shock/vibrate. When your dog actually sits, remove the shock. This is the negative reinforcement part of dog training.
You then give a signal that your dog did the correct action, such as saying "good!" or using a clicker, or the beep on the shock collar. Immediately afterward, you give your dog a reward like their favorite treat. This is the positive reinforcement part.
Doing these two with relatively decent timing and consistency is one of the core methods of shock collar training. If you want your dog to stop bad behavior like chewing and digging, teach them instead to listen to your command, such as "Stop!" instead of using the shock function while they are in the act.
How strong should a shock collar be?
The lowest possible responsive level. This means despite how powerful a shock collar is, the level you should be using is the lowest level your dog will react to. To achieve this, first set the static shock level to the lowest, then trigger a brief shock while keenly observing your dog. Look for any signs that they reacted, such as turning their necks as if they noticed something odd, closing their mouth, or raising their heads in attention. If they don't seem interrupted by it, increase the level to the next one and try again.
You may need to estimate a little if you're using remotes that have knobs or rheostats to adjust their levels. 
What are the dangers involved with shock collars?
Misuse. Almost all problems that come with shock collars stem from owners not fully grasping the idea of training and neglecting certain safety precautions when using them. Thankfully, it's not something that you'd easily miss. Simply reading all the literature that comes with any shock collar kit already provides you with basic do's-and-don'ts and how to use the device properly. 
Conclusion for Strongest Shock Collar
Owning a pet is not a light responsibility. Part of that responsibility is to make sure they are trained at least to a degree where they can fit in well with you, your household, and your neighborhood. Sometimes, all it takes are good dog biscuits and a firm voice, but should it not suffice, keep in mind that with powerful shock collars come even greater responsibilities.
But don't worry, as long as you treat your furry buddy with all the love and respect they deserve, the experience will benefit both of you quite greatly.
Other articles you would like:
Garrett loves animals and is a huge advocate for all Doodle dog breeds. He owns his own Goldendoodle named Kona. In addition, he volunteers at the Humane Society of Silicon Valley, where he fosters dogs and helps animals. Garrett enjoys writing about Doodles and believes that dogs can teach humans more about how to live than humans can teach a dog.
Why Trust We Love Doodles?
At We Love Doodles, we're a team of writers, veterinarians, and puppy trainers that love dogs. Our team of qualified experts researches and provides reliable information on a wide range of dog topics. Our reviews are based on customer feedback, hands-on testing, and in-depth analysis. We are fully transparent and honest to our community of dog owners and future owners.