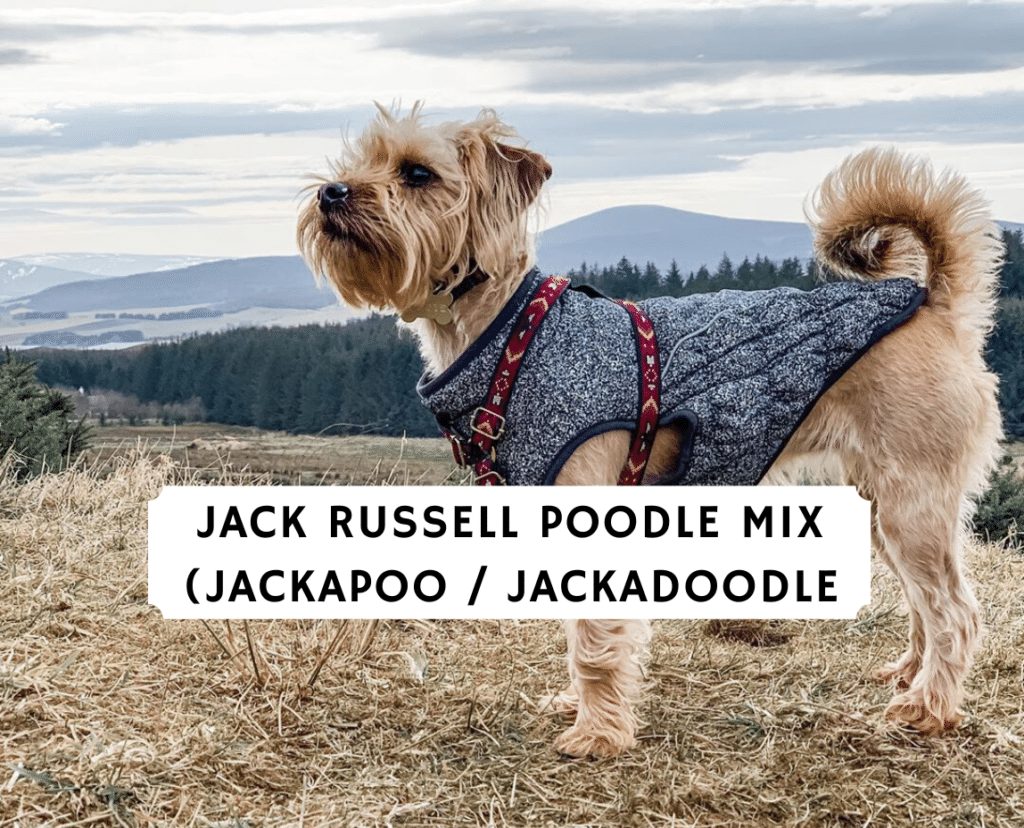 The Jackadoodle, also known as the Jackapoo or Jack Russell Poodle Mix, is a relatively popular dog breed that is a mix between the Jack Russell Terrier and Poodle. These two dog breeds have various different sizes and personalities, yet they make a fascinating mix once crossbred. This Jack Russell Terrier Poodle mix is a small to medium dog breed that is affectionate, obedient, and perfect for families who aren't looking for a large dog.  In addition, the Jackapoo is also typically multi-colored, hypoallergenic, and nonshedding.
We also made a video on the Jackadoodle dog breed if you want to watch it below:
Check out some other upcoming doodle breeds include: Huskydoodle, Samoyed Poodle, and Chow Chow Doodle.
What is a Jackadoodle?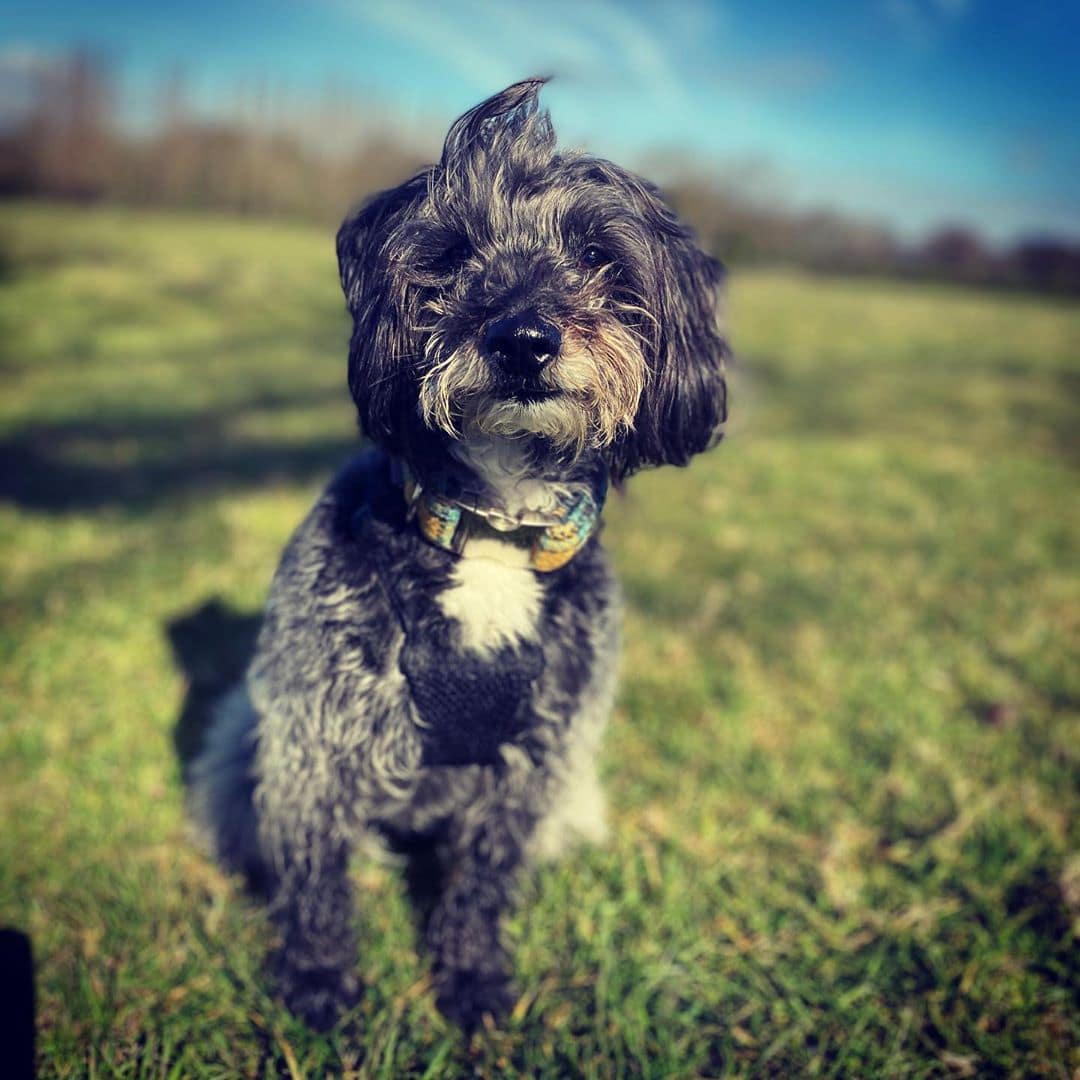 A Jackadoodle is definitely not considered a thoroughbred dog breed but instead is a mix between two popular dog breeds: The Jack Russell and Poodle. These dogs are typically small and skinny in stature, have relatively high energy, and are very cute. The Jack Russell Poodle mix also loves to play fetch, frisbee, or run around the dog park.  In addition, the Jackadoodle requires at least 30 minutes to 1 hour of physical exercise or mental stimulation per day or they will become bored and may partake in destructive behavior.
Since the Jack Russell Terrier and Poodle mix is not a purebred, the genetics, personality, and sizes can fluctuate. You will frequently observe Jackadoodles that weigh 10 to 30+ pounds stand 10 to 20 inches tall, depending on the parent dog qualities. Additionally, the Jackapoo's coat color can virtually be limitless because the Poodle comes in 11 standard colors. You'll frequently observe Jackadoodles that are dark, tan, or cream. Some Jackadoodles even have the Jack Russell Terrier signature white chest and multi-colored face. Since each Jackapoo can look different, this is what makes this breed special and unique. The one aspect we do know is that they will be a charming dog that has a high possibility of being multi-colored.
Jackadoodle Breed History

Jack Russell Terrier History
The Jack Russell Terrier started in England a couple of hundred years ago and was trained to chase game creatures like foxes. This little dog breed has an athletic body that is incredibly fast, agile, and gentle. The Jack Russell Terrier also goes by the name of Parson Russell Terrier and is very popular among pet owners since this dog breed appears in several films and television shows. If you love dogs who like to fetch, are highly intelligent, and are a caring pooch, then a Jack Russell Terrier may be the dog for you. The Jack Russell terrier ranges from 13 to 17 pounds and is about 10 to 12 inches tall. They are a smaller dog breed with a good amount of energy! 
Poodle Retriever History
Poodles began in the 1800s in Europe where they were used to chase and retrieve birds because of their excellent ability to swim. The Poodle Retriever is always in the top 10 dog breeds from the American Kennel Club (AKC) because they don't shed and are hypoallergenic. 
They are one of the most intelligent, charismatic, and dynamic dogs that can range in size from a Toy Poodle to a Standard Poodle. Toy Poodle ranges in weight from 10-15 pounds and stands around 12 inches tall, while the Standard Poodle can get as much as 90 pounds and be 24+ inches tall due to their long legs. Because of their intelligent and respectful character, Poodles are known to be easy to train. However, if you don't exercise and mentality stimulate a Poodle they may become disobedient. All things considered, Poodles are a loving, steadfast, and lively dog that is extremely popular.
Jackadoodle Appearance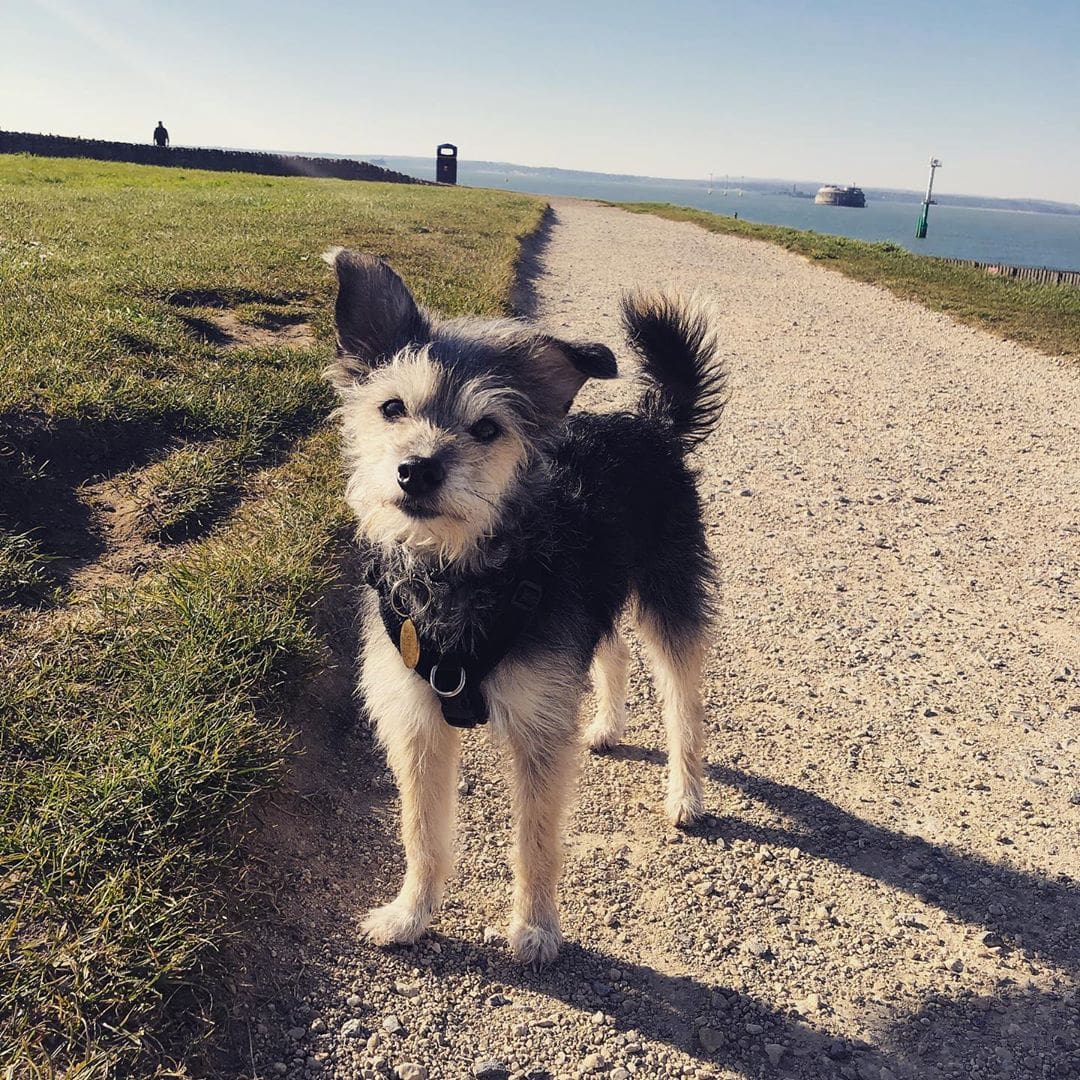 The Jack Russell Poodle mix can come in a wide range of colors, however, the most well-known colors are black and white, brown and white, and cream and white. Typically, the chest and face area has white shading because of the signature hereditary qualities of the Jack Russell Terrier.  In addition, the Jackadoodle may also have a white color near its paws. The best indicator of a Jackapoo's colors will be the shade of the parents (mostly coming from the Poodle). Since Poodles come in 11 different standard colors ranging from white to apricot to black, the Poodle coloring has the biggest hereditary influence on the Jackadoodle. The Poodle parent regularly dictates the coloring of the Jackadoodle. However, the color can never be predicted 100% due to recessive genes.
The best part of a Jackadoodle is that they inherit genetic traits from the Poodle that make this dog mostly non shedding and hypoallergenic.  These are awesome genetic traits that allow you to vacuum less and have less allergies. The Jackapoo inherits these traits from the Poodle side.  So if you're looking for a small doodle that is non shedding, hypoallergenic, and loves to fetch this is likely going to be the dog for you.
Jackapoo Temperament 
We do know that the Jackapoo will be a relatively active dog breed since both the Jack Russell and Poodle are working canine breeds. With regular exercise, this Jack Russell Poodle mix is a fabulous companion that will be faithful, smart, and adoring. The Jackadoodle isn't an aggressive dog breed at all, so they play well with smaller children and strangers with proper socialization as a puppy.
As a dog owner, you'll regularly provide some physical and mental exercises so your Jack Russell Poodle mix can discharge its energy. The Jackadoodle blend will love to play frisbee, fetch balls, hike outdoors, or play at the dog park. You will need to exercise your Jackapoo for at least 30 minutes to 1 hour each day.  In addition, horns for dogs to bite on or dog puzzles help to provide mental stimulation. If your Jackadoodle gets bored, they may become disobedient and you'll likely discover the Jackapoo biting different items around the house, like the TV remote or shoes.   However, these small dogs are perfect family dogs that can be loving, will cuddle, and love to fetch.
Conclusion for Jackadoodle Guide (Jackapoo, Jack Russell Poodle Mix)
Jackadoodle's are a relatively popular dog breed between the Jack Russell and Poodle. In no way, shape or form is this a purebred dog, however they have some superb genetic characteristics like being hypoallergenic and non shedding.  In addition, this Jack Russell Poodle mix is often two different colors and comes in a nice small dog size. The Jackapoo is a cute, loyal, obedient, and high energy dog. 
Check out our other articles:
Want to learn more about the Jackadoodle? Check out the YouTube video below:
Frequently Asked Questions 
What do you call a Jack Russell Poodle mix? 
A Jack Rusell Poodle mix is known most commonly as a Jackadoodle or Jackapoo. This isn't viewed as a purebred dog, however, the Jackadoodle is energetic, adoring, and very trainable. It gets exceptional qualities from the mainstream Poodle and Jack Russell Terrier like being mostly non shedding and hypoallergenic.
What does a Jack Russell Poodle mix look like? 
The most widely recognized shades of a Jackadoodle are black, dark brown, or cream colored bodies with white spots on their chest or face. However, the shades of the Jackadoodle can range broadly because of the hereditary qualities of Poodle and Jack Russell. No shading is ever truly ever 100% guaranteed.
Are Jackapoos Good Pets?
It's important to remember that the temperament of a Jackapoo can vary quite a lot because the breed may take after either its Jack Russell Terrier or Poodle parent. For this reason, it's difficult to exactly predict personality from the outset.
What tends to be universally true, however, is the fact that Jackapoos are typically very good pets. Jackapoos make excellent pets due to the breed's sociable and affectionate nature.
No matter which parent breed the Jackapoo takes after, it's usually safe to say that a Jackapoo will be active and playful. This means that it will be eager to engage and have fun with its owner(s). However, the average Jackapoo also enjoys its downtime and will happily cuddle and relax with its family members as well.
With the correct socialization, the Jackapoo has been shown to get along well and interact gently with children. This breed can also be trained and socialized to behave very well around other dogs.
The main situation in which a Jackapoo might not behave like an ideal pet is if it's not being exercised enough. In this case, Jackapoos have a tendency to become bored and may begin to exhibit destructive behavior around the home. Luckily, the simple solution to this problem is to provide your Jackapoo with the recommended amount of daily exercise.
Are Jackapoos Yappy Dogs?
The Jackapoo does have quite a high-pitched bark, which has led many people to label the breed as inherently yappy.
However, much of this barking can be put down to the Jackapoo's high levels of alertness. These are loyal and intelligent dogs, so they can be counted on to alert you to strangers around your home.
Excessive barking is one of the most reported behavioral issues in the Jackapoo breed, but if your Jackapoo won't stop barking, don't despair.
Thanks to the high intelligence levels of the Jackapoo's parent breeds, Jackapoos tend to be very intelligent and, as a result, easily trainable. Unnecessary and excessive barking is just one of the many behaviors that can be addressed through obedience training. In most cases, positive reinforcement through praise and treats when your Jackapoo stops barking will be highly effective.
Do Jackapoos Shed?
As with the temperament of a Jackapoo, it can be difficult to ascertain how much your Jackapoo will shed until you actually bring one into your home.
The reason for this is that, as we already touched on in reference to the typical Jackapoo personality, Jackapoos may take after one of their parent breeds more than the other.
If your Jackapoo primarily takes after its poodle parent, you can expect quite minimal shedding, accompanied by relatively low-maintenance grooming requirements. In fact, a Jackapoo that takes after its poodle parent in the coat department can be considered hypoallergenic.
On the other hand, where a Jackapoo mostly takes after its Jack Russell parent, you can expect substantial shedding. In this case, you will need to be prepared to groom your Jackapoo more frequently and extensively.
Do Jackapoos Get Along With Cats?
Unfortunately, despite their relatively small size, Jackapoos tend to have a high prey drive. This means that they may naturally behave aggressively towards smaller animals like cats.
However, this does not mean that a Jackapoo can never get along with a cat. In fact, there is plenty of evidence that Jackapoos can coexist peacefully with cats, as long as socialization is facilitated from when the Jackapoo is a puppy.
If you want your Jackapoo to get along well with cats, it's crucial to conduct introductions at the right time. Ideally, you'll want to make sure that you introduce the Jackapoo and cat while they are both still young. This will ensure that they have plenty of time to get used to one another while minimizing any territorial issues.
It might help to introduce the Jackapoo to the cat slowly. For instance, keep them in separate areas of the same house to begin with, but allow them both to recognize the other's scent by smelling your hand. Then, after a couple of days, conduct a relaxed, supervised introduction.
Even with a gradual introduction, there's no telling for sure how the first meeting will go, so it's important to be ready to step in if necessary. However, remember to stay calm.
Let the Jackapoo and the cat interact for a few minutes (assuming things are going well) before separating them again. Repeat the process twice to 3 times a day, until both animals seem comfortable with each other. This could take some time, so be patient.
Please bear in mind that while a Jackapoo might learn to be friendly around your family cat, it may still lash out at cats with which it's familiar. Therefore, it's wise to keep your Jackapoo a safe distance away from any cats outside the family.
Can Jackapoos Be Left Alone?
Jackapoos are prone to separation anxiety when left alone by their owners. Therefore, if you need to spend a lot of time outside of the home without your dog for whatever reason, the Jackapoo may not be the best breed for you.
In addition to anxiety, your Jackapoo may become bored if they are being left alone for extended periods of time and not exercised outside of the home enough.
If you have a Jackapoo and need to leave them home alone for any reason, it's important to monitor your dog's behavior for signs of anxiety or boredom.
Pacing, panting a lot, unexplained shivering, excessive licking and chewing, or even destructive behavior can all be signs of anxiety in your Jackapoo. These can also all be signs that your dog is bored. Whether boredom or anxiety is the root cause of your dog's unusual behavior, the bottom line is that they mean your dog is unhappy.
Obviously, it can be difficult to ascertain whether your dog's anxiety or boredom behaviors are triggered by your absence because you're not there to witness it. A dog monitor or camera may be your best bet in these situations.
Garrett loves animals and is a huge advocate for all Doodle dog breeds. He owns his own Goldendoodle named Kona. In addition, he volunteers at the Humane Society of Silicon Valley, where he fosters dogs and helps animals. Garrett enjoys writing about Doodles and believes that dogs can teach humans more about how to live than humans can teach a dog.
Why Trust We Love Doodles?
At We Love Doodles, we're a team of writers, veterinarians, and puppy trainers that love dogs. Our team of qualified experts researches and provides reliable information on a wide range of dog topics. Our reviews are based on customer feedback, hands-on testing, and in-depth analysis. We are fully transparent and honest to our community of dog owners and future owners.