In recent years, designer dogs have become increasingly popular. These hybrid dogs are created by breeding two purebreds, and they often have the best traits of both parents. For example, a designer dog might inherit the intelligence of a Poodle and the laid-back attitude of a Golden Retriever.
Designer dogs also tend to be healthier than their purebred counterparts, as they can benefit from what is known as hybrid vigor. In other words, crossing two different breeds can help to reduce the risk of genetic diseases.
Furthermore, many people believe that designer dogs make better companions than purebreds, as they are less likely to inherit aggressive or territorial behaviors. Ultimately, it is no wonder that so many people are choosing to add a designer dog to their family.
If you aren't a stranger to designer dogs, chances are that you've already heard of the Maltipoo, the ultimate companion dog that is a cross of the lovable, affable Maltese and the intelligent Poodle. With a hypoallergenic coat and an incredibly pleasant personality, the Maltipoo is one of the most popular little hybrids around.
Cross that with a sassy, spunky Pomeranian and you've got the Maltipoo-Pomeranian mix. In this blog post, we'll learn all about this intriguing mix, its appearance, temperament, potential health issues, and see if this unique hybrid might just be the dog for you.
Maltipoo – Pomeranian Mix – The History
The history of designer dogs is a long and winding one, full of twists and turns. It all started centuries ago when breeders decided to cross companion purebred dogs like the  Pekingnese with a Toy Terrier, creating ideal companion dog breeds.
These hybrids quickly spread throughout Europe and North America, picking up steam in the 1970s when Poodles were most frequently used to create crosses that had the potential to have a hypoallergenic coat.
Some of the first hybrids were Goldendoodles and Labradoodles, the mix of a Labrador or Golden Retriever with a Standard Poodle.
Then came the smaller crosses like Toy Poodles and the Cavalier King Charles Spaniel to create the Cavapoo, and the Cocker Spaniel to make the Cockerpoo.
Today, there are hundreds of different designer dog breeds, each with its own unique characteristics. And while some people may be skeptical of these newfangled breeds, there's no denying that they've become an integral part of the dog-crazy American fabric.
The Maltipoo – History
=And out of these experiments came the ideal companion dog, the Maltipoo. Balancing the affectionate, friendly nature of the amicable Maltese with the intelligence and trainability of the Poodle, the Maltipoo has a steady, calm temperament and a hypoallergenic coat that comes from its two low-shedding parent breeds.
The Maltipoo was first bred in the 1990s to be a low-maintenance, calm companion dog without a Poodle's potentially highly-strung nature.
The Maltese and The Poodle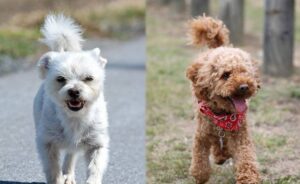 To understand the Maltipoo, first, we need to understand the origins of the two parent breeds. Both the Maltese and the Poodle have long, rich histories.
Maltese dogs are one of the oldest breeds of domesticated dogs, with a history that can be traced back over two thousand years. The Maltese is believed to be descended from a Spitz-type dog that was brought to the Mediterranean island of Malta by Phoenician traders.
These early Maltese were prized for their beautiful white coats, which made them popular companions of nobles and royalty. Over time, the Maltese became established as a distinct breed, and their popularity spread throughout Europe.
Today, Maltese dogs are cherished as loyal and affectionate companions, and their striking appearance continues to make them one of the most popular breeds of dogs in the world.
Poodles are one of the most popular dog breeds in the world and are known to be canine brainiacs. These intelligent, energetic dogs are devoted to their families and make great companions. But where did the poodle come from? Contrary to popular belief, the Poodle is not a French breed.
In fact, the poodle's origins are actually German. The word "poodle" comes from the German word "pudel," which means "to splash in water." This is likely because Poodles were originally bred as water dogs, and they still love to swim today.
Poodles were first brought to France in the 16th century, where they quickly became fashionable among the aristocracy. Over time, the Poodle has become one of the most popular dog breeds in the world, loved for its intelligence, playful personality, and striking appearance.
The Pomeranian
Pomeranians are a breed of small, fluffy dogs that were originally bred in the Pomerania region of Germany and Poland. The exact history of the breed is unclear, but it is believed that they are descended from larger Spitz-type dogs.
Pomeranians were initially used as working dogs on farms, but their popularity increased in the late 1800s as ideal lapdogs. Since then, they have become one of the most popular dog breeds in the world. Pomeranians are well-known for their friendly personalities and their love of attention.
They make great companion animals and are often used in therapy work due to their calming effect on people. Pomeranians are also very intelligent and can be easy to train. However, they can also be quite independent, so they may not always listen to their owner's commands. Despite their small size, Pomeranians are relatively active dogs and need plenty of exercise.
They are also known for being protective of their family and home, making them excellent watchdogs. Overall, Pomeranians make great pets for families or individuals who are looking for a loving and loyal companion.
The Maltipoo – Pomeranian Mix
Maltipoos and Pomeranians are both small, intelligent breeds of dog that make great companion animals. When you mix the two breeds, you get a Maltipoo-Pomeranian cross that is even more adorable and loving.
Maltipoos are known for their gentle dispositions and Pomeranians are known for their spunky personalities, so a Maltipoo-Pomeranian hybrid is the perfect mix of the two.
These dogs are typically very friendly and outgoing, making them great pets for families with children. They are also relatively low-maintenance dogs, which makes them a good choice for busy owners.
Grooming Needs
There are a few things to keep in mind if you have allergies. First of all, even though this hybrid may not shed as much, all dogs produce dander – the dead skin cells that are a major component of pet allergies.
It's important to choose a hypoallergenic breed if you want to minimize the risk of an allergic reaction. While no dog is completely allergy-free, some breeds are less likely to cause problems for people with sensitivities.
A Maltipoo-Pomeranian might have a hypoallergenic coat, depending on which parent it takes after. While Maltipoos are hypoallergenic dogs, Pomeranians have thick, furry coats that were designed to protect them from the cold.
They are heavy shedders and will need frequent brushing to keep the loose hair under control. Pomeranians are double-coated dogs with a coarse, wiry top coat and a soft, dense undercoat. To groom a mix that takes after a Pomeranian coat, you'll need a soft-tipped bristle brush for the top coat and an undercoat rake for the undercoat.
The coat of this hybrid can range from thick and furry to soft and wavy if it takes after a Maltipoo. It is likely to be light-colored, ranging from pure white to light brown, with or without markings depending on what color the Maltipoo is.
Whilst Pomeranians are generally brown, Poodles can be all kinds of colors from red, chocolate, apricot, white, black, and gray. Maltipoos come in a wide range of colors and markings depending on what the Poodle parent looked like.
In addition to frequent coat care, your Maltipoo-Pomeranian mix will also need regular eye and ear cleaning as well as nail clipping, unless your pooch runs many miles over rough terrain and manages to file its nails down naturally.
Maltipoo – Pomeranian Mix Health and Potential Issues
Like any dog breed, this mix takes after the genetic predisposition of their parent breeds. They are relatively healthy dogs and can live up to 16 years. However, they are susceptible to certain conditions that Poodles, Maltese dogs, and Pomeranians are prone to.
1. White Shaker Syndrome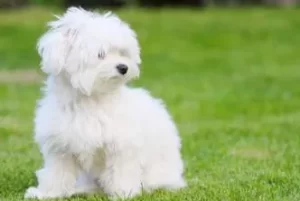 White shaker syndrome is a debilitating neurological disorder that primarily affects small dogs. The exact cause of the condition is unknown, but it is thought to be caused by genetics.
Symptoms of white shaker syndrome include tremors, seizures, and depression. The condition can be very difficult to manage, and some dogs may need to be euthanized. However, with early diagnosis and treatment, many dogs with white shaker syndrome can lead happy and healthy lives.
If you suspect that your dog may have white shaker syndrome, it is important to take them to the vet right away for an accurate diagnosis. With proper care, your dog can still enjoy a long and joyful life.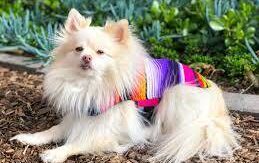 If you have a small dog, you may have heard of luxating patella, also known as kneecap dislocation. This condition occurs when the kneecap is dislocated from its normal position in the knee joint. Luxating patella can be caused by congenital defects, trauma, or muscle imbalances.
It is more common in small breeds of dogs, such as Chihuahuas, Pomeranians, and Toy Poodles. Symptoms of luxating patella include pain, lameness, and stiffness in the affected leg. If left untreated, the condition can lead to arthritis and joint deformities.
Surgery is the most effective treatment for luxating patella, and it is important to consult with a veterinary surgeon if you think your dog may be affected.
3. Tracheal Collapse
Tracheal collapse is a condition that affects the trachea, or windpipe. The trachea is made up of a series of cartilage rings that help to keep the airway open. In dogs with tracheal collapse, these rings weaken and collapse inward, narrowing the airway.
This can cause difficulty breathing, coughing, and even respiratory failure. Although tracheal collapse is most common in small breeds of dogs, it can affect any dog, regardless of size or breed. Treatment for tracheal collapse typically involves the use of medications to help control coughing.
Surgery may also be necessary in severe cases. If your dog has been diagnosed with tracheal collapse, it is important to work closely with your veterinarian to create a treatment plan that will provide the best possible outcome for your pet.
While periodontal disease is often thought of as a problem for humans, it can also be a problem for our furry friends. Small dogs are especially susceptible to periodontal disease because of their small teeth and jaw size. This can lead to inflammation and infection of the gums, which can eventually lead to tooth loss. Not only is this painful for your dog, but it can also be difficult to manage their diet and oral hygiene.
Fortunately, there are steps you can take to help prevent periodontal disease in your small dog. Starting with a good oral hygiene routine is important. Be sure to brush their teeth regularly with dog-specific toothpaste, and use dental floss or picks to get in between their teeth.
You should also visit your veterinarian for regular checkups so they can catch any early signs of periodontal disease. With proper prevention, you can help keep your small dog's smile healthy and bright for years to come.
5. Eye Problems
Many small dog breeds are prone to a variety of eye problems. For example, Maltese dogs and Poodles are at risk for corneal ulcers, a condition in which the clear outer layer of the eye is damaged. Some other small breeds are prone to dry eye, a condition in which the eyes do not produce enough tears. And all small dogs are at risk for cherry eye, a condition in which the gland that produces tears becomes swollen and protrudes from the eyelid.
While these conditions can be painful and may cause some short-term vision problems, they can usually be treated successfully with medication or surgery.
Conclusion For Maltipoo And Pomeranian Mix
The Maltipoo-Pomeranian mix is a fascinating mix that brings the best of the top companion dog breeds into one dynamic hybrid. Be sure to give your hybrid plenty of exercise and playtime, and you'll have yourself a loyal, fun-loving companion for years to come!