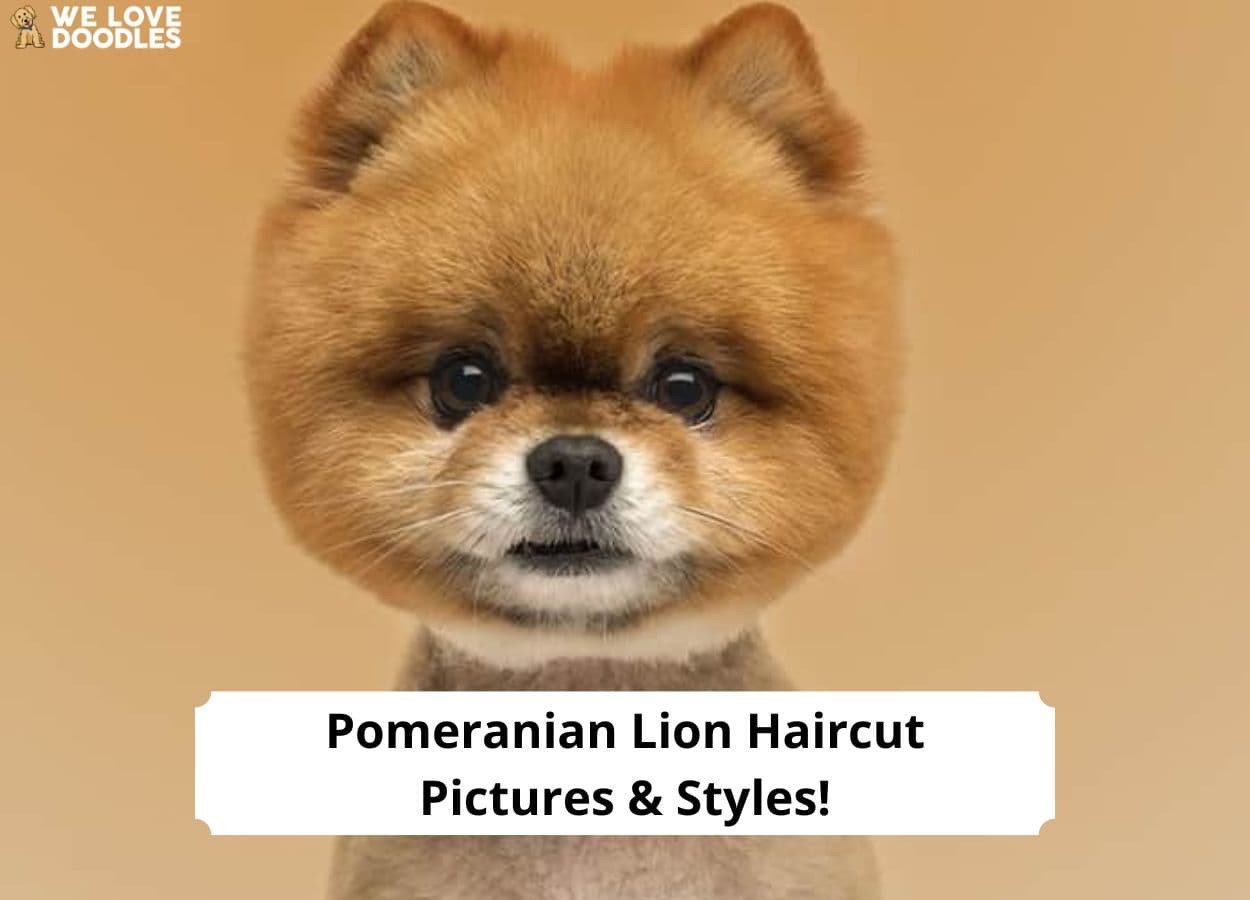 We've got everything you need to know about the Pomeranian lion haircut and other haircuts that may suit your dog.
Pomeranians are a curious dog breed, so lively and bold that you may have to chase your small dog around the house constantly. These dogs are adorable and have a coat of puffy hair that makes them look like a lion or bear cub.
The lion cut is one of the most beloved haircuts for Pomeranians. It is a functional and easy-to-maintain style that will keep your pup looking adorable.
These dogs will need brushing and grooming often, however. The grooming needs may be tedious, but Pomeranians are so small that it can be a quick and easy process. A lion haircut is one of the best hairstyles for your Pomeranian, but there are dozens of haircuts for you to browse.
Before you scroll down this guide about Pomeranian lion haircut styles, check out: Are Pomeranians Good With Kids? (2023) and Can Pomeranians Swim? (2023).
What Is a Lion Haircut?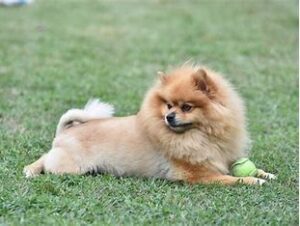 A lion haircut, often referred to as a lion cut, will make your Pomeranian look like a lion. This haircut is done by fluffing up the fur around the neck and chest of your Pomeranian and trimming the remaining hair shorter than this section.
Lion haircuts can present in multiple ways. Some dog groomers might perform a lion haircut by fluffing up the fur around the neck and chest and letting this puff extend downward toward the belly. Other dog groomers may prefer to keep the chest trimmed shorter to accentuate the lion's mane.
Why Choose a Lion Haircut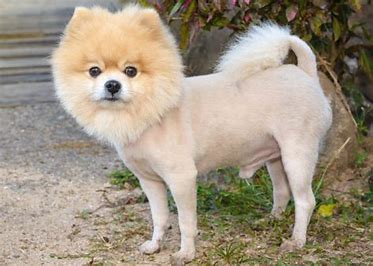 The lion haircut can provide your Pomeranian with tons of benefits since it's fun, can keep your dog cool, and is easy to achieve. This haircut is perfect for families who want to ensure their Pomeranian is comfortable and clean.
It's Fun
A lion haircut is fun and perfect for pet owners who want their Pomeranian to resemble a ferocious lion. This haircut is among the easiest to do and is so much fun to design. This haircut can enable you and your dog to bond.
This haircut is also perfect for Halloween and other holidays that encourage dressing up in costumes.
It Keeps Your Dog Cool
A lion haircut can be the perfect way to help your dog stay cool in the summer. This haircut will trim tons of useless hair on your Pomeranian's topcoat. However, the undercoat will remain intact.
The undercoat on your Pomeranian will do most of the work to regulate temperature, regardless of the season, but a lion cut can help your dog and allow them greater comfort.
It's Easy
A lion cut is one of the simplest haircuts to do. This haircut is nearly uniform and requires one section of elevated hair while the others remain trimmed neatly and evenly around the body. This haircut may take as little as 30 minutes to an hour to complete and allows your dog the utmost comfort quickly.
How to Do a Lion Cut on a Pomeranian
A lion cut will require scissors, clippers, a comb, and a dog brush. Those who want to boost their Pomeranian's comfort during the hair-trimming process can purchase an undercoat rake to help eliminate dead hair and make space for healthier hair to grow.
Mark out where you want your Pomeranian's mane to be located, and trim all the other hair to a shorter layer, being careful not to touch your dog's undercoat. Even out any flyaway and fluff up your dog's mane.
Other Pomeranian Haircuts That Look Like the Lion Cut
Lion haircuts aren't the only haircuts. A Pomeranian lion haircut is only one of many stunning, adorable, and comfortable hairstyles for your precious pup.
Read on to learn about more haircuts that will keep your Pomeranian happy.
Puppy Cut
A puppy cut is one of the most popular Pomeranian haircuts available. This haircut looks similar to a lion cut, except that it won't have a stunning lion's mane. Instead, your Pomeranian will look uniform and even.
However, unlike a uniform cut, a puppy cut will focus on providing a haircut with the greatest impact on hygiene. The puppy cut is meant for young puppies who are still potty training and house training, meaning the haircut will ensure that the underbelly is cut as short as possible to prevent messes.
The puppy cut will also clear your Pomeranian's face of any excess hair and ensure they can see as clearly as possible.
Uniform Cut
The uniform cut is a perfect haircut for your Pomeranian since it can help keep your Pomeranian clean and looking manicured. The uniform cut is one of the most popular since it will keep your dog looking sleek and round.
This haircut won't rely on any shaved or trimmed portions, making your dog maintain an elegant look, especially when they run. The only added trimming when conducting this haircut is around the face and eyes. The uniform cut always ensures that your Pomeranian has unobstructed vision and won't suffer any accidents from overgrown hair.
Clean Shave
Pomeranians should never receive a clean shave, but some cases make this situation necessary. Shaving a Pomeranian could harm the dog's ability to regulate its temperature and may result in your Pomeranian getting grouchy, cranky, and fatigued.
However, a clean shave may be necessary when dealing with fleas, ticks, and skin conditions, like dermatitis and psoriasis. Any condition should first be treated with ointments, shampoos, or other topical products before resorting to shaving your Pomeranian's hair.
Kennel Cut
Kennel cuts are similar to a lion cut and will bear the uniformity of a uniform cut, making it an ideal choice for those looking to adopt an easy and comfortable haircut for their Pomeranian. The kennel cut is most often used on dogs who have spent a long time in the shelter and need grooming but don't have an owner to refer to about their grooming requirements.
A kennel cut will keep your Pomeranian's fur short while ensuring your dog is comfortable. This haircut usually keeps the hair around the face, ears, and neck short, like the rest of the body.
Summer Cut
A summer cut is ideal during the warm weather and can provide your Pomeranian with the utmost comfort. Instead of dealing with a ton of shedding hair and a thick undercoat, consider adopting this haircut.
Not only will your dog groomer use an undercoat rake on your Pomeranian to help get rid of excess or dead hair, but they'll also ensure that shedding and cleaning stay to a minimum by trimming your dog's hair as short as possible.
Mohawk Cut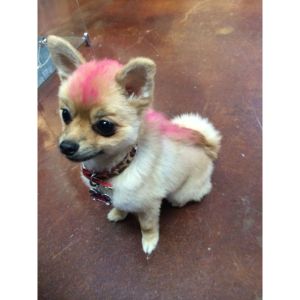 The mohawk cut is just as fun as a lion cut but a lot different. Instead of relying on a thick and fluffy lion's mane that offers an elegant air, the mohawk cut provides a cool and spunky aura. This haircut is done by trimming most of your Pomeranian's hair short while allowing a strip of hair to remain on their head and back.
Some dog groomers leave the mohawk running down your dog's tail, but this may not work for every Pomeranian since they have such curly tails.
Teddy Bear Cut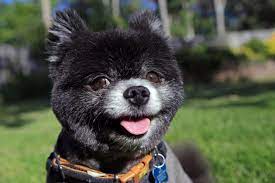 The teddy bear cut is among the cutest haircuts for Pomeranians because it can make them indistinguishable from a pile of stuffed bears. This haircut will leave the hair around your Pomeranian's head and face longer while trimming the strands around their body.
Your dog's hair may curl slightly, making them look like a bear cub instead of a precious puppy. The difference between the teddy bear cut and the puppy cut is minimal. However, the teddy bear cut leaves more hair around the neck and face, while the puppy cut will be more uniform and even.
Frequently Asked Questions
Choosing the best haircut for your Pomeranian is challenging, but these answers can help you decide if the lion haircut for your Pomeranian is the right choice for you.
What is a lion cut on a Pomeranian?
A lion cut on a Pomeranian will make your dog look like a lion by manicuring the hair around the dog's neck, chest, and face. This haircut relies on leaving a thick, luxurious mound of hair around your dog's neck to resemble a lion's mane.
How do I give my dog a lion cut?
You can give your dog a lion cut by following a tutorial and using the right tools. Make sure you have clippers, scissors, and a comb on hand to create precise cuts in the fur.
What does a lion cut look like?
A lion cut will make your Pomeranian look like a small lion and maintain a thick layer of hair around its neck while letting the rest of the hair remain trimmed shorter.
How long does it take for Pomeranian hair to grow back?
Your Pomeranian's hair will likely grow quickly and need to have a trim within six to eight weeks. However, some dogs may need more or less time between haircuts, depending on how fast their hair grows.
What is the point of a lion cut?
The point of a lion cut is to make your dog look like a lion. You may want to do this for a few reasons, including for a costume party or a holiday. Other Pomeranian owners may want to do a lion cut to make their dog look elegant and regal.
Conclusion for "Pomeranian Lion Haircut Pictures & Styles"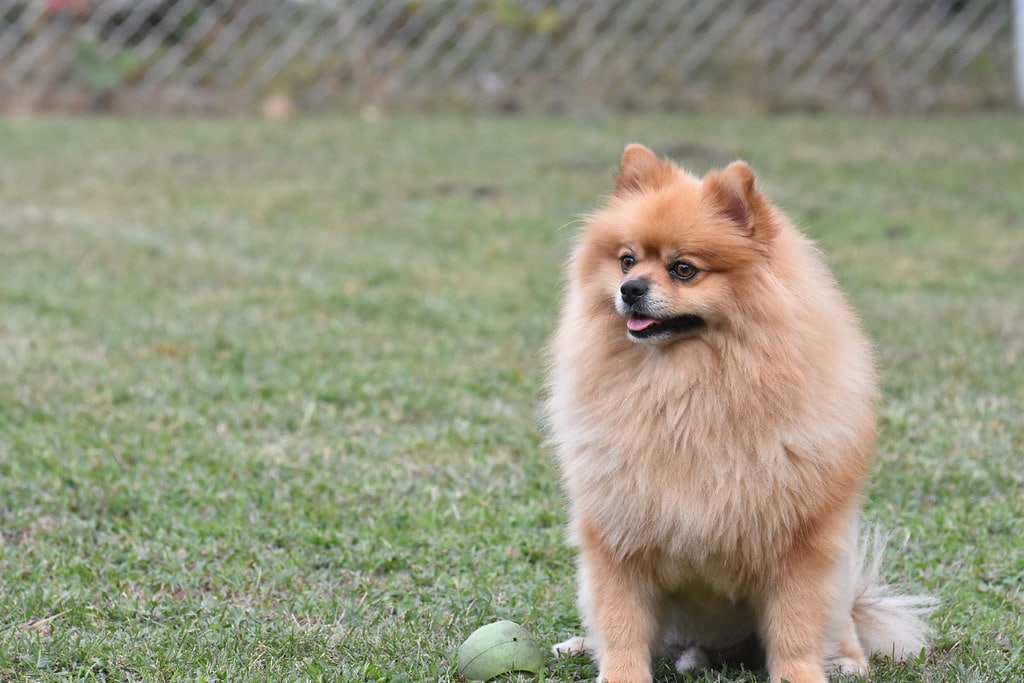 Pomeranians are adorable and inquisitive dogs who love to run around and play. These dogs are small and lightweight, making them easy to manage. Pomeranians have a stunning coat of fur with an undercoat that shouldn't be trimmed or cut. However, this fur can still be manicured and maintained.
A Pomeranian lion haircut is a perfect choice for your precious pup. This haircut will keep your dog cool in the warm months while ensuring they have a cool and fun presentation. A lion haircut will also work perfectly as a costume for a Halloween party or other event.
However, a lion haircut isn't the only cut out there. You may want to experiment with other haircuts, like the puppy cut or summer cut. Always keep your Pomeranian's comfort at the forefront of your mind.
For more guides similar to this list showing the ideas of Pomeranian lion haircut styles, try:
If you find these Pomeranian lion haircut styles interesting, you can learn more by watching "How to groom a Pomeranian Cutest dog ever" down below:
Garrett loves animals and is a huge advocate for all Doodle dog breeds. He owns his own Goldendoodle named Kona. In addition, he volunteers at the Humane Society of Silicon Valley, where he fosters dogs and helps animals. Garrett enjoys writing about Doodles and believes that dogs can teach humans more about how to live than humans can teach a dog.
Why Trust We Love Doodles?
At We Love Doodles, we're a team of writers, veterinarians, and puppy trainers that love dogs. Our team of qualified experts researches and provides reliable information on a wide range of dog topics. Our reviews are based on customer feedback, hands-on testing, and in-depth analysis. We are fully transparent and honest to our community of dog owners and future owners.